Infinity Division
series, and we're thrilled to have Jus Accardo here to share more about it.
Jus, what was your inspiration for writing ALPHA?
Really, one of the biggest inspirations behind the entire series is possibility. I love the idea of multidimension stories. There are infinite possibilities. The same character can be a million different things depending on the world I'm writing about.
What scene was really hard for you to write and why, and is that the one of which you are most proud? Or is there another scene you particularly love?
I think I'm most proud of the flashback scenes that show the reader how Sera and G came to feel the way they do about each other. When ALPHA opens, their relationship is already established. We know a little bit about them from the previous book in the series, but they have this intense thing between them. How they arrived at where they were needed to be shown.
I've never been a huge fan of flashbacks. I was worried I wouldn't be able to sell it. I'm so thrilled with the way they came out, though. The scenes run from funny to raw to tender to soul crushing, and really made their relationship feel real.
How long did you work on ALPHA?
Probably 8 or 9 months (give or take) including the editing process.
What do you hope readers will take away from ALPHA?
These characters all went through quite a bit of hell and survived. They beat the odds and made it to the other side because they had had each other's backs. I think everyone can benefit from that level of loyalty and support.
How long or hard was your road to publication? How many books did you write before this one, and how many never got published?
I think I wrote 5 and officially queried one book before writing, querying and selling my first published book, TOUCH. Really though, that first book I queried (one that should have never been queried because it was nowhere near ready) was the first I'd thought of doing this for a living. I think it was less than a year from the start of querying that first book, to writing and selling my first published book. Everyone's road to publication is so different. I happened to get lucky. The right person saw my book at the right time. Those first five books will probably never see the light of day. I've toyed with the idea of going back, but my schedule never seems to allow it. Someday, maybe!
Was there an AHA! moment along your road to publication where something suddenly sank in and you felt you had the key to writing a novel? What was it?
I think I'm always having AHA moments. There's always going to be something new to learn. About writing, about the way I approach writing… My view is, the only key to writing a book is getting it out on paper (computer). The editing, the tweaking, craft… The more words you log, the better you get.

What's your writing ritual like? Do you listen to music? Work at home or at a coffee shop or the library, etc?
I generally work from home. I do listen to music while I work. I have playlists for all my books, most of my characters, and even some specific scenes.

What advice would you most like to pass along to other writers?
Don't give up. Write. Write even if you think it's crap. Every single word gets you closer to where you want to be.
What are you working on now?
I'm working on something super-secret at the moment. I can't say much other than I am crazy in love with it—and its unlike anything I've ever done.
ABOUT THE BOOK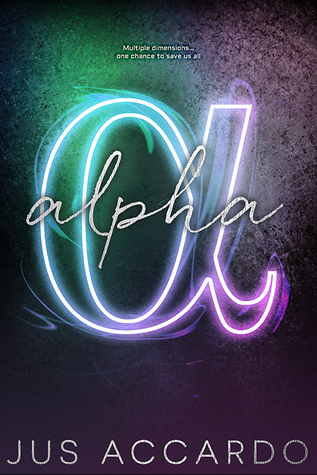 Alpha
by Jus Accardo
Paperback
Entangled: Teen
Released 7/3/2018
Sera has no memory of her life before. Before captivity, before experiments, before the only lifeline she had was the voice of a boy in the cell next to hers. Before G.
G wishes he could forget everything before Sera brought him back to life. Forget his memories as a ruthless mercenary on an alternate version of Earth. Forget that he was part of an experiment simply known as Alpha.
Now on the run from their captors and in need of an antidote to save his life, G and Sera's clock is ticking. And they'll have to gamble everything on the bond they forged in captivity if they want to survive.
Purchase Alpha at Amazon
Purchase Alpha at IndieBound
View Alpha on Goodreads
ABOUT THE AUTHOR
Jus Accardo spent her childhood reading and learning to cook. Determined to follow in her grandfather's footsteps as a chef, she applied and was accepted to the Culinary Institute of America. But at the last minute, she realized her true path lay with fiction, not food.
Jus is the bestselling author of the popular Denazen series from Entangled publishing, as well as the Darker Agency series, and the New Adult series, The Eternal Balance. A native New Yorker, she lives in the middle of nowhere with her husband, three dogs, and sometimes guard bear, Oswald.
---
Have you had a chance to read ALPHA yet? How many books have you written that will never see the light of day? Are you able to write even if you think it's crap? Share your thoughts about the interview in the comments!
Happy Reading,
Jocelyn, Halli, Martina, Erin, Susan, Shelly, Kelly, Laura, Emily, and Lori Ann