Happy Reading,
Shelly, Halli, Jocelyn, Martina, Erin, Susan, Kelly, Laura, Emily, Anisaa, and Lori Ann
YA BOOK GIVEAWAYS THIS WEEK
* * * *
How We Learned to Lie
by Meredith Miller
Hardcover Giveaway

U.S. Only
HarperCollins
Released 7/31/2018
This isn't a love story, but it is a story about love.
This is the story of Joan Harris and Daisy McNamara and the year everything in their lives came apart.
It starts when Robbie McNamara appears at Joan's house with someone else's blood dripping from his hands. Then it all unravels from there in a string of bad angel dust, good biology teachers, rusty scalpels, and stunning car crashes. People keep disappearing, and everyone is lying.
There was always Joan and Daisy, just Daisy and Joan. The thing is, even if you love someone, how long should you hold on before letting go to save yourself?
Author Question: What is your favorite thing about How We Learned to Lie?
I love the world. I really enjoy writing place, landscape, atmosphere. I love Andre's music. Most of all, I love the two main characters. When I began HOW WE LEARNED TO LIE, I knew the story I wanted to tell, but I didn't yet know Joan and Daisy. Any fiction writer will tell you that building characters is a strange process. You write and write through a lot of frustration until one day a character comes alive and says, "No, I wouldn't do that." or "Actually, I would say this." Once Joan and Daisy popped off the page, they did things that made me laugh and cry. I fell in love with everything strong and curious and intelligent about them, but also with Joan's prickliness and Daisy's annoying passivity. Mostly, I fell in love with their difficult love for each other.
Purchase How We Learned to Lie at Amazon
Purchase How We Learned to Lie at IndieBound
View How We Learned to Lie on Goodreads
YA BOOK GIVEAWAYS LAST WEEK: WINNERS
Sanctuary by Caryn Lix:
Laura E.
MORE YOUNG ADULT FICTION IN STORES NEXT WEEK WITH AUTHOR INTERVIEWS
* * * *
The Darkest Legacy
by Alexandra Bracken
Hardcover
Disney-Hyperion
Released 7/31/2018
Five years after the destruction of the so-called rehabilitation camps that imprisoned her and countless other Psi kids, seventeen-year-old Suzume "Zu" Kimura has assumed the role of spokesperson for the interim government, fighting for the rights of Psi kids against a growing tide of misinformation and prejudice. But when she is accused of committing a horrifying act, she is forced to go on the run once more in order to stay alive.
Determined to clear her name, Zu finds herself in an uncomfortable alliance with Roman and Priyanka, two mysterious Psi who could either help her prove her innocence or betray her before she gets the chance. But as they travel in search of safety and answers, and Zu grows closer to the people she knows she shouldn't trust, they uncover even darker things roiling beneath the veneer of the country's recovery. With her future-and the future of all Psi-on the line, Zu must use her powerful voice to fight back against forces that seek to drive the Psi into the shadows and save the friends who were once her protectors.
Author Question: What is your favorite thing about The Darkest Legacy?
Not to be a total cornball, but there are so many things that I love about this book! It's really hard to pick one favorite thing… but I think if I'm going to narrow it down, it has to be the fact that I got to write this book from Zu's point of view. I loved being in her head and getting to know her on a deeper level. She always fascinated me in the original trilogy, but—and I hope this isn't too big of a spoiler—she was missing for the entire second book, and part of the third. There was so much left to explore with her, and I just couldn't make the logistics of travel and time passed work to bring her back into the trilogy sooner.

So much of Ruby's journey is centered on her learning to control her powers and coming to terms with their implications to fully accept herself for who she is. It was such a fun challenge to turn around and write something completely different for Zu. She loves her power, and she's in full control of it. It doesn't bring her shame, and any hesitance she has in using it is related to her job within the government, which is public relations. She, and all of the other Psi, have to walk a tightrope with the public to maintain that they aren't a threat to the wider world, and that works well enough for Zu… until it doesn't.

I can't wait for readers to meet her as an older version of herself. She's still the sweet, empathetic person we all know and love, but she has more edge and strength than I even I knew.
Purchase The Darkest Legacy at Amazon
Purchase The Darkest Legacy at IndieBound
View The Darkest Legacy on Goodreads
MORE YOUNG ADULT NOVELS NEW IN STORES NEXT WEEK
* * * *
Dark Divide
by Sonja Stone
Hardcover
Penguin Publishing Group
Released 7/31/2018
With the trials of first semester behind her, sixteen-year-old Nadia Riley returns to Desert Mountain Academy to quietly complete her junior year--but at a Black-Ops training facility for the CIA, nothing stays quiet for long. When she's hunted by an ex-teammate during her first survival course, Nadia's semester takes a terrifying turn. Her pursuer is relentless, his agenda frightening. And if he succeeds, it will cost Nadia her life.
Purchase Dark Divide at Amazon
Purchase Dark Divide at IndieBound
View Dark Divide on Goodreads
* * * *
Grace and Fury
by Tracy Banghart
Hardcover
Little, Brown Books for Young
Released 7/31/2018
In a world where women have no rights, sisters Serina and Nomi Tessaro face two very different fates: one in the palace, the other in prison.
Serina has been groomed her whole life to become a Grace--someone to stand by the heir to the throne as a shining, subjugated example of the perfect woman. But when her headstrong and rebellious younger sister, Nomi, catches the heir's eye, it's Serina who takes the fall for the dangerous secret that Nomi has been hiding.
Now trapped in a life she never wanted, Nomi has only one way to save Serina: surrender to her role as a Grace until she can use her position to release her sister. This is easier said than done. A traitor walks the halls of the palace, and deception lurks in every corner. But Serina is running out of time, imprisoned on an island where she must fight to the death to survive and one wrong move could cost her everything.
Purchase Grace and Fury at Amazon
Purchase Grace and Fury at IndieBound
View Grace and Fury on Goodreads
* * * *
If Only
by Jennifer Gilmore
Hardcover
HarperTeen
Released 7/31/2018
BEFORE: When Bridget imagined her life at sixteen, it didn't look like this. She didn't think that her boyfriend would dump her for another girl. And she certainly didn't think that she would be pregnant.
With just a few months until she gives birth, Bridget must envision an entirely new future—one for her baby. But as she sifts through the many paths and the many people who want to parent her child, she can't help but feel that there is no right decision.
AFTER: Ivy doesn't know much about her birth mother. She knows that she is now the same age Bridget was when she placed Ivy for adoption. She knows that Bridget was the one who named her. And she knows that fifteen years ago Bridget disappeared from Ivy's and her adoptive moms' lives.
Ivy wants to discover more about herself, but as she goes to find Bridget, she can't help but feel that the risks might far outweigh the benefits of knowing where she comes from and why her birth mother chose to walk away.
Purchase If Only at Amazon
Purchase If Only at IndieBound
View If Only on Goodreads
* * * *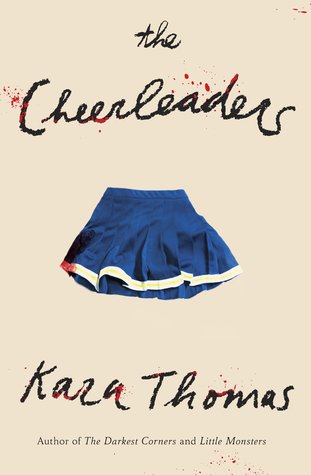 The Cheerleaders
by Kara Thomas
Hardcover
Delacorte Press
Released 7/31/2018
There are no more cheerleaders in the town of Sunnybrook.
First there was the car accident--two girls dead after hitting a tree on a rainy night. Not long after, the murders happened. Those two girls were killed by the man next door. The police shot him, so no one will ever know his reasons. Monica's sister was the last cheerleader to die. After her suicide, Sunnybrook High disbanded the cheer squad. No one wanted to be reminded of the girls they'd lost.
That was five years ago. Now the faculty and students at Sunnybrook High want to remember the lost cheerleaders. But for Monica, it's not that easy. She just wants to forget.
Only, Monica's world is starting to unravel. There are the letters in her stepdad's desk, an unearthed, years-old cell phone, a strange new friend at school. . . . Whatever happened five years ago isn't over. Some people in town know more than they're saying. And somehow, Monica is at the center of it all.
There are no more cheerleaders in Sunnybrook, but that doesn't mean anyone else is safe.
Purchase The Cheerleaders at Amazon
Purchase The Cheerleaders at IndieBound
View The Cheerleaders on Goodreads
* * * *
The Girl You Thought I Was
by Rebecca Phillips
Hardcover
HarperTeen
Released 7/31/2018
No one looking at Morgan Kemper would think she had a secret—at least not one that she's deeply ashamed of.
To everyone she meets, she comes across as sweet, pretty, and put together. But Morgan knows that looks can be deceiving. For over a year, she's shoplifted countless pieces of clothing and makeup. Each time, she tells herself it will be the last, and each time, it never is.
But when she's caught and sentenced to thirty hours of community service, the image Morgan has carefully constructed starts to crumble. She's determined to complete her punishment without her friends discovering the truth about her sticky fingers, but that's easier said than done...especially once she meets Eli, the charming, handsome nephew of the owner of the charity shop where Morgan is volunteering.
Soon Morgan is faced with an impossible decision: continue to conceal the truth or admit that she's lied to everyone in her life, including the boy she's falling for.
Purchase The Girl You Thought I Was at Amazon
Purchase The Girl You Thought I Was at IndieBound
View The Girl You Thought I Was on Goodreads
* * * *
The Impossibility of Us
by Katy Upperman
Hardcover
Swoon Reads
Released 7/31/2018
The last thing Elise wants is to start over in a new town. But after her brother's death in Afghanistan, she and her mother move to a sleepy coastal village to be closer to Elise's sister-in-law and niece.
When Elise meets Mati during a beachside walk, they quickly discover how much they have in common. Mati is new to town, too. Over the course of the summer, their relationship begins to blossom, and what starts out as a friendship becomes so much more.
But as Elise and Mati grow closer, her family becomes more and more uncomfortable with their relationship, and their concerns all center on one fact―Mati is Afghan.
Beautifully written, utterly compelling, and ultimately hopeful, The Impossibility of Us asks―how brave can you be when your relationship is questioned by everyone you love?
Purchase The Impossibility of Us at Amazon
Purchase The Impossibility of Us at IndieBound
View The Impossibility of Us on Goodreads