Happy Reading,
Shelly, Halli, Jocelyn, Martina, Erin, Susan, Kelly, Laura, Emily, Anisaa, and Lori Ann
YA BOOK GIVEAWAYS THIS WEEK
* * * *
Dive Smack
by Demetra Brodsky
Hardcover Giveaway

U.S. Only
Tor Teen
Released 6/19/2018
Theo Mackey only remembers one thing for certain about the fire that destroyed his home: he lit the match.
Sure, it was an accident. But the blaze killed his mom and set his dad on a path to self-destruction. Everything else about that fateful night is full of gaping holes in Theo's mind, for good reason. Maybe it's better that way. As captain of the Ellis Hollow Diving Team, with straight A's and solid friends, he's only one semester away from securing a scholarship, and leaving his past behind.
But when a family history project gets assigned at school, new memories come rushing to the surface, memories that make Theo question what he really knows about his family, the night of the fire, and if he can trust anyone―including himself.
Author Question: What is your favorite thing about Dive Smack?
One of my favorite elements in Dive Smack is the springboard diving I used as both Theo's skill and a metaphor to illustrate the main character's life spiraling out of control. I have a friend who was a U.S.A. springboard diver in the 1992 Summer Olympics in Barcelona, who was kind enough to proofread all the diving in my book. When she blurbed my debut novel and called it "…a perfect 10" I was ecstatic. When an Olympic springboard diver says you nailed it, you kind of have a moment of stomach swooping pride.
Purchase Dive Smack at Amazon
Purchase Dive Smack at IndieBound
View Dive Smack on Goodreads
* * * *
Phoebe Will Destroy You
by Blake Nelson
Hardcover Giveaway

U.S. Only
Simon Pulse
Released 6/19/2018
The summer I was seventeen I met this girl…
Nick has the best of moms and the worst of moms. On the upside, she's a distinguished professor and bestselling author. On the downside, she's a serious alcoholic, with no clue how to relate to her son or husband.
Nick, meanwhile, has finished his junior year and needs a break from his stressful home life. What better place to spend the summer than Seaside, Oregon, a sleepy beach town where he can chill out, meet girls, and work at his Uncle's car wash.
Enter local legend, Phoebe Garnet. She's funny, sexy, but dangerously self-destructive. Suddenly Nick is more in love, more obsessed, more heartsick than he's ever been in his life.
Why does Nick love her so much? Will he survive this obsession? And who can he turn to for help?
Author Question: What is your favorite thing about Phoebe Will Destroy You?
Being seventeen. It's tough. Lots of stress from a lot of different places. Also girls. They're so amazing. And they're all around you. But somehow …. being with them, talking to them. NOT EASY. And the world. Telling you all these things. None of which are exactly true. And all the time, you feel this spark inside you. This strength. You can do anything. And then you meet a girl, and it finally works, the girl thing, it actually WORKS. It's all so confusing and weird and super fun and wtf! And you feel all this stuff. And all this stuff happens. And you know this is it. You only get to be seventeen for one year. There's nothing like it. Life will never feel like this again.
Purchase Phoebe Will Destroy You at Amazon
Purchase Phoebe Will Destroy You at IndieBound
View Phoebe Will Destroy You on Goodreads
YA BOOK GIVEAWAYS LAST WEEK: WINNERS
The Fall of Innocence by Jenny Torres Sanchez:
Catherine C.
MORE YOUNG ADULT FICTION IN STORES NEXT WEEK WITH AUTHOR INTERVIEWS
* * * *
Not the Girls You're Looking For
by Aminah Mae Safi
Hardcover
Feiwel & Friends
Released 6/19/2018
Lulu Saad doesn't need your advice, thank you very much. She's got her three best friends and nothing can stop her from conquering the known world. Sure, for half a minute she thought she'd nearly drowned a cute guy at a party, but he was totally faking it. And fine, yes, she caused a scene during Ramadan. It's all under control. Ish.
Except maybe this time she's done a little more damage than she realizes. And if Lulu can't find her way out of this mess soon, she'll have to do more than repair friendships, family alliances, and wet clothing. She'll have to go looking for herself.
Author Question: What is your favorite thing about Not the Girls You're Looking For?
The friendships! I love the complexity of friendships when you're a teenager— there's an intensity to those relationships that is honestly so magical to me. The dynamic between Lulu and her three best friends was constantly shifting and it was a fun puzzle to get to work out where everyone was emotionally at any given moment in the story.
Purchase Not the Girls You're Looking For at Amazon
Purchase Not the Girls You're Looking For at IndieBound
View Not the Girls You're Looking For on Goodreads
MORE YOUNG ADULT NOVELS NEW IN STORES NEXT WEEK
* * * *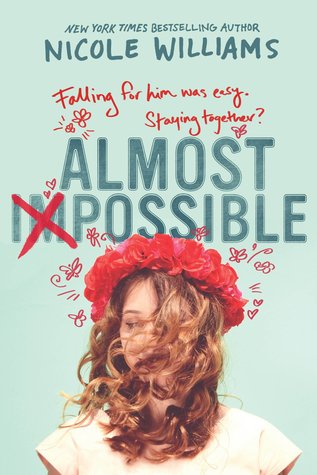 Almost Impossible
by Nicole Williams
Paperback
Crown Books for Young Readers
Released 6/19/2018
When Jade decided to spend the summer with her aunt in California, she thought she knew what she was getting into. But nothing could have prepared her for Quentin. Jade hasn't been in suburbia long and even she knows her annoying (and annoyingly cute) next-door neighbor spells T-R-O-U-B-L-E.
And when Quentin learns Jade plans to spend her first American summer hiding out reading books, he refuses to be ignored. Sneaking out, staying up, and even a midnight swim, Quentin is determined to give Jade days--and nights--worth remembering.
But despite their storybook-perfect romance, every time Jade moves closer, Quentin pulls away. And when rumors of a jilted ex-girlfriend come to light, Jade knows Quentin is hiding a secret--and she's determined to find out what it is.
Purchase Almost Impossible at Amazon
Purchase Almost Impossible at IndieBound
View Almost Impossible on Goodreads
* * * *
I Think I Love You
by Patricia Lyfoung
Hardcover
Macmillan
Released 6/19/2018
Maud and Guilhem are still on the trail of the evil Baron and his acolytes. With her father's diary and a continuing sense of deja vu at every new place they go to, Maud and Guilhem grow closer in spite of his best intentions. They leave Venice for Istanbul where crossing the desert is full of surprises. When Maud goes missing, Guilhem fears the worst, but Maud is rediscovering her ancestors. Meanwhile the Huet brothers must be stopped in a fight to end all fights with the Scarlet Rose and the Fox!
Purchase I Think I Love You at Amazon
Purchase I Think I Love You at IndieBound
View I Think I Love You on Goodreads
* * * *
Love Me, Love Me Not
by SM Koz
Hardcover
Swoon Reads
Released 6/19/2018
When Hailey Brown is removed from her home and put into foster care, all she wants is a safe, comfortable place where she can finish school and move on with her life. It's not easy adjusting to a new school and a new life, but Mr. and Mrs. Campbell and their teenage son, Brad, welcome Hailey with open arms.
As Hailey begins to adjust to her new life, she and Brad grow closer. For the first time, Hailey feels like she might have a real shot at a future. Soon, however, Hailey realizes her relationship with Brad has crossed the line from friendship into something more. But being with Brad would mean giving up the perfect life that Hailey has waited so long to have.
Can Hailey and Brad resist the feelings that are developing between them―or will they risk it all to be together?
Purchase Love Me, Love Me Not at Amazon
Purchase Love Me, Love Me Not at IndieBound
View Love Me, Love Me Not on Goodreads
* * * *
The Boyfriend Bracket
by Kate Evangelista
Hardcover
Swoon Reads
Released 6/19/2018
Stella has had a hopeless crush on Will, her older brother's best friend FOREVER, but now that Cam and Will have graduated and are going off to college, this year is her chance to really strike out on her own. Without her overprotective brother and his sidekick around to distract her, she can focus on having all the typical high school experiences that she's always dreamed of―starting with finding a boyfriend! With the help of her best friend, Franklin, she comes up with the perfect plan to have a boyfriend by Christmas: The Boyfriend Bracket.
Or it seems like the perfect plan . . . right up until Will starts showing up again. How is she supposed to find the perfect boyfriend when none of her dates measure up to the one boy she can never have?
Purchase The Boyfriend Bracket at Amazon
Purchase The Boyfriend Bracket at IndieBound
View The Boyfriend Bracket on Goodreads
* * * *
Thief of Happy Endings
by Kristen Chandler
Hardcover
Viking Books for Young Readers
Released 6/19/2018
Wild mustangs, irresistible wranglers, and lovesick teens abound over the course of one beautifully crazy summer at a Wyoming Ranch Camp.
Ever since her father moved out, Cassidy feels like her life has been falling apart. So a summer of riding horses at a ranch camp in Wyoming sounds like just what she needs--never mind the fact that she has a paralyzing fear of horses. She's determined to move past her fear, even if that means taking lessons from the insufferable (yet irresistible) junior wrangler Justin and embarrassing herself in front of the other campers. What follows is a summer of rodeos, complicated friendships, and a wild mustang thief on the loose.
Purchase Thief of Happy Endings at Amazon
Purchase Thief of Happy Endings at IndieBound
View Thief of Happy Endings on Goodreads
a Rafflecopter giveaway