Fonda, what book or books would most resonate with readers who love your book--or visa versa?
I think readers who like action-packed but smart speculative fiction with strong worldbuilding will enjoy CROSS FIRE, so books like Scott Westerfeld's Uglies and Leviathan series, S.J. Kincaid's Insignia series, SHIP BREAKER by Paolo Bacigalupi, PROXY by Alex London, and THIS MORTAL COIL by Emily Suvada are some titles I'd recommend.
How long did you work on CROSS FIRE?
I worked on CROSS FIRE for about a year. Every February, I go to a four-day writing retreat on the Olympic Peninsula. In 2016, I spent my retreat time outlining and writing the first three chapters of CROSS FIRE, and at that same retreat the following year I was doing final revisions on the manuscript.
What did this book teach you about writing or about yourself?
I learned that writing a sequel is hard! You would think that it would be easier than writing the first book—after all, you already know the world and the characters—but it has it's own unique set of challenges that I think make it even more difficult. Even though I outline beforehand, I've discovered that it only serves to give me the courage to get started; it certainly doesn't save me from throwing out and rewriting up to half of the book…more than once!
ABOUT THE BOOK
Cross Fire
by Fonda Lee
Hardcover
Scholastic Press
Released 5/29/2018
Earth's century of peace as a colony of an alien race has been shattered. As the government navigates peace talks with the human terrorist group Sapience, Donovan tries to put his life back together and return to his duty as a member of the security forces. But a new order comes from the home planet: withdraw. Earth has proven too costly and unstable to maintain as a colony, so the aliens, along with a small selection of humans, begin to make plans to leave. As word of the withdrawal spreads through the galaxy, Earth suddenly becomes vulnerable to a takeover from other aliens races. Invaders who do not seek to live in harmony with humans, but to ravage and destroy the planet.
As a galactic invasion threatens, Donovan realizes that Sapience holds the key that could stop the impending war. Yet in order to save humankind, all species on Earth will have to work together, and Donovan might just have to make the ultimate sacrifice to convince them.
Purchase Cross Fire at Amazon
Purchase Cross Fire at IndieBound
View Cross Fire on Goodreads
ABOUT THE AUTHOR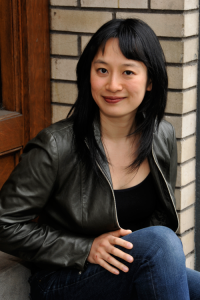 Fonda Lee writes science fiction and fantasy for adults and teens. She is the author of
Jade City
(Orbit), the first book in the Green Bone Saga, which was nominated for the both Nebula Award and the Locus Award, and named a Best Book of 2017 by NPR, Barnes & Noble, Syfy Wire, and others. Her young adult science fiction novels
Zeroboxer
(Flux),
Exo
and
Cross Fire
(Scholastic), have garnered numerous accolades including being named Junior Library Guild Selection, Andre Norton Award finalist, Oregon Book Award finalist, Oregon Spirit Book Award winner, and YALSA Top Ten Quick Pick for Reluctant Young Adult Readers.
Fonda is a former corporate strategist who has worked for or advised a number of Fortune 500 companies. She holds black belts in karate and kung fu, goes mad for smart action movies (think
The Matrix
,
Inception
, and
Minority Report
) and is an Eggs Benedict enthusiast. Born and raised in Calgary, Canada, she currently resides in Portland, Oregon.
---

Have you had a chance to read CROSS FIRE yet? Do you attend writing retreats, and if so, are you productive? Have you attempted to write a sequel? Share your thoughts about the interview in the comments!

Happy Reading,

Jocelyn, Halli, Martina, Charlotte, Anisaa, Erin, Susan, Shelly, Kelly, Laura, Emily, and Lori Ann