Follow Me Back
series, and we're excited to have A.V. Geiger stop by to chat about it.
A.V., what was your inspiration for writing TELL ME NO LIES?
TELL ME NO LIES is the second installment of a duology, and it was not a book I initially planned to write. When I first signed with my agent,
Follow Me Back
(Book 1) was intended as a standalone novel. However, when
Follow Me Back
went out on sub to publishers, I needed something to take my mind off of the grinding uncertainty of the submission process. I began spinning out a messy, somewhat ridiculous first draft of a sequel, purely as a distraction for myself. Little did I know that my editor at Sourcebooks would eventually suggest changing the end of
Follow Me Back
into a cliffhanger, with my weird little sequel serving as the basis for a published second book!
How long did you work on TELL ME NO LIES?
The first draft wrote itself in a matter of weeks, but it needed a lot of revision. I spent several months on the first round of structural editing, with substantial rewrites and plot changes. Then came several rounds of beta reads and more editing. When all was said and done, it took nearly three years from first draft to publication.
What's your writing ritual like? Do you listen to music? Work at home or at a coffee shop or the library, etc?
For the most part, I need silence and solitude to write. I tend to whisper the words out loud to myself as I type them, and I'm too self-conscious to do that within earshot of another human being. I'll completely freeze up in mid-sentence and lose my train of thought at the sound of anyone approaching. As you can imagine, coffee shops and libraries are out. I have a small home office, and I've trained my family to tiptoe outside the door whenever I'm under deadline or in the throes of a particularly difficult scene.
What are you working on now?
TELL ME NO LIES serves as the conclusion to the
Follow Me Bac
k duology, but I have one more book under contract with Sourcebooks. I'm currently putting the final touches on the first draft of a brand new standalone YA thriller. This is the first book that I'm writing start-to-finish as a published author, with both the encouragement from fans and the criticism from naysayers ringing in my ears. I'm finding it both challenging and refreshing to bring a totally new set of characters and voices to life.
ABOUT THE BOOK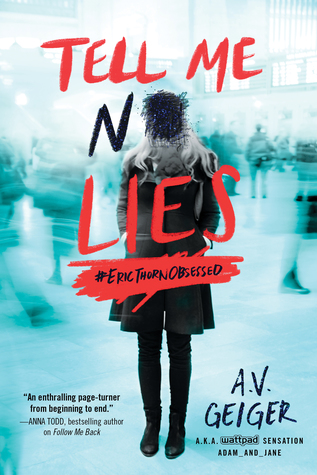 Tell Me No Lies
by A.V. Geiger
Paperback
Sourcebooks Fire
Released 6/5/2018
No one knows what happened to pop icon Eric Thorn. His Twitter account? Frozen. His cell phone? Cracked and bloody, buried in the snow.
Agoraphobic fangirl Tessa Hart knows the truth, but she's finally left her #EricThornObsessed days behind. She has no intention of ever touching her Twitter app again. But Snapchat... That's safer, right?
After months of living under the radar, Tessa emerges from hiding, forced to face the deadly consequences of her past. But in the interrogation room, answers only lead to more questions in the jaw-dropping conclusion to the Follow Me Back duology.
Purchase Tell Me No Lies at Amazon
Purchase Tell Me No Lies at IndieBound
View Tell Me No Lies on Goodreads
ABOUT THE AUTHOR
A.V. Geiger is an epidemiologist who spends far too much spare time on social media. By day, she studies women's psychiatric and reproductive health. By night, she can be found fangirling, following people back, and photoshopping the heads of band members onto the bodies of unicorns. Her writing career began with celebrity fan fiction, and her work draws extensively on her own experiences with online fan culture. Her original teen fiction has received millions of hits on the story-sharing website Wattpad, ranking as high as #1 in the mystery-thriller genre. She lives in New Jersey with her husband and twin boys.
---
Have you had a chance to read TELL ME NO LIES yet? Do you distract yourself from waiting on publishing by writing a new book? Do you whisper out loud as you write? Share your thoughts about the interview in the comments!
Happy Reading,
Jocelyn, Halli, Martina, Charlotte, Anisaa, Erin, Susan, Shelly, Kelly, Laura, Emily, and Lori Ann