Nisha, what did this book teach you about writing or about yourself?
MY SO-CALLED BOLLYWOOD LIFE taught me about patience. I rushed through writing the book, but when it came time to editing, the process was slow. I needed to take the anxiety of just racing to the end of the story to finish it, and set that aside. I was forced to examine my novel in a way that I hadn't before, and I think that's taught me how to be a more careful and patient writer.
How long or hard was your road to publication? How many books did you write before this one, and how many never got published?
SOOOOO LONG. I have three finished YA novels that I completed and queried and went out on sub with before I even wrote MY SO-CALLED BOLLYWOOD LIFE. The process of writing, selling, editing and releasing MY SO-CALLED BOLLYWOOD LIFE was also an exciting, yet very long four years that started when I wrote a draft for my MFA program back in 2013.
What's your writing ritual like? Do you listen to music? Work at home or at a coffee shop or the library, etc?
My writing ritual is writing whenever I have the time to get a few words in. I work long hours and whenever I have a few moments, I take the time to work on my new project. Sometimes that's at lunch at my day job, while at other times, I'm toiling away at 2 in the morning.
What are you working on now?
I'm working on my second book with Crown Books for Young Readers! The story is tentatively called RADHA'S RECIPE FOR BOLLYWOOD BEATS, and it's about Bollywood dance teams and a joy for cooking. The main character moves to Princeton, New Jersey from Chicago because her parents got divorced, and she has to relocate with her mother. She finds Jai, the head of the Princeton Academy of the Arts and Sciences Bollywood dance team, and begins this new relationship with him, with dance and with food.
ABOUT THE BOOK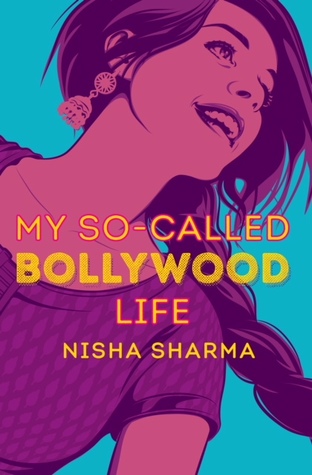 My So-Called Bollywood Life
by Nisha Sharma
Hardcover
Crown Books for Young Readers
Released 5/15/2018
Winnie Mehta was never really convinced that Raj was her soul mate, but their love was written in the stars. Literally, a pandit predicted Winnie would find the love of her life before her eighteenth birthday, and Raj meets all the qualifications. Which is why Winnie is shocked when she returns from her summer at film camp to find her boyfriend of three years hooking up with Jenny Dickens. As a self-proclaimed Bollywood expert, Winnie knows this is not how her perfect ending is scripted.
Then there's Dev, a fellow film geek and one of the few people Winnie can count on. Dev is smart and charming, and he challenges Winnie to look beyond her horoscope and find someone she'd pick for herself. But does falling for Dev mean giving up on her prophecy and her chance to live happily ever after? To find her perfect ending, Winnie will need a little bit of help from fate, family, and of course, a Bollywood movie star.
Purchase My So-Called Bollywood Life at Amazon
Purchase My So-Called Bollywood Life at IndieBound
View My So-Called Bollywood Life on Goodreads
ABOUT THE AUTHOR
Nisha Sharma grew up immersed in Bollywood movies, eighties pop culture, and romance novels, so it comes as no surprise that her first novel
My So-Called Bollywood Life
features all three. Nisha credits her father for her multiple graduate degrees and her mother for her love of Shah Rukh Khan and Jane Austen. She lives in New Jersey with her cat, Lizzie Bennett, and her dog, Nancey Drew. You can find her online at www.nisha-sharma.com or on Twitter and Instagram at @nishawrites.
---
Have you had a chance to read MY SO-CALLED BOLLYWOOD LIFE yet? Do you race to get to "the end"? Have revisions taught you how to be a more careful and patient writer.? Share your thoughts about the interview in the comments!
Happy Reading,
Charlotte, Jocelyn, Halli, Martina, Anisaa, Erin, Susan, Shelly, Kelly, Laura, Emily, and Lori Ann