Happy Reading,
Shelly, Halli, Jocelyn, Martina, Erin, Susan, Kelly, Laura, Emily, Anisaa, and Lori Ann
YA BOOK GIVEAWAYS THIS WEEK
* * * *
Cross Fire
by Fonda Lee
Hardcover Giveaway

U.S. Only
Scholastic Press
Released 5/29/2018
Earth's century of peace as a colony of an alien race has been shattered. As the government navigates peace talks with the human terrorist group Sapience, Donovan tries to put his life back together and return to his duty as a member of the security forces. But a new order comes from the home planet: withdraw. Earth has proven too costly and unstable to maintain as a colony, so the aliens, along with a small selection of humans, begin to make plans to leave. As word of the withdrawal spreads through the galaxy, Earth suddenly becomes vulnerable to a takeover from other aliens races. Invaders who do not seek to live in harmony with humans, but to ravage and destroy the planet.
As a galactic invasion threatens, Donovan realizes that Sapience holds the key that could stop the impending war. Yet in order to save humankind, all species on Earth will have to work together, and Donovan might just have to make the ultimate sacrifice to convince them.
Author Question: What is your favorite thing about Cross Fire?
My favorite thing about CROSS FIRE is the relationship between the main character, Donovan, and his best friend and partner, Jet. They're as close as brothers, but more than once, Donovan does things that really strain the relationship to its breaking point. Because CROSS FIRE is a sequel, I got to develop some of the wounds that lingered from EXO and introduce new ways to really test the two of them.

My other favorite thing about CROSS FIRE is a character that didn't even exist in the first draft! Soldier Gur seems absolutely indispensable to the story when you read it, which goes to show just how much revision occurred along the way.
Purchase Cross Fire at Amazon
Purchase Cross Fire at IndieBound
View Cross Fire on Goodreads
* * * *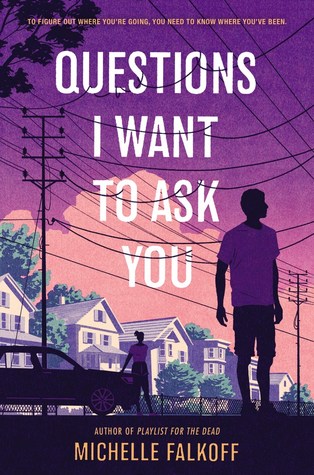 Questions I Want to Ask You
by Michelle Falkoff
Hardcover Giveaway

U.S. Only
HarperTeen
Released 5/29/2018
Patrick "Pack" Walsh may not know where he's going in life, but he's happy where he is. Then, on his eighteenth birthday, a letter from his past changes everything.
As Pack begins a journey to uncover the truth about the parents he thought he knew, the family he didn't know he had, and the future he never realized he wanted, he starts to have a whole different understanding of his life—and where he wants to go from here.
Author Question: What is your favorite thing about Questions I Want to Ask You?
I loved writing in the point of view of a character who's so different from me in so many ways, and yet with whom I have a number of random things in common. Pack was my opposite when I was in high school—I was very into academics and not at all into fitness—but we shared (and continue to share) some challenges with food and body image. And the town where he grew up is based on my hometown, so it was fun to think about what I wanted to keep about it and what I wanted to change.
Purchase Questions I Want to Ask You at Amazon
Purchase Questions I Want to Ask You at IndieBound
View Questions I Want to Ask You on Goodreads
YA BOOK GIVEAWAYS LAST WEEK: WINNERS
From Twinkle, with Love by Sandhya Menon:
Kira B.
MORE YOUNG ADULT NOVELS NEW IN STORES NEXT WEEK
* * * *
Bright Burns the Night
by Sara B. Larson
Hardcover
Scholastic Press
Released 5/29/2018
Ten years ago, King Lorcan of the Dark Kingdom Dorjhalon defeated Queen Evelayn and cut her conduit stone from her. Since then, he has kept her trapped in her swan form. With the loss of balance between Dark and Light, winter has descended and the Draíolon of Éadrolan lose more power every day. But once a year, Lorcan transforms her back to her Draíolon form and offers a truce. And every year Evelayn refuses -- for he requires her to Bind herself to him for life.
But now, with an Ancient power bearing down upon them, everything may change. Evelayn will learn that the truths she once believed have shattered, and that she may need her enemies even more than her allies. Lorcan and Evelayn become partners in a desperate quest to return the balance of power to Lachalonia. How far will this partnership go? Can friendship -- perhaps even love -- bloom where hatred has taken root?
Purchase Bright Burns the Night at Amazon
Purchase Bright Burns the Night at IndieBound
View Bright Burns the Night on Goodreads
* * * *
Holly Jolly Summer
by Tiffany Stewart
Hardcover
Farrar, Straus and Giroux
Released 5/29/2018
Four huge disasters,
Three months of tourists,
Two gorgeous boys,
And a partridge in a palm tree
In this lighthearted beach read about family, friendship, and fa-la-la, it's up to lovestruck teen Darby to save the spirit of a Southern town called Christmas.
Christmas, Kentucky, is a summer tourist destination known for its holiday-themed shops, ornament-sprouting potted palms, giant Snow Globe display, and cheerful residents―including the mayor's daughter, fifteen-year-old Darby Peacher. But as Darby stumbles her way into a job at the town's run-down amusement park, Holly Jolly Land, her summer quickly goes from merry to miserable: the boy of Christmas present is absent, a boy of Christmas past is her supervisor, and the town seems to be losing its cheer as it strives to become more commercial. As she tries to sort out her love life, Darby grows positively Scroogey until she gets wrapped up in reinventing Holly Jolly Land―and the town―as the wonderlands they once were.
Purchase Holly Jolly Summer at Amazon
Purchase Holly Jolly Summer at IndieBound
View Holly Jolly Summer on Goodreads
* * * *
Legendary
by Stephanie Garber
Hardcover
Flatiron Books
Released 5/29/2018
A heart to protect. A debt to repay. A game to win.
After being swept up in the magical world of Caraval, Donatella Dragna has finally escaped her father and saved her sister Scarlett from a disastrous arranged marriage. The girls should be celebrating, but Tella isn't yet free. She made a desperate bargain with a mysterious criminal, and what Tella owes him no one has ever been able to deliver: Caraval Master Legend's true name.
The only chance of uncovering Legend's identity is to win Caraval, so Tella throws herself into the legendary competition once more―and into the path of the murderous heir to the throne, a doomed love story, and a web of secrets…including her sister's. Caraval has always demanded bravery, cunning, and sacrifice. But now the game is asking for more. If Tella can't fulfill her bargain and deliver Legend's name, she'll lose everything she cares about―maybe even her life. But if she wins, Legend and Caraval will be destroyed forever.
Welcome, welcome to Caraval...the games have only just begun.
Purchase Legendary at Amazon
Purchase Legendary at IndieBound
View Legendary on Goodreads
* * * *
Lies You Never Told Me
by Jennifer Donaldson
Hardcover
Razorbill
Released 5/29/2018
Gabe and Elyse have never met. But they both have something to hide.
Quiet, shy Elyse can't believe it when she's cast as the lead in her Portland high school's production of Romeo and Juliet. Her best friend, Brynn, is usually the star, and Elyse isn't sure she's up to the task. But when someone at rehearsals starts to catch her eye--someone she knows she absolutely shouldn't be with--she can't help but be pulled into the spotlight.
Austin native Gabe is contemplating the unthinkable--breaking up with Sasha, his headstrong, popular girlfriend. She's not going to let him slip through her fingers, though, and when rumors start to circulate around school, he knows she has the power to change his life forever.
Gabe and Elyse both make the mistake of falling for the wrong person, and falling hard. Told in parallel narratives, this twisty, shocking story shows how one bad choice can lead to a spiral of unforeseen consequences that not everyone will survive.
Purchase Lies You Never Told Me at Amazon
Purchase Lies You Never Told Me at IndieBound
View Lies You Never Told Me on Goodreads
* * * *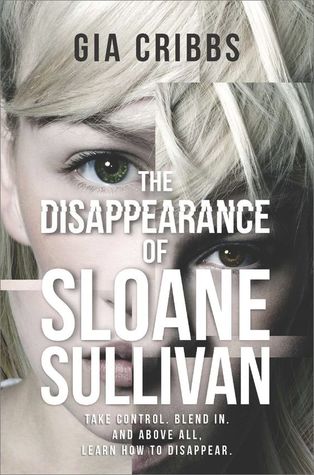 The Disappearance of Sloane Sullivan
by Gia Cribbs
Hardcover
Harlequin Teen
Released 5/29/2018
No one wants me to tell you about the disappearance of Sloane Sullivan.
Not the lawyers or the cops. Not her friends or family. Not even the boy who loved her more than anyone. And most certainly not the United States Marshals Service. You know, the people who run the witness protection program or, as it's officially called, the Witness Security Program? Yeah, the WITSEC folks definitely don't want me talking to you.
But I don't care. I have to tell someone.
If I don't, you'll never know how completely wrong things can go. How a single decision can change everything. How, when it really comes down to it, you can't trust anyone. Not even yourself. You have to understand, so it won't happen to you next. Because you never know when the person sitting next to you isn't who they claim to be…and because there are worse things than disappearing.
Purchase The Disappearance of Sloane Sullivan at Amazon
Purchase The Disappearance of Sloane Sullivan at IndieBound
View The Disappearance of Sloane Sullivan on Goodreads