Happy Reading,
Shelly, Halli, Jocelyn, Martina, Erin, Susan, Kelly, Laura, Emily, Anisaa, and Lori Ann
YA BOOK GIVEAWAYS THIS WEEK
* * * *
From Twinkle, with Love
by Sandhya Menon
Hardcover Giveaway

U.S. Only
Simon Pulse
Released 5/22/2018
Aspiring filmmaker and wallflower Twinkle Mehra has stories she wants to tell and universes she wants to explore, if only the world would listen. So when fellow film geek Sahil Roy approaches her to direct a movie for the upcoming Summer Festival, Twinkle is all over it. The chance to publicly showcase her voice as a director? Dream come true. The fact that it gets her closer to her longtime crush, Neil Roy—a.k.a. Sahil's twin brother? Dream come true x 2.
When mystery man "N" begins emailing her, Twinkle is sure it's Neil, finally ready to begin their happily-ever-after. The only slightly inconvenient problem is that, in the course of movie-making, she's fallen madly in love with the irresistibly adorkable Sahil.
Twinkle soon realizes that resistance is futile: The romance she's got is not the one she's scripted. But will it be enough?
Purchase From Twinkle, with Love at Amazon
Purchase From Twinkle, with Love at IndieBound
View From Twinkle, with Love on Goodreads
YA BOOK GIVEAWAYS LAST WEEK: WINNERS
Four-Letter Word by Christa Desir:
Rosi H.
Nothing Happened by Molly Booth:
Amy L.
We Are All That's Left by Carrie Arcos:
Tiffany E.
MORE YOUNG ADULT FICTION IN STORES NEXT WEEK WITH AUTHOR INTERVIEWS
* * * *
The Academy
by Katie Sise
Hardcover
Balzer + Bray
Released 5/22/2018
Frankie Brooks knows what she wants in life: to become the world's next great fashion editor. All she needs to do is get into the elite American Fashion Academy in New York City. If she gets in, her life plans will be going right on schedule. Anna Wintour, watch out.
But after Frankie messes up one too many times—hey, it's hard not to prioritize her acclaimed fashion blog above all else—her parents come up with entirely different plans for her future: military school. How is Frankie, the least athletic person in the world, who knows absolutely nothing about the military, going to survive a whole semester at the famed—and feared—Academy?
With classmates who seem to be totally uninterested in her, a course load that's even more difficult than her old school's, and the weird War Games competition she has to join, Frankie finds that her life is way tougher than it used to be. And no one, including her roommate Joni, seems to understand Frankie at all.
As she learns how to cope with impossible military drills and intimidating specialized classes and is maybe even falling for super-hot and super-smart cadet Jack Wattson, can Frankie prove to everyone that being a fashionista doesn't mean she can't succeed?
Author Question: What is your favorite thing about The Academy?
My favorite thing about The Academy is showing a very different life--that of military academy, and high school military training--and seeing it through the eyes of a slightly spoiled (but hopefully lovable!) teenage girl. Many of my family members serve in the US Military, but it was always a life I felt like I didn't know enough about. Writing this book made me feel closer to it, especially imagining how I would feel if I were in the main character Frankie's situation. After making one too many mistakes, Frankie's parents decide she's off to military academy to learn discipline. She's then submerged in a world she knows nothing about--a fish out of water. She's lived a very sheltered life, and suddenly she's challenged in every way possible at military academy--academically, physically, emotionally, even romantically--and she has to find inner strength to pull through it. I like that she stays true to herself while on this journey, but also learns so many lessons from her new environment, and from the courage and discipline imparted by her instructors at the Academy. And I admire Frankie's ability to make true friendships while she's there--something so important in life!
Purchase The Academy at Amazon
Purchase The Academy at IndieBound
View The Academy on Goodreads
* * * *
The Strange Fascinations of Noah Hypnotik
by David Arnold
Hardcover
Viking Books for Young Readers
Released 5/22/2018
This is Noah Oakman → sixteen, Bowie believer, concise historian, disillusioned swimmer, son, brother, friend.
Then Noah → gets hypnotized.
Now Noah → sees changes: his mother has a scar on her face that wasn't there before; his old dog, who once walked with a limp, is suddenly lithe; his best friend, a lifelong DC Comics disciple, now rotates in the Marvel universe. Subtle behaviors, bits of history, plans for the future—everything in Noah's world has been rewritten. Everything except his Strange Fascinations . . .
A stunning surrealist portrait, The Strange Fascinations of Noah Hypnotik is a story about all the ways we hurt our friends without knowing it, and all the ways they stick around to save us.
Author Question: What is your favorite thing about The Strange Fascinations of Noah Hypnotik?
Probably the friendships. In both of my prior books, the main character spent the majority of the novel with found families and new friends. In Noah, the main characters have serious history, which was really fun to write. Noah's best friends are twins, Alan and Val Rosa-Haas, and we see early on the depth of their relationship, the sort of shorthand they live by, which only comes from years of friendship. I love stories where friends save each other with nothing more than loyalty. (I'm like 95% Hufflepuff, shocking, I know.) So I wanted to write a story where the main character mistreats his friends, but they stick around to save him anyway.

Alan Rosa-Haas, specifically, is based on my friend Adam Silvera. It's the only time I've ever based a character on a real person, but I just couldn't help myself. There are a bunch of text threads in the book which are probably a little too close to reality.
Purchase The Strange Fascinations of Noah Hypnotik at Amazon
Purchase The Strange Fascinations of Noah Hypnotik at IndieBound
View The Strange Fascinations of Noah Hypnotik on Goodreads
MORE YOUNG ADULT NOVELS NEW IN STORES NEXT WEEK
* * * *
Aftermath
by Kelley Armstrong
Hardcover
Crown Books for Young Readers
Released 5/22/2018
Three years after losing her brother Luka in a school shooting, Skye Gilchrist is moving home. But there's no sympathy for Skye and her family because Luka wasn't a victim; he was a shooter.
Jesse Mandal knows all too well that the scars of the past don't heal easily. The shooting cost Jesse his brother and his best friend--Skye.
Ripped apart by tragedy, Jesse and Skye can't resist reopening the mysteries of their past. But old wounds hide darker secrets. And the closer Skye and Jesse get to the truth of what happened that day, the closer they get to a new killer.
Purchase Aftermath at Amazon
Purchase Aftermath at IndieBound
View Aftermath on Goodreads
* * * *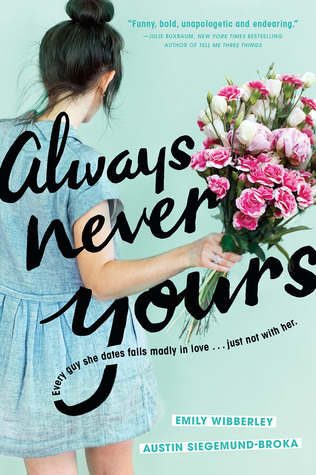 Always Never Yours
by Austin Siegemund-Broka and Emily Wibberley
Hardcover
Penguin Books
Released 5/22/2018
Megan Harper is the girl before. All her exes find their one true love right after dating her. It's not a curse or anything, it's just the way things are. and Megan refuses to waste time feeling sorry for herself. Instead, she focuses on pursuing her next fling, directing theater, and fulfilling her dream school's acting requirement in the smallest role possible. But her plans quickly crumble when she's cast as none other than Juliet--yes, that Juliet--in her high school's production. It's a nightmare. No--a disaster. Megan's not an actress and she's certainly not a Juliet. Then she meets Owen Okita, an aspiring playwright who agrees to help Megan catch the eye of a sexy stagehand in exchange for help writing his new script. Between rehearsals and contending with her divided family, Megan begins to notice Owen--thoughtful, unconventional, and utterly unlike her exes, and wonders: shouldn't a girl get to play the lead in her own love story?
Purchase Always Never Yours at Amazon
Purchase Always Never Yours at IndieBound
View Always Never Yours on Goodreads
* * * *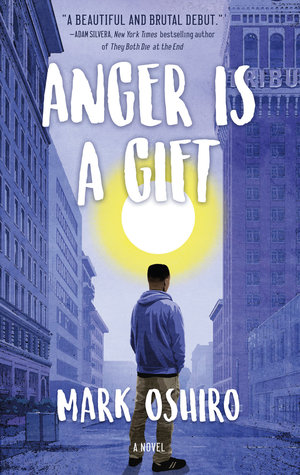 Anger Is a Gift
by Mark Oshiro
Hardcover
Tor Teen
Released 5/22/2018
Moss Jeffries is many things―considerate student, devoted son, loyal friend and affectionate boyfriend, enthusiastic nerd.
But sometimes Moss still wishes he could be someone else―someone without panic attacks, someone whose father was still alive, someone who hadn't become a rallying point for a community because of one horrible night.
And most of all, he wishes he didn't feel so stuck.
Moss can't even escape at school―he and his friends are subject to the lack of funds and crumbling infrastructure at West Oakland High, as well as constant intimidation by the resource officer stationed in their halls. That was even before the new regulations―it seems sometimes that the students are treated more like criminals.
Something will have to change―but who will listen to a group of teens?
When tensions hit a fever pitch and tragedy strikes again, Moss must face a difficult choice: give in to fear and hate or realize that anger can actually be a gift.
Purchase Anger Is a Gift at Amazon
Purchase Anger Is a Gift at IndieBound
View Anger Is a Gift on Goodreads
* * * *
Driving by Starlight
by Anat Deracine
Hardcover
Henry Holt and Co.
Released 5/22/2018
Sixteen-year-olds Leena and Mishie are best friends. They delight in small rebellions against the Saudi cultural police―secret Western clothing, forbidden music, flirtations. But Leena wants college, independence―she wants a different life. Though her story is specific to her world (a world where it's illegal for women to drive, where a ten-year-old boy is the natural choice as guardian of a fatherless woman), ultimately it's a story about friendship, family, and freedom that transcends cultural differences.
Purchase Driving by Starlight at Amazon
Purchase Driving by Starlight at IndieBound
View Driving by Starlight on Goodreads
* * * *
Monday's Not Coming
by Tiffany D. Jackson
Hardcover
Katherine Tegen Books
Released 5/22/2018
Monday Charles is missing, and only Claudia seems to notice. Claudia and Monday have always been inseparable—more sisters than friends. So when Monday doesn't turn up for the first day of school, Claudia's worried.
When she doesn't show for the second day, or second week, Claudia knows that something is wrong. Monday wouldn't just leave her to endure tests and bullies alone. Not after last year's rumors and not with her grades on the line. Now Claudia needs her best—and only—friend more than ever. But Monday's mother refuses to give Claudia a straight answer, and Monday's sister April is even less help.
As Claudia digs deeper into her friend's disappearance, she discovers that no one seems to remember the last time they saw Monday. How can a teenage girl just vanish without anyone noticing that she's gone?
Purchase Monday's Not Coming at Amazon
Purchase Monday's Not Coming at IndieBound
View Monday's Not Coming on Goodreads