Happy Reading,
Shelly, Halli, Jocelyn, Martina, Erin, Susan, Kelly, Laura, Emily, Anisaa, and Lori Ann
YA BOOK GIVEAWAYS THIS WEEK
* * * *
Nothing Happened
by Molly Booth
Signed Hardcover Giveaway

U.S. Only
Disney-Hyperion
Released 5/15/2018
This modern-day retelling of Shakespeare's Much Ado About Nothing takes place at the idyllic Camp Dogberry, where sisters Bee and Hana Leonato have lived their whole lives. Their parents own the place, and every summer they look forward to leading little campers in crafts, swimming in the lake, playing capture the flag and Sproutball, and of course, throwing legendary counselor parties.
This year, the camp drama isn't just on the improv stage. Bee and longtime counselor Ben have a will-they-or-won't-they romance that's complicated by events that happened-or didn't happen-last summer. Meanwhile, Hana is falling hard for the kind but insecure Claudia, putting them both in the crosshairs of resident troublemaker John, who spreads a vicious rumor that could tear them apart.
As the counselors juggle their camp responsibilities with simmering drama that comes to a head at the Fourth of July sparkler party, they'll have to swallow their pride and find the courage to untangle the truth, whether it leads to heartbreak or happily ever after.
Purchase Nothing Happened at Amazon
Purchase Nothing Happened at IndieBound
View Nothing Happened on Goodreads
* * * *
We Are All That's Left
by Carrie Arcos
Hardcover Giveaway

U.S. Only
Philomel Books
Released 5/15/2018
Two lives. Two worlds apart. One deeply compelling story set in both Bosnia and the United States, spanning decades and generations, about the brutality of war and the trauma of everyday life after war, about hope and the ties that bind us together.
Zara and her mother, Nadja, have a strained relationship. Nadja just doesn't understand Zara's creative passion for, and self-expression through, photography. And Zara doesn't know how to reach beyond their differences and connect to a closed-off mother who refuses to speak about her past in Bosnia. But when a bomb explodes as they're shopping in their local farmers' market in Rhode Island, Zara is left with PTSD--and her mother is left in a coma. Without the opportunity to get to know her mother, Zara is left with questions--not just about her mother, but about faith, religion, history, and her own path forward.
As Zara tries to sort through her confusion, she meets Joseph, whose grandmother is also in the hospital, and whose exploration of religion and philosophy offer comfort and insight into Zara's own line of thinking.
Told in chapters that alternate between Zara's present-day Providence, RI, and Nadja's own childhood in Bosnia and Herzegovina during the Bosnian War of the 1990s, We Are All That's Left shows the ways in which, no matter the time and place, struggle and tragedy can give way to connection, healing and love.
Author Question: What is your favorite thing about We Are All That's Left?
This book is the one I was afraid to write. I knew it would take great risk on my part. For years I had wanted to tell a story honoring my experience working with Bosnian refugees in the 1990s, but I didn't know how. A couple of years ago, I got the idea and pursued it, even traveling to Bosnia for research. My editor's comments to me after turning in the first draft probably sum up how I feel about the book. She said it was my soul book. I completely agree. It's my best book. I especially love the imagery in the ending. When I got that final image, I knew it in my bones. It connected everything together. I hope readers will see pieces of themselves in the characters, grow in empathy towards others who have different experiences, and see how faith connects all of us.
Purchase We Are All That's Left at Amazon
Purchase We Are All That's Left at IndieBound
View We Are All That's Left on Goodreads
* * * *
Four-Letter Word
by Christa Desir
Hardcover Giveaway

U.S. Only
Simon Pulse
Released 5/15/2018
Eight friends. One game. A dozen regrets. And a night that will ruin them all, in this high stakes gripping story of manipulation and innocence lost, from the author of Bleed Like Me.
Chloe Sanders is ready for a change. She's tired of watching her best friend Eve turn away from her for the more interesting and popular Holly Reed, and tired of living with her grandparents while her parents volunteer overseas. Chloe spends her days crushing on a guy named Mateo, being mostly ignored by Eve and Holly, and wishing the cornfields of Iowa didn't feel so incredibly lonely.
Then a new girl transfers to her high school—Chloe Donnelly. This Chloe is bold and arty and instantly placed on a pedestal by Eve and Holly. Now suddenly everyone is referring to Chloe Sanders as "Other Chloe" and she figures the only thing to do is go with it.
Chloe Donnelly introduces all her friends to a dangerous game: a girls vs. guys challenge that only has one rule—obtain information by any means necessary. Chloe Donnelly's got power over everyone—secrets she's exploiting—and she uses it to keep them all playing. When the game turns nasty, soft-spoken Mateo chooses Other Chloe to help him expose everything Chloe Donnelly has done. But neither realize just how much the truth could cost them in the end.
Purchase Four-Letter Word at Amazon
Purchase Four-Letter Word at IndieBound
View Four-Letter Word on Goodreads
YA BOOK GIVEAWAYS LAST WEEK: WINNERS
Mayfly by Jeff Sweat:
Aaraon H.
The Foreseeable Future by Emily Adrian:
Ariel G.
MORE YOUNG ADULT FICTION IN STORES NEXT WEEK WITH AUTHOR INTERVIEWS
* * * *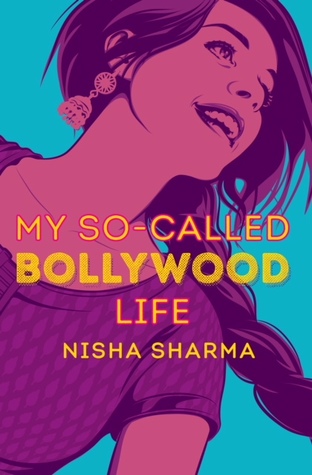 My So-Called Bollywood Life
by Nisha Sharma
Hardcover
Crown Books for Young Readers
Released 5/15/2018
Winnie Mehta was never really convinced that Raj was her soul mate, but their love was written in the stars. Literally, a pandit predicted Winnie would find the love of her life before her eighteenth birthday, and Raj meets all the qualifications. Which is why Winnie is shocked when she returns from her summer at film camp to find her boyfriend of three years hooking up with Jenny Dickens. As a self-proclaimed Bollywood expert, Winnie knows this is not how her perfect ending is scripted.
Then there's Dev, a fellow film geek and one of the few people Winnie can count on. Dev is smart and charming, and he challenges Winnie to look beyond her horoscope and find someone she'd pick for herself. But does falling for Dev mean giving up on her prophecy and her chance to live happily ever after? To find her perfect ending, Winnie will need a little bit of help from fate, family, and of course, a Bollywood movie star.
Author Question: What is your favorite thing about My So-Called Bollywood Life?
My favorite thing about my debut is that I was able to include as many Bollywood movie references as I wanted in the novel. My editor was incredibly supportive when I asked her about including a glossary of movies, and movie ratings at the end of the book as well. To me, that support meant that my publishing house was behind the book 10000%.

There is a pre-order giveaway if you pre-order and submit the receipt at www.nisha-sharma.com. It lasts until midnight on the 14th!
Purchase My So-Called Bollywood Life at Amazon
Purchase My So-Called Bollywood Life at IndieBound
View My So-Called Bollywood Life on Goodreads
* * * *
Onyx & Ivory
by Mindee Arnett
Hardcover
Balzer + Bray
Released 5/15/2018
They call her Traitor Kate. It's a title Kate Brighton inherited from her father after he tried to assassinate the high king of Rime.
Cast out of the nobility, Kate now works for the royal courier service. Only the most skilled ride for the Relay and only the fastest survive, for when night falls, the drakes—deadly flightless dragons—come out to hunt. Fortunately, Kate has a secret edge: She is a wilder, born with forbidden magic that allows her to influence the minds of animals.
And it's this magic that leads her to a caravan massacred by drakes in broad daylight—the only survivor Corwin Tormaine, the son of the king. Her first love, the boy she swore to forget after he condemned her father to death.
With their paths once more entangled, Kate and Corwin must put the past behind them to face this new threat and an even darker menace stirring in the kingdom.
Author Question: What is your favorite thing about Onyx & Ivory?
This is such a hard question. I mean, I love all of it, especially the characters. But I guess the part that fascinated me most while writing is the world itself. The kingdom of Rime has a real dragon problem. When darkness falls nightdrakes—flightless, vampire-like dragons—come out to hunt. They will kill anything human, or touched by humans, they can find. The only safe place at night is behind the magically fortified walls of the cities.

This obviously creates unique challenges for the people who live there. For example, all the livestock has to be brought inside the city each night, and anyone who ventures out during the day has to make sure they can get back before the gates close. Over time, it has also started to create a population issue. There's a limited number of places to live, after all, and it's not like the walls can be moved easily. This is in turn has given rise to the use of moonbelts, which are basically a magical version of birth control. But in Rime, magic must be bought and paid for, and it doesn't come cheap. It's these dynamics, and the rippling effects, that I found so much fun to write about.
Purchase Onyx & Ivory at Amazon
Purchase Onyx & Ivory at IndieBound
View Onyx & Ivory on Goodreads
MORE YOUNG ADULT NOVELS NEW IN STORES NEXT WEEK
* * * *
How I Resist: Activism and Hope for a New Generation
by Maureen Johnson
Hardcover
Wednesday Books
Released 5/15/2018
An all-star collection of essays about activism and hope, edited by bestselling YA author Maureen Johnson.
Now, more than ever, young people are motivated to make a difference in a world they're bound to inherit. They're ready to stand up and be heard - but with much to shout about, where they do they begin? What can I do? How can I help?
How I Resist
is the response, and a way to start the conversation. To show readers that they are not helpless, and that anyone can be the change. A collection of essays, songs, illustrations, and interviews about activism and hope,
How I Resist
features an all-star group of contributors, including, John Paul Brammer, Libba Bray, Lauren Duca, Modern Family's Jesse Tyler Ferguson and his husband Justin Mikita, Alex Gino, Hebh Jamal, Malinda Lo, Dylan Marron, Hamilton star Javier Muñoz, Rosie O'Donnell, Junauda Petrus, Jodi Picoult, Jason Reynolds, Karuna Riazi, Maya Rupert, Dana Schwartz, Dan Sinker, Ali Stroker, Jonny Sun (aka @jonnysun), Sabaa Tahir, Daniel Watts, Jennifer Weiner, Jacqueline Woodson, and more, all edited and compiled by New York Times bestselling author Maureen Johnson.
In
How I Resist
, readers will find hope and support through voices that are at turns personal, funny, irreverent, and instructive. Not just for a young adult audience, this incredibly impactful collection will appeal to readers of all ages who are feeling adrift and looking for guidance.
How I Resist
is the kind of book people will be discussing for years to come and a staple on bookshelves for generations.
Purchase How I Resist: Activism and Hope for a New Generation at Amazon
Purchase How I Resist: Activism and Hope for a New Generation at IndieBound
View How I Resist: Activism and Hope for a New Generation on Goodreads
* * * *
Love & Other Carnivorous Plants
by Florence Gonsalves
Hardcover
Little, Brown Books for Young
Released 5/15/2018
Freshman year at Harvard was the most anticlimactic year of Danny's life. She's failing pre-med and drifting apart from her best friend. One by one, Danny is losing all the underpinnings of her identity. When she finds herself attracted to an older, edgy girl who she met in rehab for an eating disorder, she finally feels like she might be finding a new sense of self. But when tragedy strikes, her self-destructive tendencies come back to haunt her as she struggles to discover who that self really is. With a starkly memorable voice that's at turns hilarious and heartbreaking, Love and Other Carnivorous Plants brilliantly captures the painful turning point between an adolescence that's slipping away and the overwhelming uncertainty of the future.
Purchase Love & Other Carnivorous Plants at Amazon
Purchase Love & Other Carnivorous Plants at IndieBound
View Love & Other Carnivorous Plants on Goodreads
* * * *
Out of the Blue
by Sophie Cameron
Hardcover
Roaring Brook Press
Released 5/15/2018
When otherworldly beings start falling from the sky, it seems like the end of days are near―but for one girl, it's just the beginning of an adventure that will change her life.
Jaya's life has completely fallen apart. Her mother is dead, her dad is on an obsessive wild goose chase, and mysterious winged beings are falling from the sky. For the past nine months, none of the them have survived the plummet to Earth, but when a female being lands near Jaya―and is still alive―she doesn't call the authorities. She hides the being and tries to nurse her back to health.
Set against the backdrop of a society trying to come to grips with the possibility of a world beyond, Out of the Blue is the story of how one unexpected turn of events can put you on a path toward healing.
Purchase Out of the Blue at Amazon
Purchase Out of the Blue at IndieBound
View Out of the Blue on Goodreads
* * * *
The Gone Away Place
by Christopher Barzak
Hardcover
Knopf Books for Young Readers
Released 5/15/2018
Ellie heads up her high school yearbook, and until the tornadoes come, her biggest worry is how to raise enough money to print them. But since the day when a rash of powerful tornadoes touched down in Newfoundland, Ohio--killing more than half of the students in her school, not to mention dozens more people throughout the town--she's been haunted: by the ghosts of her best friends, by the boy next door, even by her boyfriend. And the living are haunting her too, all those left behind in the storm's wake to cope with the "gone away" pieces in their lives. A chance encounter with one ghost leads Ellie to discover a way to free the spirits that have been lingering since the storm, and she learns that she's not the only one seeing the ghosts--it's a town-wide epidemic.
Purchase The Gone Away Place at Amazon
Purchase The Gone Away Place at IndieBound
View The Gone Away Place on Goodreads
* * * *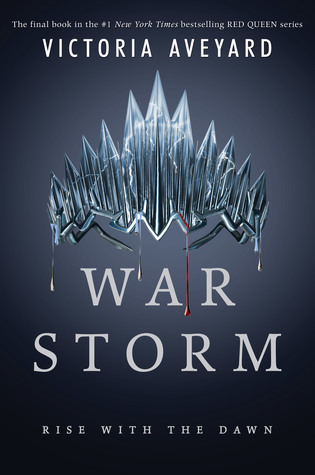 War Storm
by Victoria Aveyard
Hardcover
HarperTeen
Released 5/15/2018
VICTORY COMES AT A PRICE.
Mare Barrow learned this all too well when Cal's betrayal nearly destroyed her. Now determined to protect her heart—and secure freedom for Reds and newbloods like her—Mare resolves to overthrow the kingdom of Norta once and for all . . . starting with the crown on Maven's head.
But no battle is won alone, and before the Reds may rise as one, Mare must side with the boy who broke her heart in order to defeat the boy who almost broke her. Cal's powerful Silver allies, alongside Mare and the Scarlet Guard, prove a formidable force. But Maven is driven by an obsession so deep, he will stop at nothing to have Mare as his own again, even if it means demolish everything—and everyone—in his path.
War is coming, and all Mare has fought for hangs in the balance. Will victory be enough to topple the Silver kingdoms? Or will the little lightning girl be forever silenced?
In the epic conclusion to Victoria Aveyard's stunning series, Mare must embrace her fate and summon all her power . . . for all will be tested, but not all will survive.
Purchase War Storm at Amazon
Purchase War Storm at IndieBound
View War Storm on Goodreads
* * * *
What I Leave Behind
by Alison McGhee
Hardcover
Atheneum/Caitlyn Dlouhy Books
Released 5/15/2018
After his dad commits suicide, Will tries to overcome his own misery by secretly helping the people around him in this exquisitely crafted story made up of one hundred chapters of one hundred words each, by award-winning and bestselling author Alison McGhee.
Sixteen-year-old Will spends most of his days the same way: Working at the Dollar Only store, trying to replicate his late father's famous cornbread recipe, and walking the streets of Los Angeles. Will started walking after his father committed suicide, and three years later he hasn't stopped. But there are some places Will can't walk by: The blessings store with the chest of 100 Chinese blessings in the back, the bridge on Fourth Street where his father died, and his childhood friend Playa's house.
When Will learns Playa was raped at a party—a party he was at, where he saw Playa, and where he believes he could have stopped the worst from happening if he hadn't left early—it spurs Will to stop being complacent in his own sadness and do some good in the world. He begins to leave small gifts for everyone in his life, from Superman the homeless guy he passes on his way to work, to the Little Butterfly Dude he walks by on the way home, to Playa herself. And it is through those acts of kindness that Will is finally able to push past his own trauma and truly begin to live his life again. Oh, and discover the truth about that cornbread.
Purchase What I Leave Behind at Amazon
Purchase What I Leave Behind at IndieBound
View What I Leave Behind on Goodreads