Happy Reading,
Shelly, Halli, Jocelyn, Martina, Erin, Susan, Kelly, Laura, Emily, Anisaa, and Lori Ann
YA BOOK GIVEAWAYS THIS WEEK
* * * *
Mayfly
by Jeff Sweat
Hardcover Giveaway

US/Canada
Feiwel & Friends
Released 5/8/2018
Jemma has spent her life scavenging tools and supplies in her tribe's small enclave outside what used to be a big city. Now she's a teen, and old enough to become a Mama. Making babies is how her people survive―in Jemma's world, life ends at age seventeen.
Survival has eclipsed love ever since the Parents died of a mysterious plague. But Jemma's connection to a boy named Apple is stronger than her duty as a Mama. Forced to leave, Jemma and Apple are joined in exile by a mysterious boy who claims to know what is causing them to die. The world is crumbling around them, and their time is running out. Life is short. Can they outlive it?
Author Question: What is your favorite thing about Mayfly?
I loved that it let me look at my home, Los Angeles, from the lens of a far-off future. I got to revisit the places I love, like the Hollywood Hills and the Griffith Observatory, and have my characters attempt to decode their meaning.

But the best part was creating a world run by children, seeing what they can do on their own. I look at my kids, who are entering their teens, and I see how hard it is sometimes for them to be in their own skins. What would happen if we asked teens to hold the world together, when their own lives feel so hard? We see the answer not only in this book but in the real world—kids are cleaning up the messes the grown-ups left behind, and they're doing so with compassion, creativity, and grace.
Purchase Mayfly at Amazon
Purchase Mayfly at IndieBound
View Mayfly on Goodreads
* * * *
The Foreseeable Future
by Emily Adrian
Hardcover Giveaway

U.S. Only
Dial Books
Released 5/8/2018
Audrey's life has been planned out for her since she was born, and now she's supposed to attend Whedon College in the fall, where both of her parents work. But Audrey has a different plan in mind: She's not going to attend college at all. She's going to earn some money and move to Seattle, the city she's loved since she was a child. And the best way to earn that money is by working the night shift at the local nursing home.
Seth O'Malley works there, too, and a romance quickly blossoms between them. But things get complicated when Audrey saves the life of Cameron Suzuki, Seth's ex. A video of her performing CPR at the beach goes viral, and suddenly, Audrey's wanted for TV interviews and newspaper articles. And just when Audrey starts to love life at the nursing home--and life with Seth--Seattle comes knocking. Does she follow the path she set out for herself, even when it means leaving behind Seth and the cast of quirky patients she's come to care for? Or does she embrace a future with Seth--at least for the foreseeable future--at the cost of abandoning her dreams?
Author Question: What is your favorite thing about The Foreseeable Future?
I have two! First, I love that the book is about a girl who decides not to go to college immediately after high school, and to pursue a career in nursing instead. I loved writing about Audrey entering the work force for the first time, thrilled by her sudden independence, but also overwhelmed to be the one caring for other people when she's used to other people taking care of her.

My second favorite thing about THE FORESEEABLE FUTURE is the romance. As with a lot of love stories, it's not clear whether Audrey and Seth will end up together until the very end, and what I love about their romance is that the only thing standing in their way is…themselves. Logistically, it would be easy for them to choose each other. They live in the same town, neither of them has feelings for anyone else, but they have flaws and insecurities and doubts that might prevent their relationship from working…even though they adore each other.
Purchase The Foreseeable Future at Amazon
Purchase The Foreseeable Future at IndieBound
View The Foreseeable Future on Goodreads
YA BOOK GIVEAWAYS LAST WEEK: WINNERS
* * * *
August and Everything After by Jennifer Salvato Doktorski:
Megan C.
Out of Left Field by Kris Hui Lee:
Taffy L.
Spies, Lies and Allies by Lisa Brown Roberts:
Becky O.
The Outcast by Taran Matharu:
Autumn K.
True Storm by L.E. Sterling:
Michelle L.
MORE YOUNG ADULT FICTION IN STORES NEXT WEEK WITH AUTHOR INTERVIEWS
* * * *
Boy Bites Bug
by Rebecca Petruck
Hardcover
Amulet Books
Released 5/8/2018
Will didn't plan to eat a stinkbug. But when his friend Darryl called new kid Eloy Herrera a racial slur, Will did it as a diversion. Now Will is Bug Boy, and everyone is cracking up inventing insect meals for him, like French
flies
and
maggot
-aroni
and
fleas
.
Turns out eating bugs for food is a real thing, called
entomophagy
. Deciding that means he can use a class project to feed everyone grasshoppers, Will bargains for Eloy's help in exchange for helping him with wrestling, but their growing friendship only ticks off Darryl more.
Will may have bitten off more than he can chew as crickets, earthworm jerky—even a scorpion—end up on his plate, but insects are the least of his problems. When things with Darryl and Eloy heat up, Will wrestles with questions of loyalty, honor—and that maybe not all friendships are worth fighting for.
Author Question: What is your favorite thing about Boy Bites Bug?
My favorite thing about BUG is the friendships between the boys. They're goofy and caring and occasionally idiots and frequently funny. There's a scene about hugs that makes me grin every time.

Things are improving, but I think US media often implies "men" are only certain things, but they can be lots of different people and feel lots of different feelings—all in one day! I like to explore that in my books, and I hope by doing so help to counter some of the "manly" messaging that is almost as pervasive as the negative messaging girls are inundated with every day, too.

Read the first five chapters of BOY BITES BUG here. http://www.abramsbooks.com/product/boy-bites-bug_9781419721410/
Purchase Boy Bites Bug at Amazon
Purchase Boy Bites Bug at IndieBound
View Boy Bites Bug on Goodreads
MORE YOUNG ADULT NOVELS NEW IN STORES NEXT WEEK
* * * *
A Lite Too Bright
by Samuel Miller
Hardcover
Katherine Tegen Books
Released 5/8/2018
Arthur Louis Pullman the Third is on the verge of a breakdown. He's been stripped of his college scholarship, is losing his grip on reality, and has been sent away to live with his aunt and uncle.
It's there that Arthur discovers a journal written by his grandfather, the first Arthur Louis Pullman, an iconic Salinger-esque author who went missing the last week of his life and died hundreds of miles away from their family home. What happened in that week—and how much his actions were influenced by his Alzheimer's—remains a mystery.
But now Arthur has his grandfather's journal—and a final sentence containing a train route and a destination.
So Arthur embarks on a cross-country train ride to relive his grandfather's last week, guided only by the clues left behind in the dementia-fueled journal. As Arthur gets closer to uncovering a sad and terrible truth, his journey is complicated by a shaky alliance with a girl who has secrets of her own and by escalating run-ins with a dangerous Pullman fan base.
Arthur's not the only one chasing a legacy—and some feel there is no cost too high for the truth.
Purchase A Lite Too Bright at Amazon
Purchase A Lite Too Bright at IndieBound
View A Lite Too Bright on Goodreads
* * * *
All of This Is True
by Lygia Day Peñaflor
Hardcover
HarperTeen
Released 5/8/2018
n this genre-defying page-turner from Lygia Day Peñaflor, four teens befriend their favorite YA novelist, only to find their deepest, darkest secrets in the pages of her next book—with devastating consequences.
Miri Tan loved the book Undertow like it was a living being. So when she and her friends went to a book signing to hear the author, Fatima Ro, they concocted a plan to get close to her.
Soleil Johnston wanted to be a writer herself one day. When she and her friends started hanging out with her favorite author, Fatima Ro, she couldn't believe their luck—especially when Jonah Nicholls started hanging out with them, too.
Penny Panzarella was more than the materialist party girl everyone at the Graham School thought she was—and she was willing to share all her secrets with Fatima Ro to prove it.
Jonah Nicholls had more to hide than any of them. And now that Fatima's next book is out in the world, he's the one who is paying the price...
Purchase All of This Is True at Amazon
Purchase All of This Is True at IndieBound
View All of This Is True on Goodreads
* * * *
Dark of the West
by Joanna Hathaway
Hardcover
Tor Teen
Released 5/8/2018
Aurelia Isendare is a princess of a small kingdom in the North, raised in privilege but shielded from politics as her brother prepares to step up to the throne. Halfway around the world, Athan Dakar, the youngest son of a ruthless general, is a fighter pilot longing for a life away from the front lines. When Athan's mother is shot and killed, his father is convinced it's the work of his old rival, the Queen of Etania―Aurelia's mother. Determined to avenge his wife's murder, he devises a plot to overthrow the Queen, a plot which sends Athan undercover to Etania to gain intel from her children.
Athan's mission becomes complicated when he finds himself falling for the girl he's been tasked with spying upon. Aurelia feels the same attraction, all the while desperately seeking to stop the war threatening to break between the Southern territory and the old Northern kingdoms that control it―a war in which Athan's father is determined to play a role. As diplomatic ties manage to just barely hold, the two teens struggle to remain loyal to their families and each other as they learn that war is not as black and white as they've been raised to believe.
Purchase Dark of the West at Amazon
Purchase Dark of the West at IndieBound
View Dark of the West on Goodreads
* * * *
Elektra's Adventures in Tragedy
by Douglas Rees
Hardcover
Running Press Kids
Released 5/8/2018
Sixteen-year-old Elektra Kamenides is well on her way to becoming a proper southern belle in the small Mississippi college town she calls home. That is, until her mother decides to uproot her and her kid sister Thalia and start over in California. They leave behind Elektra's father--a professor and leading expert on Greek mythology, and Elektra can't understand why. For her, life is tragedy, and all signs point to her family being cursed.
Their journey ends in Guadalupe Slough, a community of old Chicano families and oddball drifters sandwiched between San José and the southern shores of San Francisco Bay. The houseboat that her mother has bought, sight unseen, is really just an ancient trailer parked on a barge and sunk into a mudflat.
What would Odysseus do? Elektra asks herself. Determined to get back to Mississippi at all costs, she'll beg, lie, and steal to get there. But things are not always what they seem, and home is wherever you decide to make it.
Purchase Elektra's Adventures in Tragedy at Amazon
Purchase Elektra's Adventures in Tragedy at IndieBound
View Elektra's Adventures in Tragedy on Goodreads
* * * *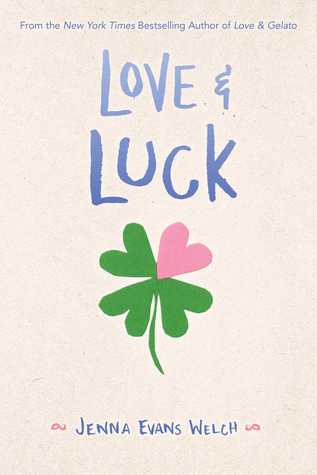 Love & Luck
by Jenna Evans Welch
Hardcover
Simon Pulse
Released 5/8/2018
Addie is visiting Ireland for her aunt's over-the-top destination wedding, and hoping she can stop thinking about the one horrible thing she did that left her miserable and heartbroken—and threatens her future. But her brother, Ian, isn't about to let her forget, and his constant needling leads to arguments and even a fistfight between the two once inseparable siblings. Miserable, Addie can't wait to visit her friend in Italy and leave her brother—and her problems—behind.
So when Addie discovers an unusual guidebook, Ireland for the Heartbroken, hidden in the dusty shelves of the hotel library, she's able to finally escape her anxious mind and Ian's criticism.
And then their travel plans change. Suddenly Addie finds herself on a whirlwind tour of the Emerald Isle, trapped in the world's smallest vehicle with Ian and his admittedly cute, Irish-accented friend Rowan. As the trio journeys over breathtaking green hills, past countless castles, and through a number of fairy-tale forests, Addie hopes her guidebook will heal not only her broken heart, but also her shattered relationship with her brother.
That is if they don't get completely lost along the way.
Purchase Love & Luck at Amazon
Purchase Love & Luck at IndieBound
View Love & Luck on Goodreads
* * * *
Puddin'
by Julie Murphy
Hardcover
Balzer + Bray
Released 5/8/2018
Millie Michalchuk has gone to fat camp every year since she was a little girl. Not this year. This year she has new plans to chase her secret dream of being a newscaster—and to kiss the boy she's crushing on.
Callie Reyes is the pretty girl who is next in line for dance team captain and has the popular boyfriend. But when it comes to other girls, she's more frenemy than friend.
When circumstances bring the girls together over the course of a semester, they surprise everyone (especially themselves) by realizing that they might have more in common than they ever imagined.
Purchase Puddin' at Amazon
Purchase Puddin' at IndieBound
View Puddin' on Goodreads
* * * *
Run, Hide, Fight Back
by April Henry
Hardcover
Henry Holt and Co.
Released 5/8/2018
When a deadly shooting breaks out in a Portland shopping mall, a diverse group of teens ends up trapped behind a store's security shutter. To her own surprise, seventeen-year-old Miranda finds the others looking to her as their leader. But she's hiding a big secret―and she's not the only one. The group has only three choices―run, hide, or fight back. The wrong decision will have fatal consequences.
Purchase Run, Hide, Fight Back at Amazon
Purchase Run, Hide, Fight Back at IndieBound
View Run, Hide, Fight Back on Goodreads
* * * *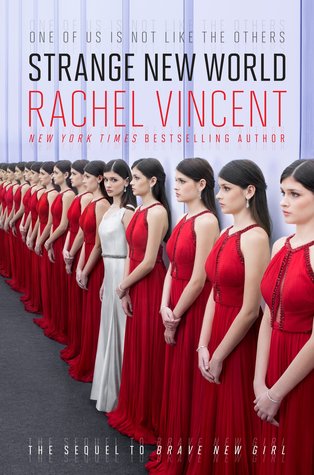 Strange New World
by Rachel Vincent
Hardcover
Delacorte Press
Released 5/8/2018
Dahlia 16's life is a lie. The city of Lakeview isn't a utopia that raises individuals for the greater good; it is a clone farm that mass-produces servants for the elite. And because Dahlia breaks the rules, her sisters--the 4,999 girls who share her face--are destroyed. She and Trigger 17, the soldier who risked his life for hers, go on the run, escaping into the wild outside the city walls. But it turns out Dahlia has one remaining identical, one who shouldn't even exist.
Waverly Whitmore is teenage royalty, a media sensation with millions of fans who broadcasts her every move--including every detail of her wedding planning, leading up to the day she marries Hennessy Chapman. Waverly lives a perfect life built on the labors of clones like Dahlia. She has no idea that she too is a clone . . . until she comes face to face with Dahlia.
One deadly secret. Two genetic sisters. And a world that isn't big enough for both of them.
Purchase Strange New World at Amazon
Purchase Strange New World at IndieBound
View Strange New World on Goodreads
* * * *
The Handsome Girl & Her Beautiful Boy
by B. T. Gottfred
Hardcover
Henry Holt and Co.
Released 5/8/2018
Everyone assumes that Zee is a lesbian. Her classmates, her gym buddies, even her so-called best friend. Even Zee is starting to wonder. Could they be onto something?
Everyone assumes that Art is gay. They take one look at his nice clothes and his pretty face and think: well, obviously.
But there's more to Zee and Art than anyone realizes. What develops is a powerful connection between two people who are beautiful in all the ways they've been told are strange. As they explore their own complex relationships to gender, sexuality, and identity, they fall for the complexities they find in each other.
Purchase The Handsome Girl & Her Beautiful Boy at Amazon
Purchase The Handsome Girl & Her Beautiful Boy at IndieBound
View The Handsome Girl & Her Beautiful Boy on Goodreads
* * * *
The Way You Make Me Feel
by Maurene Goo
Hardcover
Farrar, Straus and Giroux
Released 5/8/2018
Clara Shin lives for pranks and disruption. When she takes one joke too far, her dad sentences her to a summer working on his food truck, the KoBra, alongside her uptight classmate Rose Carver. Not the carefree summer Clara had imagined. But maybe Rose isn't so bad. Maybe the boy named Hamlet (yes, Hamlet) crushing on her is pretty cute. Maybe Clara actually feels invested in her dad's business. What if taking this summer seriously means that Clara has to leave her old self behind?
Purchase The Way You Make Me Feel at Amazon
Purchase The Way You Make Me Feel at IndieBound
View The Way You Make Me Feel on Goodreads
* * * *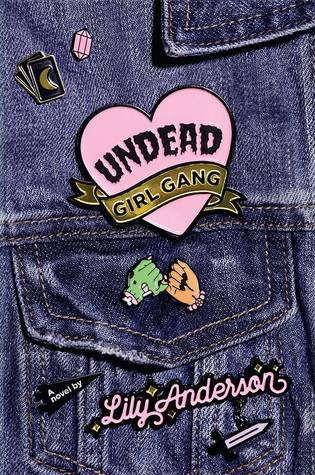 Undead Girl Gang
by Lily Anderson
Hardcover
Razorbill
Released 5/8/2018
Meet teenage Wiccan Mila Flores, who truly could not care less what you think about her Doc Martens, her attitude, or her weight because she knows that, no matter what, her BFF Riley is right by her side.
So when Riley and Fairmont Academy mean girls June Phelan-Park and Dayton Nesseth die under suspicious circumstances, Mila refuses to believe everyone's explanation that her BFF was involved in a suicide pact. Instead, armed with a tube of lip gloss and an ancient grimoire, Mila does the unthinkable to uncover the truth: she brings the girls back to life.
Unfortunately, Riley, June, and Dayton have no recollection of their murders. But they do have unfinished business to attend to. Now, with only seven days until the spell wears off and the girls return to their graves, Mila must wrangle the distracted group of undead teens and work fast to discover their murderer...before the killer strikes again.
Purchase Undead Girl Gang at Amazon
Purchase Undead Girl Gang at IndieBound
View Undead Girl Gang on Goodreads
* * * *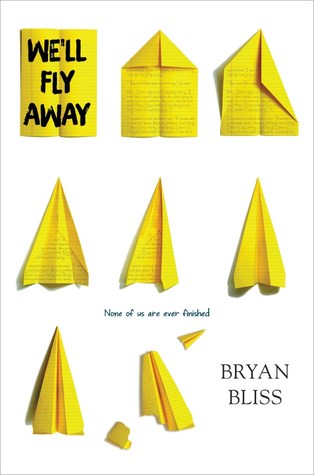 We'll Fly Away
by Bryan Bliss
Hardcover
Greenwillow Books
Released 5/8/2018
Best friends since childhood, Luke and Toby have dreamed of one thing: getting out of their dead-end town. Soon they finally will, riding the tails of Luke's wrestling scholarship, never looking back. If they don't drift apart first. If Toby's abusive dad, or Luke's unreliable mom, or anything else their complicated lives throw at them doesn't get in the way.
In a format that alternates between Luke's letters to Toby from death row and the events of their senior year, Bryan Bliss expertly unfolds the circumstances that led to Luke's incarceration. Tense and emotional, this hard-hitting novel explores family abuse, sex, love, and friendship, and how far people will go to protect those they love.
Purchase We'll Fly Away at Amazon
Purchase We'll Fly Away at IndieBound
View We'll Fly Away on Goodreads