Kris, how long did you work on OUT OF LEFT FIELD?
This might sound insane, but I first starting writing about Marnie and her friends when I was 11 years old. For reference, that was 12 years ago. That's not to say I've been working on the story for 12 years straight, though. It started as an endless plotless story vaguely about a girl who was on her junior high softball team but got picked on for playing baseball (or something like that, I can't really remember…). Over the years I came back to it on and off, writing and rewriting, never really finishing anything. It wasn't until I spur-of-the-moment decided I wanted to enter the online writing contest Pitch Wars in 2015 that I really sat down and wrote the story from start to finish with an actual plot.
What was your inspiration for writing OUT OF LEFT FIELD?
This is a long multi-part answer, so bear with me.
This was when I was probably 10 or 11, so the details are vague, but I remember my dad was watching a softball game on TV, and the commentator pointed out two players that stuck out in my mind: the pitcher with a killer changeup, and a hitter nicknamed The Mouse for how fast she scurried around the bases. I can't say why I was so intrigued by this. Maybe because this was also around the time the Chicago White Sox won the World Series in 2005. (I'm from Chicago.) Anyways, those were my inspirations for Marnie, who in earlier versions of the story had a killer changeup, and her best friend Sara Fox, who in earlier drafts was nicknamed The Fox for being a fast runner.
I was also inspired by the times I went to the neighborhood park with my dad and siblings to hit a ball around. I'm the least athletic person I know, but I loved those summer evenings when we would walk to the park with a bat, our mitts, and a few baseballs, and just goof around until the sun went down.
Also, when I was 11, I picked up Wendelin Van Draanen's
Sammy Keyes and the Art of Deception
, a book part of a middle grade series about a spunky girl who solves mysteries with her friends. This was the series that really sparked my love reading and writing. Sammy's voice was so fresh and funny, and it inspired me to write a character like her. Marnie's snarky and witty voice definitely has roots in the
Sammy Keyes
series. Incidentally, Sammy also plays softball.
And the 1993 movie
The Sandlot
. I frickin' love that movie.

What are you working on now?
There is a significant lack of marching band stories in YA (and in general?), and I plan on remedying that with my current WIP.
ABOUT THE BOOK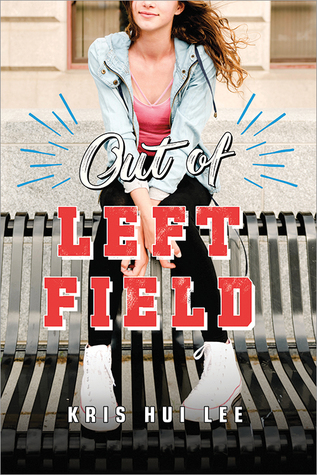 Out of Left Field
by Kris Hui Lee
Paperback
Sourcebooks Fire
Released 5/1/2018
Marnie has never had a hard time fitting in with the guys. It would take a lot more than their goofy antics to keep her from joining them at the neighborhood sandlot to do what she loves best: play ball.
An added perk of hanging out at the sandlot? Spending time with Cody Kinski, their high school's star pitcher and Marnie's best friend. Sure, he can be stubborn and annoying. He also knows how to make her laugh and respects her skills on the field. And when he gets nailed in the arm by a bone-fracturing pitch, Marnie becomes the team's best chance at making it to the playoffs. Except no one told the guys they're supposed to be on her side.
With her own team against her, Marnie begins questioning her abilities. And when fate throws her a curveball, can she play without losing the game, Cody, and her belief in herself?
Purchase Out of Left Field at Amazon
Purchase Out of Left Field at IndieBound
View Out of Left Field on Goodreads
ABOUT THE AUTHOR
Kris is a contemporary YA author who, when not writing, can be found doing graphic design-y things with her recently earned graphic design degree from the UIC School of Design. And when not doing either of those things, she will most likely be cuddling with a doggo on the floor.
---
Have you had a chance to read OUT OF LEFT FIELD yet? Did you start writing a novel as a kid that you've restarted as an adult? What book did you read when you were young that inspired you to write? Share your thoughts about the interview in the comments!
Happy Reading,
Jocelyn, Halli, Martina, Charlotte, Anisaa, Erin, Susan, Shelly, Kelly, Laura, Emily, and Lori Ann