Michelle, what scene was really hard for you to write and why, and is that the one of which you are most proud? Or is there another scene you particularly love?
The hardest scene for me to write is the scene where Pack and Maddie go to the hotel after the prom and have sex. There are so many reasons why this was tough for me—I find writing about sex really difficult in general, and it's particularly hard when writing for teenagers. I wanted it to be real, but there were also some things I wanted to get across in a responsible way. I'm very fixated on the concept of consent and how that's changed in recent years, and I wanted to explore that in some detail in this book without getting preachy about it. Pack and Maddie have chosen a very particular approach to deal with consent, and in that scene they mess with it in ways that are complicated but that work for them as a couple. I hope I pulled it off; I worked as hard on it as I've ever worked on any scene, and I'm proud of it even if just for that.
How long or hard was your road to publication? How many books did you write before this one, and how many never got published?
Oh, it was long! And complicated. I wrote two books for adults that never saw the light of day (though I think one of them was secretly YA, and I've since rewritten it). Then I did some freelance work that probably equaled a book or two before PLAYLIST FOR THE DEAD, my first book, found a publisher. QUESTIONS I WANT TO ASK YOU is my third published novel.
What advice would you most like to pass along to other writers?
Perseverance is absolutely the most important quality to have as a writer. Talent is useful, as are great ideas for things to write about. But if there's one thing the writers I know have in common, it's that they kept working and improving and failing and trying again and learning and trying new things and failing again and persisting and you see where I'm going with this. It's important to listen to criticism from people who are trying to help you, but you have to remember to use that to fuel your creativity rather than letting it keep you from working. And writing is art, but it's also work.
What are you working on now? ​
I'm kind of bouncing between two projects that I'm really excited about. One is one of the books I mentioned earlier—it started as adult but it turns out it's really YA, and I've been revising it accordingly. It's about the ghost of a murdered high school football player who's trying to catch his killer. Another is a new and complicated project I'm having trouble describing but that involves survivalist boarding school kids and a college tour/missing-person search. Any thoughts on which one I should focus on?
ABOUT THE BOOK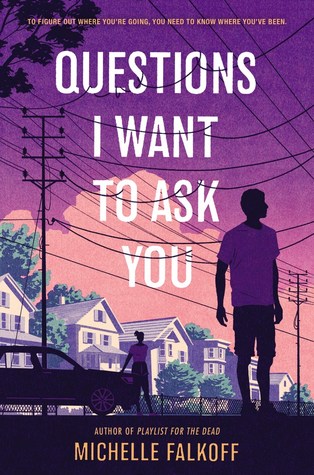 Questions I Want to Ask You
by Michelle Falkoff
Hardcover
HarperTeen
Released 5/29/2018
Patrick "Pack" Walsh may not know where he's going in life, but he's happy where he is. Then, on his eighteenth birthday, a letter from his past changes everything.
As Pack begins a journey to uncover the truth about the parents he thought he knew, the family he didn't know he had, and the future he never realized he wanted, he starts to have a whole different understanding of his life—and where he wants to go from here.
Purchase Questions I Want to Ask You at Amazon
Purchase Questions I Want to Ask You at IndieBound
View Questions I Want to Ask You on Goodreads
ABOUT THE AUTHOR
Michelle Falkoff is the author of QUESTIONS I WANT TO ASK YOU (
May 29, 2018
); PUSHING PERFECT (
October, 2016
); and PLAYLIST FOR THE DEAD (
January, 2015
); all with HarperTeen. Her fiction and reviews have been published in
ZYZZYVA
,
DoubleTake
, and the
Harvard Review
, among other places. She is a graduate of the Iowa Writers' Workshop and currently serves as director of communication and legal reasoning at Northwestern University School of Law. Visit her online at www.michellefalkoff.com.
---
Have you had a chance to read QUESTIONS I WANT TO ASK YOU yet? Do you struggle with writing sex scenes? Do you use criticism to fuel your creativity? Share your thoughts about the interview in the comments!
Happy Reading,
Jocelyn, Halli, Martina, Charlotte, Anisaa, Erin, Susan, Shelly, Kelly, Laura, Emily, and Lori Ann