Happy Reading,
Shelly, Halli, Jocelyn, Martina, Erin, Susan, Kelly, Laura, Emily, Anisaa, and Lori Ann
Short FYI: Next week's new releases post will be slightly delayed (it will be up by Monday afternoon instead of morning) because I will be on a short trip next weekend. Also since you're already reading this, make sure to check out White Rabbit by Caleb Roehrig this week. It's one of my favourite books of the year! - Shelly
YA BOOK GIVEAWAYS THIS WEEK
* * * *
The Complication
by Suzanne Young
Signed Hardcover Giveaway

U.S. Only
Simon Pulse
Released 4/24/2018
Every cure has a cost.
Tatum Masterson learned this after years of being monitored by The Program. She witnessed it when her boyfriend, Wes, came back changed, erased. And now, even the newest "cure" has a heavy cost—one she and Wes paid.
The Adjustment came into Tatum's life just when she thought she needed it most, a promise for Wes to get back his forgotten memories. But when the procedure went wrong, a revelation shattered everything Tatum thought she knew.
Now, with no one left to trust, Tatum must find out what really happened last summer. And with the help of the boyfriend she lost, Tatum will have to dig into the past and future of The Program and its handlers.
And discover the true cost of a cure.
Author Question: What is your favorite thing about The Complication?
I knew I wanted the last book of the series to be special—to be deep, painful, and ultimately hopeful. I was able to tie up the storylines from the other five books, but what I really, truly loved was including past characters from the series.

Although this is Tatum's story, Sloane and James return to help finish THE COMPLICATION. We get to see nearly everyone, but the love story between Sloane and James, the possibility of losing that, is something I think fans of the series will understand, and hopefully, appreciate.

These books have been six years of my life. I poured my heart and soul into this last one, and it was done with my readers in mind. It had to be worth it. This is their series as much as mine. I hope readers will love it.
Purchase The Complication at Amazon
Purchase The Complication at IndieBound
View The Complication on Goodreads
* * * *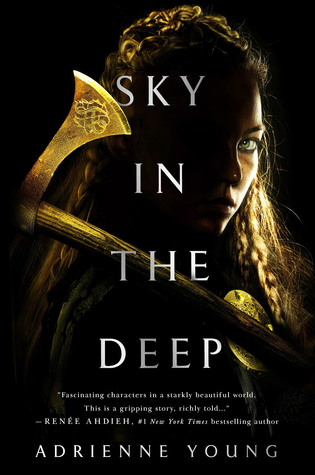 Sky in the Deep
by Adrienne Young
Hardcover Giveaway

U.S. Only
Wednesday Books
Released 4/24/2018
A 2018 Most Anticipated Young Adult book that is part Wonder Woman, part Vikings―and all heart.
OND ELDR. BREATHE FIRE.
Raised to be a warrior, seventeen-year-old Eelyn fights alongside her Aska clansmen in an ancient, rivalry against the Riki clan. Her life is brutal but simple: fight and survive. Until the day she sees the impossible on the battlefield―her brother, fighting with the enemy―the brother she watched die five years ago.
Faced with her brother's betrayal, she must survive the winter in the mountains with the Riki, in a village where every neighbor is an enemy, every battle scar possibly one she delivered. But when the Riki village is raided by a ruthless clan thought to be a legend, Eelyn is even more desperate to get back to her beloved family.
She is given no choice but to trust Fiske, her brother's friend, who sees her as a threat. They must do the impossible: unite the clans to fight together, or risk being slaughtered one by one. Driven by a love for her clan and her growing love for Fiske, Eelyn must confront her own definition of loyalty and family while daring to put her faith in the people she's spent her life hating.
Author Question: What is your favorite thing about Sky in the Deep?
My favorite thing about Sky in the Deep is definitely its main character, Eelyn. I am endlessly inspired by her simultaneous strength and vulnerability. So often, we see strong girls with no heart or helpless girls who are "good". Eelyn gets to be both and that is really, really beautiful to me.
Purchase Sky in the Deep at Amazon
Purchase Sky in the Deep at IndieBound
View Sky in the Deep on Goodreads
YA BOOK GIVEAWAYS LAST WEEK: WINNERS
In Her Skin by Kim Savage:
Michelle S. A.
Love & War by Melissa de la Cruz:
Justine K.
MORE YOUNG ADULT FICTION IN STORES NEXT WEEK WITH AUTHOR INTERVIEWS
* * * *
White Rabbit
by Caleb Roehrig
Hardcover
Feiwel & Friends
Released 4/24/2018
Rufus Holt is having the worst night of his life. It begins with the reappearance of his ex-boyfriend, Sebastian―the guy who stomped his heart out like a spent cigarette. Just as Rufus is getting ready to move on, Sebastian turns up out of the blue, saying they need to "talk." Things couldn't get worse, right?
Then Rufus gets a call from his sister April, begging for help. He and Sebastian find her, drenched in blood and holding a knife beside the dead body of her boyfriend, Fox Whitney.
April swears she didn't kill Fox. Rufus knows her too well to believe she's telling him the whole truth, but April has something he needs. Her price is his help. Now, with no one to trust but the boy he wants to hate yet can't stop loving, Rufus has one night to clear his sister's name . . . or die trying.
Author Question: What is your favorite thing about White Rabbit?
WHITE RABBIT is what I like to call my homage to Agatha Christie. It begins with a murder in an isolated location and a limited pool of suspects; everyone has an alibi, but everyone is lying; and sometimes what seems obvious is in deceiving (and vice versa.) Putting together such an intricate puzzle, one that keeps the reader guessing but doesn't rely on cheap tricks, is a real challenge. So one of my favorite things about this book is that I managed it at all!

Something else that's really important to me about this book is that it features a gay teenager as its hero. I practically devoured thrillers in high school, and it would have meant so much to me to have one where someone like myself got to be more than just a victim. And the tension between Rufus and Sebastian—ex-boyfriends with unfinished business—was really rewarding to write.
Purchase White Rabbit at Amazon
Purchase White Rabbit at IndieBound
View White Rabbit on Goodreads
MORE YOUNG ADULT NOVELS NEW IN STORES NEXT WEEK
* * * *
Ash Princess
by Laura Sebastian
Hardcover
Delacorte Press
Released 4/24/2018
Theodosia was six when her country was invaded and her mother, the Fire Queen, was murdered before her eyes. On that day, the Kaiser took Theodosia's family, her land, and her name. Theo was crowned Ash Princess--a title of shame to bear in her new life as a prisoner.
For ten years Theo has been a captive in her own palace. She's endured the relentless abuse and ridicule of the Kaiser and his court. She is powerless, surviving in her new world only by burying the girl she was deep inside.
Then, one night, the Kaiser forces her to do the unthinkable. With blood on her hands and all hope of reclaiming her throne lost, she realizes that surviving is no longer enough. But she does have a weapon: her mind is sharper than any sword. And power isn't always won on the battlefield.
For ten years, the Ash Princess has seen her land pillaged and her people enslaved. That all ends here.
Purchase Ash Princess at Amazon
Purchase Ash Princess at IndieBound
View Ash Princess on Goodreads
* * * *
From the Earth to the Shadows
by Amanda Hocking
Paperback
Wednesday Books
Released 4/24/2018
The epic conclusion to the thrilling Valkyrie duology by New York Times bestselling YA author Amanda Hocking, From the Earth to the Shadows.
While dealing with dark revelations about her life and her world, Malin finds herself with new allies--and new enemies. Her quest for the truth leads her to places she never thought possible, and she's never been one to shy away from a fight. But for all her strength and determination, will it be enough to save the world before it's too late?
Purchase From the Earth to the Shadows at Amazon
Purchase From the Earth to the Shadows at IndieBound
View From the Earth to the Shadows on Goodreads
* * * *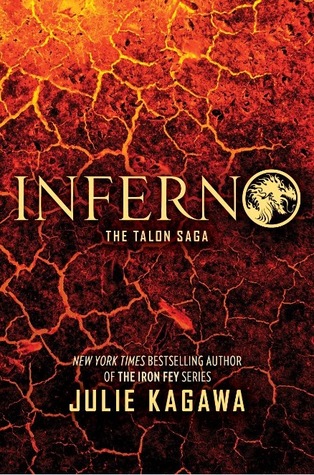 Inferno
by Julie Kagawa
Hardcover
Harlequin Teen
Released 4/24/2018
TODAY, WE STRIKE BACK.
WE SHOW TALON THAT WE WILL NEVER ACCEPT THEIR NEW WORLD.
Ember Hill has learned a shocking truth about herself: she is the blood of the Elder Wyrm, the ancient dragon who leads Talon and who is on the verge of world domination. With the Order of St. George destroyed, Ember, Riley and Garret journey to the Amazon jungle in search of one who might hold the key to take down the Elder Wyrm and Talon. If they can survive the encounter.
Meanwhile, Ember's brother, Dante, will travel to China with a message for the last Eastern dragons: join Talon or die. With the stakes rising and the Elder Wyrm declaring war, time is running out for the rogues and any dragon not allied with Talon.
The final battle approaches. And if Talon is victorious, the world will burn.
Purchase Inferno at Amazon
Purchase Inferno at IndieBound
View Inferno on Goodreads
* * * *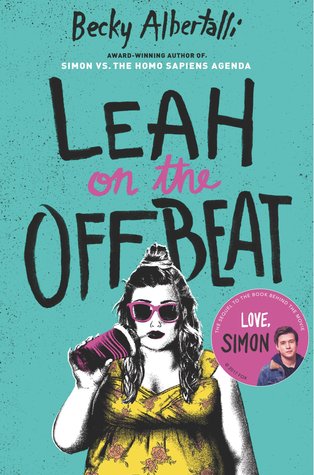 Leah on the Offbeat
by Becky Albertalli
Hardcover
Balzer + Bray
Released 4/24/2018
When it comes to drumming, Leah Burke is usually on beat—but real life isn't always so rhythmic.
She's an anomaly in her friend group: the only child of a young, single mom, and her life is decidedly less privileged. She loves to draw but is too self-conscious to show it. And even though her mom knows she's bisexual, she hasn't mustered the courage to tell her friends—not even her openly gay BFF, Simon.
So Leah really doesn't know what to do when her rock-solid friend group starts to fracture in unexpected ways. With prom and college on the horizon, tensions are running high.
It's hard for Leah to strike the right note while the people she loves are fighting—especially when she realizes she might love one of them more than she ever intended.
Purchase Leah on the Offbeat at Amazon
Purchase Leah on the Offbeat at IndieBound
View Leah on the Offbeat on Goodreads
* * * *
Love Songs & Other Lies
by Jessica Pennington
Hardcover
Tor Teen
Released 4/24/2018
That's the thing about the past…
Back-of-the-classroom anonymity is all Cam wants from the tiny Michigan town he's calling home. A new life uninterrupted by the tragedy he left behind. Until he meets a girl who piques his interest and their relationship quickly turns into a confusing mix of friendship, musical adventure, and a love he didn't expect…or want.
…as soon as it's over, it can come right back
Two years after turning into the #1 Fan of the Breakup Anthem, Virginia "Vee" Miller is just looking for a fun, carefree summer. So she agrees to join a few of her old high school friends on a battling bands reality show tour bus. What she doesn't know is that they also invited Cam. Her first love, and her first heartbreak. Between playing fake-girlfriend to one band member and faking friendship-only interest in Cam, it's not exactly the fresh start she had in mind. Because Cam sees right through her, and his determination to win her forgiveness is causing its own TMZ-worthy problems for Vee. With cameras rolling, she'll have to decide if her favorite breakup anthem deserves a new ending. And if she's willing to expose her own secrets to keep Cam's under wraps.
Purchase Love Songs & Other Lies at Amazon
Purchase Love Songs & Other Lies at IndieBound
View Love Songs & Other Lies on Goodreads
* * * *
Stay Sweet
by Siobhan Vivian and Jenny Han
Hardcover
Simon & Schuster Books for You
Released 4/24/2018
Summer in Sand Lake isn't complete without a trip to Meade Creamery—the local ice cream stand founded in 1944 by Molly Meade who started making ice cream to cheer up her lovesick girlfriends while all the boys were away at war. Since then, the stand has been owned and managed exclusively by local girls, who inevitably become the best for friends. Seventeen-year-old Amelia and her best friend Cate have worked at the stand every summer for the past three years, and Amelia is "Head Girl" at the stand this summer. When Molly passes away before Amelia even has her first day in charge, Amelia isn't sure that stand can go on. That is, until Molly's grandnephew Grady arrives and asks Amelia to stay on to help continue the business…but Grady's got some changes in mind…
Purchase Stay Sweet at Amazon
Purchase Stay Sweet at IndieBound
View Stay Sweet on Goodreads
* * * *
Trouble Never Sleeps
by Stephanie Tromly
Hardcover
Kathy Dawson Books
Released 4/24/2018
Digby and Zoe have been skirting around each other for so long that you might think they'd lose their magic if they ever actually hooked up. But never fear--there's all the acerbic wit, steamy chemistry, and sarcastic banter you could possibly hope for.
Now that Digby's back in town he's plunged Zoe (and their Scooby Gang of wealthy frenemy Sloane, nerd-tastic genius Felix, and aw-shucks-handsome Henry) back into the deep end on the hunt for his kidnapped sister. He's got a lead, but it involves breaking into a secret government research facility, paying a drug dealer off with a Bentley, and possibly committing treason. The schemes might be over-the-top but this Breakfast Club cast is irresistibly real as they cope with regular high school stuff from social media shaming to dating your best friend, all with a twist no one will see coming.
Purchase Trouble Never Sleeps at Amazon
Purchase Trouble Never Sleeps at IndieBound
View Trouble Never Sleeps on Goodreads