Happy Reading,
Shelly, Halli, Jocelyn, Martina, Erin, Susan, Kelly, Laura, Emily, Anisaa, and Lori Ann
YA BOOK GIVEAWAYS THIS WEEK
* * * *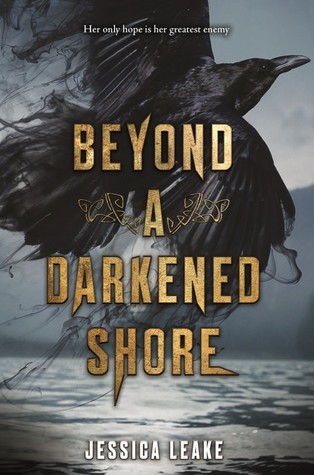 Beyond a Darkened Shore
by Jessica Leake
Signed Hardcover Giveaway

U.S. Only
HarperTeen
Released 4/10/2018
The ancient land of Éirinn is mired in war. Ciara, princess of Mide, has never known a time when Éirinn's kingdoms were not battling for power, or Northmen were not plundering their shores.
The people of Mide have always been safe because of Ciara's unearthly ability to control her enemies' minds and actions. But lately a mysterious crow has been appearing to Ciara, whispering warnings of an even darker threat. Although her clansmen dismiss her visions as pagan nonsense, Ciara fears this coming evil will destroy not just Éirinn but the entire world.
Then the crow leads Ciara to Leif, a young Northman leader. Leif should be Ciara's enemy, but when Ciara discovers that he, too, shares her prophetic visions, she knows he's something more. Leif is mounting an impressive army, and with Ciara's strength in battle, the two might have a chance to save their world.
With evil rising around them, they'll do what it takes to defend the land they love...even if it means making the greatest sacrifice of all.
Author Question: What is your favorite thing about Beyond a Darkened Shore?
DARKENED SHORE is very much a story close to my heart because it has so many of the things I love to read about: history, fantasy, mythology, battles, and romance. I think my answer is cheating a bit because I'm basically saying it's all my favorite, but it's hard to pick one thing when, to me, it's the melding of all the different aspects of it that made it so fun to write. The book is set during 11th century Ireland when the country was divided into numerous kingdoms which were often at war with each other. At the same time, Vikings were frequently raiding its shores and had even taken over the city of Dublin. Set amongst all this inherent conflict is an Irish warrior princess who must join forces with the enemy she has always despised in order to save her own world. The enemy, who, as it turns out, is more like her than she could have ever imagined. The result is a story filled with terrifying legendary beings, fierce battles, and forbidden romance.

But most of all, I love it because it's a story idea that almost got shelved, only the characters refused to let me. I'm glad I listened.
Purchase Beyond a Darkened Shore at Amazon
Purchase Beyond a Darkened Shore at IndieBound
View Beyond a Darkened Shore on Goodreads
* * * *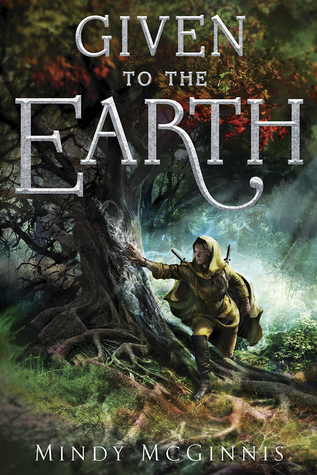 Given To The Earth
by Mindy McGinnis
Signed PB of GIVEN TO THE SEA, signed HC of EARTH Giveaway

U.S. Only
G.P. Putnam's Sons Books for Y
Released 4/10/2018
Although she was born to save the kingdom by sacrificing herself to the rising sea, Khosa's marriage to King Vincent has redeemed her. As the Queen of Stille, she's untouchable. But being Queen hasn't stopped her heart from longing for the King's stepbrother, Donil. And it hasn't stopped her body from longing for the sea itself, which still calls for her.
While Khosa is made to choose between loyalty and love, Dara is on a mission for vengeance. Years ago, the Pietra slaughtered the entire Indiri race, leaving only Dara and her twin, Donil, alive. Now, spurned by King Vincent, Dara has embarked on a mission to spill the blood of Pietra's leader, Witt, and will stop at nothing to show his people the wrath of the last Indiri.
As the waves crash ever closer to Stille, secrets are revealed, hearts are won and lost, and allegiances change like the shifting sand.
Author Question: What is your favorite thing about Given To The Earth?
My favorite thing about GIVEN TO THE EARTH is that it avoids the trope of the happily-ever-after that sometimes neatly caps off a series. That was one of the things that the Kirkus reviewer liked best, earning EARTH a starred review: https://www.kirkusreviews.com/book-reviews/mindy-mcginnis/given-to-the-earth/
Purchase Given To The Earth at Amazon
Purchase Given To The Earth at IndieBound
View Given To The Earth on Goodreads
* * * *
The Crooked Castle
by Sarah Jean Horwitz
HC of The Crooked Castle & PB of The Wingsnatchers Giveaway

U.S. Only
Algonquin Young Readers
Released 4/10/2018
Magician's apprentice Carmer and one-winged faerie princess Grit investigate a mysteriously magical flying circus in the follow-up to "a fun and frolicking middle grade adventure full of enough fantasy, humor and heart to make giddy even the most finicky reader." (
BookPage
)
Shortly after saving the faeries of Skemantis, magician's apprentice Felix Carmer III and his faerie companion, Grit, head out to see the world. They soon come across a mysteriously magical flying circus. As they get to know the outlandish world of Rinka Tinka's Roving Wonder Show, it becomes clear there's something not quite normal about this circus or its inventor—and that recent airship disasters plaguing nearby Driftside City may have a sinister explanation.
Fans of the Wildwood trilogy and Lockwood & Co. series will love the thrills and chills of
The Crooked Castle
as it takes readers up in the air with a flying circus, under the sea to the evil Unseelie kingdom, through a terrifying magical snowstorm, and on a chase with the menacing Wild Hunt.
Author Question: What is your favorite thing about The Crooked Castle?
There are a few sequences in THE CROOKED CASTLE that were the most fun to write and (at least for me!) are also some of the most vivid for readers. My favorite is a confrontation that takes place in an airship graveyard during a magically enhanced blizzard. I love the imagery of this alien landscape filled with hollowed out, abandoned ships, and the beauty and confusion of all of the swirling snow. In that scene, Carmer also catches his first glimpse of a new character, the Unseelie Princess Purslain Ashenstep, and she's both a fun character and an important piece of the story puzzle. It's all quite eerie, if I do say so myself!
Purchase The Crooked Castle at Amazon
Purchase The Crooked Castle at IndieBound
View The Crooked Castle on Goodreads
MORE YOUNG ADULT FICTION IN STORES NEXT WEEK WITH AUTHOR INTERVIEWS
* * * *
Ace of Shades
by Amanda Foody
Hardcover
Harlequin Teen
Released 4/10/2018
Enne Salta was raised as a proper young lady, and no lady would willingly visit New Reynes, the so-called City of Sin. But when her mother goes missing, Enne must leave her finishing school—and her reputation—behind to follow her mother's trail to the city where no one survives uncorrupted.
Frightened and alone, Enne has only one lead: the name Levi Glaisyer. Unfortunately, Levi is not the gentleman she expected—he's a street lord and con man. Levi is also only one payment away from cleaning up a rapidly unraveling investment scam, so he doesn't have time to investigate a woman leading a dangerous double life. Enne's offer of compensation, however, could be the solution to all his problems.
Their search for clues leads them through glamorous casinos, illicit cabarets and into the clutches of a ruthless Mafia donna. As Enne unearths an impossible secret about her past, Levi's enemies catch up to them, ensnaring him in a vicious execution game where the players always lose. To save him, Enne will need to surrender herself to the city…
And she'll need to play.
Author Question: What is your favorite thing about Ace of Shades?
My female lead--Enne! It was really important to me to write a heroine who was never painted as weak for her femininity or her vulnerability. I also feel like she is the type of character readers are expected to hate--who cares about how she looks, who is a little uptight, who comes from a background of lace and ballet and frivolities. Those girls are so regularly cast as mean girls or disposable best friends, not so often heroines. I love the contrast between her personality and the City of Sin--the setting pushes on her buttons in ways that were incredibly fun to write. There are so many elements in this story, from the world to the huge cast to the fast-paced plot, but Enne's character has forever had the most meaning to me.
Purchase Ace of Shades at Amazon
Purchase Ace of Shades at IndieBound
View Ace of Shades on Goodreads
MORE YOUNG ADULT NOVELS NEW IN STORES NEXT WEEK
* * * *
Devils Unto Dust
by Emma Berquist
Hardcover
Greenwillow Books
Released 4/10/2018
Keep together. Keep your eyes open. Keep your wits about you.
The desert is unkind in the best of times. And the decade since the Civil War has been anything but the best of times for Daisy Wilcox—call her Willie—and her family. This tense, heart-pounding alternate history about a young woman fighting to survive the unthinkable will keep fans of Westworld and The Walking Dead reading late into the night.
A horrifying sickness has spread across the West Texas desert. Infected people—shakes—attack the living, and the surviving towns are only as safe as their perimeter walls are strong. The state is all but quarantined from the rest of the country. Glory, Texas, is a near ghost town. Still, seventeen-year-old Willie has managed to keep her siblings safe, even after the sickness took their mother. But then her good-for-nothing father steals a fortune from one of the most merciless shake hunters in town, and Willie is left on the hook for his debt. With two young hunters as guides, Willie sets out across the desert to find her father. And the desert holds more dangers than just shakes.
Purchase Devils Unto Dust at Amazon
Purchase Devils Unto Dust at IndieBound
View Devils Unto Dust on Goodreads
* * * *
Lizzie
by Dawn Ius
Hardcover
Simon Pulse
Released 4/10/2018
Seventeen-year-old Lizzie Borden has never been kissed. Polite but painfully shy, Lizzie prefers to stay in the kitchen, where she can dream of becoming a chef and escape her reality. With tyrannical parents who force her to work at the family's B&B and her blackout episodes—a medical condition that has plagued her since her first menstrual cycle—Lizzie longs for a life of freedom, the time and space to just figure out who she is and what she wants.
Enter the effervescent, unpredictable Bridget Sullivan. Bridget has joined the B&B's staff as the new maid, and Lizzie is instantly drawn to her artistic style and free spirit—even her Star Wars obsession is kind of cute. The two of them forge bonds that quickly turn into something that's maybe more than friendship.
But when her parents try to restrain Lizzie from living the life she wants, it sparks something in her that she can't quite figure out. Her blackout episodes start getting worse, her instincts less and less reliable. Lizzie is angry, certainly, but she also feels like she's going mad…
Purchase Lizzie at Amazon
Purchase Lizzie at IndieBound
View Lizzie on Goodreads
* * * *
Sam & Ilsa's Last Hurrah
by Rachel Cohn
Hardcover
Knopf Books for Young Readers
Released 4/10/2018
Siblings Sam and Ilsa Kehlmann have spent most of their high school years throwing parties for their friends--and now they've prepared their final blowout, just before graduation.
The rules are simple: each twin gets to invite three guests, and the other twin doesn't know who's coming until the partiers show up at the door. With Sam and Ilsa, the sibling revelry is always tempered with a large dose of sibling rivalry, and tonight is no exception.
One night. One apartment. Eight people. What could possibly go wrong? Oh, we all know the answer is plenty. But plenty also goes right, as well...in rather surprising ways.
Purchase Sam & Ilsa's Last Hurrah at Amazon
Purchase Sam & Ilsa's Last Hurrah at IndieBound
View Sam & Ilsa's Last Hurrah on Goodreads
* * * *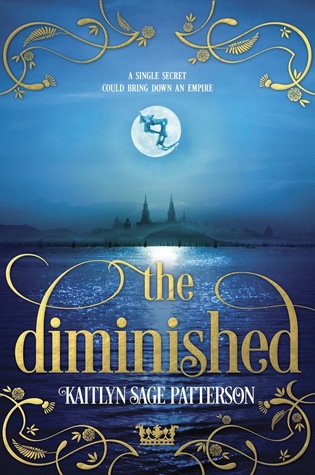 The Diminished
by Kaitlyn Sage Patterson
Hardcover
Harlequin Teen
Released 4/10/2018
In the Alskad Empire, nearly all are born with a twin, two halves to form one whole…yet some face the world alone.
The singleborn
A rare few are singleborn in each generation, and therefore given the right to rule by the gods and goddesses. Bo Trousillion is one of these few, born into the royal line and destined to rule. Though he has been chosen to succeed his great-aunt, Queen Runa, as the leader of the Alskad Empire, Bo has never felt equal to the grand future before him.
The diminished
When one twin dies, the other usually follows, unable to face the world without their other half. Those who survive are considered diminished, doomed to succumb to the violent grief that inevitably destroys everyone whose twin has died.
Such is the fate of Vi Abernathy, whose twin sister died in infancy. Raised by the anchorites of the temple after her family cast her off, Vi has spent her whole life scheming for a way to escape and live out what's left of her life in peace.
As their sixteenth birthdays approach, Bo and Vi face very different futures—one a life of luxury as the heir to the throne, the other years of backbreaking work as a temple servant. But a long-held secret and the fate of the empire are destined to bring them together in a way they never could have imagined.
Purchase The Diminished at Amazon
Purchase The Diminished at IndieBound
View The Diminished on Goodreads
* * * *
The Lost Kids
by Sara Saedi
Hardcover
Viking Books for Young Readers
Released 4/10/2018
Just a few weeks ago, Wylie Dalton was living on magical Minor Island where nobody ages past seventeen, and in love with Phinn, the island's leader. Now, her home is a creaky old boat where she's joined a ragtag group of cast-offs from the island, all dead-set on getting revenge on Phinn for betraying them. But when the Lost Kids invade their former paradise, they're stunned to find that their once-secret island is no longer so secret, and that a much bigger enemy is gunning for Phinn . . . and all the Minor Island kids. Told from both Wylie's and Phinn's perspectives, this dramatic sequel reveals that when you Never Ever grow up, the past has a way of catching up to you.
Purchase The Lost Kids at Amazon
Purchase The Lost Kids at IndieBound
View The Lost Kids on Goodreads
* * * *
The Summer of Broken Things
by Margaret Peterson Haddix
Hardcover
Simon & Schuster Books for You
Released 4/10/2018
Fourteen-year-old Avery Armisted is athletic, rich, and pretty. Sixteen-year-old Kayla Butts is known as "butt-girl" at school. The two girls were friends as little kids, but that's ancient history now. So it's a huge surprise when Avery's father offers to bring Kayla along on a summer trip to Spain. Avery is horrified that her father thinks he can choose her friends—and make her miss soccer camp. Kayla struggles just to imagine leaving the confines of her small town.
But in Spain, the two uncover a secret their families had hidden from both of them their entire lives. Maybe the girls can put aside their differences and work through it together. Or maybe the lies and betrayal will only push them—and their families—farther apart.
Margaret Peterson Haddix weaves together two completely separate lives in this engaging novel that explores what it really means to be a family—and what to do when it's all falling apart.
Purchase The Summer of Broken Things at Amazon
Purchase The Summer of Broken Things at IndieBound
View The Summer of Broken Things on Goodreads