Happy Reading,
Shelly, Halli, Jocelyn, Martina, Erin, Susan, Kelly, Laura, Emily, Anisaa, and Lori Ann
YA BOOK GIVEAWAYS LAST WEEK: WINNERS
And She Was by Jessica Verdi:
Caroline R.
Emergency Contact by Mary H. K. Choi:
Joycedale C.
Lost Crow Conspiracy by Rosalyn Eves:
Lisa A.
Nothing But Sky by Amy Trueblood:
Kathryn F.
The Beloved Wild by Melissa Ostrom:
Jen S.
MORE YOUNG ADULT FICTION IN STORES NEXT WEEK WITH AUTHOR INTERVIEWS
* * * *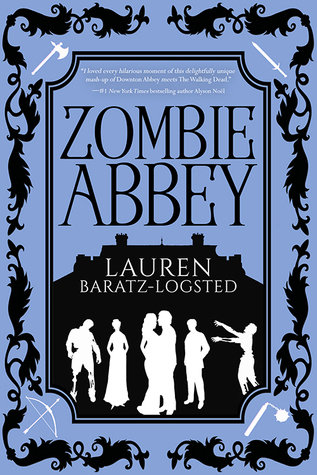 Zombie Abbey
by Lauren Baratz-Logsted
Paperback
Entangled: Teen
Released 4/3/2018
1920, England
And the three teenage Clarke sisters thought what they'd wear to dinner was their biggest problem…
Lady Kate, the entitled eldest.
Lady Grace, lost in the middle and wishing she were braver.
Lady Lizzy, so endlessly sunny, it's easy to underestimate her.
Then there's Will Harvey, the proud, to-die-for―and possibly die with!―stable boy; Daniel Murray, the resourceful second footman with a secret; Raymond Allen, the unfortunate-looking young duke; and Fanny Rogers, the unsinkable kitchen maid.
Upstairs! Downstairs! Toss in some farmers and villagers!
None of them ever expected to work together for any reason.
But none of them had ever seen anything like this.
Author Question: What is your favorite thing about Zombie Abbey?
You can count me among the hundreds of millions of viewers around the world who was a huge fan of Downton Abbey. So what could possibly be more fun for an author than taking a Downton-style of world - with all the Upstairs-Downstairs conflict, the fashion and even architecture that brings to mind - and tossing a zombie menace into the mix? I loved creating my cast of characters, building their world and building their stories, but if I have to settle on a favorite, it would be the sheer campy fun of it all. Yes, there's an ongoing zombie threat, but these people will not have their way of life compromised! So step over a dead body on the way to your fancy lunch? Sure, why not.
Purchase Zombie Abbey at Amazon
Purchase Zombie Abbey at IndieBound
View Zombie Abbey on Goodreads
MORE YOUNG ADULT NOVELS NEW IN STORES NEXT WEEK
* * * *
Autonomous
by Andy Marino
Hardcover
Freeform
Released 4/3/2018
William Mackler is about to go on a road trip of a lifetime. After winning a contest—and nearly dying in the process—he becomes the proud owner of Autonomous, a driverless car that knows where you want to go before you do. #Worthit! To sweeten the deal he gets to pick three friends to go with him on a cross-country trip to see their favorite band. For William, a reckless adrenaline junkie, this is the perfect last hurrah before he and his friends go their separate ways after graduation. But Autonomous is more than just a car without a steering wheel. It's capable of downloading all of the passengers' digital history—from the good, to the bad, to the humiliating. The information is customized into an itinerary that will expose a few well-kept secrets, but it will also force William to face some inner demons of his own. Think you know Autonomous? The real question is, how much does Autonomous know about you?
Purchase Autonomous at Amazon
Purchase Autonomous at IndieBound
View Autonomous on Goodreads
* * * *
Dread Nation
by Justina Ireland
Hardcover
Balzer + Bray
Released 4/3/2018
Jane McKeene was born two days before the dead began to walk the battlefields of Gettysburg, Pennsylvania—derailing the War Between the States and changing the nation forever.
In this new America, safety for all depends on the work of a few, and laws like the Native and Negro Education Act require certain children attend combat schools to learn to put down the dead.
But there are also opportunities—and Jane is studying to become an Attendant, trained in both weaponry and etiquette to protect the well-to-do. It's a chance for a better life for Negro girls like Jane. After all, not even being the daughter of a wealthy white Southern woman could save her from society's expectations.
But that's not a life Jane wants. Almost finished with her education at Miss Preston's School of Combat in Baltimore, Jane is set on returning to her Kentucky home and doesn't pay much mind to the politics of the eastern cities, with their talk of returning America to the glory of its days before the dead rose.
But when families around Baltimore County begin to go missing, Jane is caught in the middle of a conspiracy, one that finds her in a desperate fight for her life against some powerful enemies.
And the restless dead, it would seem, are the least of her problems.
Purchase Dread Nation at Amazon
Purchase Dread Nation at IndieBound
View Dread Nation on Goodreads
* * * *
Hiding
by Henry Turner
Hardcover
Clarion Books
Released 4/3/2018
When a teen boy who excels at being unseen finds himself hiding in his ex-girlfriend's house, he uncovers carefully concealed truths—about her, her family, and himself—in a twisty mystery with a shocking surprise.
One night, a lovelorn teen boy "accidentally" slips into the home of his ex-girlfriend, Laura, and ends up hiding in her basement, trapped in the house by its alarm system. How long can he stay hidden? What will happen if he is found? What will he learn about Laura—and himself—in this house? And what is his true motive for being there?
Turner's affinity for observant outsiders—and teens who share a desire to hide from nosy adults and judgmental peers—shines in a psychological thriller in which the slow burn of tension keeps readers turning pages to a sudden twist that changes everything.
Purchase Hiding at Amazon
Purchase Hiding at IndieBound
View Hiding on Goodreads
* * * *
Infamous
by Alyson Noel
Hardcover
Katherine Tegen Books
Released 4/3/2018
Club promoters Layla, Aster, and Tommy never imagined that entering the Unrivaled competition would land them in the middle of a celebrity murder investigation, but sometimes fate can be as nasty as the anonymous comments on a Hollywood gossip blog.
But Madison Brooks isn't dead. Layla, Aster, and Tommy have been set up, and as Madison's dirty little secrets creep closer to the light, they discover Madison will do anything to keep her past hidden—no matter who gets caught in the crossfire.
Purchase Infamous at Amazon
Purchase Infamous at IndieBound
View Infamous on Goodreads
* * * *
Losers Bracket
by Chris Crutcher
Hardcover
Greenwillow Books
Released 4/3/2018
When it comes to family, Annie is in the losers bracket. While her foster parents are great (mostly), her birth family would not have been her first pick. And no matter how many times Annie tries to write them out of her life, she always gets sucked back into their drama. Love is like that.
But when a family argument breaks out at Annie's swim meet and her nephew goes missing, Annie might be the only one who can get him back. With help from her friends, her foster brother, and her social service worker, Annie puts the pieces of the puzzle together, determined to find her nephew and finally get him into a safe home.
Purchase Losers Bracket at Amazon
Purchase Losers Bracket at IndieBound
View Losers Bracket on Goodreads
* * * *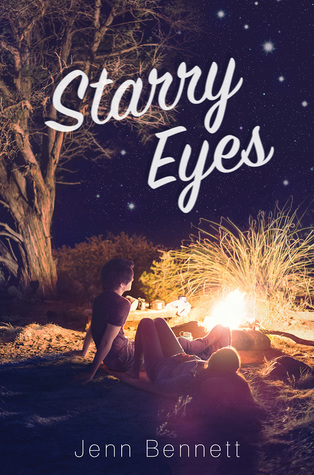 Starry Eyes
by Jenn Bennett
Hardcover
Simon Pulse
Released 4/3/2018
Ever since last year's homecoming dance, best friends-turned-best enemies Zorie and Lennon have made an art of avoiding each other. It doesn't hurt that their families are the modern day, Californian version of the Montagues and Capulets.
But when a group camping trip goes south, Zorie and Lennon find themselves stranded in the wilderness. Alone. Together.
What could go wrong?
With no one but each other for company, Zorie and Lennon have no choice but to hash out their issues via witty jabs and insults as they try to make their way to safety. But fighting each other while also fighting off the forces of nature makes getting out of the woods in one piece less and less likely.
And as the two travel deeper into Northern California's rugged backcountry, secrets and hidden feelings surface. But can Zorie and Lennon's rekindled connection survive out in the real world? Or was it just a result of the fresh forest air and the magic of the twinkling stars?
Purchase Starry Eyes at Amazon
Purchase Starry Eyes at IndieBound
View Starry Eyes on Goodreads
* * * *
Stormcaster
by Cinda Williams Chima
Hardcover
HarperCollins
Released 4/3/2018
Vagabond seafarer Evan Strangward can move wind, waves, and weather, but his magical abilities can't protect him forever from the brutal Empress Celestine. As Celestine's relentless bloodsworn armies grow, Evan travels to the Fells to warn the queendom that an invasion is imminent.
If he can't convince the Gray Wolf queen to take a stand, he knows that the Seven Realms will fall, and his last sanctuary will be destroyed. Among the dead will be the one person Evan can't stand to lose.
Meanwhile, the queen's formidable daughter, Princess Alyssa ana'Raisa, is already a prisoner aboard the empress's ship, sailing east. Lyss may be the last remaining hope of bringing down the empress from within her own tightly controlled stronghold.
Purchase Stormcaster at Amazon
Purchase Stormcaster at IndieBound
View Stormcaster on Goodreads
* * * *
The Window
by Amelia Brunskill
Hardcover
Delacorte Press
Released 4/3/2018
Secrets have a way of getting out. . . .
Anna is everything her identical twin is not. Outgoing and athletic, she is the opposite of quiet introvert Jess. The same on the outside, yet so completely different inside--it's hard to believe the girls are sisters, let alone twins. But they are. And they tell each other everything.
Or so Jess thought.
After Anna falls to her death while sneaking out her bedroom window, Jess's life begins to unravel. Everyone says it was an accident, but to Jess, that doesn't add up. Where was Anna going? Who was she meeting? And how long had Anna been lying to her?
Jess is compelled to learn everything she can about the sister she thought she knew. At first it's a way to stay busy and find closure . . . but Jess soon discovers that her twin kept a lot of secrets. And as she digs deeper, she learns that the answers she's looking for may be truths that no one wants her to uncover.
Because Anna wasn't the only one with secrets.
Purchase The Window at Amazon
Purchase The Window at IndieBound
View The Window on Goodreads
* * * *
Unraveled
by Kate Jarvik Birch
Hardcover
Entangled: Teen
Released 4/3/2018
Ella isn't anyone's pet anymore, but she's certainly not free.
After exposing the dark secrets about NuPet's breeding program, forcing them to repeal the law that allowed genetically modified girls to be kept as pets, she thought girls like her would finally be free. She never dreamed that it would backfire. NuPet may have convinced the public of their intentions to assimilate pets back into society, but Ella knows it's a lie.
They aren't planning mass rehabilitation...they're planning a mass extermination.
Now, with the help of a small group of rebels, Ella and Penn, the boy she'd give up her life for, set out to bring down NuPet for good. But when her group gets implicated in a string of bombings, no one is safe. If she can't untangle the web of blackmail and lies that extends far beyond NuPet's reach, she won't just lose her chance at freedom, she'll lose everyone she loves.
Purchase Unraveled at Amazon
Purchase Unraveled at IndieBound
View Unraveled on Goodreads