Jessica, what was your inspiration for writing BEYOND A DARKENED SHORE?
I've always been in love with Ireland and Celtic mythology. Celtic folklore and mythology has always fascinated me with its multi-faceted gods and goddesses who have beautiful ties to the land itself but are also terrifying in so many ways. When I was researching interesting time periods in Ireland's history, I found out that the Vikings not only frequently raided Ireland, but they also took over Dublin for a large chunk of time. I got so excited when I read that because I was like Vikings AND Celts?! SIGN ME UP.
What scene was really hard for you to write and why, and is that the one of which you are most proud? Or is there another scene you particularly love?
There is one scene I love later on in the book, but it's extremely spoilery, so I'll just say it has to do with blood and ash. I love it because it's a real turning point for who Ciara is and what she wants for herself. But another scene I love is when Ciara is taking a bath and receives the terrifying visions from the crow…along with the discovery of
who
the crow actually is. I love it for the creepy atmosphere, the revelation about the crow, and the foretelling of adventure and difficult times ahead for Ciara (sorry, Ciara!)
How long or hard was your road to publication? How many books did you write before this one, and how many never got published?
I have been writing for fun for a very long time—since I was just a kid, really—but it wasn't until I found myself in between jobs that I started researching how to get traditionally published and really thought about how to make it a full-time career. That was in 2010. I wrote a few really horrible books—the kind that are full of clichés and are just sort of an experiment into the craft of writing and getting published. I queried the third book and received a bit of agent interest—just based on my query letter, I think. But it wasn't until my fourth manuscript that I thought I really might have had something. In late 2012, that manuscript grabbed the attention of my agent, Brianne Johnson of Writers House, and she was able to sell it to Skyhorse the very next year. It became
Arcana
, which is my adult historical fantasy. I wrote another book for Skyhorse,
The Order of the Eternal Sun
, and now
Beyond a Darkened Shore
is my YA debut. So three books never got published before I got an agent, but actually, there are several books my agent and I created proposals for (1st 3 chapters + synopsis) that never made it either. There's absolutely hope if you haven't written "The One" yet!
What's your writing ritual like? Do you listen to music? Work at home or at a coffee shop or the library, etc?
I have 4 kids, ages 6 and younger, so my ritual is basically writing any time I can! It has enabled me to become extremely flexible in what kinds of conditions I can write in (like kids running around the house playing tag and screaming lol). I take advantage of times when the kids are at preschool or with their grandparents, or even when I'm sitting in the car waiting for my oldest son to get out of art class.
What are you working on now?
My next book with HarperTeen comes out Spring of 2019, and it's called THROUGH THE WHITE WOOD. It's set in 11th century Russia, and is sort of a
Frostblood
meets
The Bear and the Nightingale
. A girl with a power to summon ice so cold it shatters everything it touches is brought before the Grand Prince of Russia after causing absolute destruction in her village. But instead of condemning her, he asks her to join forces with him and others with power, against those who threaten to overtake their country. Lots of Russian folklore in this one and some political intrigue, and of course, romance. Ciara and Leif, the two main characters from
Beyond a Darkened Shore
, play a role in this new book, so although it's not a sequel, fans of
Beyond
will get the chance to see Ciara and Leif again.
ABOUT THE BOOK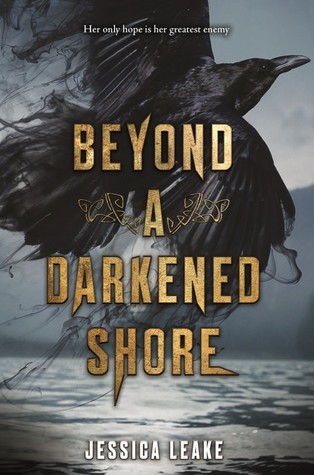 Beyond a Darkened Shore
by Jessica Leake
Hardcover
HarperTeen
Released 4/10/2018
The ancient land of Éirinn is mired in war. Ciara, princess of Mide, has never known a time when Éirinn's kingdoms were not battling for power, or Northmen were not plundering their shores.
The people of Mide have always been safe because of Ciara's unearthly ability to control her enemies' minds and actions. But lately a mysterious crow has been appearing to Ciara, whispering warnings of an even darker threat. Although her clansmen dismiss her visions as pagan nonsense, Ciara fears this coming evil will destroy not just Éirinn but the entire world.
Then the crow leads Ciara to Leif, a young Northman leader. Leif should be Ciara's enemy, but when Ciara discovers that he, too, shares her prophetic visions, she knows he's something more. Leif is mounting an impressive army, and with Ciara's strength in battle, the two might have a chance to save their world.
With evil rising around them, they'll do what it takes to defend the land they love...even if it means making the greatest sacrifice of all.
Purchase Beyond a Darkened Shore at Amazon
Purchase Beyond a Darkened Shore at IndieBound
View Beyond a Darkened Shore on Goodreads
ABOUT THE AUTHOR
Jessica Leake is the author of the adult novels
Arcana
and
The Order of the Eternal Sun
, both with Skyhorse. She worked for years as a psychotherapist, but even though she loved her clients, she couldn't stop writing. She lives in South Carolina with her husband, four young children, lots of chickens, and two dogs who keep everyone in line.
Beyond a Darkened Shore
is her YA debut. Visit her at
www.jessicaleake.com
.
---
Have you had a chance to read BEYOND A DARKENED SHORE yet? Has research helped you come up with a story idea? Are you flexible about the kinds of conditions you can write in? Share your thoughts about the interview in the comments!
Happy Reading,
Jocelyn, Halli, Martina, Charlotte, Anisaa, Erin, Susan, Shelly, Kelly, Laura, Emily, and Lori Ann