Caleb, what scene was really hard for you to write and why, and is that the one of which you are most proud? Or is there another scene you particularly love?
I hate writing scenes showing conflict between parents and children, because those interactions are so weighted and intense. I wrote two such scenes in WHITE RABBIT, and both took a lot of out of me. They were necessary, and I'm happy with the way they turned out, but it was rough. However, the scene I think I'm the proudest of is the one where Rufus and Sebastian finally address their past. The push and pull of their relationship is what drives a lot of Rufus's emotional arc, and the scene where he finally gets to lay his feelings bare is a huge moment, and I'm really proud of it.

How long did you work on WHITE RABBIT?

From beginning the outline to completing the first draft, it took me maybe three months; but WHITE RABBIT was not the novel I originally envisioned being my sophomore title. I actually spent maybe six months on a totally different manuscript first, getting all the way to the end of it before deciding that it just wasn't The One. People talk about Second Book Syndrome, and for me, it was the real deal; it was six months of absolute agony and self-doubt. Setting the project aside and starting over was really hard, but from page one, Rufus's story flowed in a way that made me realize it had been the correct choice.

What's your writing ritual like? Do you listen to music? Work at home or at a coffee shop or the library, etc?

My rituals have changed a bit over time, but generally speaking, I always write in the evening. Once upon a time, I read a piece where dozens of creative types had been surveyed, and all of them spoke about how they got all their best work done before ten in the morning; the next day, I got up at eight a.m. and…stared at a blank Word document for two hours, because I couldn't form coherent sentences. Never again will I make the mistake of thinking I could become a morning person! So I write in the late afternoon or evening, I make myself a pot of tea (caffeine!), and I usually put my headphones in and listen to a white noise app. (Music is too distracting—I always sing along!)

What are you working on now?

I'm working on a lot. My third novel, DEATH PREFERS BLONDES, will be released in January of 2019; and I'm contributing to an anthology of short stories inspired by the works of Edgar Allan Poe, HIS HIDEOUS HEART, which will be released the following October. I'm contributing to a second anthology, which has yet to be announced, and I'm contracted for a fourth book as well—title and date TBD. So if your readers like my words, well…there are a lot more coming!
ABOUT THE BOOK
White Rabbit
by Caleb Roehrig
Hardcover
Feiwel & Friends
Released 4/24/2018
Rufus Holt is having the worst night of his life. It begins with the reappearance of his ex-boyfriend, Sebastian―the guy who stomped his heart out like a spent cigarette. Just as Rufus is getting ready to move on, Sebastian turns up out of the blue, saying they need to "talk." Things couldn't get worse, right?
Then Rufus gets a call from his sister April, begging for help. He and Sebastian find her, drenched in blood and holding a knife beside the dead body of her boyfriend, Fox Whitney.
April swears she didn't kill Fox. Rufus knows her too well to believe she's telling him the whole truth, but April has something he needs. Her price is his help. Now, with no one to trust but the boy he wants to hate yet can't stop loving, Rufus has one night to clear his sister's name . . . or die trying.
Purchase White Rabbit at Amazon
Purchase White Rabbit at IndieBound
View White Rabbit on Goodreads
ABOUT THE AUTHOR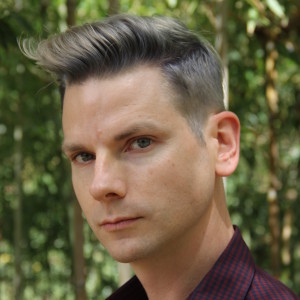 Caleb Roehrig is a writer and television producer originally from Ann Arbor, Michigan. Having also lived in Chicago, Los Angeles, and Helsinki, Finland, he has a chronic case of wanderlust, and can recommend the best sights to see on a shoestring budget in over thirty countries. A former actor, Roehrig has experience on both sides of the camera, with a résumé that includes appearances on film and TV—as well as seven years in the stranger-than-fiction salt mines of reality television. In the name of earning a paycheck, he has: hung around a frozen cornfield in his underwear, partied with an actual rock-star, chatted with a scandal-plagued politician, and been menaced by a disgruntled ostrich.
---
Have you had a chance to read WHITE RABBIT yet? Have you set a project aside and started over because it wasn't The One? Are you a morning writer or an evening writer? Share your thoughts about the interview in the comments!
Happy Reading,
Jocelyn, Halli, Martina, Charlotte, Anisaa, Erin, Susan, Shelly, Kelly, Laura, Emily, and Lori Ann