Happy Reading,
Shelly, Halli, Jocelyn, Martina, Erin, Susan, Kelly, Laura, Emily, Anisaa, and Lori Ann
YA BOOK GIVEAWAYS THIS WEEK
* * * *
True Storm
by L.E. Sterling
Signed Hardcover Giveaway
Entangled: Teen
Released 5/1/2018
Lucy's twin sister, Margot, may be safely back with her―but all is not well in Plague-ravaged Dominion City. The Watchers have come out of hiding, spreading chaos and death throughout the city, and suddenly Lucy finds herself torn between three men with secrets of their own.
Betrayal is a cruel lesson, and the Fox sisters can hardly believe who is behind the plot against them. To survive this deadly game of politics, Lucy is forced to agree to a marriage of convenience. But DNA isn't the only thing they want from Lucy...or her sister.
As they say in Dominion, rogue genes can never have a happy ending...
Author Question: What is your favorite thing about True Storm?
H! Thanks for having me back at Adventures in YA Publishing. So glad to be here! TRUE STORM is the third and final novel in the True Born Trilogy, and in this installment I lay it ALL OUT! I won't throw out any spoilers, but I will say that, for me at least, this is the swooniest, saddest, craziest romp of the three novels. This is the book where Lucy Fox, heroine of the novels, really comes into her own. I love that she really stands out in this book: not as a helpless victim of all the plots and machinations against her and her sister, but as someone who starts pulling some of the strings in Dominion City herself.

And of course, the heat, the heat! Things get pretty steamy in this instalment between Lucy and her True Born bodyguard, Jared Price. At the same time, Lucy is romantically pursued by two other characters in the novel, which adds some interesting wrinkles to the connection between Lucy and Jared, which leads to some confusion, hilarity and discomfort. I am very interested in how readers will feel about some of these plot developments. I hope readers like this book as much as I do!
Purchase True Storm at Amazon
Purchase True Storm at IndieBound
View True Storm on Goodreads
* * * *
Spies, Lies and Allies
by Lisa Brown Roberts
Signed Paperback Giveaway

U.S. Only
Entangled Teen
Released 5/1/2018
Summers are supposed to be fun, right? Not mine. I've got a job at my dad's company, which is sponsoring a college scholarship competition. I just found out that, in addition to my job assisting the competing interns, I'm supposed to vote for the winner. Totally not what I signed up for.
There's a crazy guy running the competition like it's an episode of Survivor. Then there's Carlos, who is, well, very distracting –– in a good way. But I can't even think about him that way because Crazy Guy says any fraternizing on the job means instant disqualification for the intern involved.
As if that's not enough, an anonymous weirdo with insider intel is trying to sabotage my dad's company on social media…and I'm afraid it's working.
Much as I'd love to quit, I can't. Kristoffs Never Quit is our family motto. I just hope there's more than one survivor by the end of this summer.
Purchase Spies, Lies and Allies at Amazon
Purchase Spies, Lies and Allies at IndieBound
View Spies, Lies and Allies on Goodreads
* * * *
August and Everything After
by Jennifer Salvato Doktorski
Signed Paperback

U.S. Only
Sourcebooks Fire
Released 5/1/2018
Graduation was supposed to be a relief. Except Quinn can't avoid the rumors that plagued her throughout high school or the barrage of well-intentioned questions about her college plans. How is she supposed to know what she wants to do for the next four years, let alone the rest of her life? And why does no one understand that it's hard for her to think about the future―or feel as if she even deserves one―when her best friend is dead?
Spending the summer with her aunt on the Jersey shore may just be the fresh start Quinn so desperately needs. And when she meets Malcolm, a musician with his own haunted past, she starts to believe in second chances. Can Quinn find love while finding herself?
Author Question: What is your favorite thing about August and Everything After?
My favorite thing about AUGUST AND EVERYTHING AFTER is really two things: the main character, Quinn Gallo, and the music. The novel is named for one of my all-time favorite albums by the Counting Crows, set against the backdrop of a local music scene, and sprinkled with musical references throughout. And then there's Quinn. She is an honest, tragic, vulnerable character who plays against type and surprises me with her choices. A self-proclaimed fuck up, Quinn is blind to all the goodness inside her, and mostly directionless since the death of her best friend when they were 15. Her already-rough high school career culminates with a scandal involving her band student teacher, a freak thunderstorm, brief nudity, and the jaws of life. As Quinn says, "connect the dots anyway you want, it's not pretty." So after high school graduation, Quinn flees to the Jersey shore for the summer to live with her aunt and escape her past. There she meets Malcolm, a musician with his own demons and a history as tragic as her own. The two begin a musical journey infused with love, loss, addiction, and the shared goal of being in a better place when August and summer are over.
Purchase August and Everything After at Amazon
Purchase August and Everything After at IndieBound
View August and Everything After on Goodreads
* * * *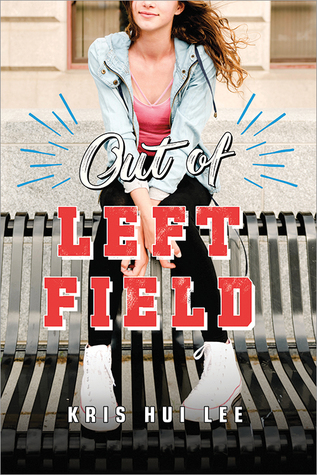 Out of Left Field
by Kris Hui Lee
Paperback Giveaway

U.S. Only
Sourcebooks Fire
Released 5/1/2018
Marnie has never had a hard time fitting in with the guys. It would take a lot more than their goofy antics to keep her from joining them at the neighborhood sandlot to do what she loves best: play ball.
An added perk of hanging out at the sandlot? Spending time with Cody Kinski, their high school's star pitcher and Marnie's best friend. Sure, he can be stubborn and annoying. He also knows how to make her laugh and respects her skills on the field. And when he gets nailed in the arm by a bone-fracturing pitch, Marnie becomes the team's best chance at making it to the playoffs. Except no one told the guys they're supposed to be on her side.
With her own team against her, Marnie begins questioning her abilities. And when fate throws her a curveball, can she play without losing the game, Cody, and her belief in herself?
Author Question: What is your favorite thing about Out of Left Field?
The characters, hands down. I went through countless amount of drafts for OUT OF LEFT FIELD, but through all the changes and evolutions of the plot, Marnie and her three friends were always there, firmly in place. Their friendship is the foundation of OUT OF LEFT FIELD. The characters are so genuine and natural that it's almost like they always existed and I just discovered them rather than created them. Most of the time it felt like I was watching them like a TV show, and someone would say something or do something, and I would just be like, Oh. Okay. I guess you're decking that guy in the face now. (If you do decide to pick OUT OF LEFT FIELD up, you'll know exactly what scene and character I'm talking about. I swear, he did it of his own accord.) They really came to life for me. I hope that I did them justice, and that readers will love Marnie and her friends as much as I do.
Purchase Out of Left Field at Amazon
Purchase Out of Left Field at IndieBound
View Out of Left Field on Goodreads
* * * *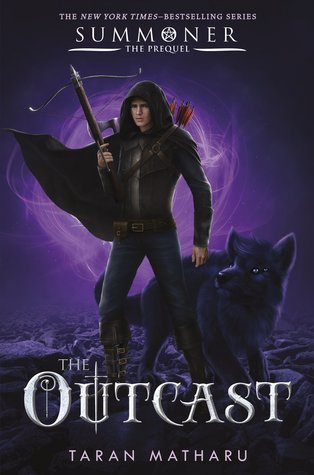 The Outcast
by Taran Matharu
Hardcover Giveaway
Feiwel & Friends
Released 5/1/2018
When stable boy Arcturus accidentally summons a demon and becomes Hominum's first common summoner, he becomes the key to a secret that the powerful overlords would do anything to keep hidden.
Whisked away to Vocans Academy so he can be kept watch over, Arcturus finds himself surrounded by enemies. But he has little time to settle in before his life is turned upside down once again, for Hominum Empire is in turmoil.
Rebellious intent simmers among the masses, and it will not be long before it boils over. Arcturus must choose a side . . . or watch an Empire crumble.
Author Question: What is your favorite thing about The Outcast?
The great thing about the Outcast is that its a new entry point to the Summoner series - you don't need to have read the other books to enjoy it. At the same time, it really helps flesh out the world, and the backstories that make the characters in the Summoner series become the people they are.
Purchase The Outcast at Amazon
Purchase The Outcast at IndieBound
View The Outcast on Goodreads
YA BOOK GIVEAWAYS LAST WEEK: WINNERS
Sky in the Deep by Adrienne Young:
Sonia P.
The Complication by Suzanne Young:
Nadine S.
MORE YOUNG ADULT FICTION IN STORES NEXT WEEK WITH AUTHOR INTERVIEWS
* * * *
Tradition
by Brendan Kiely
Hardcover
Margaret K. McElderry Books
Released 5/1/2018
Prestigious. Powerful. Privileged. This is Fullbrook Academy, an elite prep school where history looms in the leafy branches over its brick walkways. But some traditions upheld in its hallowed halls are profoundly dangerous.
Jules Devereux just wants to keep her head down, avoid distractions, and get into the right college, so she can leave Fullbrook and its old-boy social codes behind. She wants freedom, but ex-boyfriends and ex-best friends are determined to keep her in place.
Jamie Baxter feels like an imposter at Fullbrook, but the hockey scholarship that got him in has given him a chance to escape his past and fulfill the dreams of his parents and coaches, whose mantra rings in his ears: Don't disappoint us.
When Jamie and Jules meet, they recognize in each other a similar instinct for survival, but at a school where girls in the student handbook are rated by their looks, athletes stack hockey pucks in dorm room windows like notches on a bedpost, and school-sponsored dances push first year girls out into the night with senior boys, the stakes for safe sex, real love, and true friendship couldn't be higher.
As Jules and Jamie's lives intertwine, and the pressures to play by the rules and remain silent about the school's secrets intensify, they see Fullbrook for what it really is. That tradition, a word Fullbrook hides behind, can be ugly, even violent. Ultimately, Jules and Jamie are faced with the difficult question: can they stand together against classmates—and an institution—who believe they can do no wrong?
Author Question: What is your favorite thing about Tradition?
This is such a great question because all too often we focus primarily on the content and inspiration of the book, or maybe the research, but I'm really grateful to take a moment to talk about the writing of the book, because my favorite thing about TRADITION is that it is dual narration, one girl, Jules, and one boy, Bax, and I had both a ball and a terrible time trying to find these two distinct voices, but I was certain the dual narration was essential to the story. In a nutshell, since the book takes place at a boarding school rich with history and steeped in old-boy misogynistic traditions, I thought it was essential to look at how that affects the young women at the school and how it also affects the young men, the ones who perpetuate that misogyny, sometimes willfully and sometimes unknowingly. Finding Jules's voice was my primary concern, because as a man writing this book, I didn't want to screw it up in any way, especially since her story is all too true for so many young women. I wrote scene after scene after scene; I wrote so many scenes I threw away, until I landed on these lines: "I once heard another girl put it like this: This is a boys' school and they accept girls here too. At Fullbrook, they told us to be ready to take on the world, but then they told us to do it quietly. What if I wanted to loud? What if I needed to be?" I threw everything else out, started her narrative from scratch and followed that voice. And then, oddly, it was Bax's voice that gave me trouble. I had assumed his voice would have been easier, but then I struggled to hear his voice, to understand the emotions beneath his tough veneer. Again I wrote scene after scene after scene until I landed on this line: "Most people don't get second chances. I wasn't sure I deserved one. I wasn't even sure I wanted one. But I got one: Fullbrook Academy. This is what I did with it." And again, once I heard those lines, I felt like I really heard Bax for the first time. I threw out everything else in his narration and started from scratch again, following that voice. I followed them all the way to the very end of the book, and now, because I've become so attached, I wish I could follow them out into the wider world beyond Fullbrook too. Who knows. Maybe one day!
Purchase Tradition at Amazon
Purchase Tradition at IndieBound
View Tradition on Goodreads
MORE YOUNG ADULT NOVELS NEW IN STORES NEXT WEEK
* * * *
9 Days and 9 Nights
by Katie Cotugno
Hardcover
Balzer + Bray
Released 5/1/2018
Molly Barlow isn't that girl anymore. A business major at her college in Boston, she's reinvented herself after everything that went down a year ago… After all the people she hurt and the family she tore apart.
Slowly, life is getting back to normal. Molly has just said I love you to her new boyfriend, Ian, and they are off on a romantic European vacation together, starting with scenic London. But there on a tube platform, the past catches up to her in the form of Gabe, her ex, traveling on his own parallel vacation with new girlfriend Sadie.
After comparing itineraries, Ian ends up extending an invite for Gabe and Sadie to join them on the next leg of their trip, to Ireland. And Molly and Gabe can't bring themselves to tell the truth about who they once were to each other to their new significant others.
Now Molly has to spend 9 days and 9 nights with the boy she once loved, the boy whose heart she shredded, without Ian knowing. Will she make it through as new and improved Molly, or will everything that happened between her and Gabe come rushing back?
Purchase 9 Days and 9 Nights at Amazon
Purchase 9 Days and 9 Nights at IndieBound
View 9 Days and 9 Nights on Goodreads
* * * *
Allied
by Amy Tintera
Hardcover
HarperTeen
Released 5/1/2018
Emelina Flores and her sister, Olivia, were determined to bring peace to the people of Ruina. But as the war for liberation raged on, what triumph and freedom meant to Em and Olivia slowly changed. As Olivia's violence and thirst for vengeance became her only ambition, Em was left to pick up the pieces.
But it's not only Em who is upset by Olivia's increased violence. Other members of the Ruined army are beginning to see the cracks, and soon a small group of them defects from Olivia's army and joins Em instead.
The two sisters are soon pitted against each other in an epic battle for the kingdom and the future, and only one will win.
Purchase Allied at Amazon
Purchase Allied at IndieBound
View Allied on Goodreads
* * * *
Dating Disaster of Emma Nash
by Chloe Seager
Hardcover
Harlequin Teen
Released 5/1/2018
Online, you can choose who you want to be. If only real life were so easy…
Emma Nash may be down, but after months of wallowing, stalking her ex online and avoiding showering—because, really, who's going to care?—Emma's ready to own her newly single status, get out with her friends and chronicle her dating adventures on her private blog.
But life online doesn't always run smoothly. Stumbling upon her mother's Tinder dating profile, getting catfished and accidentally telling the entire world why her ex-boyfriend Leon's not worth any girl's…um…time… Okay, those were disasters.
But surely nothing else can go wrong?
Purchase Dating Disaster of Emma Nash at Amazon
Purchase Dating Disaster of Emma Nash at IndieBound
View Dating Disaster of Emma Nash on Goodreads
* * * *
Fatal Throne: The Wives of Henry VIII Tell All
by Candace Fleming
Hardcover
Schwartz & Wade
Released 5/1/2018
He was King Henry VIII, a charismatic and extravagant ruler obsessed with both his power as king and with siring a male heir.
They were his queens--six ill-fated women, each bound for divorce, or beheading, or death.
Watch spellbound as each of Henry's wives attempts to survive their unpredictable king and his power-hungry court. See the sword flash as fiery Anne Boleyn is beheaded for adultery. Follow Jane Seymour as she rises from bullied court maiden to beloved queen, only to die after giving birth. Feel Catherine Howard's terror as old lovers resurface and whisper vicious rumors to Henry's influential advisors. Experience the heartache of mothers as they lose son after son, heir after heir.
Told in stirring first-person accounts, Fatal Throne is at once provocative and heartbreaking, an epic tale that is also an intimate look at the royalty of the most perilous times in English history.
Purchase Fatal Throne: The Wives of Henry VIII Tell All at Amazon
Purchase Fatal Throne: The Wives of Henry VIII Tell All at IndieBound
View Fatal Throne: The Wives of Henry VIII Tell All on Goodreads
* * * *
If You Don't Have Anything Nice to Say
by Leila Sales
Hardcover
Farrar, Straus and Giroux
Released 5/1/2018
Before we go any further, I want you to understand this: I am not a good person.
We all want to be seen. We all want to be heard. But what happens when we're seen and heard saying or doing the wrong things?
When Winter Halperin―former spelling bee champion, aspiring writer, and daughter of a parenting expert―gets caught saying the wrong thing online, her life explodes. All across the world, people know what she's done, and none of them will forgive her.
With her friends gone, her future plans cut short, and her identity in shambles, Winter is just trying to pick up the pieces without hurting anyone else. She knows she messed up, but does that mean it's okay for people to send her hate mail and death threats? Did she deserve to lose all that she's lost? And is "I'm sorry" ever good enough?
Decide for yourself.
First and foremost a novel about public shaming in the internet age, If You Don't Have Anything Nice to Say is also an exploration of the power of words, the cumulative destructiveness of microaggressions, and the pressing need for empathy.
Purchase If You Don't Have Anything Nice to Say at Amazon
Purchase If You Don't Have Anything Nice to Say at IndieBound
View If You Don't Have Anything Nice to Say on Goodreads
* * * *
Missing at 17
by Christine Conradt
Paperback
HarperTeen
Released 5/1/2018
For most of Candace's life she never felt like she completely belonged. But nothing could prepare her for the shocking discovery that her parents have been concealing the truth about who she is and where she came from her entire life.
Feeling like her world has been turned upside down, and unable to trust the people she's closest to, Candace runs away...right into the arms of an alluring stranger.
But while Candace and Toby have an undeniable connection, it's less certain what the future holds for them as Candace's family and Toby's less-than-legal lifestyle threaten to rip them apart.
As things start to spiral out of control, Candace must fight to understand her own identity...and who she can truly rely on.
Purchase Missing at 17 at Amazon
Purchase Missing at 17 at IndieBound
View Missing at 17 on Goodreads
* * * *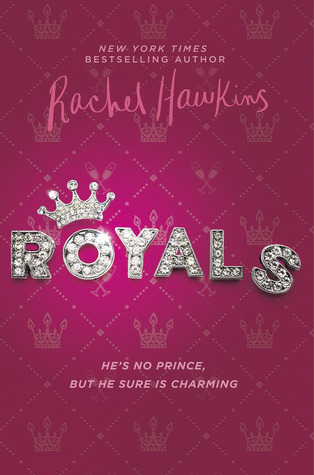 Royals
by Rachel Hawkins
Hardcover
G.P. Putnam's Sons Books for Y
Released 5/1/2018
Meet Daisy Winters. She's an offbeat sixteen-year-old Floridian with mermaid-red hair; a part time job at a bootleg Walmart, and a perfect older sister who's nearly engaged to the Crown Prince of Scotland. Daisy has no desire to live in the spotlight, but relentless tabloid attention forces her join Ellie at the relative seclusion of the castle across the pond.
While the dashing young Miles has been appointed to teach Daisy the ropes of being regal, the prince's roguish younger brother kicks up scandal wherever he goes, and tries his best to take Daisy along for the ride. The crown--and the intriguing Miles--might be trying to make Daisy into a lady . . . but Daisy may just rewrite the royal rulebook to suit herself.
Purchase Royals at Amazon
Purchase Royals at IndieBound
View Royals on Goodreads
* * * *
The Burning Maze
by Rick Riordan
Hardcover
Disney-Hyperion
Released 5/1/2018
The formerly glorious god Apollo, cast down to earth in punishment by Zeus, is now an awkward mortal teenager named Lester Papadopoulos. In order to regain his place on Mount Olympus, Lester must restore five Oracles that have gone dark. But he has to achieve this impossible task without having any godly powers and while being duty-bound to a confounding young daughter of Demeter named Meg. Thanks a lot, Dad.
With the help of some demigod friends, Lester managed to survive his first two trials, one at Camp Half-Blood, and one in Indianapolis, where Meg received the Dark Prophecy. The words she uttered while seated on the Throne of Memory revealed that an evil triumvirate of Roman emperors plans to attack Camp Jupiter. While Leo flies ahead on Festus to warn the Roman camp, Lester and Meg must go through the Labyrinth to find the third emperor--and an Oracle who speaks in word puzzles--somewhere in the American Southwest. There is one glimmer of hope in the gloom-filled prophecy: The cloven guide alone the way does know. They will have a satyr companion, and Meg knows just who to call upon. . . .
Purchase The Burning Maze at Amazon
Purchase The Burning Maze at IndieBound
View The Burning Maze on Goodreads
* * * *
The Lies They Tell
by Gillian French
Hardcover
HarperTeen
Released 5/1/2018
Everyone in Tenney's Harbor knows about the Garrison tragedy. How an unexplained fire ravaged their house, killing four of the five family members. But what people don't know is who did it. All fingers point at Pearl Haskins' father, who was the caretaker of the property, but Pearl just doesn't believe it. Leave it to a town of rich people to blame "the help."
With her disgraced father now trying to find work in between booze benders, Pearl's future doesn't hold much more than waiting tables at the local country club, where the wealthy come to flaunt their money and spread their gossip. This year, Tristan, the last surviving Garrison, and his group of affluent and arrogant friends have made a point of sitting in Pearl's section. Though she's repulsed by most of them, Tristan's quiet sadness and somber demeanor have her rethinking her judgments.
Befriending the boys could mean getting closer to the truth, clearing her father's name, and giving Tristan the closure he seems to be searching for. But it could also trap Pearl in a sinister web of secrets, lies, and betrayals that would leave no life unchanged…if it doesn't take hers first.
Purchase The Lies They Tell at Amazon
Purchase The Lies They Tell at IndieBound
View The Lies They Tell on Goodreads
* * * *
The Smoke Thieves
by Sally Green
Hardcover
Viking Books for Young Readers
Released 5/1/2018
In a land tinged with magic and a bustling trade in an illicit supernatural substance, destiny will intertwine the fates of five players:
A visionary princess determined to forge her own path.
An idealistic solider whose heart is at odds with his duty.
A streetwise hunter tracking the most dangerous prey.
A charming thief with a powerful hidden identity.
A loyal servant on a quest to avenge his kingdom.
All are driven by ambition, honor, and desperation on the cusp of war. But who will be left standing when the smoke clears?
Purchase The Smoke Thieves at Amazon
Purchase The Smoke Thieves at IndieBound
View The Smoke Thieves on Goodreads
* * * *
Tiffany Sly Lives Here Now
by Dana L. Davis
Hardcover
Harlequin Teen
Released 5/1/2018
For sixteen-year-old Tiffany Sly, life hasn't been safe or normal for a while. Losing her mom to cancer has her a little bit traumatized and now she has to leave her hometown of Chicago to live with the biological dad she's never known.
Anthony Stone is a rich man with four other daughters—and rules for every second of the day. Tiffany tries to make the best of things, but she doesn't fit into her new luxurious, but super-strict, home—or get along with her standoffish sister London. The only thing that makes her new life even remotely bearable is the strange boy across the street. Marcus McKinney has had his own experiences with death, and the unexpected friendship that blossoms between them is the only thing that makes her feel grounded.
But Tiffany has a secret. Another man claims he's Tiffany's real dad—and she has only seven days before he shows up to demand a paternity test and the truth comes out. With her life about to fall apart all over again, Tiffany finds herself discovering unexpected truths about her father, her mother and herself, and realizing that maybe family is in the bonds you make—and that life means sometimes taking risks.
Purchase Tiffany Sly Lives Here Now at Amazon
Purchase Tiffany Sly Lives Here Now at IndieBound
View Tiffany Sly Lives Here Now on Goodreads