Happy Reading,
Shelly, Halli, Jocelyn, Martina, Erin, Susan, Kelly, Laura, Emily, Anisaa, and Lori Ann
YA BOOK GIVEAWAYS THIS WEEK
Finding Felicity
by Stacey Kade
Hardcover Giveaway

U.S. Only
Simon & Schuster Books for Young Readers
Released 3/20/2018
Caroline Sands has never been particularly good at making friends. And her parents' divorce and the move to Arizona three years ago didn't help. Being the new girl is hard enough without being socially awkward too. So out of desperation and a desire to please her worried mother, Caroline invented a whole life for herself—using characters from Felicity, an old show she discovered online and fell in love with.
But now it's time for Caroline to go off to college and she wants nothing more than to leave her old "life" behind and build something real. However, when her mother discovers the truth about her manufactured friends, she gives Caroline an ultimatum: Prove in this first semester that she can make friends of the nonfictional variety and thrive in a new environment. Otherwise, it's back to living at home—and a lot of therapy.
Armed with nothing more than her resolve and a Felicity-inspired plan, Caroline accepts the challenge. But she soon realizes that the real world is rarely as simple as television makes it out to be. And to find a place where she truly belongs, Caroline may have to abandon her script and take the risk of being herself.
Author Question: What is your favorite thing about Finding Felicity?
I read somewhere--and I don't remember where so I can't give credit, unfortunately--that most YA stories are about the characters trying to find home. That home might be their literal house, or it might be the characters finally reaching the state of being comfortable with themselves.

That is my favorite thing about this book--it's the story of a girl who's just trying to find a home, a place where she belongs, where she doesn't have to work so hard to be accepted. I vividly remember the first time I felt that way, and depicting it in this story meant so much. I hope that others will find hope and reassurance in Caroline's journey.

And, of course, it's about a girl obsessed with an old television show. I can totally relate. ;)
Purchase Finding Felicity at Amazon
Purchase Finding Felicity at IndieBound
View Finding Felicity on Goodreads
MORE YOUNG ADULT FICTION IN STORES NEXT WEEK WITH AUTHOR INTERVIEWS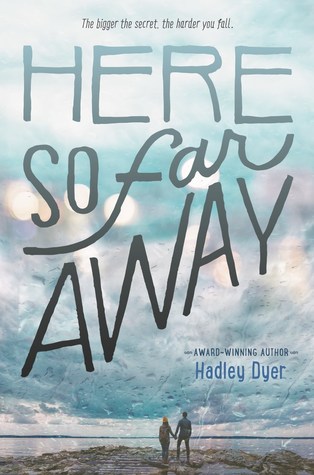 Here So Far Away
by Hadley Dyer
Hardcover
HarperTeen
Released 3/20/2018
Feisty and fearless George Warren (given name: Frances, but no one calls her that) has never let life get too serious. Now that she's about to be a senior, her plans include partying with her tight-knit group of friends and then getting the heck out of town after graduation.
But instead of owning her last year of high school, a fight with her best friend puts her on the outs of their social circle. If that weren't bad enough, George's family has been facing hard times since her father, a police sergeant, got injured and might not be able to return to work, which puts George's college plans in jeopardy.
So when George meets Francis, an older guy who shares her name and her affinity for sarcastic banter, she's thrown. If she lets herself, she'll fall recklessly, hopelessly in love. But because of Francis's age, she tells no one—and ends up losing almost everything, including herself.
This is a gorgeous, atmospheric, and gut-wrenching novel that readers won't soon forget.
Author Question: What is your favorite thing about Here So Far Away?
I'd have to say the main character, George, a seventeen year-old girl. She's tough, confident, too smart for her own good, a keen observer of behaviour, and not who you'd expect to put her heart on the line. It's always tempting to have a protagonist who is more insecure because we assume readers relate better to weaknesses than to strengths -- and I expect that's true. So even if the protagonist is physically strong, talented, etc., we tend to emphasize their vulnerabilities in the early going. With George, some vulnerability is there from the start, but I also tried to show how her strengths become her weaknesses over the course of the novel, especially in the final quarter. I did this at the risk that some readers might take a while to warm up to her. Mind you, a lot of people have told me that they would have loved to hang out with George in high school -- if they could get up the nerve to approach her!
Purchase Here So Far Away at Amazon
Purchase Here So Far Away at IndieBound
View Here So Far Away on Goodreads
* * * *
Orphan Monster Spy
by Matt Killeen
Hardcover
Viking Books for Young Readers
Released 3/20/2018
Her name is Sarah. She's blonde, blue-eyed, and Jewish in 1939 Germany. And her act of resistance is about to change the world.
After her mother is shot at a checkpoint, fifteen-year-old Sarah meets a mysterious man with an ambiguous accent, a suspiciously bare apartment, and a lockbox full of weapons. He's part of the secret resistance against the Third Reich, and he needs Sarah to hide in plain sight at a school for the daughters of top Nazi brass, posing as one of them. If she can befriend the daughter of a key scientist and get invited to her house, she might be able to steal the blueprints to a bomb that could destroy the cities of Western Europe. Nothing could prepare Sarah for her cutthroat schoolmates, and soon she finds herself in a battle for survival unlike any she'd ever imagined. But anyone who underestimates this innocent-seeming girl does so at their peril. She may look sweet, but she's the Nazis' worst nightmare.
Author Question: What is your favorite thing about Orphan Monster Spy?
I'm absurdly proud of Sarah. She's everything I wanted her to be and more. It also seems that she's resonating with readers which is great. Her victories are, I think, wins for all the abused, ignored and bullied, even if I can't really allow her success to come for free. The Second World War may have been the "last just war" but the violence had consequences and the morality of the means became very blurred as the Allies pursued the ends. I wanted the book to reflect that. There's a price to be paid for resistance, even when it's absolutely necessary.

I like that she isn't just a "strong female" archetype. A female protagonist shouldn't have to strong or likeable and I'd rather she was described as "well-written" and multi-dimensional. Without the vulnerability and fear, any bravery or strength isn't as powerful. Eówyn in The Lord of the Rings movies is a great example of this – she looks absolutely terrified the whole time and that makes her moment of awesome all the more important.

In many ways Sarah tells me what's going to happen, what she's going to say and harangues me when I'm not writing. WHY AREN'T YOU WRITING?
I'm in the SHOWER, that's why.
She tends to visit when I'm in that place between sleep and waking, with plot developments. Of course, that's really my subconscious working things out, so that's how I can be proud of it.

However, there's some dark stuff happening, psychologically speaking. I care very much for this fictional girl, yet I'm the one who puts her through all these horrible experiences. And she is, in many ways, me. I have had a tendency to go to the mattresses on points of right and wrong and this gets me into trouble all the time. Like I said, it's psychologically complex.
Purchase Orphan Monster Spy at Amazon
Purchase Orphan Monster Spy at IndieBound
View Orphan Monster Spy on Goodreads
MORE YOUNG ADULT NOVELS NEW IN STORES NEXT WEEK
Tyler Johnson Was Here
by Jay Coles
Hardcover
Little, Brown Books for Young Readers
Released 3/20/2018
The Hate U Give
meets
All American Boys
in this striking and heartbreaking debut novel, commenting on current race relations in America.
When Marvin Johnson's twin, Tyler, goes to a party, Marvin decides to tag along to keep an eye on his brother. But what starts as harmless fun turns into a shooting, followed by a police raid.
The next day, Tyler has gone missing, and it's up to Marvin to find him. But when Tyler is found dead, a video leaked online tells an even more chilling story: Tyler has been shot and killed by a police officer. Terrified as his mother unravels and mourning a brother who is now a hashtag, Marvin must learn what justice and freedom really mean.
Purchase Tyler Johnson Was Here at Amazon
Purchase Tyler Johnson Was Here at IndieBound
View Tyler Johnson Was Here on Goodreads
* * * *
Losing Leah
by Tiffany King
Hardcover
Feiwel & Friends
Released 3/20/2018
Some bonds can't be broken.
Ten years after the tragic disappearance of her twin sister Leah, sixteen-year-old Mia Klein still struggles to exist within a family that has never fully recovered. Deep in the dark recesses of her mind lies an overwhelming shadow, taunting Mia with mind-splitting headaches that she tries to hide in an effort to appear okay.
Leah Klein's life as she knew it ended the day she was taken, thrust into a world of abuse and fear by a disturbed captor―"Mother," as she insists on being called. Ten years later, any recollections of her former life are nothing more than fleeting memories, except for those about her twin sister, Mia.
As Leah tries to gain the courage to escape, Mia's headaches grow worse. Soon, both sisters will discover that their fates are linked in ways they never realized.
Purchase Losing Leah at Amazon
Purchase Losing Leah at IndieBound
View Losing Leah on Goodreads
* * * *
The Continent
by Keira Drake
Hardcover
Harlequin Teen
Released 3/20/2018
For her sixteenth birthday, Vaela Sun receives the most coveted gift in all the Spire—a trip to the Continent. It seems an unlikely destination for a holiday: a cold, desolate land where two nations remain perpetually locked in combat. Most citizens lucky enough to tour the Continent do so to observe the spectacle and violence of battle, a thing long vanished in the peaceful realm of the Spire. For Vaela, the war holds little interest. As a talented apprentice cartographer and a descendant of the Continent herself, she sees the journey as a dream come true: a once-in-a-lifetime opportunity to improve upon the maps she's drawn of this vast, frozen land.
But Vaela's dream all too quickly turns to nightmare as the journey brings her face-to-face with the brutal reality of a war she's only read about. Observing from the safety of a heli-plane, Vaela is forever changed by the sight of the bloody battle being waged far beneath her. And when a tragic accident leaves her stranded on the Continent, Vaela finds herself much closer to danger than she'd ever imagined—and with an entirely new perspective as to what war truly means. Starving, alone and lost in the middle of a war zone, Vaela must try to find a way home—but first, she must survive.
Purchase The Continent at Amazon
Purchase The Continent at IndieBound
View The Continent on Goodreads