Chaotic Good
and
Nothing Left to Burn,
that you have to check out below.
Happy Reading,
Shelly, Halli, Jocelyn, Martina, Erin, Susan, Kelly, Laura, Emily, Anisaa, and Lori Ann
YA BOOK GIVEAWAYS LAST WEEK: WINNERS
A Kiss in the Dark by Gina Ciocca:
Jessica P.
Dark Tracks by Philippa Gregory:
Maggie L.
Genesis by Brendan Reichs:
Miranda H.
Lies That Bind by Diana Rodriguez Wallach:
Courtney W.
Olivia Twist by Lorie Langdon:
Lisa M.
The Place Between Breaths by An Na:
Susan L.
The Wicked Deep by Shea Ernshaw:
Megan S.
MORE YOUNG ADULT FICTION IN STORES NEXT WEEK WITH AUTHOR INTERVIEWS
* * * *
In Sight of Stars
by Gae Polisner
Hardcover
Wednesday Books
Released 3/13/2018
Seventeen-year-old Klee's father was the center of his life. He introduced Klee to the great museums of New York City and the important artists on their walls, he told him stories made of myths and magic. Until his death.
Now, forced to live in the suburbs with his mom, Klee can't help but feel he's lost all the identifying parts of himself―his beloved father, weekly trips to the MoMA, and the thrumming energy of New York City. That is until he meets wild and free Sarah in art class, with her quick smiles and jokes about his "brooding." Suddenly it seems as if she's the only thing that makes him happy. But when an act of betrayal sends him reeling, Klee lands in what is bitingly referred to as the "Ape Can," a psychiatric hospital for teens in Northhollow.
While there, he undergoes intensive therapy and goes back over the pieces of his life to find out what was real, what wasn't, and whether he can stand on his own feet again. Told in alternating timelines, leading up to the event that gets him committed and working towards getting back out, Gae Polisner's In Sight of Stars is a gorgeous novel told in minimalist strokes to maximal effect, about what makes us fall apart and how we can put ourselves back together again.
Author Question: What is your favorite thing about In Sight of Stars?
Ah, this is always such a hard question when the word favorite is used. . . but one thing I love a lot about IN SIGHT OF STARS is Klee's (pronounced Clay) relationship with Sister Agnes Teresa. She has such humor and directness, and he responds to that from her in a way he might not from someone else. She teaches him not to take it all so seriously, while also taking responsibility for himself, his thoughts, and his actions, and even to accept help from others. I also gravitate personally to those simple captured moments – so small, yet hopefully powerful – a game of Chutes and Ladders (yep, in a YA book), or the mist from a fountain collecting on one's face. I'm a big fan of the tiny moments.
Purchase In Sight of Stars at Amazon
Purchase In Sight of Stars at IndieBound
View In Sight of Stars on Goodreads
MORE YOUNG ADULT NOVELS NEW IN STORES NEXT WEEK
* * * *
Chaotic Good
by Whitney Gardner
Hardcover
Knopf Books for Young Readers
Released 3/13/2018
Cameron's cosplay creations are finally starting to earn her attention--attention she hopes to use to get into the CalArts costume design department for college. But after she wins a major competition, she inadvertently sets off a firestorm of angry comments from male fans online.
When Cameron's family moves the summer before her senior year, she hopes to complete her costume portfolio in peace and quiet away from the abuse.
Unfortunately, the only comic shop in town--her main destination for character reference--is staffed by a dudebro owner who challenges every woman who comes into the shop.
At her twin brother's suggestion, Cameron borrows a set of his clothes and uses her costuming expertise to waltz into the shop as Boy Cameron, where she's shocked at how easily she's accepted into the nerd inner sanctum. Soon, Cameron finds herself drafted into a D&D campaign alongside the jerky shop-owner Brody, friendly (almost flirtatiously so) clerk Wyatt, handsome Lincoln, and her brother Cooper, dragged along for good measure.
But as her "secret identity" gets more and more entrenched, Cameron's portfolio falls by the wayside--and her feelings for Lincoln threaten to make a complicated situation even more precarious in this geek girl anthem from You're Welcome, Universe author Whitney Gardner, complete with fully illustrated comic pages inked by Gardner herself.
Purchase Chaotic Good at Amazon
Purchase Chaotic Good at IndieBound
View Chaotic Good on Goodreads
* * * *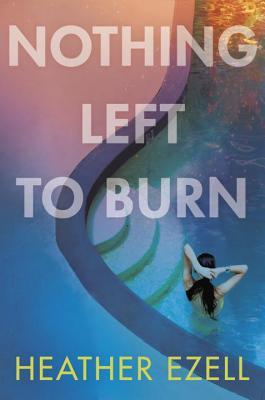 Nothing Left to Burn
by Heather Ezell
Hardcover
Razorbill
Released 3/13/2018
The autumn morning after sixteen-year-old Audrey Harper loses her virginity, she wakes to a loud, persistent knocking at her front door. Waiting for her are two firemen, there to let her know that the moment she's been dreading has arrived: the enormous wildfire sweeping through Orange County, California, is now dangerously close to her idyllic gated community of Coto de Caza, and it's time to evacuate.
Over the course of the next twenty-four hours, as Audrey wrestles with the possibility of losing her family home, she also recalls her early, easy summer days with Brooks, the charming, passionate, but troubled volunteer firefighter who enchants Audrey--and who is just as enthralled by her. But as secrets from Brooks's dark past come to light, Audrey can't help but wonder if there's danger in the pull she feels--both toward this boy, and toward the fire burning in the distance.
Purchase Nothing Left to Burn at Amazon
Purchase Nothing Left to Burn at IndieBound
View Nothing Left to Burn on Goodreads
* * * *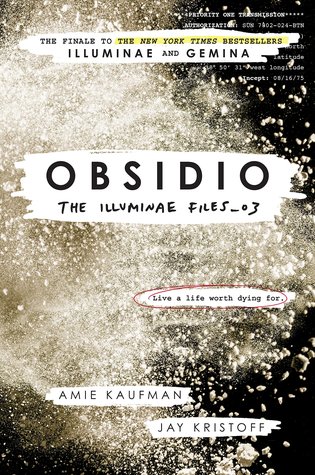 Obsidio
by Amie Kaufman
Hardcover
Knopf Books for Young Readers
Released 3/13/2018
Kady, Ezra, Hanna, and Nik narrowly escaped with their lives from the attacks on Heimdall station and now find themselves crammed with 2,000 refugees on the container ship, Mao. With the jump station destroyed and their resources scarce, the only option is to return to Kerenza--but who knows what they'll find seven months after the invasion? Meanwhile, Kady's cousin, Asha, survived the initial BeiTech assault and has joined Kerenza's ragtag underground resistance. When Rhys--an old flame from Asha's past--reappears on Kerenza, the two find themselves on opposite sides of the conflict. With time running out, a final battle will be waged on land and in space, heros will fall, and hearts will be broken.
Purchase Obsidio at Amazon
Purchase Obsidio at IndieBound
View Obsidio on Goodreads
* * * *
Slay
by Matthew Laurence
Hardcover
Imprint
Released 3/13/2018
Her fight for freedom is over,
but the fight for power is just beginning.
After Freya escapes from the power-controlling Finemdi Corporation, her quest to defeat her new enemy takes her to Hollywood. The ancient Norse goddess of love, beauty, war, and death disguises herself once again as Sara Vanadi, now an up-and-coming star on a scandalous television series. Freya knows that today's modern gods live on the screen, and Los Angeles offers her both fame and believers.
And she desperately needs strength from her believers. With sinister forces at her heels, an ancient enemy returned, and an unknown threat lurking in the shadows, Freya must walk a dangerous line between mortal and goddess. Because if she loses her humanity, who will save the world?
Blending fantasy and science fiction in a contemporary Hollywood setting, Slay: A Freya Novel is the second book in Matthew Laurence's action-packed series about an ancient goddess in a modern world.
Purchase Slay at Amazon
Purchase Slay at IndieBound
View Slay on Goodreads
* * * *
The Falling Between Us
by Ash Parsons
Hardcover
Philomel Books
Released 3/13/2018
Just eight months ago, fifteen-year-old Roxanne Stewart was stuck in her tiny, middle-of-nowhere hometown with no prospects of leaving. But after her boyfriend, Joshua Blackbird, posts a performance of an original song on YouTube, he becomes an overnight sensation, catapulting to the dizzying heights of celebrity, and Rox joins him on the whirlwind ride of a massive national tour.
But it's not long before the never-blinking eye of fame begins weighing them both down--the constant hunger of managers, diehard fans who call themselves "Birdies," record execs, paparazzi, and even family, all leeching onto Joshua.
Then one day, Joshua Blackbird disappears. Was it a suicide? An accident? Rox will stop at nothing to find out the truth. The Falling Between Us is a haunting love story and a piercing look at the costs of fame.
Purchase The Falling Between Us at Amazon
Purchase The Falling Between Us at IndieBound
View The Falling Between Us on Goodreads
* * * *
Time Bomb
by Joelle Charbonneau
Hardcover
HMH Books for Young Readers
Released 3/13/2018
A congressman's daughter who has to be perfect. A star quarterback with a secret. A guy who's tired of being ignored. A clarinet player who's done trying to fit in. An orphaned rebel who wants to teach someone a lesson. A guy who wants people to see him, not his religion.
They couldn't be more different, but before the morning's over, they'll all be trapped in a school that's been rocked by a bombing. When they hear that someone inside is the bomber, they'll also be looking to one another for answers.
Told from multiple perspectives, Time Bomb will keep readers guessing about who the bomber could be—and what motivated such drastic action.
Purchase Time Bomb at Amazon
Purchase Time Bomb at IndieBound
View Time Bomb on Goodreads