Happy Reading,
Shelly, Halli, Jocelyn, Martina, Erin, Susan, Kelly, Laura, Emily, Anisaa, and Lori Ann
YA BOOK GIVEAWAYS THIS WEEK
Olivia Twist
by Lorie Langdon
Hardcover Giveaway

U.S. Only
Blink
Released 3/6/2018
Olivia Brownlow is no damsel in distress. Born in a workhouse and raised as a boy among thieving London street gangs, she is as tough and cunning as they come. When she is taken in by her uncle after a caper gone wrong, her life goes from fighting and stealing on the streets to lavish dinners and soirees as a debutante in high society. But she can't seem to escape her past … or forget the teeming slums where children just like her still scrabble to survive.
Jack MacCarron rose from his place in London's East End to become the adopted "nephew" of a society matron. Little does society know that MacCarron is a false name for a boy once known among London gangs as the Artful Dodger, and that he and his "aunt" are robbing them blind every chance they get. When Jack encounters Olivia Brownlow in places he least expects, his curiosity is piqued. Why is a society girl helping a bunch of homeless orphan thieves? Even more intriguing, why does she remind him so much of someone he once knew? Jack finds himself wondering if going legit and risking it all might be worth it for love.
Olivia Twist is an innovative reimagining of Charles Dickens' classic tale Oliver Twist, in which Olivia was forced to live as a boy for her own safety until she was rescued from the streets. Now eighteen, Olivia finds herself at a crossroads: revealed secrets threaten to destroy the "proper" life she has built for her herself, while newfound feelings for an arrogant young man she shouldn't like could derail her carefully laid plans for the future.
Author Question: What is your favorite thing about Olivia Twist?
My favorite thing about OLIVIA TWIST is Olivia's sense of justice, kindness, and love. She experienced a harrowing childhood as an orphan living on the streets and uses what she learned to fight for those who can't help themselves. Even after she's taken in by her wealthy uncle, she doesn't forget those who are still suffering. Her ability to circumvent the restrictions society has placed on her as a female, while still accomplish her goals, is one of my favorite things about her. It sounds odd, but Olivia inspires me to be a better person!
Purchase Olivia Twist at Amazon
Purchase Olivia Twist at IndieBound
View Olivia Twist on Goodreads
* * * *
The Place Between Breaths
by An Na
All four of her books Giveaway

U.S. Only
Atheneum/Caitlyn Dlouhy Books
Released 3/6/2018
Sixteen-year-old Grace is in a race against time—and in a race for her life—even if she doesn't realize it yet…
She is smart, responsible, and contending with more than what most teens ever should. Her mother struggled with schizophrenia for years until, one day, she simply disappeared—fleeing in fear that she was going to hurt those she cared about most. Ever since, Grace's father has worked as a recruiter at one of the leading labs dedicated to studying the disease, trying to lure the world's top scientists to the faculty to find a cure, hoping against hope it can happen in time to help his wife if she is ever found. But this makes him distant. Consumed.
Grace, in turn, does her part, interning at the lab in the gene sequencing department daring to believe that one day they might make a breakthrough…and one day they do. Grace stumbles upon a string of code that could be the key. But something inside of Grace has started to unravel. Could her discovery just be a cruel side effect of the disease that might be taking hold of her? And can she even tell the difference?
Unflinchingly brave, An Na has created a mesmerizing story with twists and turns that reveal jaw-dropping insights into the mind of someone struggling with schizophrenia.
Author Question: What is your favorite thing about The Place Between Breaths?
I loved playing with the structure of the novel and trying to weave together the four separate strands of story and voices to create a singular multifaceted reading experience. There are so many ways to read this story and I'm excited to hear all the interpretations.
Purchase The Place Between Breaths at Amazon
Purchase The Place Between Breaths at IndieBound
View The Place Between Breaths on Goodreads
* * * *
A Kiss in the Dark
by Gina Ciocca
Hardcover Giveaway

U.S. Only
Simon Pulse
Released 3/6/2018
When the lights go out at a Georgia high school football game, senior Macy Atwood finds herself in the arms of a boy who kisses her senseless—but he's gone by the time the lights come back on. All she knows is that there was something special—and oddly familiar—about her mystery kisser.
Noah Granger, Ridgedale's resident bad boy and newest transfer student, has no problem taking credit for the kiss, but Macy can't shake the feeling that he's lying. Especially since a photograph of Macy and former star football player Joel Hargrove resurfaced online moments before the blackout, a not-so-random reminder of how hard she fell for Joel last year. And how doing so ultimately sent her lifelong friendships with Meredith Kopala and Ben Collins up in literal smoke.
Soon last year's wounds begin to reopen as Macy realizes the events that unfolded during junior year are somehow tied to her mystery kisser.
But the closer Macy gets to figuring it all out, the more she starts to worry that the boy who kissed her in the dark and the boy who is stealing her heart might be two very different people.
Author Question: What is your favorite thing about A Kiss in the Dark?
It's so hard to choose! I love that there's romance AND a mystery element. I love Macy's loyalty to her friends, and the way she tries and fails to guard her heart. But I especially love that this is my first book set outside the northeast, which is where I grew up. I moved to Georgia in 2013, and I discovered so many fantastic places that I wanted to incorporate into a novel. And… apparently one of them was my own neighborhood, because it's where I picture Macy living. After 33 years living in Connecticut, I never thought I'd be able to accept a new place as home. But I think writing this story is proof that I was wrong.
Purchase A Kiss in the Dark at Amazon
Purchase A Kiss in the Dark at IndieBound
View A Kiss in the Dark on Goodreads
* * * *
Genesis
by Brendan Reichs
Signed Full Series Giveaway

U.S. Only
G.P. Putnam's Sons Books for Young Readers
Released 3/6/2018
"Reichs knows exactly how to mix action, suspense, and characters into a breathless read. This is one thriller that will keep you up into the night. " Marie Lu #1 NYT bestselling author
Can the Fire Lake sophomore class survive in a world without consequences?
Noah Livingston knows he is destined to survive.
The 64 members of Fire Lake's sophomore class are trapped in a place where morals have no meaning and zero rules apply. But Noah's deaths have trained him-hardened him-to lead the strongest into the future ... whatever that may be. And at any cost.
Min Wilder knows that survival alone isn't enough.
In a violent world where brute force passes for leadership, it's tempting to lay back and let everyone else battle it out. But Min's instincts rebel against allowing others to decide who lives and who dies. She's ready to fight for what she believes in. And against whomever might stand in her way.
Author Question: What is your favorite thing about Genesis?
My favorite thing about GENESIS was getting to delve further into a story set in a place with no rules. I wanted to create a updated version of LORD OF THE FLIES, though this book is more about conspiracy than it is about isolation. I also wanted to address some of my least favorite aspects of that book, such as adults swooping in to fix things at the end. I thought that was a cheat and made the story feel too "inevitable." Suppose good actors were just as strong as the bad ones? What would happen then? What would happen if decent characters are forced to battle for survival. These are some of the themes I wanted explore.

GENESIS continues the story of Min, Tack, Noah, and the Fire Lake sophomore class as they struggle to deal with the dangerous environment they now inhabit. There are no rules, and no norms to fall back on, so the characters must figure out a way to to survive in the face of total annihilation. In some ways GENESIS is a really dark story, but in others I think it has a positive viewpoint on life and the human spirit. NEMESIS was all about what one might do when everything in the world was suddenly called into question. GENESIS explores how far you might go to survive, and what it means to really be alive anyway. I hope my fans enjoy it!
Purchase Genesis at Amazon
Purchase Genesis at IndieBound
View Genesis on Goodreads
* * * *
Dark Tracks
by Philippa Gregory
Other Giveaway
Simon Pulse
Released 3/6/2018
Luca and Isolde continue investigating for the Order of Darkness in the fourth book in the Order of Darkness series from #1 New York Times bestselling author Philippa Gregory.
Purchase Dark Tracks at Amazon
Purchase Dark Tracks at IndieBound
View Dark Tracks on Goodreads
* * * *


Lies That Bind
by Diana Rodriguez Wallach
eBook - Proof of Lies & paperback - Lies that Bind Giveaway

U.S. Only
Entangled: Teen
Released 3/6/2018
The Italian Job meets Bourne Identity meets Spy Kids in this sequel to Proof of Lies.
What if saving yourself meant destroying everyone you love?
Still reeling from everything she learned while searching for her sister in Italy, Anastasia Phoenix is ready to call it quits with spies. Then she and her friends learn that Marcus's—her kinda boyfriend—brother, Antonio, has also gone missing. Luckily, they track down Antonio in a fiery festival in England, only to learn he has been working for the enemy, Department D, the whole time. But Antonio wants out. And so does Anastasia.
But before any of them can leave espionage and their parents' crimes behind them, a close friend turns up dead. No one is safe, not while Department D still exists. So Anastasia and her friends embark on a dangerous plan to bring down an entire criminal empire, using every Dresden Kid they can find.
As their world becomes surrounded by spies, and the children of spies, Anastasia starts to question who she can really trust. Including her best friends…
Purchase Lies That Bind at Amazon
Purchase Lies That Bind at IndieBound
View Lies That Bind on Goodreads
* * * *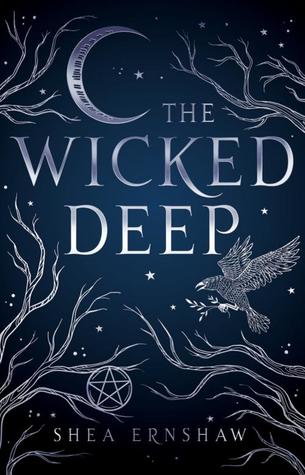 The Wicked Deep
by Shea Ernshaw
Hardcover Giveaway

U.S. Only
Simon Pulse
Released 3/6/2018
Welcome to the cursed town of Sparrow…
Where, two centuries ago, three sisters were sentenced to death for witchery. Stones were tied to their ankles and they were drowned in the deep waters surrounding the town.
Now, for a brief time each summer, the sisters return, stealing the bodies of three weak-hearted girls so that they may seek their revenge, luring boys into the harbor and pulling them under.
Like many locals, seventeen-year-old Penny Talbot has accepted the fate of the town. But this year, on the eve of the sisters' return, a boy named Bo Carter arrives; unaware of the danger he has just stumbled into.
Mistrust and lies spread quickly through the salty, rain-soaked streets. The townspeople turn against one another. Penny and Bo suspect each other of hiding secrets. And death comes swiftly to those who cannot resist the call of the sisters.
But only Penny sees what others cannot. And she will be forced to choose: save Bo, or save herself.
Purchase The Wicked Deep at Amazon
Purchase The Wicked Deep at IndieBound
View The Wicked Deep on Goodreads
YA BOOK GIVEAWAYS LAST WEEK: WINNERS
Cadaver & Queen by Alisa Kwitney:
Tiffany E.
The Traitor's Game by Jennifer A. Nielsen:
Shannon M.
To Right the Wrongs by Sheryl Scarborough:
Tiffany N.
Where I Live by Brenda Rufener:
Theresa S.
MORE YOUNG ADULT FICTION IN STORES NEXT WEEK WITH AUTHOR INTERVIEWS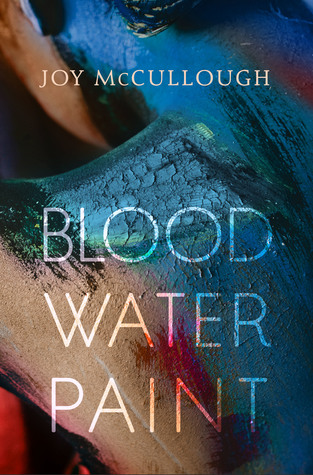 Blood Water Paint
by Joy McCullough
Hardcover
Dutton Books for Young Readers
Released 3/6/2018
Her mother died when she was twelve, and suddenly Artemisia Gentileschi had a stark choice: a life as a nun in a convent or a life grinding pigment for her father's paint.
She chose paint.
By the time she was seventeen, Artemisia did more than grind pigment. She was one of Rome's most talented painters, even if no one knew her name. But Rome in 1610 was a city where men took what they wanted from women, and in the aftermath of rape Artemisia faced another terrible choice: a life of silence or a life of truth, no matter the cost.
He will not consume
my every thought.
I am a painter.
I will paint.
Joy McCullough's bold novel in verse is a portrait of an artist as a young woman, filled with the soaring highs of creative inspiration and the devastating setbacks of a system built to break her. McCullough weaves Artemisia's heartbreaking story with the stories of the ancient heroines, Susanna and Judith, who become not only the subjects of two of Artemisia's most famous paintings but sources of strength as she battles to paint a woman's timeless truth in the face of unspeakable and all-too-familiar violence.
I will show you
what a woman can do.
Author Question: What is your favorite thing about Blood Water Paint?
In her very generous blurb, Mackenzi Lee called BLOOD WATER PAINT "unflinchingly feminist." It's one of my very favorite descriptions of the book. It is raw, and it is angry, and it is unequivocally feminist.

I'm so thrilled that a debut like this was not only acquired, but has been championed whole-heartedly and given incredible support. (Not to say there isn't already great feminist YA, because there certainly is. But the odds that my difficult, angry book would manage to get over all the hurdles toward publication seemed extremely slim.) Through the editorial process, no one ever asked me to pull back, to tone it down. In fact, my editor pushed me further, in some instances.

So my favorite thing about BLOOD WATER PAINT is that it's a story about women speaking their truth, refusing to be silenced, listening to each other, and lifting up each other's voices.
Purchase Blood Water Paint at Amazon
Purchase Blood Water Paint at IndieBound
View Blood Water Paint on Goodreads
* * * *
Pacifica
by Kristen Simmons
Hardcover
Tor Teen
Released 3/6/2018
Marin is cosario royalty, a pirate like her father and his father before him. Sailing the ocean to chase adventure is in her blood. But these days no one cares that the island town her people call home is named after her grandfather. They have a new leader, one who promises an end to their hunger – and one who thinks that girls are meant for the kitchen or the brothel. Marin knows she's meant for more than that, and with the sudden influx of weapons on the island, and rumors of a pending deal with the enemy oil nation in her wake, she knows a big score to gain the council's favor is the only way to save her people, and herself.
Ross lives a life of privilege. As the president's son he wants for nothing, but he longs for a life of adventure. On a dare, he convinces his best friend Adam to sneak out to the Docks, the site of local race riots between the poor Shorlings and the upper class. But when Adam is arrested along with the other Shorlings, and not even the president is willing to find him, Ross finds himself taking matters into his own hands. He journeys back into the Docks, ready to make deals with anyone, even a beautiful pirate, if it means Adam's safe return.
When Marin and Ross meet in dangerous Shoreling territory he sees a way to get his friend back and she sees her ticket home. The ransom a president's son would command could feed her people for years and restore her family's legacy. But somewhere in the middle of the ocean, Marin must decide if her heart can handle handing over the only person who has ever seen her as more than a pirate.
Author Question: What is your favorite thing about Pacifica?
Pacifica is, above all, a story about my family. It's set in a different world, of course, a future, profoundly affected by climate change, where pirates roam the seas and wars are fought over resources, but at it's heart, it's my way of processing the past. My great-grandmother was a prisoner in World War II, held in an internment camp in Texas when the US was gripped by anti-Asian hysteria following the bombing of Pearl Harbor. She was a teacher, and a mother, and a widow, and she was taken from her home because of the way she looked. Something similar happens in Pacifica, when a group of people are removed from their homes, and sent to an island in the Pacific Ocean "for their own good." It was difficult to write about this, even though this story has nothing to do with WWII, but cathartic as well. I grew up with these stories, and this is my way of honoring the brave women before me.
Purchase Pacifica at Amazon
Purchase Pacifica at IndieBound
View Pacifica on Goodreads
* * * *
The Final Six
by Alexandra Monir
Hardcover
HarperTeen
Released 3/6/2018
When Leo and Naomi are drafted, along with twenty-two of the world's brightest teenagers, into the International Space Training Camp, their lives are forever changed. Overnight, they become global celebrities in contention for one of the six slots to travel to Europa—Jupiter's moon—and establish a new colony, leaving their planet forever. With Earth irreparably damaged, the future of the human race rests on their shoulders.
For Leo, an Italian championship swimmer, this kind of purpose is a reason to go on after losing his family. But Naomi, an Iranian-American science genius, is suspicious of the ISTC and the fact that a similar mission failed under mysterious circumstances, killing the astronauts onboard. She fears something equally sinister awaiting the Final Six beneath Europa's surface.
In this cutthroat atmosphere, surrounded by strangers from around the world, Naomi finds an unexpected friend in Leo. As the training tests their limits, Naomi and Leo's relationship deepens with each life-altering experience they encounter.
But it's only when the finalists become fewer and their destinies grow nearer that the two can fathom the full weight of everything at stake: the world, the stars, and their lives.
Author Question: What is your favorite thing about The Final Six?
This book is so special to me for a bunch of reasons- but if I had to pick one, it would be Naomi, the female lead. From the get-go, I envisioned her as a character for whom her brain, her intelligence, is like a superpower. I love that her mind takes her so far in the story--too far, at times! :) I've been wanting to see more girls in STEM on the page, so that was another reason I loved writing Naomi. At the same time, she isn't just brainy- she's also incredibly brave, and doesn't shy away from questioning authority or standing up for herself. And then there's the aspect of Naomi's character that makes her closest to me, and to my heart: her Iranian-American heritage. Growing up, it would have meant everything to me to see a character from my background as the heroine of one of the many books that me and my friends were reading. There was a lot of wish-fulfillment involved in writing this, from giving myself the character I needed when I was younger, to living vicariously through all the thrilling space training the characters got to do. Hopefully when reading, you'll be able to feel all the love that went into this book! :)
Purchase The Final Six at Amazon
Purchase The Final Six at IndieBound
View The Final Six on Goodreads
* * * *
The Midnights
by Sarah Nicole Smetana
Hardcover
HarperTeen
Released 3/6/2018
Susannah Hayes has never been in the spotlight, but she dreams of following her father, a former rock star, onto the stage. As senior year begins, she's more interested in composing impressive chord progressions than college essays, certain that if she writes the perfect song, her father might finally look up from the past long enough to see her. But when he dies unexpectedly, her dreams--and her reality--shatter.
While Susannah struggles with grief, her mother uproots them to a new city. There, Susannah realizes she can reinvent herself however she wants: a confident singer-songwriter, member of a hip band, embraced by an effortlessly cool best friend. But Susannah is not the only one keeping secrets, and soon, harsh revelations threaten to unravel her life once again.
Set against the scintillating landscape of Southern California, The Midnights is an evocative coming-of-age debut about loss, creativity, and finding your voice while you're still finding yourself.
Author Question: What is your favorite thing about The Midnights ?
My favorite thing about THE MIDNIGHTS is that it's exactly the book I wanted to write. This might sound simultaneously vague and cheesy, but it's the truth. THE MIDNIGHTS is the book of my heart. I worked on it for so many years. And sometimes, I still can't believe I was lucky enough to have found an editor that understood and loved the book as much as I did.

Beyond that, though, I really love the California setting. I'm from Orange, California, and it was so important to me to set a book in the Southern California that I knew—where Santa Ana winds ravage backyards and throw around wildfires, and excessive droughts turn to torrential rains turn to mudslides. I wanted a setting that felt visceral and tangible, a setting that wholly affected the story and my protagonist's point of view. I wanted to show an Orange County that isn't all sunshine and glistening beaches. And I truly love how the setting ultimately evolved into its own character.
Purchase The Midnights at Amazon
Purchase The Midnights at IndieBound
View The Midnights on Goodreads
* * * *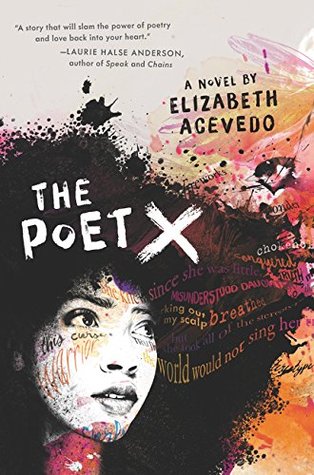 The Poet X
by Elizabeth Acevedo
Hardcover
HarperTeen
Released 3/6/2018
Xiomara Batista feels unheard and unable to hide in her Harlem neighborhood. Ever since her body grew into curves, she has learned to let her fists and her fierceness do the talking.
But Xiomara has plenty she wants to say, and she pours all her frustration and passion onto the pages of a leather notebook, reciting the words to herself like prayers—especially after she catches feelings for a boy in her bio class named Aman, who her family can never know about.
With Mami's determination to force her daughter to obey the laws of the church, Xiomara understands that her thoughts are best kept to herself. So when she is invited to join her school's slam poetry club, she doesn't know how she could ever attend without her mami finding out. But she still can't stop thinking about performing her poems.
Because in the face of a world that may not want to hear her, Xiomara refuses to be silent.
Author Question: What is your favorite thing about The Poet X?
One of my favorite things about THE POET X, is that I was able to write homies on the page. My characters are young people I would have hung out with as a teen, in fact many of them remind me of teens I've worked with. The characters in THE POET X are smart asses, and kind; they are sentimental and tough cookies; I hope they contain all the multitudes Whitman talked about, even though they are the exact characters often left out of the Whitmanian literary canon.

My characters feel familiar and I so wanted to meet them when I was a young person opening up the pages of a book and hoping to see myself. My editor, Rosemary Brosnan, was amazing at letting me fly when it came to my wanting the most authentic voices possible and I'm glad that the Spanish, and slang, and black vernacular English is here, in these pages, beckoning readers to come kick it on the stoop with Xiomara and her friends.
Purchase The Poet X at Amazon
Purchase The Poet X at IndieBound
View The Poet X on Goodreads
MORE YOUNG ADULT NOVELS NEW IN STORES NEXT WEEK
After the Shot Drops
by Randy Ribay
Hardcover
HMH Books for Young Readers
Released 3/6/2018
Bunny and Nasir have been best friends forever, but when Bunny accepts an athletic scholarship across town, Nasir feels betrayed. While Bunny tries to fit in with his new, privileged peers, Nasir spends more time with his cousin, Wallace, who is being evicted. Nasir can't help but wonder why the neighborhood is falling over itself to help Bunny when Wallace is in trouble.
When Wallace makes a bet against Bunny, Nasir is faced with an impossible decision—maybe a dangerous one.
Told from alternating perspectives, After the Shot Drops is a heart-pounding story about the responsibilities of great talent and the importance of compassion.
Purchase After the Shot Drops at Amazon
Purchase After the Shot Drops at IndieBound
View After the Shot Drops on Goodreads
* * * *
Children of Blood and Bone
by Tomi Adeyemi
Hardcover
Henry Holt and Co.
Released 3/6/2018
Tomi Adeyemi conjures a stunning world of dark magic and danger in her West African-inspired fantasy debut, perfect for fans of Leigh Bardugo and Sabaa Tahir.
Zélie Adebola remembers when the soil of Orïsha hummed with magic. Burners ignited flames, Tiders beckoned waves, and Zelie's Reaper mother summoned forth souls.
But everything changed the night magic disappeared. Under the orders of a ruthless king, maji were targeted and killed, leaving Zélie without a mother and her people without hope.
Now, Zélie has one chance to bring back magic and strike against the monarchy. With the help of a rogue princess, Zélie must outwit and outrun the crown prince, who is hell-bent on eradicating magic for good.
Danger lurks in Orïsha, where snow leoponaires prowl and vengeful spirits wait in the waters. Yet the greatest danger may be Zélie herself as she struggles to control her powers—and her growing feelings for the enemy.
Purchase Children of Blood and Bone at Amazon
Purchase Children of Blood and Bone at IndieBound
View Children of Blood and Bone on Goodreads
* * * *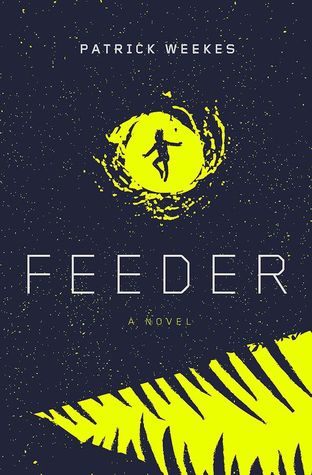 Feeder
by Patrick Weekes
Hardcover
Margaret K. McElderry Books
Released 3/6/2018
A monster-hunter teams up with super-powered teens to protect her brother in this fast-paced adventure novel that's X-Men meets Men in Black.
Lori Fisher hunts monsters. Not with a sword or a gun, but with an interdimensional creature called Handler. Together they take down "feeders"—aliens who prey on mankind. When Lori touches a feeder, Handler's impossibly large jaws appear and drag the beast into another dimension.
It's a living—or was, until a job for the Lake Foundation goes wrong, and Lori stumbles across the Nix, a group of mutant teenagers held captive on the docks. Now the Lake Foundation is hunting Lori, and if they find Lori, they find Ben, the brother Lori would do anything to protect. There's only one thing to do: strike first.
Lori teams up with the Nix to take on Lake, and to discover why the Nix were kidnapped in the first place. But as she watches their powers unfold, Lori realizes the Nix are nothing like her. She has no powers. She has…Handler. Maybe she's not the monster hunter after all. Maybe she's just the bait.
Purchase Feeder at Amazon
Purchase Feeder at IndieBound
View Feeder on Goodreads
* * * *
Hero at the Fall
by Alwyn Hamilton
Hardcover
Viking Books for Young Readers
Released 3/6/2018
When gunslinging Amani Al'Hiza escaped her dead-end town, she never imagined she'd join a revolution, let alone lead one. But after the bloodthirsty Sultan of Miraji imprisoned the Rebel Prince Ahmed in the mythical city of Eremot, she doesn't have a choice. Armed with only her revolver, her wits, and her untameable Demdji powers, Amani must rally her skeleton crew of rebels for a rescue mission through the unforgiving desert to a place that, according to maps, doesn't exist. As she watches those she loves most lay their lives on the line against ghouls and enemy soldiers, Amani questions whether she can be the leader they need or if she is leading them all to their deaths.
Purchase Hero at the Fall at Amazon
Purchase Hero at the Fall at IndieBound
View Hero at the Fall on Goodreads
* * * *
In Search Of
by Ava Dellaira
Hardcover
Farrar, Straus and Giroux
Released 3/6/2018
This sweeping multi-generational love story introduces readers to mother-and-daughter pair Marilyn and Angie. To seventeen-year-old Angie, who is mixed-race, Marilyn is her hardworking, devoted white single mother. But Marilyn was once young, too. When Marilyn was seventeen, she fell in love with Angie's father, James, who was African-American. But Angie's never met him, and Marilyn has always told her he died before she was born. When Angie discovers evidence of an uncle she's never met she starts to wonder: What if her dad is still alive, too? So she sets off on a journey to find him, hitching a ride to LA from her home in New Mexico with her ex-boyfriend, Sam. Along the way, she uncovers some hard truths about herself, her mother, and what truly happened to her father.
Purchase In Search Of at Amazon
Purchase In Search Of at IndieBound
View In Search Of on Goodreads
* * * *
Inkmistress
by Audrey Coulthurst and Jordan Saia
Hardcover
Balzer + Bray
Released 3/6/2018
Asra is a demigod with a dangerous gift: the ability to dictate the future by writing with her blood. To keep her power secret, she leads a quiet life as a healer on a remote mountain, content to help the people in her care and spend time with Ina, the mortal girl she loves.
But Asra's peaceful life is upended when bandits threaten Ina's village and the king does nothing to help. Desperate to protect her people, Ina begs Asra for assistance in finding her manifest—the animal she'll be able to change into as her rite of passage to adulthood. Asra uses her blood magic to help Ina, but her spell goes horribly wrong and the bandits destroy the village, killing Ina's family.
Unaware that Asra is at fault, Ina swears revenge on the king and takes a savage dragon as her manifest. To stop her, Asra must embark on a journey across the kingdom, becoming a player in lethal games of power among assassins, gods, and even the king himself.
Most frightening of all, she discovers the dark secrets of her own mysterious history—and the terrible, powerful legacy she carries in her blood.
Purchase Inkmistress at Amazon
Purchase Inkmistress at IndieBound
View Inkmistress on Goodreads
* * * *
Mapping the Bones
by Jane Yolen
Hardcover
Philomel Books
Released 3/6/2018
It's 1942 in Poland, and the world is coming to pieces. At least that's how it seems to Chaim and Gittel, twins whose lives feel like a fairy tale torn apart, with evil witches, forbidden forests, and dangerous ovens looming on the horizon. But in all darkness there is light, and the twins find it through Chaim's poetry and the love they have for each other. Like the bright flame of a Yahrzeit candle, his words become a beacon of memory so that the children and grandchildren of survivors will never forget the atrocities that happened during the Holocaust.
Filled with brutality and despair, this is also a story of poetry and strength, in which a brother and sister lose everything but each other. Nearly thirty years after the publication of her award-winning and bestselling The Devil's Arithmetic and Briar Rose, Yolen once again returns to World War II and captivates her readers with the authenticity and power of her words.
Purchase Mapping the Bones at Amazon
Purchase Mapping the Bones at IndieBound
View Mapping the Bones on Goodreads
* * * *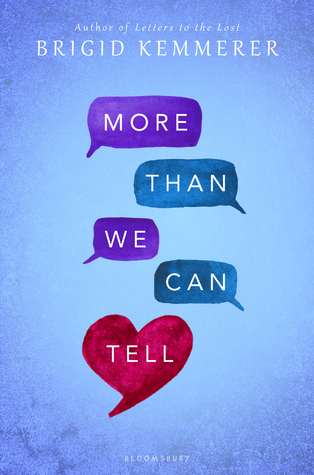 More Than We Can Tell
by Brigid Kemmerer
Hardcover
Bloomsbury USA Childrens
Released 3/6/2018
With loving adoptive parents by his side, Rev Fletcher has managed to keep the demons of his past at bay. . . until he gets a letter from his abusive father and the trauma of his childhood comes hurtling back.
Emma Blue's parents are constantly fighting, and her only escape is the computer game she built from scratch. But when a cruel online troll's harassment escalates, she not only loses confidence but starts to fear for her safety.
When Rev and Emma meet, they're both longing to lift the burden of their secrets. They connect instantly and deeply, promising to help each other no matter what. But soon Rev and Emma's secrets threaten to crush them, and they'll need more than a promise to find their way out.
Purchase More Than We Can Tell at Amazon
Purchase More Than We Can Tell at IndieBound
View More Than We Can Tell on Goodreads
* * * *
No Filter
by Orlagh Collins
Hardcover
Bloomsbury USA Childrens
Released 3/6/2018
Anyone who follows Emerald on her social media accounts only sees a perfect life-her loving, wealthy family, tight-knit circle of friends, and devoted internet following. But the truth hides behind the scenes of her perfectly framed, filtered photos. . . Emerald's family is far from happy, and when she finds her mom unconscious on the bathroom floor, she can no longer keep it a secret.
Sent to stay with her grandmother in a small beach town while her mother recovers and her father works non-stop, Emerald fears the long, lonely summer ahead of her . . . until she meets Liam. He's an aspiring songwriter with his own baggage, but neither of them can deny their connection. With secrets and lies all that they're used to, can Emerald and Liam really fall for each other-brave and true-with no filter?
Purchase No Filter at Amazon
Purchase No Filter at IndieBound
View No Filter on Goodreads
* * * *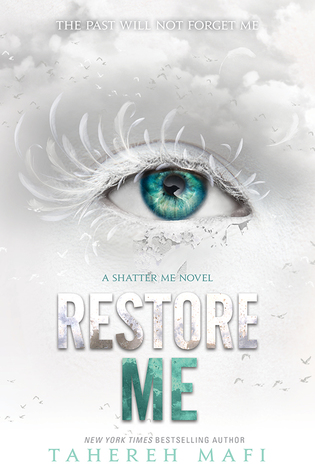 Restore Me
by Tahereh Mafi
Hardcover
HarperCollins
Released 3/6/2018
Juliette and Warner's story continues in the electrifying fourth installment of Tahereh Mafi's New York Times bestselling Shatter Me series.
Juliette Ferrars thought she'd won. She took over Sector 45, was named the new Supreme Commander of North America, and now has Warner by her side. But when tragedy strikes, she must confront the darkness that dwells both around and inside her.
Who will she become in the face of adversity? Will she be able to control the power she wields, and use it for good?
Purchase Restore Me at Amazon
Purchase Restore Me at IndieBound
View Restore Me on Goodreads
* * * *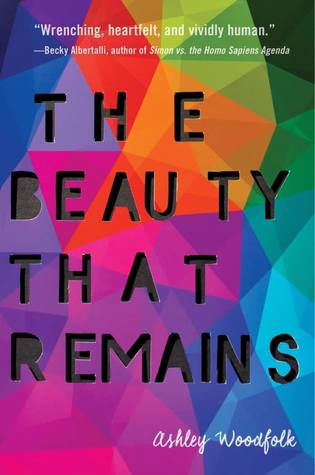 The Beauty That Remains
by Ashley Woodfolk
Hardcover
Delacorte Press
Released 3/6/2018
We've lost everything...and found ourselves.
Music brought Autumn, Shay, and Logan together. Death might pull them apart.
Autumn always knew exactly who she was: a talented artist and a loyal friend. Shay was defined by two things: her bond with her twin sister, Sasha, and her love of music. And Logan has always turned to writing love songs when his real love life was a little less than perfect.
But when tragedy strikes each of them, somehow music is no longer enough. Now Logan is a guy who can't stop watching vlogs of his dead ex-boyfriend. Shay is a music blogger who's struggling to keep it together. And Autumn sends messages that she knows can never be answered.
Despite the odds, one band's music will reunite them and prove that after grief, beauty thrives in the people left behind.
Purchase The Beauty That Remains at Amazon
Purchase The Beauty That Remains at IndieBound
View The Beauty That Remains on Goodreads
* * * *
The Case for Jamie
by Brittany Cavallaro
Hardcover
Katherine Tegen Books
Released 3/6/2018
It's been a year since the shocking death of August Moriarty, and Jamie and Charlotte haven't spoken.
Jamie is going through the motions at Sherringford, trying to finish his senior year without incident, with a nice girlfriend he can't seem to fall for.
Charlotte is on the run, from Lucien Moriarty and from her own mistakes. No one has seen her since that fateful night on the lawn in Sussex—and Charlotte wants it that way. She knows she isn't safe to be around. She knows her Watson can't forgive her.
Holmes and Watson may not be looking to reconcile, but when strange things start happening, it's clear that someone wants the team back together. Someone who has been quietly observing them both. Making plans. Biding their time.
Someone who wants to see one of them suffer and the other one dead.
Purchase The Case for Jamie at Amazon
Purchase The Case for Jamie at IndieBound
View The Case for Jamie on Goodreads
* * * *
The Heart Forger
by Rin Chupeco
Hardcover
Sourcebooks Fire
Released 3/6/2018
In The Bone Witch, Tea mastered resurrection―now she's after revenge...
No one knows death like Tea. A bone witch who can resurrect the dead, she has the power to take life...and return it. And she is done with her self-imposed exile. Her heart is set on vengeance, and she now possesses all she needs to command the mighty daeva. With the help of these terrifying beasts, she can finally enact revenge against the royals who wronged her―and took the life of her one true love.
But there are those who plot against her, those who would use Tea's dark power for their own nefarious ends. Because you can't kill someone who can never die...
War is brewing among the kingdoms, and when dark magic is at play, no one is safe.
Purchase The Heart Forger at Amazon
Purchase The Heart Forger at IndieBound
View The Heart Forger on Goodreads
* * * *
The Sweetest Kind of Fate
by Crystal Cestari
Hardcover
Disney-Hyperion
Released 3/6/2018
GREAT. I've somehow found myself tangled up with a siren, a mermaid, and a homicidal wicked witch who once tried to strangle me to death. Way to go, Amber!
Amber Sand, legendary matchmaker, couldn't be more surprised when her archnemesis, Ivy, asks for her help. Ivy's sister, Iris, is getting married, and Ivy wants to prove her sister is making a huge mistake. But as Amber looks into Iris's eyes, there doesn't seem to be a problem-Iris has clearly found her match.
It seems happily-ever-after is in the cards, but when Iris seeks out a dangerous, life-altering spell, it's up to Amber and Ivy to set aside their rivalry and save the day.
As Iris puts everything on the line for love, Amber continues to wrestle with her own romantic future. Her boyfriend, Charlie, is still destined for another, and no matter how hard she clings to him, fear over their inevitable breakup shakes her belief system to the core.
Because the Fates are never wrong-right?
Purchase The Sweetest Kind of Fate at Amazon
Purchase The Sweetest Kind of Fate at IndieBound
View The Sweetest Kind of Fate on Goodreads
* * * *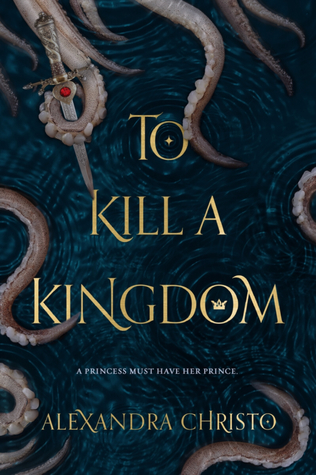 To Kill a Kingdom
by Alexandra Christo
Hardcover
Feiwel & Friends
Released 3/6/2018
Princess Lira is siren royalty and the most lethal of them all. With the hearts of seventeen princes in her collection, she is revered across the sea. Until a twist of fate forces her to kill one of her own. To punish her daughter, the Sea Queen transforms Lira into the one thing they loathe most--a human. Robbed of her song, Lira has until the winter solstice to deliver Prince Elian's heart to the Sea Queen or remain a human forever.
The ocean is the only place Prince Elian calls home, even though he is heir to the most powerful kingdom in the world. Hunting sirens is more than an unsavory hobby--it's his calling. When he rescues a drowning woman in the ocean, she's more than what she appears. She promises to help him find the key to destroying all of sirenkind for good--But can he trust her? And just how many deals will Elian have to barter to eliminate mankind's greatest enemy?
Purchase To Kill a Kingdom at Amazon
Purchase To Kill a Kingdom at IndieBound
View To Kill a Kingdom on Goodreads
* * * *
What She Does Next Will Astound You
by James Goss and Patrick Ness
Hardcover
HarperTeen
Released 3/6/2018
"There's no such thing as oversharing"…right?
Everyone at Coal Hill School has become obsessed with completing exciting dares posted on a strange new website, run by the charismatic vlogger Seraphin. Soon the challenges become more dangerous and competitive, yet even broken arms and fistfights don't stop the craze for them. And then students start to disappear…
As April's fragile group of friends starts to fracture, she decides she's going to uncover the truth behind this site herself. Whatever it takes, whomever she hurts, April's going to win. But then, to her horror, she wakes up and finds her whole world is changed.
What she does next will astound you.
Purchase What She Does Next Will Astound You at Amazon
Purchase What She Does Next Will Astound You at IndieBound
View What She Does Next Will Astound You on Goodreads