Lauren, what was your inspiration for writing THIS TINY PERFECT WORLD?
I wanted to write a book that starts where a traditional story would end. Penny has the guy, has a plan, and has a future. She's set! It's perfect! But what if she realizes that this perfect happily ever after isn't exactly what she wants?
What scene was really hard for you to write and why, and is that the one of which you are most proud? Or is there another scene you particularly love?
The hardest scene for me to write gives away a big plot point, so I won't mention it. But it's a conversation between Penny and her dad at the end of the book. I re-wrote it about 7,000 times after talking to many people about how to go about it. My favorite scene is also toward the end--it's when the camp puts on
The Glass Menagerie
.
What book or books would most resonate with readers who love your book--or visa versa?
If you like books on high school theatre, I highly recommend
Drama High
. Also every behind-the-scenes musical book. (While writing this, I read the ones for Hamilton and RENT.)
What do you hope readers will take away from THIS TINY PERFECT WORLD?
Find the path you want, not the one that's the easiest.
ABOUT THE BOOK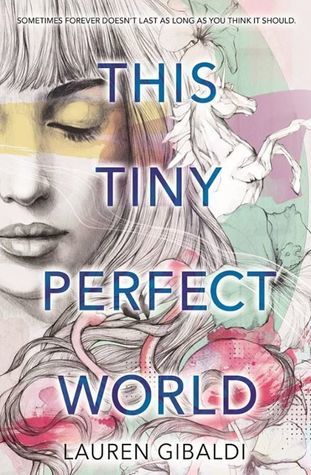 This Tiny Perfect World
by Lauren Gibaldi
Hardcover
HarperTeen
Released 2/27/2018
Penny loves her small-town Florida life, and she has her future mapped out. She's going to community college after graduation to stay close to home and her best friend, Faye. She'll take over the family diner that her dad has been managing since her mother died. And one day, she'll marry her high school sweetheart, Logan.
But when she unexpectedly lands a scholarship to a prestigious summer theater camp, she is thrust into a world of competition and self-doubt. And suddenly, her future gets a little hazy. As she meets new friends, including Chase, a talented young actor with big-city dreams, she begins to realize that maybe the life everyone (including her) expects her to lead is not the one she was meant to have.
Purchase This Tiny Perfect World at Amazon
Purchase This Tiny Perfect World at IndieBound
View This Tiny Perfect World on Goodreads
ABOUT THE AUTHOR
Public librarian and author of THE NIGHT WE SAID YES, MATT'S STORY (a Night We Said Yes novella), AUTOFOCUS, and THIS TINY PERFECT WORLD, all with HarperTeen / HarperCollins. Fan of dinosaurs and cheesy jokes. And you.
---
Have you had a chance to read THIS TINY PERFECT WORLD yet? Have you written a story that starts after the 'happily ever after'? What helps you when you find yourself re-writing a scene again and again? Share your thoughts about the interview in the comments!
Happy Reading,
Charlotte, Jocelyn, Halli, Martina, Anisaa, Erin, Susan, Shelly, Kelly, Laura, Emily, and Lori Ann