Elizabeth, what scene was really hard for you to write and why, and is that the one of which you are most proud? Or is there another scene you particularly love?
One of the very first scenes I wrote, that unlocked the writing of the entire novel for me, was a scene where Xiomara gets in trouble for an interaction with a boy she's dating and in the midst of her punishment begins comparing herself to an ant.
Xiomara is a voluptuous girl, and so to write this moment where she wants to be small but strong; where she wants to disappear between the floorboards but also be able to build and climb her own hills, that moment really let me know who she was as a character and also what the main conflict of her story would be.
That poem ANTS actually ended up in the middle of the manuscript, but it was one of the touchstones I was writing towards. And I love it because it breaks my heart. That moment in the story acts as a hinge as to who Xiomara was and who she must become, and it can't be someone who hides.
What book or books would most resonate with readers who love your book--or visa versa?
THE EDUCATION OF MARGOT SANCHEZ by Lilliam Rivera—Both Lilliam and I write passionate Latina protagonists who are shaped by their community but not defined by them. I think Margot and Xiomara would probably side-eye one another if they met in real life, but ultimately become homegirls once they got to know one another.
ELECTRIC ARCHES by Eve Ewing— this is a stunning collection of poetry that thinks about blackness and marginality, the beauty of Shea butter and braids, the stunning creations of pop culture icons, and what it means to grow up girl in a major city. Eve and I read together recently in Washington, D.C. and so many of her poems were in conversation with THE POET X.
THE CLOSEST I'VE COME by Fred Aceves— I think this will resonate not just because Fred's last name is so similar to mine, but I also think as an author he has such a deft ear when it comes to getting the nuances of how folks speak and move and love onto the page—all things I attempted to do in THE POET X. He also knows how to write joy even when his characters are facing unimaginable circumstances, and that's always worth a read.
What are you working on now?
I am currently working on my second YA novel, WITH THE FIRE ON HIGH, about Emoni Santiago, an Afro-Latina from Philadelphia trying to figure out how to manage college applications, her aging grandmother, and her three year-old daughter— all without sacrificing her dreams of being a top chef.
ABOUT THE BOOK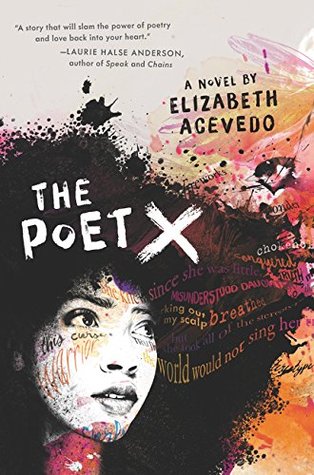 The Poet X
by Elizabeth Acevedo
Hardcover
HarperTeen
Released 3/6/2018
Xiomara Batista feels unheard and unable to hide in her Harlem neighborhood. Ever since her body grew into curves, she has learned to let her fists and her fierceness do the talking.
But Xiomara has plenty she wants to say, and she pours all her frustration and passion onto the pages of a leather notebook, reciting the words to herself like prayers—especially after she catches feelings for a boy in her bio class named Aman, who her family can never know about.
With Mami's determination to force her daughter to obey the laws of the church, Xiomara understands that her thoughts are best kept to herself. So when she is invited to join her school's slam poetry club, she doesn't know how she could ever attend without her mami finding out. But she still can't stop thinking about performing her poems.
Because in the face of a world that may not want to hear her, Xiomara refuses to be silent.
Purchase The Poet X at Amazon
Purchase The Poet X at IndieBound
View The Poet X on Goodreads
ABOUT THE AUTHOR
Elizabeth Acevedo is the youngest child and only daughter of Dominican immigrants. She holds a BA in Performing Arts from the George Washington University and an MFA in Creative Writing from the University of Maryland. With over fourteen years of performance poetry experience, Acevedo is a National Poetry Slam Champion, Cave Canem Fellow, CantoMundo Fellow, and participant of the Callaloo Writer's Workshop. She has two collections of poetry, Beastgirl & Other Origin Myths (YesYes Books, 2016) and winner of the 2016 Berkshire Prize, Medusa Reads La Negra's Palm (Tupelo Press, forthcoming). The Poet X is her debut novel. She lives with her partner in Washington, DC.
---
Have you had a chance to read THE POET X yet? Have you written a scene that unlocked the entire novel for you? Are you writing character who are shaped by their community but not defined by them? Share your thoughts about the interview in the comments!
Happy Reading,
Jocelyn, Halli, Martina, Anisaa, Charlotte, Erin, Susan, Shelly, Kelly, Laura, Emily, and Lori Ann