Alisa, what was your inspiration for writing CADAVER & QUEEN?
I started with the idea of a Victor Frankenstein who is both the brilliant, ambitious medical student of Shelly's novel and the monster. I was thinking about all the ways a person can sustain damage, both emotional and physical, and how difficult it is to piece yourself back together.
What scene was really hard for you to write and why, and is that the one of which you are most proud? Or is there another scene you particularly love?
I loved writing all the scenes where Victor was waking up and gaining awareness of himself. As a kid, I loved Anne McCaffery's SF novel
Restoree
, which is about a college student who gets abducted by aliens. In that novel, the heroine has confused flashes of disturbing memories of the spaceship, and then finds herself in a new and more beautiful body, tending someone who appears to be a mental patient. In McCaffery's book, the protagonist is reinvented by outside forces…but also reinvents herself through her choices. I definitely borrowed that dynamic. And speaking of influences…I also loved writing all the scenes where Victor is at odds with his left arm, which comes from a different person and has its own set of memories—and its own sense of self-preservation. I was inspired by an old B-horror movie version of Frankenstein that had an arm, crawling across the lab to attack Victor Frankenstein, but I was also thinking about the ways in which we can unconsciously become influenced by other people. In a sense, we all Frankenstein ourselves from different sources.
How long did you work on CADAVER & QUEEN?
I got the idea for Cadaver & Queen ages ago, and at first I thought it might be a comic book series or graphic novel. I started it and then put it away, and when I came back to it, I threw out almost everything I had written and began again with Victor's voice. I'm not sure exactly how long it took me, to be honest—I kept losing faith in my ability to write this story, which is very different from the things I've done in the past, and that slowed me way down. I think it was about two years, though, which is twice as long as it usually takes me once I've got a fully formed idea.
What did this book teach you about writing or about yourself?
People say, "Write the book of your heart," and we've all heard how a person goes into their cave and writes the strange, quirky story that's been nagging at them and how, despite all the odds, it gets published and readers embrace it. But the truth is, it can take a long, long time to write the strange, quirky story that's been nagging at you, and you can get a little lost writing strange and quirky stories until you figure out how things connect up. And even after the happy ever after of getting published, there are always going to be people who say that your strange and quirky story is a misshapen monstrosity that should not have seen the light of day. You have to love your monsters enough not to abandon them, even when they're not as seamless as you would have liked.
What's your writing ritual like? Do you listen to music? Work at home or at a coffee shop or the library, etc?
I write at home, and at a shared writers' space, and in the library, and at the moment at a literary bar in Uptown Kingston. I like a little ambient music when I'm out, but if I play my own music it just distracts me. I do drive around and plot to music, though.
What are you working on now?
I'm working on the sequel to Cadaver & Queen, which features some of the same characters and some new ones. The new book is set in the East End of London, and the main protagonists are Aggie, the gin-drinking nursing student from the first book, and Dodger, a philosophical pickpocket. And yes, that's Dodger as in the Artful Dodger—we also meet other characters from Dickens, including a disguise artist named Faygie and a drug-addled body thief named Twist.
ABOUT THE BOOK
Cadaver & Queen
by Alisa Kwitney
Hardcover
Harlequin Teen
Released 2/27/2018
When Elizabeth Lavenza enrolled at Ingold as its first female medical student, she knew she wouldn't have an easy time. From class demands to being an outsider among her male cohorts, she'll have to go above and beyond to prove herself. So when she stumbles across what appears to be a faulty Bio-Mechanical—one of the mechanized cadavers created to service the school—she jumps at the chance to fix it and get ahead in the program.
Only this Bio-Mechanical isn't like the others. Where they are usually empty-minded and perfectly obedient, this one seems to have thoughts, feelings…and self-awareness.
Soon Elizabeth realizes that it is Victor Frankenstein—a former student who died under mysterious circumstances. Victor, it seems, still has a spark of human intelligence inside him, along with memories of things he discovered before his untimely death…and a suspicion that he was murdered to keep that information from getting out.
Suddenly Elizabeth finds herself intertwined in dark secrets and sabotage that puts her life, and the lives of Victor and their friends, in danger. But Elizabeth's determined to succeed—even if that means fighting an enemy who threatens the entire British Empire.
Purchase Cadaver & Queen at Amazon
Purchase Cadaver & Queen at IndieBound
View Cadaver & Queen on Goodreads
ABOUT THE AUTHOR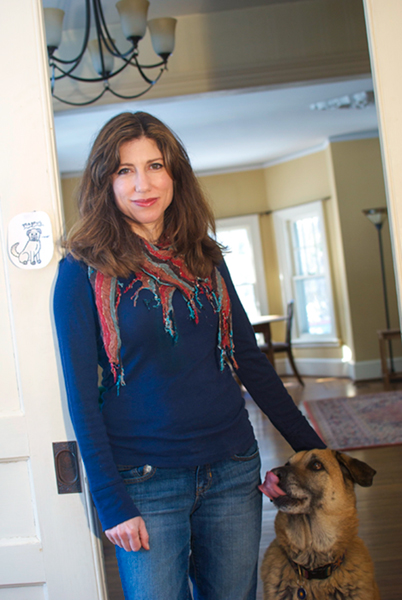 I'm the author of YA, graphic novels and novels for adults who still feel young, at least most of the time. My latest books are Cadaver & Queen from Harlequin Teen, a Feminist Frankenstein meets Grey's Anatomy tale, and Mystik U from DC Comics, which features Zatanna and other magical characters in their first year at college.
My first novel, Till the Fat Lady Sings, is also about college and romance and eating disorders. (It was my thesis at Columbia University's MFA Program, where I felt like an outlier for liking comic books and romance as much as literature.) I was an editor at Vertigo, the mature/dark fantasy branch of DC Comics, before going freelance. (I've also written two hormonal werewolf books as Alisa Sheckley.)
I live in an old house in Rhinebeck, NY with my husband, my cat, and the occasional visiting skunk.
---
Have you had a chance to read CADAVER & QUEEN yet? Have you ever gone back to a story and thrown everything out? How about rewritten from another POV? Share your thoughts about the interview in the comments!
Happy Reading,
Charlotte, Jocelyn, Halli, Martina, Anisaa, Erin, Susan, Shelly, Kelly, Laura, Emily, and Lori Ann