Jessica, how long did you work on AND SHE WAS?
It was nearly five years ago that my agent sent me a one-sentence email with the tiniest nugget of an idea for this story. :) Since then, I've been hard at work researching, drafting, and revising, as well as getting invaluable input from several sensitivity readers. I'm so excited that the book is finally out in the world!
What's your writing ritual like? Do you listen to music? Work at home or at a coffee shop or the library, etc?
I have a full-time job as a romance novel editor, so my writing time is primarily limited to Saturdays and Sundays. I work best in the morning, when my brain is most awake, so I start writing at around 8 or 9am and work until I get tired. I do listen to music while I'm writing, but not anything super high energy or with lyrics that I'd want to sing along to—too distracting! I always write at home—again, to avoid distractions!
What are you working on now?
My debut picture book, titled THE HAIRCUT and co-written with Rachel Lyons, will be published next year by FSG Books for Young Readers. It's about a young transgender boy coming out to his parents. I'm also currently working on a new contemporary YA, and while I can't say too much about it yet, I think it's going to be a lot of fun.
ABOUT THE BOOK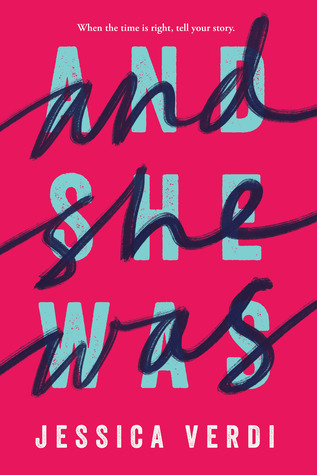 And She Was
by Jessica Verdi
Hardcover
Scholastic Press
Released 3/27/2018
Dara's lived a sheltered life with her single mom, Mellie. Now, at eighteen, she's dreaming of more. When Dara digs up her never-before-seen birth certificate, her world implodes. Why are two strangers listed as her parents?
Dara confronts her mother, and is stunned by what she learns: Mellie is transgender. The unfamiliar name listed under "father"? That's Mellie. She transitioned when Dara was a baby, after Dara's birth mother died. She changed her name, started over.
But Dara still has more questions than answers. Reeling, she sets off on an impromptu road trip with her best guy friend, Sam, in tow. She is determined to find the extended family she's never even met. What she does discover -- and what her mother reveals, piece by piece, over emails -- will challenge and change Dara more than she can imagine.
Purchase And She Was at Amazon
Purchase And She Was at IndieBound
View And She Was on Goodreads
ABOUT THE AUTHOR
Jessica Verdi is an author of young adult novels about identity, family, acceptance, and love.
Though she's always been a bookworm (her childhood was basically defined by the philosophy that working your way through giant stacks of library books is far superior to playing outside), she remained convinced throughout high school and college that theatre and music were meant to be her creative outlets. After nearly ten years in the NYC theatre world, she got an idea for a novel. That novel was an adult magical realism story, and while it will never see the light of day—nope, don't ask—it was the book that started her love affair with writing. Now she can't imagine doing anything else.
Jess received her MFA in Writing for Children from The New School and is a Senior Editor at a "big five" romance novel publisher. She lives in Brooklyn, NY with her partner Paul and dogs Billie and Gloria.
---
Have you had a chance to read AND SHE WAS yet? Do you work in the morning or at night? Have you gotten sensitivity readers for your work? Share your thoughts about the interview in the comments!
Happy Reading,
Jocelyn, Halli, Martina, Charlotte, Anisaa, Erin, Susan, Shelly, Kelly, Laura, Emily, and Lori Ann