Rebecca, what scene was really hard for you to write and why, and is that the one of which you are most proud? Or is there another scene you particularly love?
Writing battle scenes in first person is very difficult for me! Being limited to first person when there are so many moving parts makes for a very challenging scene. On top of that, I wanted my writing to remain clean, clear and fluid so my reader doesn't get lost in the action. By the time Brienna rides into battle, she has had sword lessons, but she is by no means a sword master, and so it was also challenging to give her balance, to write her as an emerging warrior but to also write her as a woman experiencing her very first battle.
The scene I am most proud of? I honestly have to say the last chapter. I love the setting and the emotion in that final scene.
What book or books would most resonate with readers who love your book--or visa versa?
Three books/series I would recommend for readers who love THE QUEEN'S RISING would be:
The Shadowfell Trilogy by Juliet Marillier
The Lumatere Chronicles by Melina Marchetta
His Fair Assassins by Robin LaFevers
These are three authors who have inspired and influenced me as a writer, and I honestly cannot recommend them and their books enough!
How long did you work on THE QUEEN'S RISING?
I drafted THE QUEEN'S RISING in 48 days. It was the first story idea I had that just would not let me sleep (I unfortunately scheme the best at night when I'm in bed, which means I often cannot sleep when I'm in the middle of a draft), so I knew I needed to hurry and get all the words down for my own health and sanity. It was such an exciting time—I love the thrill of a first draft—and it was the first book I finished that I felt might be worthy of being published. I edited the book the best that I could before querying, and then I went through another round of edits with my agent, to trim it down before we went on submission (it was way too long!). My editor's first round of notes was intense, which meant I had to shift a few plot threads and re-write the majority of the book. All in all, I have been working on this book on and off for about two years.
What's your writing ritual like? Do you listen to music? Work at home or at a coffee shop or the library, etc?
I prefer to write at home in my office (I find coffee shops and public places far too distracting). I love to listen to music when I write, particularly instrumental music and soundtracks (The Last of the Mohicans, Two Steps from Hell, Game of Thrones, Audiomachine are just a few that I listen to on repeat). I must have a drink with me. I always start with coffee and water, then progress to hot tea, then kombucha.
What advice would you most like to pass along to other writers?
Holly Black once said, "Write for your reader self, not your writer self." And I think that is such amazing advice. The first book you write, you (most likely) have no publishing contract and so you often write the story of your heart. But it's easy to get caught up in trying to write for certain things or expectations. Or to pressure yourself to write a certain way. And honestly, at the end of the day, you need to write for yourself. You need to write the book you want to read. Don't write for critical praise or awards or money or fame. Write the book of your heart.
What are you working on now?
I just turned in my first round of edits for Book 2! And I'm excited to share more details about it (hopefully soon!).
ABOUT THE BOOK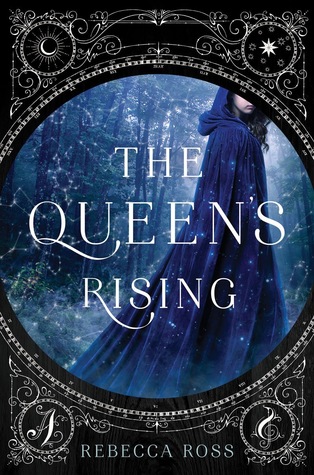 The Queen's Rising
by Rebecca Ross
Hardcover
HarperTeen
Released 2/6/2018
Brienna desires only two things: to master her passion and to be chosen by a patron. Growing up in Valenia at the renowned Magnalia House should have prepared her. While some are born with a talent for one of the five passions—art, music, dramatics, wit, and knowledge—Brienna struggled to find hers until she chose knowledge. However, Brienna's greatest fear comes true—she is left without a patron.
Months later, her life takes an unexpected turn when a disgraced lord offers her patronage. Suspicious of his intent, she reluctantly accepts. But there is much more to his story, for there is a dangerous plot to overthrow the king of Maevana—the rival kingdom of Valenia—and restore the rightful queen, and her magic, to the throne. And others are involved—some closer to Brienna than she realizes.
And now, with war brewing, Brienna must choose which side she will remain loyal to: passion or blood.
Purchase The Queen's Rising at Amazon
Purchase The Queen's Rising at IndieBound
View The Queen's Rising on Goodreads
ABOUT THE AUTHOR
Rebecca Ross was born and raised in Georgia, where she continues to reside with her husband, her lively Australian Shepherd, and her endless piles of books. She loves coffee, the night sky, chalk art, maps, the mountains, and growing wildflowers in her yard. And a good story, of course.
---
Have you had a chance to read THE QUEEN'S RISING yet? Have you had a story idea that would not let you sleep? Do you write for your reader self? Share your thoughts about the interview in the comments!
Happy Reading,

Jocelyn, Halli, Martina, Anisaa, Charlotte, Erin, Susan, Shelly, Kelly, Laura, Emily, and Lori Ann