Happy Reading,
Shelly, Halli, Jocelyn, Martina, Erin, Susan, Kelly, Laura, Emily, Anisaa, and Lori Ann
YA BOOK GIVEAWAYS THIS WEEK
* * * *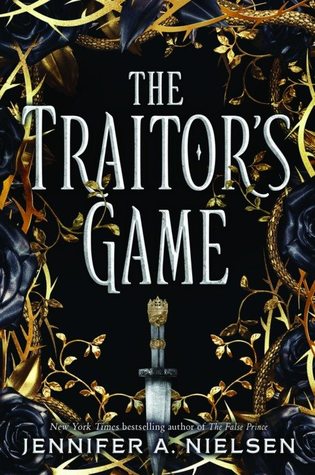 The Traitor's Game
by Jennifer A. Nielsen
Signed Hardcover Giveaway

U.S. Only
Scholastic Press
Released 2/27/2018
Nothing is as it seems in the kingdom of Antora. Kestra Dallisor has spent three years in exile in the Lava Fields, but that won't stop her from being drawn back into her father's palace politics. He's the right hand man of the cruel king, Lord Endrick, which makes Kestra a valuable bargaining chip. A group of rebels knows this all too well -- and they snatch Kestra from her carriage as she reluctantly travels home.
The kidnappers want her to retrieve the lost Olden Blade, the only object that can destroy the immortal king, but Kestra is not the obedient captive they expected. Simon, one of her kidnappers, will have his hands full as Kestra tries to foil their plot, by force, cunning, or any means necessary. As motives shift and secrets emerge, both will have to decide what -- and who -- it is they're fighting for.
Author Question: What is your favorite thing about The Traitor's Game?
THE TRAITOR'S GAME is written from dual perspectives between Kestra, the girl whose comfortable life is about to be turned upside down, and Simon, the boy responsible for all the trouble she is facing. I love seeing the story through each of their eyes because it opens up the narrative in so many wonderful ways. So even if Simon is talking tough, we see him struggle with the ethics of what he has to do for the rebellion. And even if Kestra says all the right things to Simon, we also get the idea that she is making plans of her own. They are both such fun characters, I couldn't tell this story through only one person.
Purchase The Traitor's Game at Amazon
Purchase The Traitor's Game at IndieBound
View The Traitor's Game on Goodreads
* * * *
Where I Live
by Brenda Rufener
Hardcover Giveaway

U.S. Only
HarperTeen
Released 2/27/2018
Linden Rose has a big secret--she is homeless and living in the halls of her small-town high school. Her position as school blog editor, her best friends, Ham and Seung, and the promise of a future far away are what keep Linden under the radar and moving forward.
But when cool-girl Bea comes to school with a bloody lip, the damage hits too close to home. Linden begins looking at Bea's life, and soon her investigation prompts people to pay more attention. And attention is the last thing she needs.
Linden knows the only way to put a stop to the violence is to tell Bea's story and come to terms with her own painful past. Even if that means breaking her rules for survival and jeopardizing the secrets she's worked so hard to keep.
Author Question: What is your favorite thing about Where I Live?
While Linden Rose is a homeless teen, it was important to me to show that she is more than her crisis. Through the friendships she has developed with Seung and Ham, I was able to provide a balance between her everyday struggles and routine life. We see Linden as a regular teen, navigating high school and the dramas associated with it. She's a good student, an editor for her school's blog, and a loyal friend. My favorite part of writing WHERE I LIVE is the bond of friendship between Linden, Seung, and Ham (affectionately referred to as The Triangle).
Purchase Where I Live at Amazon
Purchase Where I Live at IndieBound
View Where I Live on Goodreads
* * * *
Cadaver & Queen
by Alisa Kwitney
Hardcover Giveaway

U.S. Only
Harlequin Teen
Released 2/27/2018
When Elizabeth Lavenza enrolled at Ingold as its first female medical student, she knew she wouldn't have an easy time. From class demands to being an outsider among her male cohorts, she'll have to go above and beyond to prove herself. So when she stumbles across what appears to be a faulty Bio-Mechanical—one of the mechanized cadavers created to service the school—she jumps at the chance to fix it and get ahead in the program.
Only this Bio-Mechanical isn't like the others. Where they are usually empty-minded and perfectly obedient, this one seems to have thoughts, feelings…and self-awareness.
Soon Elizabeth realizes that it is Victor Frankenstein—a former student who died under mysterious circumstances. Victor, it seems, still has a spark of human intelligence inside him, along with memories of things he discovered before his untimely death…and a suspicion that he was murdered to keep that information from getting out.
Suddenly Elizabeth finds herself intertwined in dark secrets and sabotage that puts her life, and the lives of Victor and their friends, in danger. But Elizabeth's determined to succeed—even if that means fighting an enemy who threatens the entire British Empire.
Author Question: What is your favorite thing about Cadaver & Queen?
As a kid, I loved gothic romance comics with titles like "Dark Mansion of Forbidden Love" and "Sinister House of Secret Love." There was something very satisfying to me about following progressive and resourceful young women through intensely creepy settings and situations, but unfortunately, there was a nasty strain of sexism that tended to run through most of the old stories. I loved writing a novel that had elements of gothic romance—the school set in a medieval abbey in the moors, a dark and brooding man with a dangerous secret, and lots of weird science—but featured a strong female protagonist who does not get punished for her curiosity, her ambition, or her desire.
Purchase Cadaver & Queen at Amazon
Purchase Cadaver & Queen at IndieBound
View Cadaver & Queen on Goodreads
* * * *
To Right the Wrongs
by Sheryl Scarborough
Hardcover Giveaway

U.S. Only
Tor Teen
Released 2/27/2018
Barely three weeks after catching the killer of Erin's mother and their biology teacher, Erin and her crew are back, up to their elbows in forensics projects. But this time it's with the full approval of their parents.
With Uncle Victor at the helm, Erin and her best friends, Spam and Lysa, are prepping a new classroom for CSI summer camp, where they will serve as camp counselors. Meanwhile, Erin's super-hot new boyfriend, Journey, is graduating, just in time for him to take a position as Victor's intern in the new CSI lab on campus. Journey and Victor are going to take another look at the evidence in the murder trial that sent Journey's father to prison. The girls are under strict orders not to meddle with the murder case, but that's easier said than done...
Purchase To Right the Wrongs at Amazon
Purchase To Right the Wrongs at IndieBound
View To Right the Wrongs on Goodreads
YA BOOK GIVEAWAYS LAST WEEK: WINNERS
Blood of a Thousand Stars by Rhoda Belleza:
Julie C.
Flight Season: A Novel by Marie Marquardt:
John S.
Hooper by Geoff Herbach:
Kelly M.
MORE YOUNG ADULT FICTION IN STORES NEXT WEEK WITH AUTHOR INTERVIEWS
* * * *
Daughter of the Siren Queen
by Tricia Levenseller
Hardcover
Feiwel & Friends
Released 2/27/2018
The capable, confident, and occasionally ruthless heroine of Daughter of the Pirate King is back in this action-packed sequel that promises rousing high seas adventures and the perfect dash of magic.
Alosa's mission is finally complete. Not only has she recovered all three pieces of the map to a legendary hidden treasure, but the pirates who originally took her captive are now prisoners on her ship. Still unfairly attractive and unexpectedly loyal, first mate Riden is a constant distraction, but now he's under her orders. And she takes great comfort in knowing that the villainous Vordan will soon be facing her father's justice.
When Vordan exposes a secret her father has kept for years, Alosa and her crew find themselves in a deadly race with the feared Pirate King. Despite the danger, Alosa knows they will recover the treasure first . . . after all, she is the daughter of the Siren Queen.
Author Question: What is your favorite thing about Daughter of the Siren Queen?
I'd have to say my favorite thing about DotSQ is Alosa's nearly all-female crew. It was so much fun writing so many female personalities. In the first book, Alosa was trapped on a ship full of men, so this time, I got to show her interacting with other women. We see a lot of rivalry relationships between women in literature, and I was really excited to show some strong friendships in this book. I love to see women supporting each other and working together. And while I still think Siren Queen has plenty of male/female interactions, I'm really excited to see what readers think of all the girls!
Purchase Daughter of the Siren Queen at Amazon
Purchase Daughter of the Siren Queen at IndieBound
View Daughter of the Siren Queen on Goodreads
* * * *
I Stop Somewhere
by TE Carter
Hardcover
Feiwel & Friends
Released 2/27/2018
Ellie Frias disappeared long before she vanished.
Tormented throughout middle school, Ellie begins her freshman year with a new look: she doesn't need to be popular; she just needs to blend in with the wallpaper.
But when the unthinkable happens, Ellie finds herself trapped after a brutal assault. She wasn't the first victim, and now she watches it happen again and again. She tries to hold on to her happier memories in order to get past the cold days, waiting for someone to find her.
The problem is, no one searches for a girl they never noticed in the first place.
TE Carter's stirring and visceral debut not only discusses and dismantles rape culture, but it also reminds us what it is to be human.
Author Question: What is your favorite thing about I Stop Somewhere?
Honestly, the thing I love most about the book is simply that it exists. I've spent a long time wanting to write something similar, and it took a long and winding road to get to this point. So seeing it come together is really my favorite part. It's a very personal story in many ways and being able to express some of those thoughts and fears is incredibly cathartic.

I also adore the characters. I feel like I could write so much more about each of them, although that would only appeal to me! You spend so much time, as a writer, in the heads of these people that it's strange to let them go out into the world.
Purchase I Stop Somewhere at Amazon
Purchase I Stop Somewhere at IndieBound
View I Stop Somewhere on Goodreads
* * * *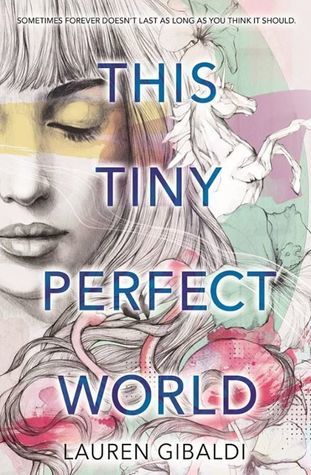 This Tiny Perfect World
by Lauren Gibaldi
Hardcover
HarperTeen
Released 2/27/2018
Penny loves her small-town Florida life, and she has her future mapped out. She's going to community college after graduation to stay close to home and her best friend, Faye. She'll take over the family diner that her dad has been managing since her mother died. And one day, she'll marry her high school sweetheart, Logan.
But when she unexpectedly lands a scholarship to a prestigious summer theater camp, she is thrust into a world of competition and self-doubt. And suddenly, her future gets a little hazy. As she meets new friends, including Chase, a talented young actor with big-city dreams, she begins to realize that maybe the life everyone (including her) expects her to lead is not the one she was meant to have.
Author Question: What is your favorite thing about This Tiny Perfect World ?
I was an extremely shy child. I had friends, sure, but I was scared of speaking out, of speaking my mind. When I got to high school, I knew I wanted to change that, but I didn't know how. Until I found theatre. I started out small, a class my freshman year, but eventually found myself delighted and inspired by the drama world and the people in it. I acted (not extremely well, but it was fun all the same), worked behind the scenes, and coached. It became my life, and I finally felt like I fit in somewhere. It didn't change me instantly--I wasn't suddenly the most popular girl in school--but I found a home. I made best friends (this book is actually dedicated to two of them) and memorable experiences. I was able to express myself through acting, show parts of myself I never knew I could. Quite simply, I loved it.

So how does that relate to my book? In THIS TINY PERFECT WORLD, Penny believes her life is set for her. But then she attends a theatre camp and finds a part of her she didn't know was there--this part that's full of passion and fearlessness and drive. I loved writing about her journey, and her time at the camp. I loved remembering what it felt like to put on your costume for the first time, to make obscure musical references to friends, to step onstage and be blinded by a spotlight. I loved writing these experiences for Penny--they felt so real to me. And I hope they feel real to everyone who reads her story.
Purchase This Tiny Perfect World at Amazon
Purchase This Tiny Perfect World at IndieBound
View This Tiny Perfect World on Goodreads
MORE YOUNG ADULT NOVELS NEW IN STORES NEXT WEEK
* * * *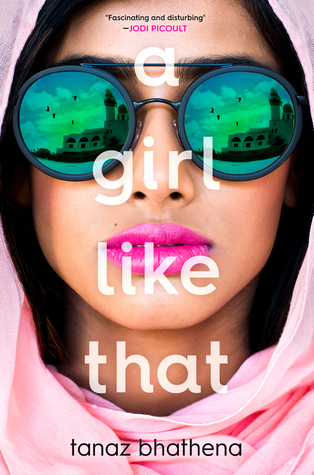 A Girl Like That
by Tanaz Bhathena
Hardcover
Farrar, Straus and Giroux
Released 2/27/2018
Sixteen-year-old Zarin Wadia is many things: a bright and vivacious student, an orphan, a risk taker. She's also the kind of girl that parents warn their kids to stay away from: a troublemaker whose many romances are the subject of endless gossip at school. You don't want to get involved with a girl like that, they say. So how is it that eighteen-year-old Porus Dumasia has only ever had eyes for her? And how did Zarin and Porus end up dead in a car together, crashed on the side of a highway in Jeddah, Saudi Arabia? When the religious police arrive on the scene, everything everyone thought they knew about Zarin is questioned. And as her story is pieced together, told through multiple perspectives, it becomes clear that she was far more than just a girl like that. This beautifully written debut novel from Tanaz Bhathena reveals a rich and wonderful new world to readers; tackles complicated issues of race, identity, class, and religion; and paints a portrait of teenage ambition, angst, and alienation that feels both inventive and universal.
Purchase A Girl Like That at Amazon
Purchase A Girl Like That at IndieBound
View A Girl Like That on Goodreads
* * * *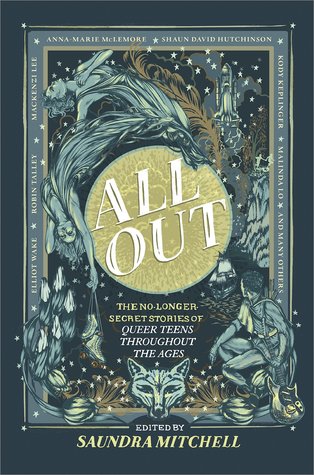 All Out: The No-Longer-Secret Stories of Queer Teens throughout the Ages
by Saundra Mitchell
Hardcover
Harlequin Teen
Released 2/27/2018
Take a journey through time and genres and discover a past where queer figures live, love and shape the world around them. Seventeen of the best young adult authors across the queer spectrum have come together to create a collection of beautifully written diverse historical fiction for teens.
From a retelling of Little Red Riding Hood set in war-torn 1870s Mexico featuring a transgender soldier, to two girls falling in love while mourning the death of Kurt Cobain, forbidden love in a sixteenth-century Spanish convent or an asexual girl discovering her identity amid the 1970s roller-disco scene, All Out tells a diverse range of stories across cultures, time periods and identities, shedding light on an area of history often ignored or forgotten.
Purchase All Out: The No-Longer-Secret Stories of Queer Teens throughout the Ages at Amazon
Purchase All Out: The No-Longer-Secret Stories of Queer Teens throughout the Ages at IndieBound
View All Out: The No-Longer-Secret Stories of Queer Teens throughout the Ages on Goodreads
* * * *
Everlife
by Gena Showalter
Hardcover
Harlequin Teen
Released 2/27/2018
STAND TOGETHER OR FALL ALONE.
THE FATE OF THE EVERLIFE HANGS IN THE BALANCE.
At seventeen years old, Tenley "Ten" Lockwood had to make the ultimate choice—where to live after she died. Loyalty to her selected realm has not wavered…until now. The numbers-obsessed Conduit is out of time. Sacrifices must be made, and a terrible price must be paid. But is she too late?
As the Everlife descends into darkness, a single truth becomes clear: Troika and Myriad must unite at long last—or perish. In order to bring sworn enemies together, Ten must enter forbidden territory…and destroy the powerful Prince of Ravens. But there's only one way inside—bonding with Killian Flynn, a deadly rival Laborer who sets her blood aflame.
When nothing goes as planned and betrayal leads to the edge of utter defeat, Ten and Killian will have to rebuild trust from the ashes of their hearts. Victory seems impossible, the odds stacked against them. In the end, how far will they be willing to go for the sake of their realms and the Everlife?
Purchase Everlife at Amazon
Purchase Everlife at IndieBound
View Everlife on Goodreads
* * * *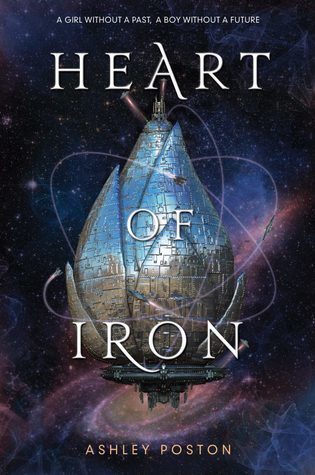 Heart of Iron
by Ashley Poston
Hardcover
Balzer + Bray
Released 2/27/2018
Seventeen-year-old Ana is a scoundrel by nurture and an outlaw by nature. Found as a child drifting through space with a sentient android called D09, Ana was saved by a fearsome space captain and the grizzled crew she now calls family. But D09—one of the last remaining illegal Metals—has been glitching, and Ana will stop at nothing to find a way to fix him.
Ana's desperate effort to save D09 leads her on a quest to steal the coordinates to a lost ship that could offer all the answers. But at the last moment, a spoiled Ironblood boy beats Ana to her prize. He has his own reasons for taking the coordinates, and he doesn't care what he'll sacrifice to keep them.
When everything goes wrong, she and the Ironblood end up as fugitives on the run. Now their entire kingdom is after them—and the coordinates—and not everyone wants them captured alive.
What they find in a lost corner of the universe will change all their lives—and unearth dangerous secrets. But when a darkness from Ana's past returns, she must face an impossible choice: does she protect a kingdom that wants her dead or save the Metal boy she loves?
Purchase Heart of Iron at Amazon
Purchase Heart of Iron at IndieBound
View Heart of Iron on Goodreads
* * * *
People Like Us
by Dana Mele
Hardcover
G.P. Putnam's Sons Books for Young Readers
Released 2/27/2018
Kay Donovan may have skeletons in her closet, but the past is past, and she's reinvented herself entirely. Now she's a star soccer player whose group of gorgeous friends run their private school with effortless popularity and acerbic wit. But when a girl's body is found in the lake, Kay's carefully constructed life begins to topple. The dead girl has left Kay a computer-coded scavenger hunt, which, as it unravels, begins to implicate suspect after suspect, until Kay herself is in the crosshairs of a murder investigation. But if Kay's finally backed into a corner, she'll do what it takes to survive. Because at Bates Academy, the truth is something you make...not something that happened.
Purchase People Like Us at Amazon
Purchase People Like Us at IndieBound
View People Like Us on Goodreads
* * * *
Tess of the Road
by Rachel Hartman
Hardcover
Random House Books for Young Readers
Released 2/27/2018
In the medieval kingdom of Goredd, women are expected to be ladies, men are their protectors, and dragons can be whomever they choose. Tess is none of these things. Tess is. . . different. She speaks out of turn, has wild ideas, and can't seem to keep out of trouble. Then Tess goes too far. What she's done is so disgraceful, she can't even allow herself to think of it. Unfortunately, the past cannot be ignored. So Tess's family decide the only path for her is a nunnery.
But on the day she is to join the nuns, Tess chooses a different path for herself. She cuts her hair, pulls on her boots, and sets out on a journey. She's not running away, she's running towards something. What that something is, she doesn't know. Tess just knows that the open road is a map to somewhere else--a life where she might belong.
Purchase Tess of the Road at Amazon
Purchase Tess of the Road at IndieBound
View Tess of the Road on Goodreads