Happy Reading,
Shelly, Halli, Jocelyn, Martina, Erin, Susan, Kelly, Laura, Emily, Anisaa, and Lori Ann
YA BOOK GIVEAWAYS THIS WEEK
* * * *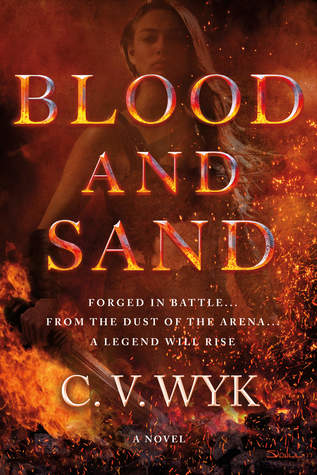 Blood and Sand: A Novel
by C.V. Wyk
Hardcover Giveaway

U.S. Only
Tor Teen
Released 1/16/2018
The action-packed tale of a 17-year-old warrior princess and a handsome gladiator who dared take on the Roman Republic--and gave rise to the legend of Spartacus....
Roma Victor
. The Republic of Rome is on a relentless march to build an empire--an empire built on the backs of the conquered, brought back to Rome as slaves.
Attia was once destined to rule as the queen and swordmaiden of Thrace, the greatest warrior kingdom the world had seen since Sparta. Now she is a slave, given to Xanthus, the Champion of Rome, as a sign of his master's favor. Enslaved as a child, Xanthus is the preeminent gladiator of his generation.
Against all odds, Attia and Xanthus form a tentative bond. A bond that will spark a rebellion. A rebellion that threatens to bring the Roman Republic to its end--and gives rise to the legend of Spartacus...
Author Question: What is your favorite thing about Blood and Sand: A Novel?
My favorite thing about BLOOD AND SAND is that I got the chance to rewrite history. The entire book braids together so many factual and fictional elements that even I have a hard time now remembering what parts are "true" and what parts I made up. I use the word "truth" loosely here because, let's be honest--ancient historians took a lot of creative license when documenting events, people, and their stories. Primary sources from all time periods are riddled with inconsistencies, but this is especially true for the ancient world. Documents that old are so unreliable that we can really only guess at what was omitted from the narrative, particularly when it comes to women. As Attia says in the first chapter, "History is written by the winners." I absolutely loved reframing a famous, highly enigmatic historical figure in a way that challenges nearly everything we thought we knew and begs the question, "What if…?"
Purchase Blood and Sand: A Novel at Amazon
Purchase Blood and Sand: A Novel at IndieBound
View Blood and Sand: A Novel on Goodreads
YA BOOK GIVEAWAYS LAST WEEK: WINNERS
A Quiet Kind of Thunder by Sara Barnard:
Amanda M.
MORE YOUNG ADULT NOVELS NEW IN STORES NEXT WEEK
* * * *
All That Was: A Novel
by Karen Rivers
Hardcover
Farrar, Straus and Giroux
Released 1/16/2018
A heartrending young adult novel about the complexities of best friendships gone wrong, and the redemptive power of letting go.
Piper and Sloane were best friends. They grew up together, from childhood to first love, and in spite of how different they were, their friendship was supposed to last forever. That is, until Piper caught Sloane kissing her boyfriend—and just days later, Piper was found dead, washed ashore on a beach. Sloane was torn with grief and guilt. How do you make amends for hurting someone you love, if that person is no longer around? And how can you ever move on and love again? Told from alternating perspectives, this is a story about the complexity of friendships, forgiveness, and growing up.
Purchase All That Was: A Novel at Amazon
Purchase All That Was: A Novel at IndieBound
View All That Was: A Novel on Goodreads
* * * *
Poison's Cage
by Breeana Shields
Hardcover
Random House Books for Young Readers
Released 1/16/2018
An assassin becomes a spy in this heart-pounding sequel to Poison's Kiss. Readers who love the assassin angle in Throne of Glass, the lethal touch in Shatter Me, or the high stakes of The Wrath and the Dawn will want to follow this story to the end.
A single kiss could kill. A single secret could save the kingdom.
Iyla and Marinda have killed many men together: Iyla as the seductress, Marinda as the final, poisonous kiss. Now they understand who the real enemy is—the Snake King—and together they can take him down. Both girls have felt as though they were living a lie in the past, so moving into the King's palace and pretending to serve him isn't as difficult as it sounds. But when you're a spy, even secrets between friends are dangerous. And each girl has something—or someone—to lose. Does every secret, every lie, bring them closer to the truth or . . . to a trap?
In
Poison's Kiss
, Marinda pulled a dangerous thread. In this sequel, it unravels to a heart-pounding conclusion.
Purchase Poison's Cage at Amazon
Purchase Poison's Cage at IndieBound
View Poison's Cage on Goodreads
* * * *
Truly Devious: A Mystery
by Maureen Johnson
Hardcover
Katherine Tegen Books
Released 1/16/2018
New York Times bestselling author Maureen Johnson weaves a delicate tale of murder and mystery in the first book of a striking new series, perfect for fans of Agatha Christie and E. Lockhart.
Ellingham Academy is a famous private school in Vermont for the brightest thinkers, inventors, and artists. It was founded by Albert Ellingham, an early twentieth century tycoon, who wanted to make a wonderful place full of riddles, twisting pathways, and gardens. "A place," he said, "where learning is a game."
Shortly after the school opened, his wife and daughter were kidnapped. The only real clue was a mocking riddle listing methods of murder, signed with the frightening pseudonym "Truly, Devious." It became one of the great unsolved crimes of American history.
True-crime aficionado Stevie Bell is set to begin her first year at Ellingham Academy, and she has an ambitious plan: She will solve this cold case. That is, she will solve the case when she gets a grip on her demanding new school life and her housemates: the inventor, the novelist, the actor, the artist, and the jokester. But something strange is happening. Truly Devious makes a surprise return, and death revisits Ellingham Academy. The past has crawled out of its grave. Someone has gotten away with murder.
The two interwoven mysteries of this first book in the Truly Devious series dovetail brilliantly, and Stevie Bell will continue her relentless quest for the murderers in books two and three.
Purchase Truly Devious: A Mystery at Amazon
Purchase Truly Devious: A Mystery at IndieBound
View Truly Devious: A Mystery on Goodreads
* * * *
You Won't Know When I'm Gone
by Kristen Orlando
Hardcover
Swoon Reads
Released 1/16/2018
Reagan has to prove herself to an elite group of special agents—and avenge her mother's death—in the second book in the Black Angel Chronicles from the author of You Don't Know My Name.
Going rogue in an effort to rescue her kidnapped parents has cost Reagan Hillis her automatic ticket to the Training Academy. But becoming a Black Angel is the only way Reagan will be able to exact revenge on her mother's merciless killer, Santino Torres.
When Reagan is given a chance to prove that she's worthy of training to be a Black Angel, she also gets the first chance she's ever had to be her true self. No aliases. No disguises.
But when her friend Luke joins her at the Black Angels training compound, Reagan finds herself once again torn between the person she was and the person she wants to be. Reagan has to prove that she's as good as her parents trained her to be, because she'll never find Torres without the Black Angels' help.
Purchase You Won't Know When I'm Gone at Amazon
Purchase You Won't Know When I'm Gone at IndieBound
View You Won't Know When I'm Gone on Goodreads
* * * *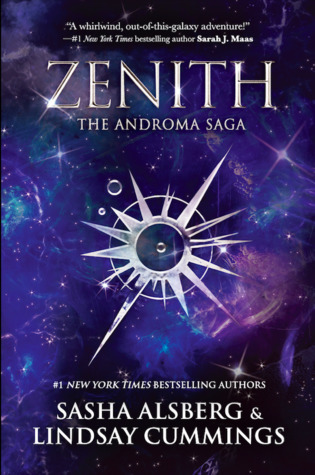 Zenith
by Sasha Alsberg and Lindsay Cummings
Hardcover
Harlequin Teen
Released 1/16/2018
Most know Androma Racella as the Bloody Baroness, a powerful mercenary whose reign of terror stretches across the Mirabel Galaxy. To those aboard her glass starship,
Marauder
, however, she's just Andi, their friend and fearless leader.
But when a routine mission goes awry, the
Marauder
's all-girl crew is tested as they find themselves in a treacherous situation and at the mercy of a sadistic bounty hunter from Andi's past.
Meanwhile, across the galaxy, a ruthless ruler waits in the shadows of the planet Xen Ptera, biding her time to exact revenge for the destruction of her people. The pieces of her deadly plan are about to fall into place, unleashing a plot that will tear Mirabel in two.
Andi and her crew embark on a dangerous, soul-testing journey that could restore order to their ship or just as easily start a war that will devour worlds. As the
Marauder
hurtles toward the unknown, and Mirabel hangs in the balance, the only certainty is that in a galaxy run on lies and illusion, no one can be trusted.
Purchase Zenith at Amazon
Purchase Zenith at IndieBound
View Zenith on Goodreads