Happy Reading,
Shelly, Sam, Jocelyn, Martina, Erin, Susan, Kelly, Laura, Emily, Anisaa, and Lori Ann
YA BOOK GIVEAWAYS THIS WEEK
* * * *
A Few Red Drops: The Chicago Race Riot of 1919
by Claire Hartfield
Hardcover Giveaway
Clarion Books
Released 1/2/2018
On a hot day in July 1919, three black youths went swimming in Lake Michigan, unintentionally floating close to the "white" beach. An angry white man began throwing stones at the boys, striking and killing one. Racial conflict on the beach erupted into days of urban violence that shook the city of Chicago to its foundations. This mesmerizing narrative draws on contemporary accounts as it traces the roots of the explosion that had been building for decades in race relations, politics, business, and clashes of culture.
Author Question: What is your favorite thing about A Few Red Drops: The Chicago Race Riot of 1919?
What I love about this book is also what makes me sad. That is, you will see that teenagers a hundred years ago faced a lot of the same issues of racism and anti-immigrant attitudes we experience today. For example, blacks and whites went to school together but socialized in separate groups. Blacks and immigrants were stereotyped in the news and profiled by the police. The good news is, some things have gotten better. The bad news is, in some ways we are still very much the same. I hope you will be inspired to ask yourself: How can I make a difference?
Purchase A Few Red Drops: The Chicago Race Riot of 1919 at Amazon
Purchase A Few Red Drops: The Chicago Race Riot of 1919 at IndieBound
View A Few Red Drops: The Chicago Race Riot of 1919 on Goodreads
* * * *
Don't Cosplay with My Heart
by Cecil Castellucci
Hardcover Giveaway

U.S. Only
Scholastic Press
Released 1/2/2018
When Edan Kupferman dresses up like her favorite character, Gargantua, she feels tall and powerful. That's important right now, because her family is a mess, her best friend is gone for the summer, her crush is confusing, and Edan's feeling small and not sure which end is up.
When Edan's cosplaying, she can be angry, loud, and not the good girl everyone thinks she is. And when she's at conventions, she feels like she's found her own Team Tomorrow. But when her personal life starts to spiral out of control, Edan has to figure out whether she needs a sidekick, or if she has the strength to be the hero of her own story.
Author Question: What is your favorite thing about Don't Cosplay with My Heart?
I have to say that I love being geeky and I love the passion of fandom. I've been going to comic book conventions since i was 11 years old. I love all things nerdy. In Don't Cosplay With My Heart, I got to explore the sort of boots on the ground aspect of comic cons. I'd explored that a bit in my first novel BOY PROOF, but here it delves deeper into geek culture. The good things about it and the bad things. It was really fun to create the history of a comic book in Team Tomorrow. A lot of legacy comics have such rich, wonderful and sometimes troubled histories. I wanted to create a book about discovering a fandom. Embracing it. And therefore embracing yourself. Edan uses the character of Gargantua to work her stuff out. And I'm a fan of trying to become emotionally evolved.
Purchase Don't Cosplay with My Heart at Amazon
Purchase Don't Cosplay with My Heart at IndieBound
View Don't Cosplay with My Heart on Goodreads
* * * *
Ink
by Alice Broadway
Advance Reader Copy Giveaway

U.S. Only
Scholastic Press
Released 1/2/2018
There are no secrets in Saintstone.
From the second you're born, every achievement, every failing, every significant moment are all immortalized on your skin. There are honorable marks that let people know you're trustworthy. And shameful tattoos that announce you as a traitor.
After her father dies, Leora finds solace in the fact that his skin tells a wonderful story. That is, until she glimpses a mark on the back of his neck...the symbol of the worst crime a person can commit in Saintstone. Leora knows it has to be a mistake, but before she can do anything about it, the horrifying secret gets out, jeopardizing her father's legacy...and Leora's life.
In her startlingly prescient debut, Alice Broadway shines a light on the dangerous lengths we go to make our world feel orderly--even when the truth refuses to stay within the lines. This rich, lyrical fantasy with echoes of Orwell is unlike anything you've ever read, a tale guaranteed to get under your skin...
Author Question: What is your favorite thing about Ink?
My favourite thing about Ink is the world of tattoos. I love the idea of being able to know all about someone with just a glimpse at their skin and I really enjoyed creating a whole belief-system based on getting and preserving tattoos. Doing the research was so much fun - I spoke to some really incredible tattoo artists and watched them at work and saw preserved tattoos 'in the flesh' at the Wellcome Museum in London.

I have to add though, that the cover of Ink makes me happy every time I see it. I hope that when readers see it in all its copper-foiled splendour they will love it as much as I do.
Purchase Ink at Amazon
Purchase Ink at IndieBound
View Ink on Goodreads
* * * *
Together at Midnight
by Jennifer Castle
Other Giveaway

U.S. Only
HarperTeen
Released 1/2/2018
Combining the emotional deftness of Sarah Dessen with the magical spark of New York City in wintertime, this affecting novel will inspire readers to pay closer attention to the world around them.
What does it really mean to be kind . . . and why does it sometimes feel like the hardest thing in the world to do? High school senior Kendall, who just returned from a life-changing semester in Europe, and Max, who is drifting his way through a gap year before college, struggle with these questions when they witness a tragic accident in New York City during the holiday season. Racked with guilt, the two accept a dare to perform random acts of kindness to strangers. The challenge pulls these two teens, who have a history together from back home, closer and closer as they explore a vibrant city filled with other people's stories and secrets.
Kendall and Max can't deny their growing bond, even though they both have other romantic entanglements and uncertain futures. As the clock counts down on New Year's Eve, will they find themselves together at midnight?
Jennifer Castle's latest novel is a romantic, thought-provoking tale of human connection and how we find—and make—our place in the world.
Author Question: What is your favorite thing about Together at Midnight?
You know, that's actually a great question! There are many things I love about this book: the characters, the love story, the theme of kindness, the setting of NYC during the holidays. But if I had to pick a fave, it would be the multiple points-of-view. I've never done that before! I've always written my books from the POV of the main character. So I knew I was leaping way out of my comfort zone here...but really, it was great fun. The first challenge was writing in Kendall's voice; Kendall is a teenage girl with ADHD, so her voice had to echo her differently-wired brain. (This part was a labor of love for me, because my own teen daughter has ADHD, and this was my way of learning more about how she thinks.) Then, I had the challenge of writing my first-ever male POV. Max had to sound different from Kendall, of course, but he also had to sound like a guy, and not just a female author trying to sound like a teenage boy. I just had to focus on who he truly was, rather than his gender. Max became very real to me by the end, and I think he sounds authentic. I'm actually a little in love with him.

Then I decided to write short passages from the points of view of the strangers Kendall and Max encounter in their dare to commit meaningful acts of kindness. Each of these characters, who we only meet for a few pages, have more to their stories than Max or Kendall can see on the surface. So I really enjoyed thinking about who these "random" people were, and what secrets they carried with them. it was also a challenge from a craft standpoint to make their voices sound distinct. I think the result is that TOGETHER AT MIDNIGHT ends up being a story not just about two teens, but about all of us. And that's pretty much always my goal when I write a book. I hope readers enjoy this look at who we are all capable of being, even when the choice is hard.
Purchase Together at Midnight at Amazon
Purchase Together at Midnight at IndieBound
View Together at Midnight on Goodreads
* * * *
You'll Miss Me When I'm Gone
by Rachel Lynn Solomon
Hardcover Giveaway

U.S. Only
Simon Pulse
Released 1/2/2018
A moving, lyrical debut novel about twins who navigate first love, their Jewish identity, and opposite results from a genetic test that determines their fate—whether they inherited their mother's Huntington's disease.
Eighteen-year-old twins Adina and Tovah have little in common besides their ambitious nature. Viola prodigy Adina yearns to become a soloist—and to convince her music teacher he wants her the way she wants him. Overachiever Tovah awaits her acceptance to Johns Hopkins, the first step on her path toward med school and a career as a surgeon.
But one thing could wreck their carefully planned futures: a genetic test for Huntington's, a rare degenerative disease that slowly steals control of the body and mind. It's turned their Israeli mother into a near stranger and fractured the sisters' own bond in ways they'll never admit. While Tovah finds comfort in their Jewish religion, Adina rebels against its rules.
When the results come in, one twin tests negative for Huntington's. The other tests positive.
These opposite outcomes push them farther apart as they wrestle with guilt, betrayal, and the unexpected thrill of first love. How can they repair their relationship, and is it even worth saving?
From debut author Rachel Lynn Solomon comes a luminous, heartbreaking tale of life, death, and the fragile bond between sisters.
Purchase You'll Miss Me When I'm Gone at Amazon
Purchase You'll Miss Me When I'm Gone at IndieBound
View You'll Miss Me When I'm Gone on Goodreads
YOUNG ADULT FICTION IN STORES NEXT WEEK WITH AUTHOR INTERVIEWS
* * * *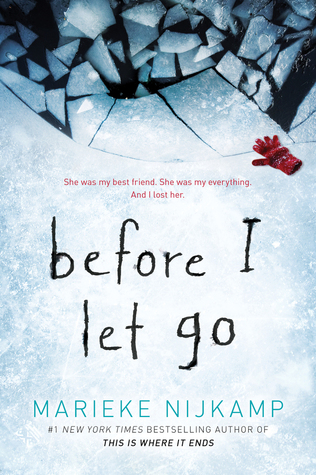 Before I Let Go
by Marieke Nijkamp
Hardcover
Sourcebooks Fire
Released 1/2/2018
Days before Corey is to return home to the snow and ice of Lost Creek, Alaska, to visit her best friend, Kyra dies. Corey is devastated and confused. The entire Lost community speaks in hushed tones about the town's lost daughter, saying her death was meant to be. And they push Corey away like she's a stranger.
Corey knows something is wrong. Lost is keeping secrets--chilling secrets. But piecing together the truth about what happened to her best friend may prove as difficult as lighting the sky in an Alaskan winter...
Author Question: What is your favorite thing about Before I Let Go?
When I set out to write BEFORE I LET GO, I knew I wanted to write a book about friendship, grief, mental illness and ableism. A book that challenged the idea of inspiration p*rn. A book about two girls who looked at the same stars but saw entirely different universes.

And BEFORE I LET GO became all of that. But along the way it also turned into a story about stories. A book about the narratives we create and how they shape us. About how we tell stories to understand the world around us. And about how stories give us strength.

As one of the characters says, "Stories remind me of heroes and possibilities. Stories remind me that I'm not the only one to deal with this. Stories make me feel less alone." And it's one of the things I love most about BEFORE I LET GO, because it's honestly one of the things I love most about books.
Purchase Before I Let Go at Amazon
Purchase Before I Let Go at IndieBound
View Before I Let Go on Goodreads
MORE YOUNG ADULT NOVELS NEW IN STORES NEXT WEEK
* * * *
The Dark Missions of Edgar Brim: Monster
by Shane Peacock
Hardcover
Tundra Books
Released 1/2/2018
Edgar Brim is a sensitive orphan who, exposed to horror stories from his father as a young child, is afraid of almost everything and suffers from nightly terrors. His stern new guardian, Mr. Thorne, sends the boy to a gloomy school in Scotland where his dark demons only seem to worsen and he is bullied and ridiculed for his fears. But years later, when sixteen-year-old Edgar finds a journal belonging to his novelist father, he becomes determined to confront his nightmares and the bullies who taunt him. After the horrific death of a schoolmate, Edgar becomes involved with an eccentric society at the urging of a mysterious professor who believes that monsters from famous works of literature are real and whose mandate is to find and destroy these creatures. With the aid of a rag-tag crew of friends, the fear-addled teen sets about on his dark mission, one that begins in the cemetery on the bleak Scottish moors and ends on the stage of the Royal Lyceum Theatre in London with Henry Irving, the infamous and magnetic actor, and his manager, Bram Stoker, the author of the most frightening and sensational novel of the day,
Dracula
. Can Edgar Brim truly face his terror and conquer his fears?
Purchase The Dark Missions of Edgar Brim: Monster at Amazon
Purchase The Dark Missions of Edgar Brim: Monster at IndieBound
View The Dark Missions of Edgar Brim: Monster on Goodreads
* * * *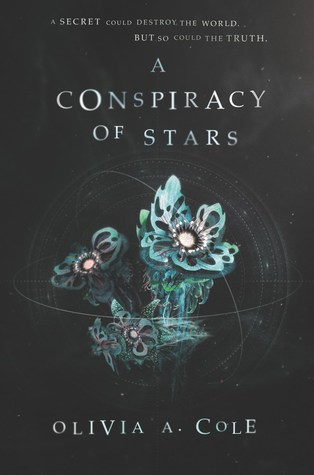 A Conspiracy of Stars
by Olivia A. Cole
Hardcover
Katherine Tegen Books
Released 1/2/2018
Octavia has only ever had one goal: to follow in the footsteps of her parents and become a prestigious whitecoat, one of the scientists who study the natural wonders of Faloiv. The secrets of the jungle's exotic plants and animals are protected fiercely in the labs by the Council of N'Terra, so when the rules suddenly change, allowing students inside, Octavia should be overjoyed.
But something isn't right. The newly elected leader of the Council has some extremist views about the way he believes N'Terra should be run, and he's influencing others to follow him. When Octavia witnesses one of the Faloii—the indigenous people of Faloiv—attacked in front of her in the dark of night, she knows the Council is hiding something. They are living in separate worlds on a shared planet, and their fragile peace may soon turn into an all-out war.
With the help of Rondo, a quiet boy in class with a skill for hacking, and her inquisitive best friend, Alma, Octavia is set on a collision course to discover the secrets behind the history she's been taught, the science she's lived by, and the truth about her family.
Purchase A Conspiracy of Stars at Amazon
Purchase A Conspiracy of Stars at IndieBound
View A Conspiracy of Stars on Goodreads
* * * *
As You Wish
by Chelsea Sedoti
Hardcover
Sourcebooks Fire
Released 1/2/2018
What if you could ask for anything- and get it?
In the sandy Mojave Desert, Madison is a small town on the road between nothing and nowhere. But Eldon wouldn't want to live anywhere else, because in Madison, everyone gets one wish—and that wish always comes true.
Some people wish for money, some people wish for love, but Eldon has seen how wishes have broken the people around him. And with the lives of his family and friends in chaos, he's left with more questions than answers. Can he make their lives better? How can he be happy if the people around him aren't? And what hope is there for any of them if happiness isn't an achievable dream? Doubts build, leading Eldon to a more outlandish and scary thought: maybe you can't wish for happiness…maybe, just maybe, you have to make it for yourself.
Purchase As You Wish at Amazon
Purchase As You Wish at IndieBound
View As You Wish on Goodreads
* * * *
Batman: Nightwalker
by Marie Lu
Hardcover
Random House Books for Young Readers
Released 1/2/2018
Before he was Batman, he was Bruce Wayne. A reckless boy willing to break the rules for a girl who may be his worst enemy.
The Nightwalkers are terrorizing Gotham City, and Bruce Wayne is next on their list.
One by one, the city's elites are being executed as their mansions' security systems turn against them, trapping them like prey. Meanwhile, Bruce is turning eighteen and about to inherit his family's fortune, not to mention the keys to Wayne Enterprises and all the tech gadgetry his heart could ever desire. But after a run-in with the police, he's forced to do community service at Arkham Asylum, the infamous prison that holds the city's most brutal criminals.
Madeleine Wallace is a brilliant killer . . . and Bruce's only hope.
In Arkham, Bruce meets Madeleine, a brilliant girl with ties to the Nightwalkers. What is she hiding? And why will she speak only to Bruce? Madeleine is the mystery Bruce must unravel. But is he getting her to divulge her secrets, or is he feeding her the information she needs to bring Gotham City to its knees? Bruce will walk the dark line between trust and betrayal as the Nightwalkers circle closer.
Purchase Batman: Nightwalker at Amazon
Purchase Batman: Nightwalker at IndieBound
View Batman: Nightwalker on Goodreads
* * * *
Chainbreaker
by Tara Sim
Hardcover
Sky Pony Press
Released 1/2/2018
Clock mechanic Danny Hart knows he's being watched. But by whom, or what, remains a mystery. To make matters worse, clock towers have begun falling in India, though time hasn't Stopped yet. He'd hoped after reuniting with his father and exploring his relationship with Colton, he'd have some time to settle into his new life. Instead, he's asked to investigate the attacks.
After inspecting some of the fallen Indian towers, he realizes the British occupation may be sparking more than just attacks. And as Danny and Colton unravel more secrets about their past, they find themselves on a dark and dangerous path--one from which they may never return.
Purchase Chainbreaker at Amazon
Purchase Chainbreaker at IndieBound
View Chainbreaker on Goodreads
* * * *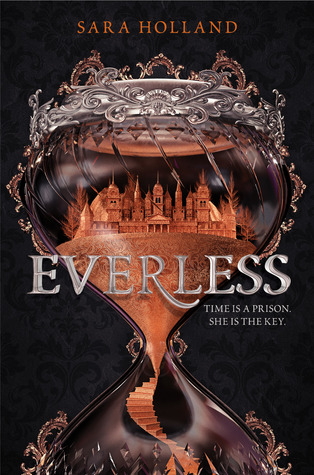 Everless
by Sara Holland
Hardcover
HarperTeen
Released 1/2/2018
In the land of Sempera, time is extracted from blood and used as payment. Jules Ember and her father were once servants at Everless, the wealthy Gerling family's estate, but were cast out after of a fateful accident a decade ago. Now, Jules's father is reaching his last hour, and she will do anything to save him. Desperate to earn time, she arrives at the palace as it prepares for a royal wedding, ready to begin her search into childhood secrets that she once believed to be no more than myths. As she uncovers lost truths, Jules spirals deeper into a past she hardly recognizes, and faces an ancient and dangerous foe who threatens her future and the future of time itself.
Purchase Everless at Amazon
Purchase Everless at IndieBound
View Everless on Goodreads
* * * *
Gunslinger Girl
by Lyndsay Ely
Hardcover
jimmy patterson
Released 1/2/2018
James Patterson presents a bold new heroine--a cross between Katniss Everdeen and Annie Oakley: Serendipity Jones, the fastest sharpshooter in tomorrow's West.
Seventeen-year-old Serendipity "Pity" Jones inherited two things from her mother: a pair of six shooters and perfect aim. She's been offered a life of fame and fortune in Cessation, a glittering city where lawlessness is a way of life. But the price she pays for her freedom may be too great....
In this extraordinary debut from Lyndsay Ely, the West is once again wild after a Second Civil War fractures the U.S. into a broken, dangerous land. Pity's struggle against the dark and twisted underbelly of a corrupt city will haunt you long after the final bullet is shot.
Purchase Gunslinger Girl at Amazon
Purchase Gunslinger Girl at IndieBound
View Gunslinger Girl on Goodreads
* * * *
Love and Other Train Wrecks
by Leah Konen
Hardcover
Katherine Tegen Books
Released 1/2/2018
A twenty-four-hour romance about two teens who meet—and perhaps change their minds about love—on a train ride to Upstate New York in the middle of a snowstorm
One train ride. Two strangers.
Noah
is a hopeless romantic. He's heading back home for one last chance with his first love, whom he broke up with when he went off to college.
Ammy
doesn't believe in true love—her parents being prime examples. She's escaping from a mom who can't take care of her to a dad who may not even want her. That is, until one winter night when Noah and Ammy find themselves in the same Amtrak car heading to Upstate New York.
After a train-wreck first encounter between the two of them, the Amtrak train suddenly breaks down due to a snowstorm. Desperate to make it to their destinations, Noah and Ammy have no other option but to travel together. What starts off as a minor detour turns into the whirlwind journey of a lifetime, and over the course of the night they fall in love. But come morning their adventure takes an unexpected turn for the worst. Can one night can really change how they feel about love...and the course of their lives forever?
Purchase Love and Other Train Wrecks at Amazon
Purchase Love and Other Train Wrecks at IndieBound
View Love and Other Train Wrecks on Goodreads
* * * *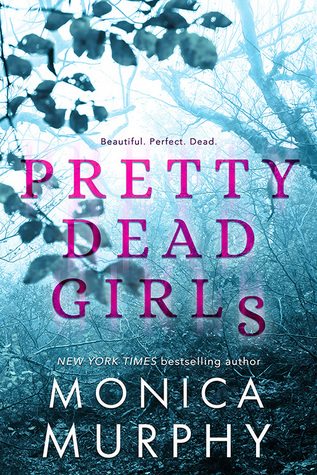 Pretty Dead Girls
by Monica Murphy
Hardcover
Entangled: Teen
Released 1/2/2018
Beautiful. Perfect. Dead.
They're arranged in a particular way. Their faces turned at the most flattering angles, their designer clothes immaculate, as immaculate as their carefully made-up faces. Only the slash of blood across their necks mars the perfect surface. Only the vacant stare in their eyes indicates they're dead.
The most popular girls in school are going down, and Penelope Malone is terrified she's next. All the victims so far have been linked to Penelope—and to the mysterious loner boy from her physics class. The one with the lopsided smirk and intense stare that's almost…cute? Even though she's not sure she can trust him, she reluctantly agrees to work with him to figure out what's happening. All while trying to stay one step ahead of the brutal serial killer on the loose.
But this killer won't be satisfied until every beautiful, popular girl in the senior class is dead—especially Penelope. And the killer is closer than she thinks...
Purchase Pretty Dead Girls at Amazon
Purchase Pretty Dead Girls at IndieBound
View Pretty Dead Girls on Goodreads
* * * *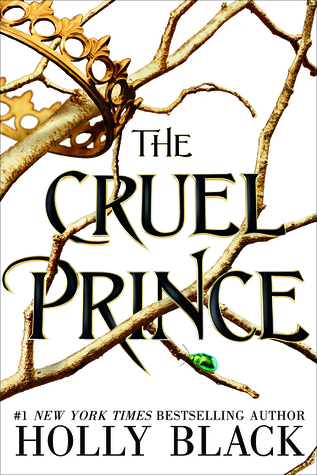 The Cruel Prince
by Holly Black
Hardcover
Little, Brown Books for Young Readers
Released 1/2/2018
Of course I want to be like them. They're beautiful as blades forged in some divine fire. They will live forever.

And Cardan is even more beautiful than the rest. I hate him more than all the others. I hate him so much that sometimes when I look at him, I can hardly breathe.
Jude was seven years old when her parents were murdered and she and her two sisters were stolen away to live in the treacherous High Court of Faerie. Ten years later, Jude wants nothing more than to belong there, despite her mortality. But many of the fey despise humans. Especially Prince Cardan, the youngest and wickedest son of the High King.
To win a place at the Court, she must defy him–and face the consequences.
In doing so, she becomes embroiled in palace intrigues and deceptions, discovering her own capacity for bloodshed. But as civil war threatens to drown the Courts of Faerie in violence, Jude will need to risk her life in a dangerous alliance to save her sisters, and Faerie itself.
Purchase The Cruel Prince at Amazon
Purchase The Cruel Prince at IndieBound
View The Cruel Prince on Goodreads
* * * *
The Forgotten Book
by Mechthild Glaser
Hardcover
Feiwel & Friends
Released 1/2/2018
A Jane Austen-inspired YA tale about a sixteen-year-old girl who finds a magical book—and discovers that anything she writes inside it comes true.
Emma is used to things going her way. Her father is headmaster of her prestigious boarding school, her friends take her advice as gospel, and she's convinced that a relationship with her long-time crush is on the horizon.
As it turns out, Emma hasn't seen anything yet. When she finds an old book in an abandoned library, things really start going Emma's way: anything she writes in the book comes true.
But the power of the book is not without consequences, and Emma soon realizes that she isn't the only one who knows about it. Someone is determined to take it from her—and they'll stop at nothing to succeed.
A new boy in school—the arrogant, aloof, and irritatingly handsome Darcy de Winter—becomes Emma's unlikely ally as secrets are revealed and danger creeps ever closer.
Purchase The Forgotten Book at Amazon
Purchase The Forgotten Book at IndieBound
View The Forgotten Book on Goodreads