Marieke, what did this book teach you about writing or about yourself?
That every book is different and that's okay. The process of writing this book was intense and in a lot of ways, entirely different from writing TIWIE. Part of that was not just writing for myself anymore, but part of it was also writing an entirely different type of story. And that's okay, as long as I show up and put the work in and, no matter how much it scares me, sit down and WRITE.
What advice would you most like to pass along to other writers?
Ignore all advice that doesn't work for you, embrace what does. But on that spectrum, don't be afraid to experiment. Don't be scared to try to find what works for specific stories, either. Sometimes, what doesn't work for one book, works wonders for the other, and vice versa.
What book or books would most resonate with readers who love your book--or visa versa?
I've been recommending Francesca Zappia's ELIZA AND HER MONSTERS far and wide this past year; it's one of my very favorite YAs. I also love, love, love Amy Rose Capetta's ECHO AFTER ECHO. It's queer, it's theatry, and it's full of murder. What more could you want? For 2018, I hope everyone has Mark Oshiro's ANGER IS A GIFT on their radar. That book blew me away. It's so necessary. So painful. So, so, so, so, so good. Speaking of 2018 debuts, can I also just say how much I'm looking forward to Candice Montgomery's HOME AND AWAY? I love Cam's writing and I cannot waaaaait to read this.
ABOUT THE BOOK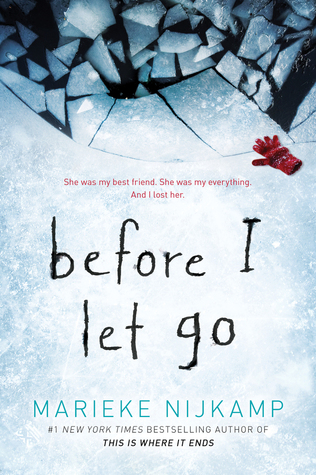 Before I Let Go
by Marieke Nijkamp
Hardcover
Sourcebooks Fire
Released 1/2/2018
Days before Corey is to return home to the snow and ice of Lost Creek, Alaska, to visit her best friend, Kyra dies. Corey is devastated and confused. The entire Lost community speaks in hushed tones about the town's lost daughter, saying her death was meant to be. And they push Corey away like she's a stranger.
Corey knows something is wrong. Lost is keeping secrets--chilling secrets. But piecing together the truth about what happened to her best friend may prove as difficult as lighting the sky in an Alaskan winter...
Purchase Before I Let Go at Amazon
Purchase Before I Let Go at IndieBound
View Before I Let Go on Goodreads
ABOUT THE AUTHOR
Marieke Nijkamp a storyteller, dreamer, globe-trotter, geek. She's the author of THIS IS WHERE IT ENDS and the forthcoming BEFORE I LET GO.

Her short stories can be found in: PILGRIM PLAYWRIGHT GENIE GUARD, FERAL YOUTH, and THE RADICAL ELEMENT.

---

Have you had a chance to read BEFORE I LET GO yet? Do you ever change up your writing habits to get "unstuck"? If so, what worked best? Share your thoughts about the interview in the comments!

Happy Reading,

Charlotte, Jocelyn, Halli, Martina, Anisaa, Erin, Susan, Shelly, Kelly, Laura, Emily, and Lori Ann