Christine, what scene was really hard for you to write and why, and is that the one of which you are most proud?
The hardest scene for me to write--the one that I had to walk away from, delete, and eventually cry my way through--was when Lucretia appears at Attia's door in Ardea covered in blood and bruises.
The scenes preceding it are alternately fight scenes and love scenes, exciting and enthralling and even romantic. But there is nothing poetic about Lucretia's suffering or the evidence of the brutality she endures at Timeus's hands. Up until this point, she has drifted in and out of the story like a shadow, inscrutable and living just at the edge of our vision. But in this scene, we realize
why
she is so distant and so seemingly impenetrable: it's how she survives. She is an embodiment of the very real horrors of sexual and psychological abuse, and neither Attia nor the reader are allowed to look away anymore.
Every subsequent scene with Lucretia broke my heart a little--what she goes through, what she endures. You don't have to wield a sword or fight like a warrior to show strength, and Lucretia proves over and over that she is strong in a way that is completely different but certainly not inferior to Attia's ferocity. Lucretia withstands. She survives. And sometimes that's the most courageous thing you can do--to just keep going.
What book or books would most resonate with readers who love your book--or visa versa?
I would start with the
His Fair Assassins
series by Robin LaFevers, whose books are even more particular about historical accuracy and how it blends with fiction. Another great alternative history is
And I Darken
by Kiersten White, which reimagines Dracula as a Wallachian princess. Both are incredible, rich series with worlds so well crafted, you can practically smell them.
How long did you work on BLOOD AND SAND: A NOVEL?
I started writing BLOOD AND SAND in early 2012, so...it's been a while. Tor bought it and its sequel in March of 2014, and then BLOOD AND SAND went through production phases for several years. It hasn't been an easy--or short--journey by any means, but it has been completely worth it. Certain elements of the book have changed, but the heart of the story still beats the same rhythm it did when I first wrote it, and I am grateful for that.
What's your writing ritual like? Do you listen to music? Work at home or at a coffee shop or the library, etc?
I have a full-time job, so I write in small pockets of time scattered throughout the day--in the library during my lunch hour or on my balcony in the very early morning when no one else is awake yet--and try to fill those stolen moments with as many words as I can. Every story I write has a dedicated playlist and, more often than not, specific songs that match up to specific scenes. Sometimes, if I'm stuck on a particular part, I'll listen to the same song over and over
and over
until the scene doesn't make sense to me without it. (Speaking of, there's a
playlist available online
if you want to check out some of the songs that made their mark on BLOOD AND SAND.)
ABOUT THE BOOK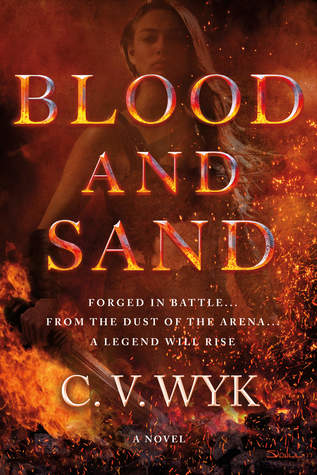 Blood and Sand: A Novel
by C.V. Wyk
Hardcover
Tor Teen
Released 1/16/2018
The action-packed tale of a 17-year-old warrior princess and a handsome gladiator who dared take on the Roman Republic--and gave rise to the legend of Spartacus....
Roma Victor
. The Republic of Rome is on a relentless march to build an empire--an empire built on the backs of the conquered, brought back to Rome as slaves.
Attia was once destined to rule as the queen and swordmaiden of Thrace, the greatest warrior kingdom the world had seen since Sparta. Now she is a slave, given to Xanthus, the Champion of Rome, as a sign of his master's favor. Enslaved as a child, Xanthus is the preeminent gladiator of his generation.
Against all odds, Attia and Xanthus form a tentative bond. A bond that will spark a rebellion. A rebellion that threatens to bring the Roman Republic to its end--and gives rise to the legend of Spartacus...
Purchase Blood and Sand: A Novel at Amazon
Purchase Blood and Sand: A Novel at IndieBound
View Blood and Sand: A Novel on Goodreads
ABOUT THE AUTHOR
C.V. Wyk is the author of BLOOD AND SAND, debuting from Tor Teen in winter 2018. Born and raised in Los Angeles, CA, Wyk now resides on the east coast along with a precocious mini poodle and demanding guinea pig.
In her not-so-spare time, she enjoys playing MMORPGs, kayaking, coding, hiking, staring listlessly at blank walls, and nursing a totally healthy coffee addiction.
Find Wyk online at
www.cvywyk.com
.
---
Have you had a chance to read BLOOD AND SAND: A NOVEL yet? Do you write in small pockets of time, too? If so, how do you stay focused on your storyline? Share your thoughts about the interview in the comments!
Happy Reading,
Charlotte, Jocelyn, Halli, Martina, Anisaa, Erin, Susan, Shelly, Kelly, Laura, Emily, and Lori Ann