Happy Reading,
Shelly, Sam, Jocelyn, Martina, Erin, Susan, Kelly, Laura, Emily, Anisaa, and Lori Ann
YA BOOK GIVEAWAYS THIS WEEK
* * * *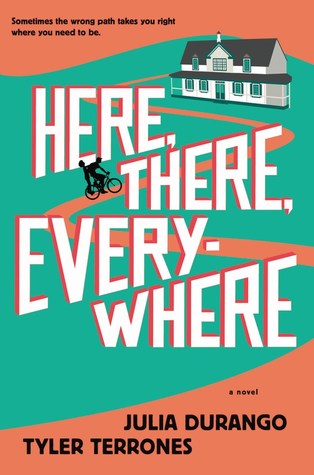 Here, There, Everywhere
by Julia Durango and Tyler Terrones
Hardcover Giveaway

U.S. Only
HarperTeen
Released 12/19/2017
Zeus would rather be anywhere than here—Buffalo Falls—the tiny town his family moved to at the end of the school year. Having left all his friends back in Chicago and with nothing to look forward to except helping out at his mother's café and biking around town with his weird little brother, Zeus is pretty sure this is destined to be the worst summer of his life.
But then he meets Rose—funny, beautiful, smart, and an incredible musician.
Zeus can hardly believe that someone like her exists, let alone seems interested in being with him. However, while Zeus is counting down the minutes until he can see her next, Rose is counting down the days until she finds out whether she will be able to leave their small town to pursue her dreams. As the afternoons spent going on local adventures pass into nights discussing their deepest hopes, Zeus knows that he doesn't have long to convince Rose that what they have is more than a summer fling…if only he's brave enough to seize the chance.
Author Question: What is your favorite thing about Here, There, Everywhere?
While we hope readers will enjoy many elements of the book—the awkward humor, the character relationships, the lens through which Zeus views the world—we especially enjoyed writing the musical scenes and choosing the madcap variety of songs that provide the novel's backdrop. We highly encourage readers to check out Zeus's Summer Playlist on Spotify, which includes every song from the book in the order it appears. (You may just discover you like Tom Jones as much as The Clash!)
Purchase Here, There, Everywhere at Amazon
Purchase Here, There, Everywhere at IndieBound
View Here, There, Everywhere on Goodreads
MORE YOUNG ADULT NOVELS NEW IN STORES NEXT WEEK
* * * *
Three Sides of a Heart: Stories About Love Triangles
by Natalie C. Parker
Hardcover
HarperTeen
Released 12/19/2017
The anthology explores the myriad tragic, frustrating, humorous possibilities of the teen love triangle, and features 15 new stories by these authors.
Purchase Three Sides of a Heart: Stories About Love Triangles at Amazon
Purchase Three Sides of a Heart: Stories About Love Triangles at IndieBound
View Three Sides of a Heart: Stories About Love Triangles on Goodreads
* * * *
Bad Call
by Stephen Wallenfels
Hardcover
Disney-Hyperion
Released 12/19/2017
It was supposed to be epic.
During a late-night poker game, tennis teammates Colin, Ceo, Grahame, and Rhody make a pact to go on a camping trip in Yosemite National Park. And poker vows can't be broken.
So the first sign that they should ditch the plan is when Rhody backs out. The next is when Ceo replaces him with Ellie, a girl Grahame and Colin have never even heard of. And then there's the forest fire at their intended campsite.
But instead of bailing, they decide to take the treacherous Snow Creek Falls Trail to the top of Yosemite Valley. From there, the bad decisions really pile up.
A freak storm is threatening snow, their Craigslist tent is a piece of junk, and Grahame is pretty sure there's a bear on the prowl. On top of that, the guys have some serious baggage (and that's not including the ridiculously heavy ax that Grahame insisted on packing) and Ellie can't figure out what their deal is.
And then one of them doesn't make it back to the tent.
Desperate to survive while piecing together what happened, the remaining hikers must decide who to trust in this riveting, witty, and truly unforgettable psychological thriller that reveals how one small mistake can have chilling consequences.
Purchase Bad Call at Amazon
Purchase Bad Call at IndieBound
View Bad Call on Goodreads
* * * *
Shadow Girl
by Liana Liu
Hardcover
HarperTeen
Released 12/19/2017
The house on Arrow Island is full of mystery.
Yet when Mei arrives, she can't help feeling relieved. She's happy to spend the summer in an actual mansion tutoring a rich man's daughter if it means a break from her normal life—her needy mother, her delinquent brother, their tiny apartment in the city. And Ella Morison seems like an easy charge, sweet and well behaved.
What Mei doesn't know is that something is very wrong in the Morison household.
Though she tries to focus on her duties, Mei becomes increasingly distracted by the family's problems and her own complicated feelings for Ella's brother, Henry. But most disturbing of all are the unexplained noises she hears at night—the howling and thumping and cries.
Mei is a sensible girl. She isn't superstitious; she doesn't believe in ghosts. Yet she can't shake her fear that there is danger lurking in the shadows of this beautiful house, a darkness that could destroy the family inside and out… and Mei along with them.
Purchase Shadow Girl at Amazon
Purchase Shadow Girl at IndieBound
View Shadow Girl on Goodreads
* * * *
Shatter Me
by Tahereh Mafi
Hardcover
HarperCollins
Released 12/19/2017
The irresistible first book in the gripping Shatter Me series, now featuring gorgeous jacket art to match the rest of the series, and including the Destroy Me novella!
One touch is all it takes. One touch, and Juliette Ferrars can leave a fully grown man gasping for air. One touch, and she can kill.
No one knows why Juliette has such incredible power. It feels like a curse, a burden that one person alone could never bear. But The Reestablishment sees it as a gift, sees her as an opportunity. An opportunity for a deadly weapon.
Juliette has never fought for herself before. But when she's reunited with the one person who ever cared about her, she finds a strength she never knew she had.
The jacket of this new hardcover edition matches the beautiful artwork of the paperback edition. It also includes the Destroy Me novella, which is told from Warner's point of view, and a brand-new author's note. Perfect for fans who have followed the series from the beginning and craved a matching set of books, and for readers looking to check out the series before the highly anticipated release of Restore Me!
Purchase Shatter Me at Amazon
Purchase Shatter Me at IndieBound
View Shatter Me on Goodreads