Happy Reading,
Shelly, Sam, Jocelyn, Martina, Erin, Susan, Kelly, Laura, Emily, Anisaa, and Lori Ann
YA BOOK GIVEAWAYS LAST WEEK: WINNERS
R.I.P. Eliza Hart by Alyssa B. Sheinmel:
Stephanie D.B.
Ready to Fall: A Novel by Marcella Pixley:
Kayeleen H.
Run Away With Me by Mila Gray:
Shannon M.
The Chaos of Standing Still by Jessica Brody:
Theresa S.
MORE YOUNG ADULT NOVELS NEW IN STORES NEXT WEEK
* * * *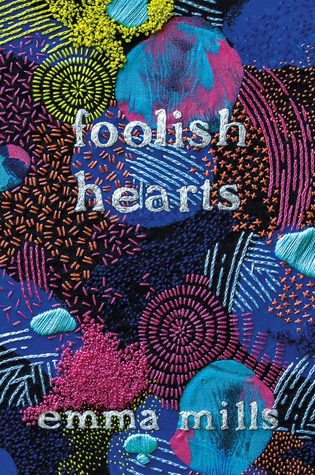 Foolish Hearts
by Emma Mills
Hardcover
Henry Holt and Co.
Released 12/5/2017
A contemporary novel about a girl whose high school production of
A Midsummer Night's Dream
leads her to new friends—and maybe even new love.
The day of the last party of the summer, Claudia overhears a conversation she wasn't supposed to. Now on the wrong side of one of the meanest girls in school, Claudia doesn't know what to expect when the two are paired up to write a paper—let alone when they're both forced to try out for the school production of
A Midsummer Night's Dream.
But mandatory participation has its upsides—namely, an unexpected friendship, a boy band obsession, and a guy with the best dimpled smile Claudia's ever seen. As Claudia's world starts to expand, she finds that maybe there are some things worth sticking her neck out for.
Purchase Foolish Hearts at Amazon
Purchase Foolish Hearts at IndieBound
View Foolish Hearts on Goodreads
* * * *
Instructions for a Secondhand Heart
by Tamsyn Murray
Hardcover
Poppy
Released 12/5/2017
A moving novel about grief, guilt, and the unpredictability of love, for fans of Everything, Everything and All the Bright Places.
Jonny knows better than anyone that life is full of cruel ironies. He's spent every day in a hospital hooked up to machines to keep his heart ticking. Then when a donor match is found for Jonny's heart, that turns out to be the cruelest irony of all. Because for Jonny's life to finally start, someone else's had to end.
That someone turns out to be Neve's twin brother, Leo. When Leo was alive, all Neve wanted was for him (and all his glorious, overshadowing perfection) to leave. Now that Leo's actually gone forever, Neve has no idea how to move forward. Then Jonny walks into her life looking for answers, her brother's heart beating in his chest, and everything starts to change.
Together, Neve and Jonny will have to face the future, no matter how frightening it is, while also learning to heal their hearts, no matter how much it hurts. The final book will feature select illustrations from "Jonny's" sketchbook.
Purchase Instructions for a Secondhand Heart at Amazon
Purchase Instructions for a Secondhand Heart at IndieBound
View Instructions for a Secondhand Heart on Goodreads