Julia and Tyler, what was your inspiration for writing HERE, THERE, EVERYWHERE?
JULIA: The initial spark for the novel occurred more than a decade ago as I watched my sons navigate brotherhood, authority, and belonging…all within the somewhat narrow confines of a small town. On constant rotation during those years was a compilation of old punk songs their dad had introduced them to -- a fitting soundtrack for a perplexing and rebellious time of life! From the very beginning, themes of music and belonging have been at the heart of this book.
What scene was really hard for you to write and why, and is that the one of which you are most proud? Or is there another scene you particularly love?
JULIA: Without giving away spoilers, there's a scene towards the end between the brothers that still rips my heart out. Even when you know you need to put your characters through the wringer, it somehow feels WRONG doing it to a little kid…but that's life, right? The last scene made up for it though...that one was much more fun to write!
What's your writing ritual like? Do you listen to music? Work at home or at a coffee shop or the library, etc?
TYLER: On a typical day, I get up, make coffee, and read for an hour or two before attempting to write anything. That seems to get my brain in "writing mode." The actual writing process mostly involves deleting everything I've just typed, staring out the window, and multiple trips to the kitchen for cheese and pickles. Just kidding (sort of). While working on Here, There, Everywhere, Julia and I would chat on the phone in the morning to discuss the day's plan, then work throughout the day, often texting back and forth with ideas/questions/concerns. At the end of the day, we'd usually talk again and go over what we'd done.

What advice would you most like to pass along to other writers?
TYLER: I think Susan Sontag said it best: "Love words, agonize over sentences. And pay attention to the world." Also, don't be afraid to write a less-than-stellar first draft. Just get something—anything—down, then go back the next day and make it slightly better. Wash, rinse, repeat until you have something that resembles prose.
ABOUT THE BOOK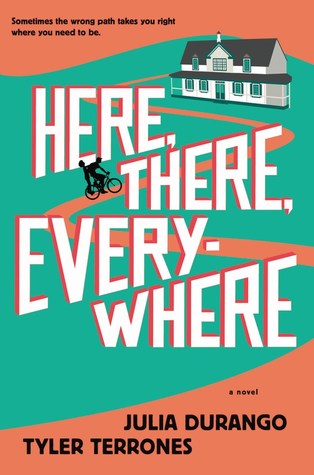 Here, There, Everywhere
by Julia Durango and Tyler Terrones
HarperTeen
Released 12/19/2017
Zeus would rather be anywhere than here—Buffalo Falls—the tiny town his family moved to at the end of the school year. Having left all his friends back in Chicago and with nothing to look forward to except helping out at his mother's café and biking around town with his weird little brother, Zeus is pretty sure this is destined to be the worst summer of his life.
But then he meets Rose—funny, beautiful, smart, and an incredible musician.
Zeus can hardly believe that someone like her exists, let alone seems interested in being with him. However, while Zeus is counting down the minutes until he can see her next, Rose is counting down the days until she finds out whether she will be able to leave their small town to pursue her dreams. As the afternoons spent going on local adventures pass into nights discussing their deepest hopes, Zeus knows that he doesn't have long to convince Rose that what they have is more than a summer fling…if only he's brave enough to seize the chance.
Purchase Here, There, Everywhere at Amazon
Purchase Here, There, Everywhere at IndieBound
View Here, There, Everywhere on Goodreads
ABOUT THE AUTHOR
Julia Durango writes books for kids of all ages in a small town by the Illinois River. Her books have received numerous awards and honors, including the Golden Kite Fiction Award and the Prairie State Award for Excellence in Writing for Children. Julia is a frequent presenter at schools and libraries around the Midwest and beyond.
Tyler Terrones was born and raised in Ottawa, Illinois, where he spent his childhood exploring nature, playing sports, and watching I Love Lucy reruns, which taught him the importance of comedic timing and a good pratfall. As a teen, music became his passion, and since then a guitar has never been far from his reach. After graduating with a degree in Communication Theory from Eastern Illinois University, then working in the Rocky Mountains, Tyler returned to his hometown to pursue creative endeavors punctuated by several ill-fated career choices.
When Tyler's not writing or hiding from the doorbell, he plays lead guitar for Katie Belle and the Belle Rangers.
Have you had a chance to read HERE, THERE, EVERYWHERE yet? Have you written a book with music at its heart? What do you do to get yourself in writing mode? Share your thoughts about the interview in the comments!
Happy Reading,
Jocelyn, Anisaa, Halli, Martina, Charlotte, Erin, Susan, Shelly, Kelly, Laura, Emily, and Lori Ann