Happy Reading,
Shelly, Sam, Jocelyn, Martina, Erin, Susan, Kelly, Laura, Emily, Anisaa, and Lori Ann
YA BOOK GIVEAWAYS THIS WEEK
* * * *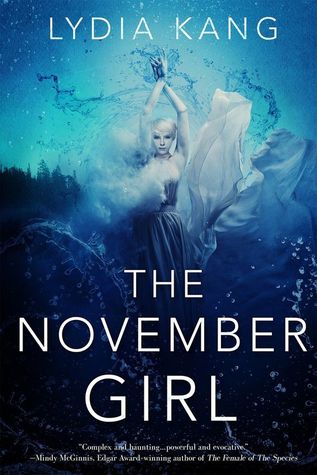 The November Girl
by Lydia Kang
Signed Paperback Giveaway

U.S. Only
Entangled: Teen
Released 11/7/2017
I am Anda, and the lake is my mother. I am the November storms that terrify sailors and sink ships. With their deaths, I keep my little island on Lake Superior alive.
Hector has come here to hide from his family until he turns eighteen. Isle Royale is shut down for the winter, and there's no one here but me. And now him.
Hector is running from the violence in his life, but violence runs through my veins. I should send him away, to keep him safe. But I'm half human, too, and Hector makes me want to listen to my foolish, half-human heart. And if I do, I can't protect him from the storms coming for us.
Purchase The November Girl at Amazon
Purchase The November Girl at IndieBound
View The November Girl on Goodreads
* * * *
The Speaker
by Traci Chee
Hardcover Giveaway

U.S. Only
G.P. Putnam's Sons Books for Young Readers
Released 11/7/2017
Having barely escaped the clutches of the Guard, Sefia and Archer are back on the run, slipping into the safety of the forest to tend to their wounds and plan their next move. Haunted by painful memories, Archer struggles to overcome the trauma of his past with the impressors, whose cruelty plagues him whenever he closes his eyes. But when Sefia and Archer happen upon a crew of impressors in the wilderness, Archer finally finds a way to combat his nightmares: by hunting impressors and freeing the boys they hold captive.
With Sefia's help, Archer travels across the kingdom of Deliene rescuing boys while she continues to investigate the mysterious Book and secrets it contains. But the more battles they fight, the more fights Archer craves, until his thirst for violence threatens to transform him from the gentle boy Sefia knows to a grim warrior with a cruel destiny. As Sefia begins to unravel the threads that connect Archer's fate to her parents' betrayal of the Guard so long ago, she and Archer must figure out a way to subvert the Guard's plans before they are ensnared in a war that will pit kingdom against kingdom, leaving their future and the safety of the entire world hanging in the balance.
Author Question: What is your favorite thing about The Speaker?
I love a lot of things about THE SPEAKER, not least of which is the incredible design. (Be sure to check out all the special formatting, notes, bookmarks, and secret messages when you pick up your copy this week!) But I think what I love most are the characters. Archer, in particular, was both a challenge and a delight, as he grows from the soft squishy cinnamon roll that we met in THE READER into a brutal and formidable leader that he's both dying to escape and dying to embrace. He also meets this devoted group of characters that I collectively call the "lost boys" (though they're not all boys!). Like Archer, they're former candidates who've been kidnapped and forced to fight to the death. Like him, they're haunted by what they've been forced to do, and like him, they want justice. Or revenge, if there's no justice to be had. I loved exploring all the different ways they cope--both the healthy and the unhealthy--and digging deep into their joy and their wrath and the love they have for each other. Of course, we also get to see Sefia really come into her power, Captain Reed and the crew of the Current have some awesome ship battles, and more romance! Can't wait for you all to read it!
Purchase The Speaker at Amazon
Purchase The Speaker at IndieBound
View The Speaker on Goodreads
* * * *
Haven
by Mary Lindsey
Hardcover Giveaway

U.S. Only
Entangled: Teen
Released 11/7/2017
"We all hold a beast inside. The only difference is what form it takes when freed."
Rain Ryland has never belonged anywhere, He's used to people judging him for his rough background, his intimidating size, and now, his orphan status. He's always been on the outside, looking in, and he's fine with that. Until he moves to New Wurzburg and meets Friederike Burkhart.
Freddie isn't like normal teen girls, though. And someone wants her dead for it. Freddie warns he'd better stay far away if he wants to stay alive, but Rain's never been good at running from trouble. For the first time, Rain has something worth fighting for, worth living for. Worth dying for.
Purchase Hide from Me at Amazon
Purchase Hide from Me at IndieBound
View Hide from Me on Goodreads
* * * *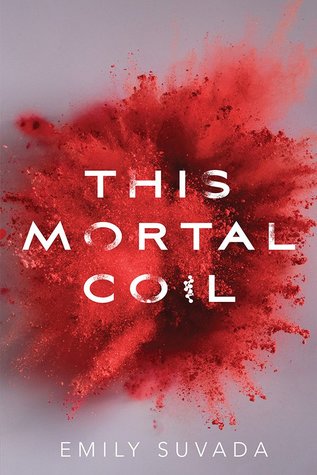 This Mortal Coil
by Emily Suvada
Hardcover Giveaway

U.S. Only
Simon Pulse
Released 11/7/2017
In this gripping debut novel, seventeen-year-old Cat must use her gene-hacking skills to decode her late father's message concealing a vaccine to a horrifying plague.
Catarina Agatta is a hacker. She can cripple mainframes and crash through firewalls, but that's not what makes her special. In Cat's world, people are implanted with technology to recode their DNA, allowing them to change their bodies in any way they want. And Cat happens to be a gene-hacking genius.
That's no surprise, since Cat's father is Dr. Lachlan Agatta, a legendary geneticist who may be the last hope for defeating a plague that has brought humanity to the brink of extinction. But during the outbreak, Lachlan was kidnapped by a shadowy organization called Cartaxus, leaving Cat to survive the last two years on her own.
When a Cartaxus soldier, Cole, arrives with news that her father has been killed, Cat's instincts tell her it's just another Cartaxus lie. But Cole also brings a message: before Lachlan died, he managed to create a vaccine, and Cole needs Cat's help to release it and save the human race.
Now Cat must decide who she can trust: The soldier with secrets of his own? The father who made her promise to hide from Cartaxus at all costs? In a world where nature itself can be rewritten, how much can she even trust herself?
Purchase This Mortal Coil at Amazon
Purchase This Mortal Coil at IndieBound
View This Mortal Coil on Goodreads
YA BOOK GIVEAWAYS LAST WEEK: WINNERS
Bad Girls with Perfect Faces by Lynn Weingarten:
Charlotte A.
MORE YOUNG ADULT FICTION IN STORES NEXT WEEK WITH AUTHOR INTERVIEWS
* * * *
Frankie
by Shivaun Plozza
Hardcover
Flatiron Books
Released 11/7/2017
A genre-hopping, darkly funny novel about searching for the truth, finding yourself, and falling in love.
Frankie Vega is angry. Just ask the guy whose nose she broke. Or the cop investigating the burglary she witnessed, or her cheating ex-boyfriend, or her aunt who's tired of giving second chances.
When a kid shows up claiming to be Frankie's half brother, it opens the door to a past she doesn't want to remember. And when that kid goes missing, the only person willing to help is a boy with stupidly blue eyes, a criminal record, and secrets of his own.
Frankie's search for the truth could change her life, or cost her everything.
Author Question: What is your favorite thing about Frankie?
My favourite thing about FRANKIE is Frankie herself. What was particularly exciting about writing a character like Frankie (and also her best friend Cara) was how free I felt to tear away at the limitations of traditional notions of how teen girls should behave and make her as bold and as gross and as badly behaved as I wanted. She swears, she lies, she steals, she talks about using a wad of toilet paper instead of a sanitary napkin when she's been caught short but she's also highly intelligent, intuitive, quick witted and cares deeply about her friends and family. There are so many limitations placed on female characters in YA and it unfortunately doesn't take much for them to be considered 'unlikeable'.

I also really loved the setting. Collingwood is a Melbourne suburb bursting with character – not a sweet, girl-next-door kind of character but a scrappy underdog of a character, the kind who gets under your skin and forces you to look past the flaws to the raw, bold heart beneath. It was so fun to write.
Purchase Frankie at Amazon
Purchase Frankie at IndieBound
View Frankie on Goodreads
* * * *
Kat and Meg Conquer the World
by Anna Priemaza
Hardcover
HarperTeen
Released 11/7/2017
For fans of Nicola Yoon's Everything, Everything, Emery Lord's When We Collided, and Rainbow Rowell's Fangirl, Anna Priemaza's debut novel is a heartwarming and achingly real story of finding a friend, being a fan, and defining your place in a difficult world.
Kat and Meg couldn't be more different. Kat's anxiety makes it hard for her to talk to people. Meg hates being alone, but her ADHD keeps pushing people away. But when the two girls are thrown together for a year-long science project, they discover they do have one thing in common: They're both obsessed with the same online gaming star and his hilarious videos.
It might be the beginning of a beautiful friendship—if they don't kill each other first.
Author Question: What is your favorite thing about Kat and Meg Conquer the World?
My favourite (I'm Canadian, and up here we include the letter U in everything) thing about KAT AND MEG CONQUER THE WORLD is that it focuses on female friendship. There is some romance in the book, but it's always secondary to the primary story of these two very opposite girls and their love for and reliance on each other as BFFs. In my opinion, there's a real dearth of YA novels that are about friendship at their core, which makes no sense to me, since friendship has always been such a huge, impactful force in my life.
Purchase Kat and Meg Conquer the World at Amazon
Purchase Kat and Meg Conquer the World at IndieBound
View Kat and Meg Conquer the World on Goodreads
* * * *
Rosemarked
by Livia Blackburne
Hardcover
Disney-Hyperion
Released 11/7/2017
A healer who cannot be healed . . .
When Zivah falls prey to the deadly rose plague, she knows it's only a matter of time before she fully succumbs. Now she's destined to live her last days in isolation, cut off from her people and unable to practice her art—until a threat to her village creates a need that only she can fill.
A soldier shattered by war . . .
Broken by torture at the hands of the Amparan Empire, Dineas thirsts for revenge against his captors. Now escaped and reunited with his tribe, he'll do anything to free them from Amparan rule—even if it means undertaking a plan that risks not only his life but his very self.
Thrust together on a high-stakes mission to spy on the capital, the two couldn't be more different: Zivah, deeply committed to her vow of healing, and Dineas, yearning for vengeance. But as they grow closer, they must find common ground to protect those they love. And amidst the constant fear of discovery, the two grapple with a mutual attraction that could break both of their carefully guarded hearts.
This smart, sweeping fantasy with a political edge and a slow-burning romance will capture fans of The Lumatere Chronicles and An Ember in the Ashes.
Author Question: What is your favorite thing about Rosemarked?
My favorite thing about ROSEMARKED is the complex romance. Not to give anything away, but the characters get placed in a really complicated situation, and the resulting tensions and swoons were really fun to write.
Purchase Rosemarked at Amazon
Purchase Rosemarked at IndieBound
View Rosemarked on Goodreads
MORE YOUNG ADULT NOVELS NEW IN STORES NEXT WEEK
* * * *
Devil in Ohio
by Daria Polatin
Hardcover
Feiwel & Friends
Released 11/7/2017
A strange, damaged girl lives with a family after escaping a cult in this debut YA suspense/thriller that was inspired by true events.
When fifteen-year-old Jules Mathis comes home from school to find a strange girl, her mother explains that Mae is one of her patients at the hospital and will be staying with their family for a few days. But shortly after, Mae is wearing Jules' clothes, sleeping in her bedroom, edging her out of her position on the school paper, and kissing Jules's crush. Then things get weird.
Jules walks in on a half-dressed Mae, she's startled to see a pentagram carved into her back. Soon white roses start turning up on the front porch, a rabid dog bites one of Jules' sisters, and Jules' parents, who never fight, start arguing behind closed doors.
Jules pieces clues together and discovers that Mae may be a survivor of the strange cult that has taken over a nearby town. And they will stop at nothing to get Mae back.
Purchase Devil in Ohio at Amazon
Purchase Devil in Ohio at IndieBound
View Devil in Ohio on Goodreads
* * * *
Eight Days on Planet Earth
by Cat Jordan
Hardcover
HarperTeen
Released 11/7/2017
How long does it take to travel 13 light-years to Earth?
How long does it take to fall in love?
To the universe, eight days is a mere blip—but to Matty Jones, it may be just enough time to change his life.
On the hot summer day Matty's dad leaves for good, a strange girl suddenly appears in the empty field next to the Jones farm—the very field in rural Pennsylvania where a spaceship supposedly landed fifty years ago. She is uniquely beautiful, sweet, and smart, and she tells Matty she's waiting for her spaceship to return to pick her up.
Of course she is.
Matty has heard all the impossible UFO stories for all of his seventeen years: the conspiracy theories, the wild rumors, the crazy belief in life beyond the stars. As a kid, he searched the skies with his dad and studied the constellations. But all that is behind him now. Dad's gone and Matty's stuck.
But now there is Priya. The self-proclaimed alien girl. She must be crazy or high, right?
As Matty unravels the mystery of Priya, he realizes there is far more to her than he first imagined.
And if he can learn to believe in what he can't see: the universe, aliens…love…then maybe the impossible is possible, after all.
Purchase Eight Days on Planet Earth at Amazon
Purchase Eight Days on Planet Earth at IndieBound
View Eight Days on Planet Earth on Goodreads
* * * *
Follow Me
by Sara Shepard
Hardcover
Freeform
Released 11/7/2017
It was the perfect night for a party. That is, until twenty-one-year-old Chelsea Dawson disappeared. The social media star was last seen enjoying a beautiful summer night at the Jersey Shore with her friends. But after an explosive fight with her ex-boyfriend, she vanished without a trace.
When Seneca, Maddox, Aerin, and Madison hear about the suspected kidnapping, they notice a jarring detail about the victim: she looks exactly like Aerin's sister, Helena, who was killed five years earlier. Seneca is convinced she knows who killed Helena, and she can't shake the feeling that the same person has taken Chelsea.
Desperate for answers about the two girls, and the truth behind her mother's murder, Seneca will stop at nothing to find out if the cases are linked. So when Maddox receives an invitation to the Shore from none other than their primary suspect, the Amateurs begin an intense new investigation.
Full of disturbing secrets, startling twists, and horrifying revelations, the second book in #1 New York Times best-selling author Sara Shepard's The Amateurs series follows the team down a twisted path—one crafted by a brilliant killer.
Purchase Follow Me at Amazon
Purchase Follow Me at IndieBound
View Follow Me on Goodreads
* * * *
Greek Gods #squadgoals
by Courtney Carbone and Jane Austen
Hardcover
Random House Books for Young Readers
Released 11/7/2017
OMG Classics, the greatest stories ever told . . . in texts. Imagine: What if Mount Olympus got WiFi and the gods and goddesses had smartphones? The classic Greek myths get new life in irreverent and hilarious texts and posts!
Zeus, a king of the gods always in search of a new bae.
A squad of goddesses who can't resist stirring the pot.
And the selfie-obsessed heroes out for all the likes.
If you have trouble telling Perseus from Theseus (#Greek2Me) or have ever wondered about Oedipus's tragic dating profile or why Medusa's Instagram never got traction--this satirical book of Greek myths retold for the Internet age is for you!
tl;dr D'Aulaires' and Homer's Greek myths told through characters texting with emojis, posting photos, checking in at locations, and updating their relationship statuses. The perfect gift for any reader--young or old--with a sense of humor!
Purchase Greek Gods #squadgoals at Amazon
Purchase Greek Gods #squadgoals at IndieBound
View Greek Gods #squadgoals on Goodreads
* * * *
Here We Are Now
by Jasmine Warga
Hardcover
Balzer + Bray
Released 11/7/2017
Taliah Sahar Abdallat lives and breathes music. Songs have always helped Tal ease the pain of never having known her father. Her mother, born in Jordan and very secretive about her past, won't say a word about who her dad really was. But when Tal finds a shoebox full of old letters from Julian Oliver—yes, the indie rock star Julian Oliver—she begins to piece the story together.
She writes to Julian, but after three years of radio silence, she's given up hope. Then one day, completely out of the blue, Julian shows up at her doorstep, and Tal doesn't know whether to be furious or to throw herself into his arms. Before she can decide, he asks her to go on a trip with him to meet her long-estranged family and to say good-bye to his father, her grandfather, who is dying.
Getting to know your father after sixteen years of estrangement doesn't happen in one car ride. But as Tal spends more time with Julian and his family, she begins to untangle her parents' secret past, and discovers a part of herself she never recognized before.
By the acclaimed author of My Heart and Other Black Holes, this is an intergenerational story of family and legacy and the way love informs both of those things. It's about secrets and the debt of silence. It's about the power of songs. And most of all, it's about learning how to say hello. And good-bye.
Purchase Here We Are Now at Amazon
Purchase Here We Are Now at IndieBound
View Here We Are Now on Goodreads
* * * *
I Never
by Laura Hopper
Hardcover
HMH Books for Young Readers
Released 11/7/2017
Janey King's priorities used to be clear: track, school, friends, and family. But when seventeen-year-old Janey learns that her seemingly happy parents are getting divorced, her world starts to shift. Back at school, Luke Hallstrom, an adorable senior, pursues Janey, and she realizes that she has two new priorities to consider: love and sex.
Inspired by Judy Blume's classic Forever, I Never features a perfect, delicious, almost-to-good-to-be-true high school relationship . . . and it doesn't shy away from the details. Destined to be passed from teen to teen, this is a young adult debut that will get readers talking.
Purchase I Never at Amazon
Purchase I Never at IndieBound
View I Never on Goodreads
* * * *
Now Is Everything
by Amy Giles
Hardcover
HarperTeen
Released 11/7/2017
Now Is Everything is a stirring debut novel told in alternating THEN and NOW chapters, perfect for Sarah Dessen and Jennifer Niven fans, about what one girl is willing to do to protect her past, present, and future.
The McCauleys look perfect on the outside. But nothing is ever as it seems, and this family is hiding a dark secret.
Hadley McCauley will do anything to keep her sister safe from their father. But when Hadley's forbidden relationship with Charlie Simmons deepens, the violence at home escalates, culminating in an explosive accident that will leave everyone changed.
When Hadley attempts to take her own life at the hospital post-accident, her friends, doctors, family, and the investigator on the case want to know why. Only Hadley knows what really happened that day, and she's not talking.
Purchase Now Is Everything at Amazon
Purchase Now Is Everything at IndieBound
View Now Is Everything on Goodreads
* * * *
Omega
by Jus Accardo
Paperback
Entangled: Teen
Released 11/7/2017
One mistake can change everything. Ashlyn Calvert finds that out the hard way when a bad decision leads to the death of her best friend, Noah Anderson.
Only Noah isn't really gone. Thanks to his parents' company, the Infinity Division, there is a version of him skipping from one dimension to another, set on revenge for the death of his sister, Kori. When a chance encounter brings him face-to-face with Ash, he's determined to resist the magnetic pull he's felt for her time and time again. Because falling for Ash puts his mission—and their lives—in danger.
Purchase Omega at Amazon
Purchase Omega at IndieBound
View Omega on Goodreads
* * * *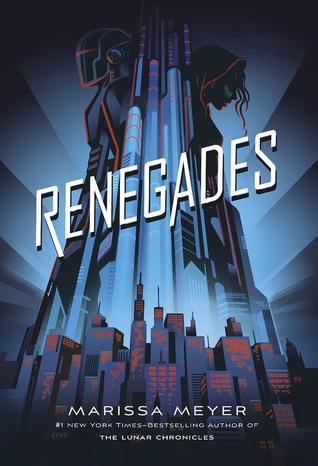 Renegades
by Marissa Meyer
Hardcover
Feiwel & Friends
Released 11/7/2017
From #1 New York Times-bestselling author Marissa Meyer, comes a high-stakes world of adventure, passion, danger, and betrayal.
Secret Identities.
Extraordinary Powers.
She wants vengeance. He wants justice.
The Renegades are a syndicate of prodigies—humans with extraordinary abilities—who emerged from the ruins of a crumbled society and established peace and order where chaos reigned. As champions of justice, they remain a symbol of hope and courage to everyone...except the villains they once overthrew.
Nova has a reason to hate the Renegades, and she is on a mission for vengeance. As she gets closer to her target, she meets Adrian, a Renegade boy who believes in justice—and in Nova. But Nova's allegiance is to a villain who has the power to end them both.
Purchase Renegades at Amazon
Purchase Renegades at IndieBound
View Renegades on Goodreads
* * * *
The Becoming of Noah Shaw
by Michelle Hodkin
Hardcover
Simon & Schuster Books for Young Readers
Released 11/7/2017
In the first book of the Shaw Confessions, the companion series to the New York Times bestselling Mara Dyer novels, old skeletons are laid bare and new promises prove deadly. This is what happens after happily ever after.
Everyone thinks seventeen-year-old Noah Shaw has the world on a string.
They're wrong.
Mara Dyer is the only one he trusts with his secrets and his future.
He shouldn't.
And both are scared that uncovering the truth about themselves will force them apart.
They're right.
Purchase The Becoming of Noah Shaw at Amazon
Purchase The Becoming of Noah Shaw at IndieBound
View The Becoming of Noah Shaw on Goodreads
* * * *
The Closest I've Come
by Fred Aceves
Hardcover
HarperTeen
Released 11/7/2017
Marcos Rivas wants to find love.
He's sure as hell not getting it at home, where his mom's racist boyfriend beats him up. Or from his boys, who aren't exactly the "hug it out" type. Marcos yearns for love, a working cell phone, and maybe a pair of sneakers that aren't falling apart. But more than anything, Marcos wants to get out of Maesta, his hood—which seems impossible.
When Marcos is placed in a new after-school program for troubled teens with potential, he meets Zach, a theater geek whose life seems great on the surface, and Amy, a punk girl who doesn't care what anyone thinks of her. These new friendships inspire Marcos to open up to his Maesta crew, too, and along the way, Marcos starts to think more about his future and what he has to fight for. Marcos ultimately learns that bravery isn't about acting tough and being macho; it's about being true to yourself.
Purchase The Closest I've Come at Amazon
Purchase The Closest I've Come at IndieBound
View The Closest I've Come on Goodreads
* * * *
The Devil's Engine: Hellwalkers
by Alexander Gordon Smith
Hardcover
Farrar, Straus and Giroux
Released 11/7/2017
In the third and final book of Alexander Gordon Smith's Devil's Engine series, Marlow and Pan are in hell. Literally in hell. Faced with the awful truth of being trapped in the underworld for an eternity―of Pan being trapped―Marlow makes a final deal with the Devil, a deal to go home. But when Marlow and Pan return to Earth, they cannot close the door behind them. And all hell breaks loose. It is a war to end all wars―demonic creatures spill into the streets of New York, monsters haunt the shadows. Only the Hellraisers stand in their way, and they're not sure this is a battle they can win. They have no powers, they have no weapons. But they have each other, and they have hope, and they know how to kick ass.
Only one thing's for sure: One way or another, it all ends here.
Purchase The Devil's Engine: Hellwalkers at Amazon
Purchase The Devil's Engine: Hellwalkers at IndieBound
View The Devil's Engine: Hellwalkers on Goodreads
* * * *
War of the Cards
by Colleen Oakes
Hardcover
HarperTeen
Released 11/7/2017
The final book in the twisted YA trilogy re-imagining of the origin story of the Queen of Hearts.
Dinah has lost everyone she ever loved. Her brother was brutally murdered. The wicked man she believed was her father betrayed her. Her loyal subjects have been devastated by war. And the boy she gave her heart to broke it completely.
Now a dark queen has risen out of the ashes of her former life. Fury is blooming inside Dinah, poisoning her soul and twisting her mind. All she has left is Wonderland and her crown, and her obsession to fight for both. But the war rages on, and Dinah could inherit a bloodstained throne. Can a leader filled with love and rage ever be the ruler her kingdom needs? Or will her all-consuming wrath bring Wonderland to its knees?
This is not a story of happily ever after.
This is the story of the Queen of Hearts.
Purchase War of the Cards at Amazon
Purchase War of the Cards at IndieBound
View War of the Cards on Goodreads