Happy Reading,
Shelly, Sam, Jocelyn, Martina, Erin, Susan, Kelly, Laura, Emily, Anisaa, and Lori Ann
YA BOOK GIVEAWAYS THIS WEEK
* * * *
Meant to Be
by Julie Halpern
Hardcover plus Swag Giveaway

U.S. Only
Feiwel & Friends
Released 10/24/2017
In a world where the names of MTBs—"meant to be" mates—appear on the body at age eighteen, a girl must decide whether to believe the phenomenon or follow her heart.
It started happening a few years ago: the names of MTBs—"meant to be" mates—appeared emblazoned on the skin at age eighteen. Agatha's best friend has embraced the phenomenon and is head over heels in love with her MTB. But Ag isn't so sure. As she searches the interwebs for her MTB (who has a common name, no less) she finds herself falling for a co-worker at the local amusement park. Is he a better match? What does Agatha really want in a mate, and moreover, what does she want for herself?
With her trademark wit and irreverence, acclaimed author Julie Halpern explores an age-old question: Who are we meant to be with? Readers won't be able to resist knowing the answer.
Author Question: What is your favorite thing about Meant to Be?
One of my favorite things (because after you spend months and months with characters and story, it's hard to choose just one) is the amusement park, Haunted Hollow, I created for the book. It was so much fun thinking of the different rides, name them, choose foods, workers, decor, and the man who runs the place, Sam Hain. I really wish I could spend some time there! If it were real, that is. I had buttons printed up for the fake rides, and I'm so in love with them.
Purchase Meant to Be at Amazon
Purchase Meant to Be at IndieBound
View Meant to Be on Goodreads
YA BOOK GIVEAWAYS LAST WEEK: WINNERS
Enhanced by Carrie Jones:
Samantha M.
Last Chance by Gregg Hurwitz:
Courtney W.
Strange Lies by Maggie Thrash:
Michelle M.
The Innocence Treatment by Ari Goelman:
John S.
MORE YOUNG ADULT NOVELS NEW IN STORES NEXT WEEK
* * * *
Calling My Name
by Liara Tamani
Hardcover
Greenwillow Books
Released 10/24/2017
Taja Brown lives with her parents and older brother and younger sister, in Houston, Texas. Taja has always known what the expectations of her conservative and tightly-knit African American family are—do well in school, go to church every Sunday, no intimacy before marriage. But Taja is trying to keep up with friends as they get their first kisses, first boyfriends, first everythings. And she's tired of cheering for her athletic younger sister and an older brother who has more freedom just because he's a boy. Taja dreams of going to college and forging her own relationship with the world and with God, but when she falls in love for the first time, those dreams are suddenly in danger of evaporating.
Purchase Calling My Name at Amazon
Purchase Calling My Name at IndieBound
View Calling My Name on Goodreads
* * * *
Expelled
by Emily Raymond and James Patterson
Hardcover
jimmy patterson
Released 10/24/2017
Will Foster's Twitter account used to be anonymous--until someone posted The Photo that got him and three other students expelled, their futures ruined forever. But who took the picture, and why are they being targeted?
To uncover the truth, Will gets close to the suspects: the hacker, the quarterback, the bad girl, the class clown, the vice principal, and...his own best friend. What secrets are they hiding, and even worse--what do they know about each other? The terrible truth will haunt them forever.
New York Times bestselling author James Patterson brings us another fast-moving tale of suspense, with danger, romance, and twists and turns that will keep you guessing to the very last page.
Purchase Expelled at Amazon
Purchase Expelled at IndieBound
View Expelled on Goodreads
* * * *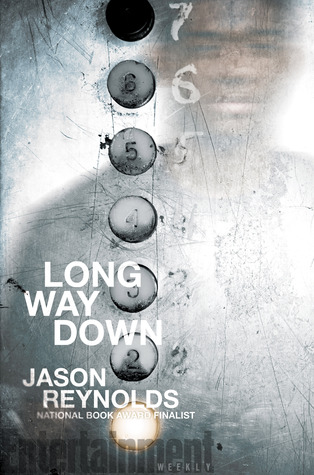 Long Way Down
by Jason Reynolds
Hardcover
Atheneum/Caitlyn Dlouhy Books
Released 10/24/2017
A cannon. A strap.
A piece. A biscuit.
A burner. A heater.
A chopper. A gat.
A hammer
A tool
for RULE
Or, you can call it a gun. That's what fifteen-year-old Will has shoved in the back waistband of his jeans. See, his brother Shawn was just murdered. And Will knows the rules. No crying. No snitching. Revenge. That's where Will's now heading, with that gun shoved in the back waistband of his jeans, the gun that was his brother's gun.
He gets on the elevator, seventh floor, stoked. He knows who he's after. Or does he?
As the elevator stops on the sixth floor, on comes Buck--who, Will finds out, is the one that gave Shawn the gun before Will took the gun. Buck tells Will to check that the gun is even loaded. And that's when Will sees that one bullet is missing.
The only one who could have fired Shawn's gun was Shawn. Huh. Will didn't know that Shawn had ever actually USED his gun. Bigger huh. BUCK IS DEAD. But Buck's in the elevator?
Just as Will's trying to think this through, the door to the next floor opens. A teenage girl gets on, waves away the smoke from Dead Buck's cigarette. Will doesn't know her, but she knew him. Knew. When they were eight. And stray bullets had cut through the playground, and Will had tried to cover her, but she was hit anyway, and so what she wants to know, on that fifth floor elevator stop, is, what if Will, Will with the gun shoved in the back waistband of his jeans, MISSES.
And so it goes, the whole long way down, as the elevator stops on each floor, and at each stop someone connected to his brother gets on to give Will a piece to a bigger story than the one he thinks he knows. A story that might never know an END…if WILL gets off that elevator.
Purchase Long Way Down at Amazon
Purchase Long Way Down at IndieBound
View Long Way Down on Goodreads
* * * *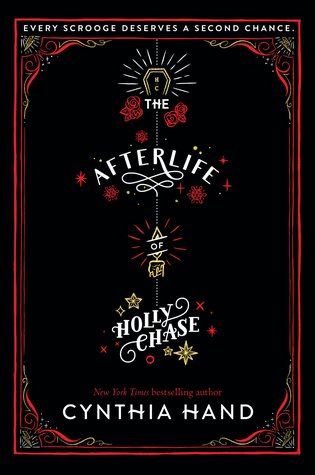 The Afterlife of Holly Chase
by Cynthia Hand
Hardcover
HarperTeen
Released 10/24/2017
On Christmas Eve five years ago, Holly was visited by three ghosts who showed her how selfish and spoiled she'd become. They tried to convince her to mend her ways.
She didn't.
And then she died.
Now she's stuck working for the top-secret company Project Scrooge--as the latest Ghost of Christmas Past.
Every year, they save another miserly grouch. Every year, Holly stays frozen at seventeen while her family and friends go on living without her. So far, Holly's afterlife has been miserable.
But this year, everything is about to change. . . .
Purchase The Afterlife of Holly Chase at Amazon
Purchase The Afterlife of Holly Chase at IndieBound
View The Afterlife of Holly Chase on Goodreads
* * * *
The Book of Dust: La Belle Sauvage
by Philip Pullman
Hardcover
Knopf Books for Young Readers
Released 10/24/2017
Eleven-year-old Malcolm Polstead and his dæmon, Asta, live with his parents at the Trout Inn near Oxford. Across the River Thames (which Malcolm navigates often using his beloved canoe, a boat by the name of La Belle Sauvage) is the Godstow Priory where the nuns live. Malcolm learns they have a guest with them, a baby by the name of Lyra Belacqua . . .
Purchase The Book of Dust: La Belle Sauvage at Amazon
Purchase The Book of Dust: La Belle Sauvage at IndieBound
View The Book of Dust: La Belle Sauvage on Goodreads
* * * *
The Glass Spare
by Lauren DeStefano
Hardcover
Balzer + Bray
Released 10/24/2017
A banished princess.
A deadly curse.
A kingdom at war.
Wil Heidle, the only daughter of the king of the world's wealthiest nation, has grown up in the shadows. Kept hidden from the world in order to serve as a spy for her father—whose obsession with building his empire is causing a war—Wil wants nothing more than to explore the world beyond her kingdom, if only her father would give her the chance.
Until one night Wil is attacked, and she discovers a dangerous secret. Her touch turns people into gemstone. At first Wil is horrified—but as she tests its limits, she's drawn more and more to the strange and volatile ability. When it leads to tragedy, Wil is forced to face the destructive power within her and finally leave her home to seek the truth and a cure. But finding the key to her redemption puts her in the path of a cursed prince who has his own ideas for what to do with her power.
With a world on the brink of war and a power of ultimate destruction, can Wil find a way to help the kingdom that's turned its back on her, or will she betray her past and her family forever?
Purchase The Glass Spare at Amazon
Purchase The Glass Spare at IndieBound
View The Glass Spare on Goodreads
* * * *
Us Kids Know
by JJ Strong
Hardcover
Razorbill
Released 10/24/2017
A risky, heartbreaking debut in the vein of The Outsiders, following a group of unmoored teens in suburban New Jersey as they blaze destructive paths and wrestle with burgeoning adolescence, ultimately committing one disastrous error that changes their lives forever.
We all knew about Cullen Hickson.
Siblings Brielle and Ray O'Dell are lost. Anxious. Restless. Bullied at his Catholic school for being small and timid, Ray wants to be someone people respect or, even better, someone people fear. Meanwhile, Brielle—whose "popular" status feels tenuous at best—knows that something is off about her friendship with the shiny, happy, sophisticated blond girls on her field hockey team. They don't really understand Bri, and if Bri is being totally honest, she doesn't really understand them either.
When storied delinquent Cullen Hickson enters the orbit of the O'Dell siblings, though, everything changes. Brielle and Ray find an alluring, addictive outlet in Cullen, who opens their eyes to a world they didn't know existed. For Ray, that means experiencing the singular thrill of small-time crime—from breaking and entering to grand theft auto—while Brielle quickly dives into an all-consuming romance with the enigmatic upperclassman.
But as Brielle and Ray find themselves more and more entwined with Cullen's antics, the once-thrilling experiences begin to feel increasingly dangerous, culminating in a life-changing event that shakes the teens to their core.
Purchase Us Kids Know at Amazon
Purchase Us Kids Know at IndieBound
View Us Kids Know on Goodreads