Happy Reading,
Shelly, Sam, Jocelyn, Martina, Erin, Susan, Kelly, Laura, Emily, Anisaa, and Lori Ann
YA BOOK GIVEAWAYS THIS WEEK
* * * *
Enhanced
by Carrie Jones
3 signed books/A goofy short writing video Giveaway

U.S. Only
Tor Teen
Released 10/17/2017
Seventeen-year-old Mana has found and rescued her mother, but her work isn't done yet. Her mother may be out of alien hands, but she's in a coma, unable to tell anyone what she knows.
Mana is ready to take action. The only problem? Nobody will let her. Lyle, her best friend and almost-boyfriend (for a minute there, anyway), seems to want nothing to do with hunting aliens, despite his love of Doctor Who. Bestie Seppie is so desperate to stay out of it, she's actually leaving town. And her mom's hot but arrogant alien-hunting partner, China, is ignoring Mana's texts, cutting her out of the mission entirely.
They all know the alien threat won't stay quiet for long. It's up to Mana to fight her way back in.
Author Question: What is your favorite thing about Enhanced?
So, in the real life of Carrie Jones, I am constantly needing help with things. This is because I am super inept at:

1. All things mechanical.
2. All things requiring upper body strength.
3. All things that require emotional wherewithal

As much as I'd like to pretend that I'm awesome at everything and capable of superhero-like feats of strength and abilities, my own level of awesome is pretty subpar.

What am I even saying, you're probably wondering. What I'm saying is that I really rely a lot of my friends to help me out in so many ways. We meet up as a massive group once a week and some of us pretend to play poker while others stand in the kitchen eating food everyone has brought, which makes us sound like hooligans, but whenever anyone needs something? We're right there for each other. It's like this community that we've created all by ourselves, or a family for those of us whose real families suck or live far away.

And that's my favorite thing about ENHANCED. It's a bizarre, quirky, science fiction story full of weirdness and adventure, but the best part of it is the friendships. In the beginning, Mana feels like her friends have betrayed her and that's such a huge deal for her inside because she really relies on them, but it all comes right in the end.
Purchase Enhanced at Amazon
Purchase Enhanced at IndieBound
View Enhanced on Goodreads
* * * *
Last Chance
by Gregg Hurwitz
Hardcover Giveaway

U.S. Only
Tor Teen
Released 10/17/2017
The New York Times bestselling author of Orphan X returns to Creek's Cause to follow the Rains brothers as they fight an alien threat that has transformed everyone over the age of 18 into ferocious, zombie-like beings.
Battling an enemy not of this earth, Chance and Patrick become humanity's only hope for salvation.
Author Question: What is your favorite thing about Last Chance?
As readers of THE RAINS know, I ended the first book on a cliffhanger. That gave me an opportunity to do something in LAST CHANCE I've never been able to do before - jump right into the story midstream with a fast-paced, high stakes action sequence. It's one of the longest I've ever written and it was a blast. I was so excited to get back to battle with Chance, Patrick, and Alexandra (and the dogs). They're my favorite crew to spend time with.
Purchase Last Chance at Amazon
Purchase Last Chance at IndieBound
View Last Chance on Goodreads
* * * *
The Innocence Treatment
by Ari Goelman
Hardcover Giveaway
Roaring Brook Press
Released 10/17/2017
You may believe the government protects you, but only one girl knows how they use you.
Lauren has a disorder that makes her believe everything her friends tell her--and she believes everyone is her friend. Her innocence puts her at constant risk, so when she gets the opportunity to have an operation to correct her condition, she seizes it. But after the surgery, Lauren is changed. Is she a paranoid lunatic with violent tendencies? Or a clear-eyed observer of the world who does what needs to be done?
Told in journal entries and therapy session transcripts, The Innocence Treatment is a collection of Lauren's papers, annotated by her sister long after the events of the novel. A compelling YA debut thriller that is part speculative fiction and part shocking tell-all of genetic engineering and government secrets, Lauren's story is ultimately an electrifying, propulsive, and spine-tingling read.
Author Question: What is your favorite thing about The Innocence Treatment?
I'm really happy with the moment in THE INNOCENCE TREATMENT when Lauren, who has previously led a very restricted, protected life, realizes she's on her own. More, she realizes she likes being on her own. When I think back to my time as a young adult in high school and university, so much of my mental energy was spent trying not to be on my own. Trying to deny the essential human fact that we're all alone. I really love the moment when Lauren steps up to that knowledge and embraces it.
Purchase The Innocence Treatment at Amazon
Purchase The Innocence Treatment at IndieBound
View The Innocence Treatment on Goodreads
* * * *
Strange Lies
by Maggie Thrash
Hardcover Giveaway

U.S. Only
Simon Pulse
Released 10/17/2017
Only at Winship Academy would an evening science expo turn into a criminal fiasco. First, there's the anonymous boy in the girls' bathroom handing out drugs to anyone with the secret password. Then the student body president is maimed in a horrifying and tragic accident—but was it an accident or an attack?
Benny Flax and Virginia Leeds are right at the center of it all. And so is the headmaster's son, Calvin Harker, an oddball poet whose interest in Virginia sets off alarm bells for Benny. As the case bleeds from Winship Academy to the surrounding city, the deep fault lines of racial tension in Atlanta's history reveal explosive hatred still simmering under the city's surface.
Purchase Strange Lies at Amazon
Purchase Strange Lies at IndieBound
View Strange Lies on Goodreads
YA BOOK GIVEAWAYS LAST WEEK: WINNERS
Dare Mighty Things by Heather Kaczynski:
Kathryn F.
Last Star Burning by Caitlin Sangster:
Danielle G.
The Nowhere Girls by Amy Reed:
Melanie N.
This Darkness Mine by Mindy McGinnis:
Kate F.
MORE YOUNG ADULT NOVELS NEW IN STORES NEXT WEEK
* * * *
A Line in the Dark
by Malinda Lo
Hardcover
Dutton Books for Young Readers
Released 10/17/2017
Jess Wong is Angie Redmond's best friend. And that's the most important thing, even if Angie can't see how Jess truly feels. Being the girl no one quite notices is OK with Jess anyway. While nobody notices her, she's free to watch everyone else. But when Angie begins to fall for Margot Adams, a girl from the nearby boarding school, Jess can see it coming a mile away. Suddenly her powers of observation are more curse than gift.
As Angie drags Jess further into Margot's circle, Jess discovers more than her friend's growing crush. Secrets and cruelty lie just beneath the carefree surface of this world of wealth and privilege, and when they come out, Jess knows Angie won't be able to handle the consequences.
When the inevitable darkness finally descends, Angie will need her best friend.
Purchase A Line in the Dark at Amazon
Purchase A Line in the Dark at IndieBound
View A Line in the Dark on Goodreads
* * * *
Dear Martin
by Nic Stone
Hardcover
Crown Books for Young Readers
Released 10/17/2017
Justyce McAllister is top of his class, captain of the debate team, and set for the Ivy League next year—but none of that matters to the police officer who just put him in handcuffs. He is eventually released without charges (or an apology), but the incident has Justyce spooked. Despite leaving his rough neighborhood, he can't seem to escape the scorn of his former peers or the attitude of his prep school classmates. The only exception: Sarah Jane, Justyce's gorgeous—and white—debate partner he wishes he didn't have a thing for.
Struggling to cope with it all, Justyce starts a journal to Dr. Martin Luther King Jr. But do Dr. King's teachings hold up in the modern world? Justyce isn't so sure.
Then comes the day Justyce goes driving with his best friend, Manny, windows rolled down, music turned up. Way up. Much to the fury of the white off-duty cop beside them. Words fly. Shots are fired. And Justyce and Manny get caught in the crosshairs. In the media fallout, it's Justyce who is under attack. The truth of what happened that night—some would kill to know. Justyce is dying to forget.
Purchase Dear Martin at Amazon
Purchase Dear Martin at IndieBound
View Dear Martin on Goodreads
* * * *
I Am Not Your Perfect Mexican Daughter
by Erika L. Sánchez
Hardcover
Knopf Books for Young Readers
Released 10/17/2017
Perfect Mexican daughters do not go away to college. And they do not move out of their parents' house after high school graduation. Perfect Mexican daughters never abandon their family.
But Julia is not your perfect Mexican daughter. That was Olga's role.
Then a tragic accident on the busiest street in Chicago leaves Olga dead and Julia left behind to reassemble the shattered pieces of her family. And no one seems to acknowledge that Julia is broken, too. Instead, her mother seems to channel her grief into pointing out every possible way Julia has failed.
But it's not long before Julia discovers that Olga might not have been as perfect as everyone thought. With the help of her best friend Lorena, and her first kiss, first love, first everything boyfriend Connor, Julia is determined to find out. Was Olga really what she seemed? Or was there more to her sister's story? And either way, how can Julia even attempt to live up to a seemingly impossible ideal?
Purchase I Am Not Your Perfect Mexican Daughter at Amazon
Purchase I Am Not Your Perfect Mexican Daughter at IndieBound
View I Am Not Your Perfect Mexican Daughter on Goodreads
* * * *
Like Water
by Rebecca Podos
Hardcover
Balzer + Bray
Released 10/17/2017
In Savannah Espinoza's small New Mexico hometown, kids either flee after graduation or they're trapped there forever. Vanni never planned to get stuck—but that was before her father was diagnosed with Huntington's disease, leaving her and her mother to care for him. Now, she doesn't have much of a plan at all: living at home, working as a performing mermaid at a second-rate water park, distracting herself with one boy after another.
That changes the day she meets Leigh. Disillusioned with small-town life and looking for something greater, Leigh is not a "nice girl." She is unlike anyone Vanni has met, and a friend when Vanni desperately needs one. Soon enough, Leigh is much more than a friend. But caring about another person stirs up the moat Vanni has carefully constructed around herself, and threatens to bring to the surface the questions she's held under for so long.
With her signature stunning writing, Rebecca Podos, author of The Mystery of Hollow Places, has crafted a story of first love and of the complex ways in which the deepest parts of us are hidden, even from ourselves.
Purchase Like Water at Amazon
Purchase Like Water at IndieBound
View Like Water on Goodreads
* * * *
Monster
by Michael Grant
Hardcover
Katherine Tegen Books
Released 10/17/2017
In the stunning follow-up to the globally bestselling Gone series, Michael Grant continues the story of the teens who morph into superheroes—and supermonsters—when they ingest an alien virus.
Four years after the events of the FAYZ, new meteorites are hitting Earth, and the whole world is exposed to a strange alien virus that gives humans unique superpowers.
As some teens become heroes and others become dangerously out of control with their new powers, the world will become more terrifying than the FAYZ—and only a monstrous battle between good and evil can save them.
Purchase Monster at Amazon
Purchase Monster at IndieBound
View Monster on Goodreads
* * * *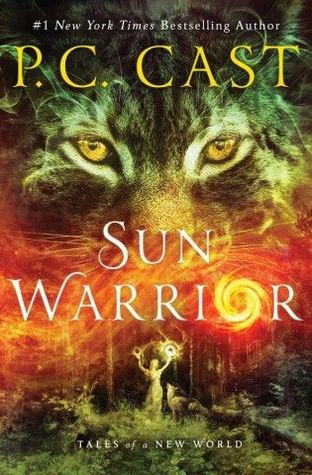 Sun Warrior
by P. C. Cast
Hardcover
Wednesday Books
Released 10/17/2017
#1 New York Times bestselling author P.C. Cast, brings us a new epic fantasy set in a world where humans, their animal allies, and the earth itself has been drastically changed.
The battle lines have been drawn and Mari, an Earth Walker and Nik, a Companion, who were once from rival clans now find themselves fighting to save each other and their people from destruction.
Thaddeus betrayed his own people, killing Nik's father and destroying their entire clan. But he wants more. He wants the power he believes Mari has stolen from him and his people and he will do anything he must to get them back, even if it means destroying everything in his path. There is only one way to stop Thaddeus, but it means a harrowing journey for Mari and Nik into the heart of darkness. But if they hope to survive the coming fight, they have no choice but to believe in each other.
Purchase Sun Warrior at Amazon
Purchase Sun Warrior at IndieBound
View Sun Warrior on Goodreads
* * * *
The Midnight Dance
by Nikki Katz
Hardcover
Swoon Reads
Released 10/17/2017
When the music stops, the dance begins.
Seventeen-year-old Penny is a lead dancer at the Grande Teatro, a finishing school where she and eleven other young women are training to become the finest ballerinas in Italy. Tucked deep into the woods, the school is overseen by the mysterious and handsome young Master who keeps the girls ensconced in the estate – and in the only life Penny has never known.
But when flashes of memories, memories of a life very different from the one she thinks she's been leading, start to appear, Penny begins to question the Grand Teatro and the motivations of the Master. With a kind and attractive kitchen boy, Cricket, at her side, Penny vows to escape the confines of her school and the strict rules that dictate every step she takes. But at every turn, the Master finds a way to stop her, and Penny must find a way to escape the school and uncover the secrets of her past before it's too late.
Purchase The Midnight Dance at Amazon
Purchase The Midnight Dance at IndieBound
View The Midnight Dance on Goodreads