Happy Monday! This week we have a few new releases up for grabs. Make sure to enter to win below, and check out all the other awesome books being released this week!
Happy Reading,
Shelly, Sam, Jocelyn, Martina, Erin, Susan, Kelly, Laura, Emily, Anisaa, and Lori Ann
YA BOOK GIVEAWAYS THIS WEEK
* * * *
Dare Mighty Things
by Heather Kaczynski
Signed Hardcover Giveaway

U.S. Only
HarperTeen
Released 10/10/2017
THE RULES ARE SIMPLE: You must be gifted. You must be younger than twenty-five. You must be willing to accept the dangers that you will face if you win.
Seventeen-year-old Cassandra Gupta's entire life has been leading up to this—the opportunity to travel to space. But to secure a spot on this classified mission, she must first compete against the best and brightest people on the planet. People who are as determined as she to win a place on a journey to the farthest reaches of the universe.
Cassie is ready for the toll that the competition will take; the rigorous mental and physical tests designed to push her to the brink of her endurance. But nothing could have prepared her for the bonds she would form with the very people she hopes to beat. Or that with each passing day it would be more and more difficult to ignore the feeling that the true objective of the mission is being kept from her.
As the days until the launch tick down and the stakes rise higher than ever before, only one thing is clear to Cassie: she'll never back down . . . even if it costs her everything.
Author Question: What is your favorite thing about Dare Mighty Things?
Probably the friendships Cassie makes, almost against her will, with the other competitors. I like that they genuinely bond over shared interests despite competing against each other, which is a bit of the reverse that you usually see in competition stories. And, of course, Cassie's love of space.
Purchase Dare Mighty Things at Amazon
Purchase Dare Mighty Things at IndieBound
View Dare Mighty Things on Goodreads
* * * *
This Darkness Mine
by Mindy McGinnis
Signed Hardcover Giveaway

U.S. Only
Katherine Tegen Books
Released 10/10/2017
Sasha Stone knows her place—first-chair clarinet, top of her class, and at the side of her oxford-wearing boyfriend. She's worked her entire life to ensure that her path to Oberlin Conservatory as a star musician is perfectly paved.
But suddenly there's a fork in the road, in the shape of Isaac Harver. Her body shifts toward him when he walks by, her skin misses his touch even though she's never known it, and she relishes the smell of him—smoke, beer, and trouble—all the things she's avoided to get where she is. Even worse, every time he's near Sasha, her heart stops, literally. Why does he know her so well—too well—and she doesn't know him at all?
Sasha discovers that her by-the-book life began by ending another's: the twin sister she absorbed in the womb. But that doesn't explain the gaps of missing time in her practice schedule or the memories she has of things she certainly never did with Isaac. As Sasha loses her much-cherished control, her life—and heart—become more entangled with Isaac. Armed with the knowledge that her heart might not be hers alone, Sasha must decide what she's willing to do—and who she's willing to hurt—to take it back.
Edgar Award–winning author Mindy McGinnis delivers a dark and gripping psychological thriller about a girl at war with herself, and what it really means to be good or bad.
Author Question: What is your favorite thing about This Darkness Mine?
Even though I've written a girl who is almost feral, and a vigilante justice killer, I think this was my first experience writing a truly unlikable main character. I had a great time writing Sasha - the girl you love to hate. It was fun and freeing in a lot of ways to write someone who is so brutally out for herself.
Purchase This Darkness Mine at Amazon
Purchase This Darkness Mine at IndieBound
View This Darkness Mine on Goodreads
* * * *
The Nowhere Girls
by Amy Reed
Hardcover Giveaway

U.S. Only
Simon Pulse
Released 10/10/2017
Three misfits come together to avenge the rape of a fellow classmate and in the process trigger a change in the misogynist culture at their high school transforming the lives of everyone around them in this searing and timely story.
Who are the Nowhere Girls?
They're everygirl. But they start with just three:
Grace Salter is the new girl in town, whose family was run out of their former community after her southern Baptist preacher mom turned into a radical liberal after falling off a horse and bumping her head.
Rosina Suarez is the queer punk girl in a conservative Mexican immigrant family, who dreams of a life playing music instead of babysitting her gaggle of cousins and waitressing at her uncle's restaurant.
Erin Delillo is obsessed with two things: marine biology and Star Trek: The Next Generation, but they aren't enough to distract her from her suspicion that she may in fact be an android.
When Grace learns that Lucy Moynihan, the former occupant of her new home, was run out of town for having accused the popular guys at school of gang rape, she's incensed that Lucy never had justice. For their own personal reasons, Rosina and Erin feel equally deeply about Lucy's tragedy, so they form an anonymous group of girls at Prescott High to resist the sexist culture at their school, which includes boycotting sex of any kind with the male students.
Told in alternating perspectives, this groundbreaking novel is an indictment of rape culture and explores with bold honesty the deepest questions about teen girls and sexuality.
Author Question: What is your favorite thing about The Nowhere Girls?
I may have a different answer tomorrow, but right now I'd say my favorite thing is the hope and empowerment in THE NOWHERE GIRLS. Like so many, I find myself overwhelmed with the constant bad news these days, and it is easy to slip into the downward spiral of hopelessness and powerlessness. The brave girls in this book remind me that there is so much strength in our solidarity, that our voices and stories are powerful agents of change. I know there are already so many young women around the country like the Nowhere Girls, who are speaking out and educating themselves about social justice, who are standing up for themselves and supporting each other and their communities. It inspires me to keep standing up for what I believe in, and I hope it does the same for you.
Purchase The Nowhere Girls at Amazon
Purchase The Nowhere Girls at IndieBound
View The Nowhere Girls on Goodreads
* * * *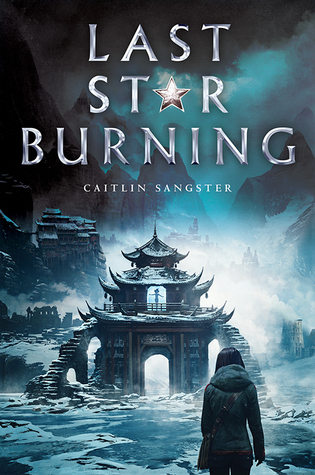 Last Star Burning
by Caitlin Sangster
Hardcover Giveaway

U.S. Only
Simon Pulse
Released 10/10/2017
Sev is branded with the mark of a criminal—a star burned into her hand. That's the penalty for being the daughter of the woman who betrayed their entire nation.
Now her mother's body is displayed above Traitor's Arch, kept in a paralyzed half sleep by the same plague that destroyed the rest of the world. And as further punishment, Sev is forced to do hard labor to prove that she's more valuable alive than dead.
When the government blames Sev for a horrific bombing, she must escape the city or face the chopping block. Unimaginable dangers lurk outside the city walls, and Sev's only hope of survival lies with the most unlikely person—Howl, the chairman's son. Though he promises to lead her to safety, Howl has secrets, and Sev can't help but wonder if he knows more about her past—and her mother's crimes—than he lets on.
But in a hostile world, trust is a luxury. Even when Sev's life and the lives of everyone she loves may hang in the balance.
Purchase Last Star Burning at Amazon
Purchase Last Star Burning at IndieBound
View Last Star Burning on Goodreads
YA BOOK GIVEAWAYS LAST WEEK: WINNERS
Wild Beauty by Anna-Marie McLemore:
Jessica S.
MORE YOUNG ADULT FICTION IN STORES NEXT WEEK WITH AUTHOR INTERVIEWS
* * * *
Gray Wolf Island
by Tracey Neithercott
Hardcover
Knopf Books for Young Readers
Released 10/10/2017
Right before Sadie died, she begged her sister, Ruby, to do the one thing she could never do herself: Find the treasure on Gray Wolf Island.
With just a mysterious treasure map as a guide, Ruby reluctantly allows some friends to join her on the hunt, each of whom is touched by magic: a boy allegedly born to a virgin, a girl who never sleeps, a boy who can foresee his own death, and a boy with deep ties to the island. Each of them is also keeping a secret—something they'll have to reveal in order to reach the treasure.
As the secrets come to light, Ruby will have to decide: Can she make peace with her friends' troubled pasts and continue to trust them? Can she forgive herself for doing the unspeakable? Deep in the wilderness of Gray Wolf Island, Ruby's choices will determine if they make it out with the treasure—or merely with their lives.
From debut author Tracey Neithercott comes a darkly compelling tale of profound friendship, adventure, and finding the strength to tell the truth.
Author Question: What is your favorite thing about Gray Wolf Island?
This book is a collection of my favorite things: the bond between sisters, secrets and lies, romance, magic, adventure, twists, an exploration of morality. But if I had to pick a single favorite, it would be the friendships. This book started with the smallest idea: an intense and life-altering friendship. My main character is a bit antisocial, so to terrorize her I created a group of people intent befriending her. It was so much fun to write her resistance and then slow realization that perhaps she'd been waiting for these friends all along. And, well, I'm going to cheat and mention a second favorite: My second POV character. He has fewer pages than Ruby, the primary protagonist, but Cooper's chapters were so much fun to write. I hope readers connect with and love him as much as I do.
Purchase Gray Wolf Island at Amazon
Purchase Gray Wolf Island at IndieBound
View Gray Wolf Island on Goodreads
* * * *
Sparrow
by Sarah Moon
Hardcover
Arthur A. Levine Books
Released 10/10/2017
Sparrow has always had a difficult time making friends. She would always rather have stayed home on the weekends with her mother, an affluent IT Executive at a Manhattan bank, reading, or watching the birds, than playing with other kids. And that's made school a lonely experience for her. It's made LIFE a lonely experience.
But when the one teacher who really understood her -- Mrs. Wexler, the school librarian, a woman who let her eat her lunch in the library office rather than hide in a bathroom stall, a woman who shared her passion for novels and knew just the ones she'd love -- is killed in a freak car accident, Sparrow's world unravels and she's found on the roof of her school in an apparent suicide attempt.
With the help of an insightful therapist, Sparrow finally reveals the truth of her inner life. And it's here that she discovers an outlet in Rock & Roll music...
Author Question: What is your favorite thing about Sparrow?
This is such a hard question to answer! Because I wrote Sparrow for someone I love, there's a lot that I love about it. Thinking about this question it occurs to me that what I love are her moments of discovery and connection. I love her time in the library with Mrs. Wexler and the Frequent Flyers, I love the first moment that she thinks that Dr. Katz might not be a total idiot, I love when she discovers new music that makes her feel less alone, I love the moment when the band comes together, and when she finally lets herself talk to Ty, and then to Tanasia, Spike and Lara. And, of course, I love it when she plays the bass.
Purchase Sparrow at Amazon
Purchase Sparrow at IndieBound
View Sparrow on Goodreads
* * * *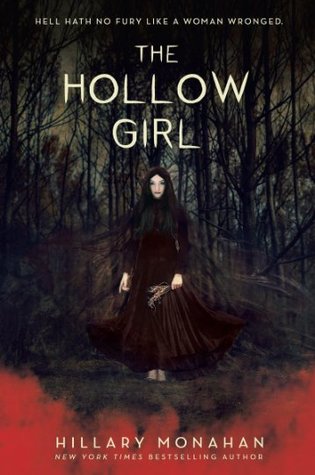 The Hollow Girl
by Hillary Monahan
Hardcover
Delacorte Press
Released 10/10/2017
Five boys attacked her.
Now they must repay her with their blood and flesh.
Bethan is the apprentice to a green healer named Drina in a clan of Welsh Romanies. Her life is happy and ordered and modest, as required by Roma custom, except for one thing: Silas, the son of the chieftain, has been secretly harassing her.
One night, Silas and his friends brutally assault Bethan and a half-Roma friend, Martyn. As empty and hopeless as she feels from the attack, she asks Drina to bring Martyn back from death's door. "There is always a price for this kind of magic," Drina warns. The way to save him is gruesome. Bethan must collect grisly pieces to fuel the spell: an ear, some hair, an eye, a nose, and fingers.
She gives the boys who assaulted her a chance to come forward and apologize. And when they don't, she knows exactly where to collect her ingredients to save Martyn.
Author Question: What is your favorite thing about The Hollow Girl?
My favorite thing about THE HOLLOW GIRL is knowing that this is something, albeit in a roundabout way, that I share with my grandmother. She's passed away, but this is ours. Gram helped raise me--my bio dad wasn't in the picture, and my grandmother was as much a part of my parentage as my mother in many ways. It was three generations of strong personalities, living and loving and growing together as people. Ten years ago, I sat in Gram's basement listening to her talk about the book she wanted to write (she was a professional word slinger, too) about two Romani girls, one displaced from her caravan, one who stayed with the caravan and studied under her sorceress grandmother. I didn't feel equipped, privileged as I am, to write the first story of diaspora and living in a gadje world, but the second I felt I could handle. Incorporating some of our traditions, filling the rest out with dark fantasy? I could do that. I had to be careful because of the gadje trope of the fortune teller, so I decided to confront it head on and embrace it, turning something that's been used to pigeonhole the culture into a mark of strength.

Hopefully the readers find it as compelling to read as I found it to write.
Purchase The Hollow Girl at Amazon
Purchase The Hollow Girl at IndieBound
View The Hollow Girl on Goodreads
MORE YOUNG ADULT NOVELS NEW IN STORES NEXT WEEK
* * * *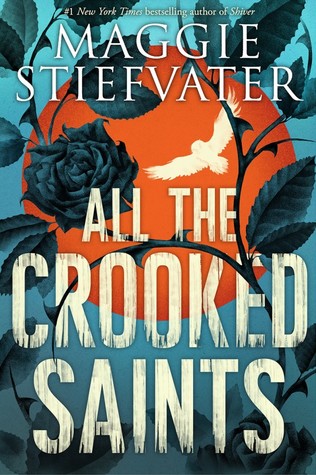 All the Crooked Saints
by Maggie Stiefvater
Hardcover
Scholastic Press
Released 10/10/2017
Here is a thing everyone wants:
A miracle.
Here is a thing everyone fears:
What it takes to get one.
Any visitor to Bicho Raro, Colorado is likely to find a landscape of dark saints, forbidden love, scientific dreams, miracle-mad owls, estranged affections, one or two orphans, and a sky full of watchful desert stars.
At the heart of this place you will find the Soria family, who all have the ability to perform unusual miracles. And at the heart of this family are three cousins longing to change its future: Beatriz, the girl without feelings, who wants only to be free to examine her thoughts; Daniel, the Saint of Bicho Raro, who performs miracles for everyone but himself; and Joaquin, who spends his nights running a renegade radio station under the name Diablo Diablo.
They are all looking for a miracle. But the miracles of Bicho Raro are never quite what you expect.
Maggie Stiefvater has been called "a master storyteller" by USA Today and "wildly imaginative" by Entertainment Weekly. Now, with All the Crooked Saints, she gives us the extraordinary story of an extraordinary family, a masterful tale of love, fear, darkness, and redemption.
Purchase All the Crooked Saints at Amazon
Purchase All the Crooked Saints at IndieBound
View All the Crooked Saints on Goodreads
* * * *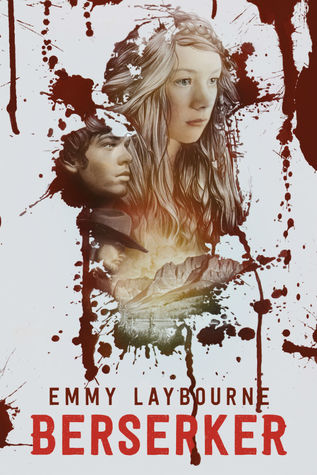 Berserker
by Emmy Laybourne
Hardcover
Feiwel & Friends
Released 10/10/2017
Are Hanne's powers a gift from the old Norse gods, or a curse?
Her brother Stieg swears their powers are a gift from the old gods, but Hanne Hemstad knows she is truly cursed. It's not Stieg's fault that their father is dead, their mother has left, and their brother Knut has been accused of a crime he didn't commit.
No, the fault lies with Hanne and her inability to control her murderous "gift"--she is a Berserker. When someone she loves is threatened, she flies into a killing state. The siblings must leave Norway for the American frontier or risk being brought to justice.
Aided by a young cowboy who agrees to be their guide, Hanne and her siblings use their powers to survive the perilous trail, where blizzards, wild animals, and vicious bounty hunters await.
Will they be able to reach their uncle, the one man Hanne believes may be able to teach her how to control her drive to kill? With Berserker, Emmy Laybourne, the author of Monument 14, presents her vision of an American west studded with Viking glory.
Purchase Berserker at Amazon
Purchase Berserker at IndieBound
View Berserker on Goodreads
* * * *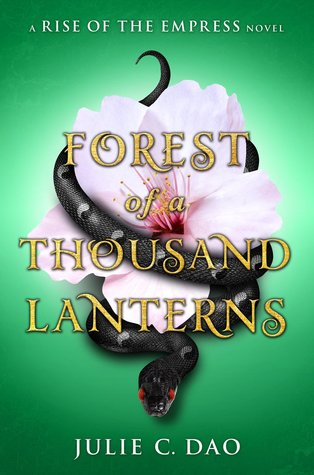 Forest of a Thousand Lanterns
by Julie C. Dao
Hardcover
Philomel Books
Released 10/10/2017
An East Asian fantasy reimagining of The Evil Queen legend about one peasant girl's quest to become Empress--and the darkness she must unleash to achieve her destiny.
Eighteen-year-old Xifeng is beautiful. The stars say she is destined for greatness, that she is meant to be Empress of Feng Lu. But only if she embraces the darkness within her. Growing up as a peasant in a forgotten village on the edge of the map, Xifeng longs to fulfill the destiny promised to her by her cruel aunt, the witch Guma, who has read the cards and seen glimmers of Xifeng's majestic future. But is the price of the throne too high?
Because in order to achieve greatness, she must spurn the young man who loves her and exploit the callous magic that runs through her veins--sorcery fueled by eating the hearts of the recently killed. For the god who has sent her on this journey will not be satisfied until his power is absolute.
Purchase Forest of a Thousand Lanterns at Amazon
Purchase Forest of a Thousand Lanterns at IndieBound
View Forest of a Thousand Lanterns on Goodreads
* * * *
I Capture the Castle: Young Adult Edition
by Dodie Smith
Hardcover
Wednesday Books
Released 10/10/2017
A Wednesday Books reissue of one of the century's most beloved novels, I Capture the Castle by Dodie Smith, with a foreword by New York Times bestselling author, Jenny Han.
Seventeen-year-old Cassandra Mortmain and her family live in not-so-genteel poverty in a ramshackle old English castle. Here she strives, over six turbulent months, to hone her writing skills. She fills three notebooks with sharply funny yet poignant entries. Her journals candidly chronicle the great changes that take place within the castle's walls, and her own first descent into love. By the time she pens her final entry, she has "captured the castle" –and the heart of the reader- in one of literature's most enchanting entertainments.
Purchase I Capture the Castle: Young Adult Edition at Amazon
Purchase I Capture the Castle: Young Adult Edition at IndieBound
View I Capture the Castle: Young Adult Edition on Goodreads
* * * *
Into the Bright Unknown
by Rae Carson
Hardcover
Greenwillow Books
Released 10/10/2017
The stunning conclusion to Rae Carson's New York Times–bestselling Gold Seer trilogy, which Publishers Weekly in a starred review called "Simply terrific." A historical fantasy brimming with magic, romance, and adventure—perfect for fans of Leigh Bardugo, Sarah Maas, and Westworld.
Leah Westfall, her fiancé Jefferson, and her friends have become rich in the California Territory, thanks to Lee's magical ability to sense precious gold. But their fortune has made them a target, and when a dangerous billionaire sets out to destroy them, Lee and her friends decide they've had enough—they will fight back with all their power and talents. Lee's magic is continuing to strengthen and grow, but someone is on to her—someone who might have a bit of magic herself. The stakes are higher than ever as Lee and her friends hatch a daring scheme that could alter the California landscape forever. With a distinctive young heroine and a unique interpretation of American history, Into the Bright Unknown strikes a rich vein of romance, magic, and adventure, bringing the Gold Seer Trilogy to its epic conclusion. Includes a map and an author's note.
Purchase Into the Bright Unknown at Amazon
Purchase Into the Bright Unknown at IndieBound
View Into the Bright Unknown on Goodreads
* * * *
The Breathless
by Tara Goedjen
Hardcover
Delacorte Press
Released 10/10/2017
No one knows what really happened on the beach where Roxanne Cole's body was found, but her boyfriend, Cage, took off that night and hasn't been seen since. Until now. One year—almost to the day—from Ro's death, when he knocks on the door of Blue Gate Manor and asks where she is.
Cage has no memory of the past twelve months. According to him, Ro was alive only the day before. Ro's sister Mae wouldn't believe him, except that something's not right. Nothing's been right in the house since Ro died.
And then Mae finds the little green book. The one hidden in Ro's room. It's filled with secrets—dangerous secrets—about her family, and about Ro. And if what it says is true, then maybe, just maybe, Ro isn't lost forever.
And maybe there are secrets better left to the dead.
Purchase The Breathless at Amazon
Purchase The Breathless at IndieBound
View The Breathless on Goodreads
* * * *
The Knowing
by Sharon Cameron
Hardcover
Scholastic Press
Released 10/10/2017
Samara doesn't forget. And she isn't the only one. Safe underground in the city of New Canaan, she lives in a privileged world free from the Forgetting. Yet she wonders if she really is free, with the memories that plague her and secrets that surround her. Samara is determined to unearth the answers, even if she must escape to the old, cursed city of Canaan to find them.
Someone else is on their way to Canaan too . . . a spaceship from Earth is heading toward the planet, like a figment of the city's forgotten past. Beck is traveling with his parents, researchers tasked with finding the abandoned settlement effort. When Beck is stranded without communication, he will find more in Canaan than he was ever trained for. What will happen when worlds and memories, beliefs -- and truths -- collide?
Purchase The Knowing at Amazon
Purchase The Knowing at IndieBound
View The Knowing on Goodreads
* * * *
The Librarian of Auschwitz
by Antonio Iturbe
Hardcover
Henry Holt and Co
Released 10/10/2017
Based on the experience of real-life Auschwitz prisoner Dita Kraus, this is the incredible story of a girl who risked her life to keep the magic of books alive during the Holocaust.
Fourteen-year-old Dita is one of the many imprisoned by the Nazis at Auschwitz. Taken, along with her mother and father, from the Terezín ghetto in Prague, Dita is adjusting to the constant terror that is life in the camp. When Jewish leader Freddy Hirsch asks Dita to take charge of the eight precious volumes the prisoners have managed to sneak past the guards, she agrees. And so Dita becomes the librarian of Auschwitz.
Out of one of the darkest chapters of human history comes this extraordinary story of courage and hope.
Purchase The Librarian of Auschwitz at Amazon
Purchase The Librarian of Auschwitz at IndieBound
View The Librarian of Auschwitz on Goodreads
* * * *
The Memory Trees
by Kali Wallace
Hardcover
Katherine Tegen Books
Released 10/10/2017
The Memory Trees is a dark magical realism novel about a mysterious family legacy, a centuries-old feud, and a tragic loss that resurfaces when sixteen-year-old Sorrow returns to her mother's family orchard for the summer.
Sorrow Lovegood's life has been shaped by the stories of the women who came before her: brave, resilient women who settled long ago on a mercurial apple orchard in Vermont. The land has been passed down through generations, and Sorrow and her family take pride in its strange history. Their offbeat habits may be ridiculed by other townspeople—especially their neighbors, the Abrams family—but for the first eight years of her life, the orchard is Sorrow's whole world.
Then one winter night everything changes. Sorrow's sister Patience is tragically killed. Their mother suffers a mental breakdown. Sorrow is sent to live with her dad in Miami, away from the only home she's ever known.
Now sixteen, Sorrow's memories of her life in Vermont are maddeningly hazy; even the details of her sister's death are unclear. She returns to the orchard for the summer, determined to learn more about her troubled childhood and the family she left eight years ago. Why has her mother kept her distance over the years? What actually happened the night Patience died? Is the orchard trying to tell her something, or is she just imagining things?
Purchase The Memory Trees at Amazon
Purchase The Memory Trees at IndieBound
View The Memory Trees on Goodreads
* * * *
Tool of War
by Paolo Bacigalupi
Hardcover
Little, Brown Books for Young Readers
Released 10/10/2017
This third book in a major series by a bestselling science fiction author, Printz Award winner, and National Book Award finalist is the gripping story of the most provocative character from his acclaimed novels Ship Breaker and The Drowned Cities.
Tool, a half-man/half-beast designed for combat, is capable of so much more than his creators had ever dreamed. He has gone rogue from his pack of bioengineered "augments" and emerged a victorious leader of a pack of human soldier boys. But he is hunted relentlessly by someone determined to destroy him, who knows an alarming secret: Tool has found the way to resist his genetically ingrained impulses of submission and loyalty toward his masters... The time is coming when Tool will embark on an all-out war against those who have enslaved him. From one of science fiction's undisputed masters comes a riveting page-turner that pulls no punches.
Purchase Tool of War at Amazon
Purchase Tool of War at IndieBound
View Tool of War on Goodreads
* * * *
Turtles All the Way Down
by John Green
Hardcover
Dutton Books for Young Readers
Released 10/10/2017
It all begins with a fugitive billionaire and the promise of a cash reward.
Turtles All the Way Down is about lifelong friendship, the intimacy of an unexpected reunion, Star Wars fan fiction, and tuatara. But at its heart is Aza Holmes, a young woman navigating daily existence within the ever-tightening spiral of her own thoughts.
In his long-awaited return, John Green shares Aza's story with shattering, unflinching clarity.
Purchase Turtles All the Way Down at Amazon
Purchase Turtles All the Way Down at IndieBound
View Turtles All the Way Down on Goodreads
* * * *
Vanilla
by Billy Merrell
Hardcover
Push
Released 10/10/2017
Vanilla and Hunter have been dating since seventh grade.
They came out together,
navigated middle school together,
and became that couple in high school
that everyone always sees as a couple.
There are complications and confusions, for sure.
But most of all,
they love each other.
As high school goes, though,
and as their relationship deepens,
some cracks begin to show.
Hunter thinks they should be having sex.
Vanilla isn't so sure.
Hunter doesn't mind hanging out with loud, obnoxious friends.
Vanilla would rather avoid them.
If they're becoming different people,
can they be the same couple?
Falling in love is hard.
Staying in love is harder.
Purchase Vanilla at Amazon
Purchase Vanilla at IndieBound
View Vanilla on Goodreads