We're delighted to have Moïra Fowley-Doyle with us to chat about her latest novel, SPELLBOOK OF THE LOST AND FOUND.

Moïra, what was your inspiration for writing SPELLBOOK OF THE LOST AND FOUND?

I wanted to write something about the things we lose, the things we find and the things we hold on to, but beyond that, the bulk of it came out as I wrote. I don't tend to plot or plan - I just gather a small collection of thoughts and ideas, snippets and snapshots that I'd like to include, and when I sit down to write I start to connect them. When I wrote the first draft of Spellbook I had poteen and patron saints, wishing trees and summer storms, tattoos and rusty keys and an old spellbook. I had a list of things that you can lose, from hair clips to loved ones. And I had my characters. After that, the story built itself around them.

What scene was really hard for you to write and why, and is that the one of which you are most proud? Or is there another scene you particularly love?

Some of my favourite scenes in Spellbook are the simplest - the quiet moments we get to spend with Olive's family. I loved writing their warmth and humour - it felt very comfortable because my family has a similar dynamic in many ways. (And we are very fond of dad jokes.) The most difficult scene to write was when the spell is cast. Those chapters were some of the most reworked - they changed pace and they changed focus, they were spaced out and then brought back together. They even changed narrator. There's often something very tricky about the scene at the crux of the action and it took a while for me to get the balance right between showing what each character wanted to find and stood to lose, and with creating momentum and tension. But it's one of my favourites to read back, now.

What book or books would most resonate with readers who love your book--or visa versa?

If you like dark and dreamy magic realism, or stories in which fantasy and reality are a little bit tangled, I'll always recommend Practical Magic by Alice Hoffman, the Weetzie Bat books by Francesca Lia Block, Human Croquet by Kate Atkinson, Lighthousekeeping by Jeanette Winterson, All Our Pretty Songs by Sarah McCarry, Imaginary Girls by Nova Ren Suma, Glory O'Brien's History of the Future by A.S. King, White is for Witching by Helen Oyeyemi, A Song for Ella Grey by David Almond, The Ocean at the End of the Lane by Neil Gaiman and We Were Liars by E. Lockheart.

How long did you work on SPELLBOOK OF THE LOST AND FOUND?

I had to go and look through my drafts to answer this because it felt like forever but I didn't have any idea how long it actually was. Apparently I started writing the first draft in January 2015 and sent it to my editors in October. After four more drafts I submitted the final version (before copyedits) just over a year later, in December 2016. So almost two years from start to finish, and two and a half from first words to publication.

What did this book teach you about writing or about yourself?

It taught me that you don't always fall in love with your book at once. That even with a rough start you can make something beautiful. And it taught me that that something might just end up being your favourite thing you ever wrote.

What do you hope readers will take away from SPELLBOOK OF THE LOST AND FOUND?

I hope it makes them consider what they have lost, what they've found and what they don't want to leave behind. I hope it gives them a sense of the blurriness of their own reality. I hope it gives them strange dreams. I hope it makes them maybe believe a little bit in magic. And I guess that, like every author does, I hope that they love it in the same way that I love my favourite books: with that small blue spark of recognition. With connection. With underlined passages and notes in the margins. With the thought that this book might just have been written specifically for them.

Was there an AHA! moment along your road to publication where something suddenly sank in and you felt you had the key to writing a novel? What was it?

I don't think I've ever felt for sure that I have the key to writing a novel. Every time I start I go in blind and I never know until it's finished how it's going to end or if I'm going to be able to pull off writing another book. So much of writing is about trusting in the magic. I just know that every time, at some point, something clicks and I think, "Oh yes. I have a good feeling about this one."

What's your writing ritual like? Do you listen to music? Work at home or at a coffee shop or the library, etc?

I work at home when my children are at school. Generally I prefer calm and quiet, especially for the first few drafts, although if I'm finding revisions tricky I'll listen to a playlist I've made of songs that remind me of the mood of the book. (I have them up on my website if you're interested in dreamy indie folk music!)

What advice would you most like to pass along to other writers?

The first draft is just you telling the story to yourself. It can be messy, it can be rubbish, it can be in rags and tatters but once it exists that's enough. Everything else can happen in the edits.

What are you working on now?

I'm at the very early first-draft stage of a book about a teenage girl, a family, a bull, three old witches and the sea, but because these are just the snippets I've started with all I can really tell is that it'll be another magic realism stand-alone set in Ireland. And that it will probably come out tangled. And that it might be just a little bit weird.


ABOUT THE BOOK
Spellbook of the Lost and Found
by Moïra Fowley-Doyle
Hardcover
Kathy Dawson Books
Released 8/8/2017
The highly anticipated new book from the acclaimed author of The Accident Season is a gorgeous, twisty story about things gone missing, things returned from the past, and a group of teenagers, connected in ways they could never have imagined.
One stormy Irish summer night, Olive and her best friend, Rose, begin to lose things. It starts with simple items like hairclips and jewelry, but soon it's clear that Rose has lost something much bigger, something she won't talk about, and Olive thinks her best friend is slipping away.
Then seductive diary pages written by a girl named Laurel begin to appear all over town. And Olive meets three mysterious strangers: Ivy, Hazel, and her twin brother, Rowan, secretly squatting in an abandoned housing estate. The trio are wild and alluring, but they seem lost too—and like Rose, they're holding tight to painful secrets.
When they discover the spellbook, it changes everything. Damp, tattered and ancient, it's full of hand-inked charms to conjure back things that have been lost. And it just might be their chance to find what they each need to set everything back to rights.
Unless it's leading them toward things that were never meant to be found...
Purchase Spellbook of the Lost and Found at Amazon
Purchase Spellbook of the Lost and Found at IndieBound
View Spellbook of the Lost and Found on Goodreads
ABOUT THE AUTHOR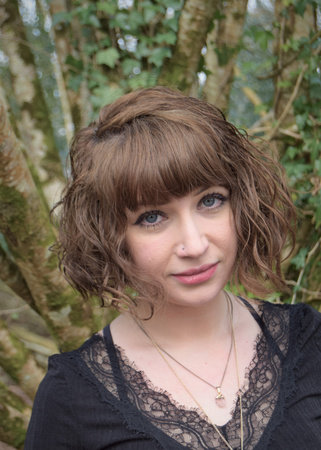 Moïra Fowley-Doyle is half-French, half-Irish and lives in Dublin with her husband, their young daughters, and their old cat. Moïra's French half likes red wine and dark books in which everybody dies. Her Irish half likes tea and happy endings. Moïra started a PhD on vampires in young adult fiction before concentrating on writing young adult fiction with no vampires in it whatsoever. She wrote her first novel at the age of eight, when she was told that if she wrote a story about spiders she wouldn't be afraid of them anymore. Moïra is still afraid of spiders, but has never stopped writing stories. She is the author of
The Accident Season
and
Spellbook of the Lost and Found
.
---
Have you had a chance to read SPELLBOOK OF THE LOST AND FOUND yet? Do you fall in love with your book all at once or in stages? Are you able to trust in the writing magic? Share your thoughts about the interview in the comments!
Happy reading,
Emily, Jocelyn, Anisaa, Sam, Martina, Erin, Susan, Shelly, Kelly, Laura, and Lori Ann