Happy Reading,
Shelly, Sam, Jocelyn, Martina, Erin, Susan, Michelle, Laura, Anisaa, and Kristin
YA BOOK GIVEAWAYS THIS WEEK
* * * *
Avenged
by Lynn Carthage
Paperback Giveaway

U.S. Only
Kensington
Released 2/28/2017
Long ago I was a servant girl at the great manor house in the quiet English village of Grenshire. My mistress, Madame Arnaud, proved cruel, and many died at her hands. To stop her, I tried to kill her.
I failed. And I lost everything.
But that was then. Now, Phoebe Irving's family has moved into the Arnaud Manor. Phoebe, her friend Miles, and I crossed paths and discovered a powerful connection. Together we might be strong enough to untangle an ancient prophecy hanging over this troubled place where old, deep magic mingles with greed and revenge. We might save Phoebe's baby sister and other innocents. We might even save ourselves.
Author Question: What is your favorite thing about Avenged?
Throughout the Arnaud Legacy series, the main characters have wondered what their mission is--what they must accomplish to "graduate" and move on. In Avenged, they receive an answer, and that's my favorite thing about the novel, that the characters finally piece things together and achieve understanding. It's not easy as an author to carry forward a question like this across three books, and it's satisfying to be able to see the characters get a sort of reward for their travails.

The other thing I'd consider a favorite is that we finally get to hear from Eleanor Darrow. Each book in the series is narrated by a different member of the trio, and I have a special fondness for the Victorian maid Eleanor. It was fun to write a little more of her back story and reveal why she is who she is. She may have been merely a maid, but her heritage is one of great power.
Purchase Avenged at Amazon
Purchase Avenged at IndieBound
View Avenged on Goodreads
* * * *
The Beast Is an Animal
by Peternelle van Arsdale
Hardcover Giveaway

U.S. Only
Margaret K. McElderry Books
Released 2/28/2017
A girl with a secret talent must save her village from the encroaching darkness in this haunting and deeply satisfying tale.
Alys was seven when the soul eaters came to her village--twin sisters who were abandoned by their father and slowly morphed into something not quite human. Alys, and all the other children, were spared the devouring—and were sent to live in a neighboring village. There, the devout people created a strict world where good and evil are as fundamental as the nursery rhymes children sing. Fear of the soul eaters—and of the Beast they believe guides them—rule village life. But the Beast is not what they think it is. And neither is Alys.
Inside, Alys feels connected to the soul eaters, and maybe even to the Beast itself. As she grows from a child to a teenager, she longs for the freedom of the forest. And she has a gift she can tell no one, for fear they will call her a witch.
When disaster strikes, Alys finds herself on a journey to heal herself and her world. A journey that will take her through the darkest parts of the forest, where danger threatens her from the outside—and from within her own heart and soul.
Author Question: What is your favorite thing about The Beast Is an Animal?
Its depiction of moral ambiguity. It was important to me that the novel accurately show how hard it is to be simultaneously true to oneself, to protect oneself, to protect others, and to be "good" by any strict, black-and-white definition of the word. One of the greatest struggles I had as an adolescent and young adult—and if I'm honest, even now—was to accept the conflicts and imperfections within myself as part of an embraceable whole.
Purchase The Beast Is an Animal at Amazon
Purchase The Beast Is an Animal at IndieBound
View The Beast Is an Animal on Goodreads
YA BOOK GIVEAWAYS LAST WEEK: WINNERS
* * * *
Beautiful Broken Girls by Kim Savage:
Amanda D.
Optimists Die First by Susin Nielsen:
Molly M.
The Dragon's Price by Bethany Wiggins:
Alisha S.
MORE YOUNG ADULT FICTION IN STORES NEXT WEEK WITH AUTHOR INTERVIEWS
* * * *
10 Things I Can See From Here
by Carrie Mac
Hardcover
Knopf Books for Young Readers
Released 2/28/2017
Perfect for fans of Finding Audrey and Everything, Everything, this is the poignant and uplifting story of Maeve, who is dealing with anxiety while falling in love with a girl who is not afraid of anything.
Think positive.
Don't worry; be happy.
Keep calm and carry on.
Maeve has heard it all before. She's been struggling with severe anxiety for a long time, and as much as she wishes it was something she could just talk herself out of, it's not. She constantly imagines the worst, composes obituaries in her head, and is always ready for things to fall apart. To add to her troubles, her mom—the only one who really gets what Maeve goes through—is leaving for six months, so Maeve will be sent to live with her dad in Vancouver.
Vancouver brings a slew of new worries, but Maeve finds brief moments of calm (as well as even more worries) with Salix, a local girl who doesn't seem to worry about anything. Between her dad's wavering sobriety, her very pregnant stepmom insisting on a home birth, and her bumbling courtship with Salix, this summer brings more catastrophes than even Maeve could have foreseen. Will she be able to navigate through all the chaos to be there for the people she loves?
Author Question: What is your favorite thing about 10 Things I Can See From Here?
I love Maeve's family.

In early drafts her family wasn't as fully realized as it is now. Her mom was less present, and her stepmom wasn't particularly nice, and her dad was simply a mess. The twins, however, have always been a delight to write. I'd be happy to write an entire middle grade series based on those kids.

As early drafts thickened out and the characters took on more shape, the family started to come to life. With feedback from my teen beta readers, Maeve's parents and siblings and grandma and Dan (let's call him chosen family) became more colorful and intricately drawn. Lastly, when my agent and then editor read it and I worked in their feedback, everyone was fully present and accounted for.

I'm so glad that Maeve has exactly the family that she does. It's far from perfect—which we can all relate to—but it's full of big love, which shores Maeve up at times when she's struggling, even if it's her family that she's struggling with. Being in a loving family is not the same thing as having no troubles with your family. We all get into it with members of our family at times, but if you know that they love you—truly unconditionally—it makes being honest and vulnerable much easier. Get through the hard times and the prize is being tighter and the love being even bigger still.

Maeve is so lucky when it comes to her family. So many queer kids don't have that same kind of support. And neither do kids dealing with mental health issues, or hard stuff like addiction in the family. I envy Maeve her family, even while it was so awesome to write it for her.

I gave the family an apartment near my house, between the park and the library. I walk by there almost every day, and one of my best friends lives in the building, so I'm in the complex often, and every single time I think of Maeve and her family and wish I could drop by and see how they're doing.

It's okay that I can't, though, because I know that they are doing just fine.

Better than fine.
Purchase 10 Things I Can See From Here at Amazon
Purchase 10 Things I Can See From Here at IndieBound
View 10 Things I Can See From Here on Goodreads
* * * *
Daughter of the Pirate King
by Tricia Levenseller
Hardcover
Feiwel & Friends
Released 2/28/2017
A 17-year-old pirate captain intentionally allows herself to get captured by enemy pirates in this thrilling YA adventure.
If you want something done right . . .
When the ruthless pirate king learns of a legendary treasure map hidden on an enemy ship, his daughter, Alosa, knows there's only one pirate for the job—herself. Leaving behind her beloved ship and crew, Alosa deliberately facilitates her own kidnapping to ensure her passage on the ship, confident in her ability to overcome any obstacle. After all, who's going to suspect a seventeen-year-old girl locked in a cell?
Then she meets the (surprisingly perceptive and unfairly attractive) first mate, Riden, who is charged with finding out all her secrets. Now it's down to a battle of wits and will . . . . Can Alosa find the map and escape before Riden figures out her plan?
Debut author Tricia Levenseller blends action, adventure, romance, and a little bit of magic into a thrilling YA pirate tale.
Author Question: What is your favorite thing about Daughter of the Pirate King?
I had so much fun writing the romance in this book. In some ways, I think it's even more prominent than the plot. Writing romantic banter is my favorite, and DAUGHTER OF THE PIRATE KING is full of it. The dynamics between captor and captive were so fun to write, especially when I had a captive who gets herself kidnapped on purpose and a captor who tries to seem fierce when really he isn't comfortable with keeping a woman against her will—he's only following orders. Alosa and Riden are both acting for the other's benefit. They get under each other's skin and are impressed when the other outsmarts them. I loved writing this dynamic. I think it really moves the rest of the book along.
Purchase Daughter of the Pirate King at Amazon
Purchase Daughter of the Pirate King at IndieBound
View Daughter of the Pirate King on Goodreads
* * * *
Lifeblood
by Gena Showalter
Hardcover
Harlequin Teen
Released 2/28/2017
My Firstlife is over, but my Everlife is only now beginning.
With her last living breath, Tenley "Ten" Lockwood made her choice and picked her realm in the Everlife. Now, as the war between Troika and Myriad rages, she must face the consequences.
Because Ten possesses a rare supernatural ability to absorb and share light, the Powers That Be have the highest expectations for her future and the enemy wants her neutralized. Fighting to save her Secondlife, she must learn about her realm from the ground up while launching her first mission: convincing a select group of humans to join her side before they die. No pressure, right?
But Ten's competition is Killian, the boy she can't forget the one who gave up everything for her happiness. He has only one shot at redemption: beating Ten at a game she's never even played. As their throw-downs heat up, so do their undeniable feelings, and soon, Ten will have to make another choice. Love or victory.
Author Question: What is your favorite thing about Lifeblood?
At the very beginning of LIFEBLOOD, there's a passage that reads: "My Firstlife is over, but my Everlife is now beginning. My Light will shine… The shadows will scatter…and every life will matter… It's time to do what I was born to do. It's time to rise and shine. Whatever I face—be it war, persecution, hunger, simple threats or my Second-death—I will not be deterred. Night will be replaced by day, and those who cry in the dark will rejoice in the morning. The day is about to dawn. Time is short. Let the battle begin."

For me, that passage set the tone of the entire book. I couldn't wait to see Ten rise and shine, to grow into the girl—the warrior—I knew she could be. In FIRSTLIFE, she has to make a future-altering decision. In LIFEBLOOD, she faces the consequences of her decision. She suffers great tribulation, but through it, she discovers a strength she never knew she had.

But also my favorite thing—Killian. Dang, I love that boy. He's sexy and alpha and smart and sexy—did I mention sexy? He's deliciously cunning, and an absolute horrible enemy to have. On the flip side, he's a great friend to have. When he's devoted, he's devoted. He is Ten's greatest competition for winning souls...but maybe more? Writing him—and not knowing if he loved her or if he was playing her—was beyond exciting!
Purchase Lifeblood at Amazon
Purchase Lifeblood at IndieBound
View Lifeblood on Goodreads
MORE YOUNG ADULT NOVELS NEW IN STORES NEXT WEEK
* * * *
A Good Idea
by Cristina Moracho
Hardcover
Viking Books for Young Readers
Released 2/28/2017
Can the right kind of boy get away with killing the wrong kind of girl?
Fin and Betty's close friendship survived Fin's ninth-grade move from their coastal Maine town to Manhattan. Calls, letters, and summer visits continued to bind them together, and in the fall of their senior year, they both applied to NYU, planning to reunite for good as roommates.
Then Betty disappears. Her ex-boyfriend Calder admits to drowning her, but his confession is thrown out, and soon the entire town believes he was coerced and Betty has simply run away. Fin knows the truth, and she returns to Williston for one final summer, determined to get justice for her friend, even if it means putting her loved ones—and herself—at risk.
But Williston is a town full of secrets, where a delicate framework holds everything together, and Fin is not the only one with an agenda. How much is she willing to damage to get her revenge and learn the truth about Betty's disappearance, which is more complicated than she ever imagined—and infinitely more devastating?
Purchase A Good Idea at Amazon
Purchase A Good Idea at IndieBound
View A Good Idea on Goodreads
* * * *
A Lie for a Lie
by Robin Merrow MacCready
Hardcover
Henry Holt and Co.
Released 2/28/2017
A gripping YA mystery about seventeen-year-old Kendra, an amateur photographer who discovers her father is leading a double life.
Kendra Sullivan loves taking pictures. But when a photograph reveals that her father is leading a double life, she sets out to investigate the situation. Before long, Kendra discovers her father's second family, which he has hidden for years.
Kendra's knowledge soon turns into power; she is torn between exposing her father and destroying her family as she's known it, or looking deeper than the truth and suffering of that outcome. This emotionally charged mystery pushes the boundaries between truth and deception, and the consequences one faces when dealing with life-changing information.
Purchase A Lie for a Lie at Amazon
Purchase A Lie for a Lie at IndieBound
View A Lie for a Lie on Goodreads
* * * *
Freedom's Slave
by Heather Demetrios
Hardcover
Balzer + Bray
Released 2/28/2017
An Empress Fighting for Her Crown.
After three long years in exile, Nalia is ready to return to her homeland and sit on the throne that is rightfully hers. But the gods might have other plans. Forced to endure untold horrors on the journey to Arjinna, Nalia learns that it will take more than cutting down the tyrant Calar to get her crown.
An Army Fighting to Survive.
Raif's return to Arjinna as the commander of the revolution against Calar and her army isn't as smooth as he'd hoped. Though he has more soldiers than ever before, his love for Nalia is losing him the trust of his comrades...and the war. But little does the resistance know that insurrection is brewing among Calar's own ranks—and from the one person she trusts the most.
A Land Worth Fighting for.
Arjinna is dying—Calar's evil experiments with dark magic and the strength of her own psychic powers threaten to destroy the land of the jinn. Is Nalia and Raif's enduring love enough to transform and rescue their homeland? Will they be willing to save the realm, no matter the cost?
Purchase Freedom's Slave at Amazon
Purchase Freedom's Slave at IndieBound
View Freedom's Slave on Goodreads
* * * *
Frogkisser!
by Garth Nix
Hardcover
Scholastic Press
Released 2/28/2017
The Last Thing She Needs Is a Prince.
The First Thing She Needs Is Some Magic.
Poor Princess Anya. Forced to live with her evil stepmother's new husband, her evil stepstepfather. Plagued with an unfortunate ability to break curses with a magic-assisted kiss. And forced to go on the run when her stepstepfather decides to make the kingdom entirely his own.
Aided by a loyal talking dog, a boy thief trapped in the body of a newt, and some extraordinarily mischievous wizards, Anya sets off on a Quest that, if she plays it right, will ultimately free her land-and teach her a thing or two about the use of power, the effectiveness of a well-placed pucker, and the finding of friends in places both high and low.
With Frogkisser!, acclaimed bestselling author Garth Nix has conjured a fantastical tale for all ages, full of laughs and danger, surprises and delights, and an immense population of frogs. It's 50% fairy tale, 50% fantasy, and 100% pure enjoyment from start to finish.
Purchase Frogkisser! at Amazon
Purchase Frogkisser! at IndieBound
View Frogkisser! on Goodreads
* * * *
Heels, Heartache & Headlines
by Ni-Ni Simone
Paperback
Kensington
Released 2/28/2017
It s a showdown for the spotlight as Hollywood's elite Pampered Princesses scramble to outshine each other for the ultimate crown. But being on top is never what it seems.
Heartbroken and humiliated, teen supermodel London Phillips is done with her pity party and ready to move on. But between the mean-spirited media, a shocking realization about her billionaire ex, and a vengeful obsession, London's discovering that while confessions are good for the soul, deception is so much sweeter.
When it comes to juggling her cuties, Rich Montgomery is the queen. But now she's fallen for a bad boy who comes with more drama than she ever did and her fairytale love affair soon turns into a nightmare. Will she find a way out, or will pride get the best of her?
Spencer Ellington could teach an advanced class in revenge. So when she's shunned by her frenemy, Heather Cummings, "again," backstabbed by her bestie, Rich, and sucked into her parents' sordid antics, she's ready to roll up her designer sleeves and pull out all the stops. After all, frenemies fight. Divas wage war.
Purchase Heels, Heartache & Headlines at Amazon
Purchase Heels, Heartache & Headlines at IndieBound
View Heels, Heartache & Headlines on Goodreads
* * * *
One Blood Ruby
by Melissa Marr
Hardcover
HarperCollins
Released 2/28/2017
Now that Lilywhite Abernathy is the heir to the Hidden Lands, everything is about to change.
The Queen of Blood and Rage wants Lily to help broker peace with the human world, but Lily knows that harmony won't come easily. After decades of waging war on the humans, who cost the queen her firstborn daughter, the fae are struggling to accept Lily, a half-human monarch. And the humans, while no match against faery affinities, will hardly agree to the queen's détente without resistance.
Lily wants to be a fair ruler but fears having to abandon the life she's known to do so. Now that she and Creed are more than just fellow Black Diamonds—operatives for the queen—her priorities have shifted. But her worries about assuming the throne are derailed when it becomes clear that someone—or some fae—is masterminding violent attacks to discourage peace.
In this gripping follow-up to Melissa Marr's lush Seven Black Diamonds, Lily and her friends are forced to reckon with the truth of their own parentage and to protect one of their own, no matter what—or who—comes between them.
Purchase One Blood Ruby at Amazon
Purchase One Blood Ruby at IndieBound
View One Blood Ruby on Goodreads
* * * *
Sad Perfect
by Stephanie Elliot
Hardcover
Farrar, Straus and Giroux
Released 2/28/2017
The story of a teen girl's struggle with Avoidant/Restrictive Food Intake Disorder and how love helps her on the road to recovery.
Sixteen-year-old Pea looks normal, but she has a secret: she has Avoidant/Restrictive Food Intake Disorder (ARFID). It is like having a monster inside of her, one that not only dictates what she can eat, but also causes anxiety, depression, and thoughts that she doesn't want to have. When she falls crazy-mad in love with Ben, she hides her disorder from him, pretending that she's fine.
At first, everything really does feel like it's getting better with him around, so she stops taking her anxiety and depression medication. And that's when the monster really takes over her life. Just as everything seems lost and hopeless, Pea finds in her family, and in Ben, the support and strength she needs to learn that her eating disorder doesn't have to control her.
Purchase Sad Perfect at Amazon
Purchase Sad Perfect at IndieBound
View Sad Perfect on Goodreads
* * * *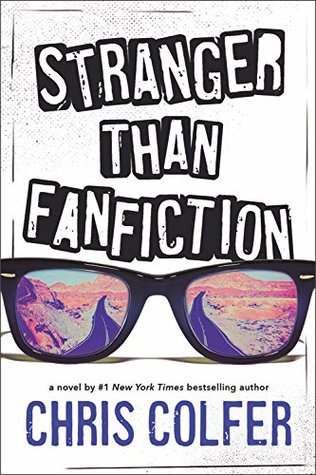 Stranger Than Fanfiction
by Chris Colfer
Hardcover
Little, Brown Books for Young
Released 2/28/2017
Cash Carter is the young, world famous lead actor of the hit television Wiz Kids. When four fans jokingly invite him on a cross-country road trip, they are shocked that he actually takes them up on it. Chased by paparazzi and hounded by reporters, this unlikely crew takes off on a journey of a lifetime--but along the way they discover that the star they love has deep secrets he's been keeping. What they come to learn about the life of the mysterious person they thought they knew will teach them about the power of empathy and the unbreakable bond of true friendship.
Purchase Stranger Than Fanfiction at Amazon
Purchase Stranger Than Fanfiction at IndieBound
View Stranger Than Fanfiction on Goodreads
* * * *
The Free
by Lauren McLaughlin
Hardcover
Soho Teen
Released 2/28/2017
In the beginning, Isaac West stole to give his younger sister Janelle little things: a new sweater, a scarf, just so she looked less like a charity case whose mother spent money on booze and more like the prep school girls he'd see on his way to school.
But when Isaac's petty theft lands him in juvie, he's cut off from helping Janelle. Friendless in a dangerous world of gangs and violent offenders, he must watch his every step. His sentence requires him to meet regularly for group therapy, where the inmates reenact their crimes, attempting to understand what happened from the perspective of their victims.
The therapy is intense. And as Isaac works through scenes with the group, he begins to recall a memory he'd long ago repressed. A memory that changed everything. And as he begins to piece together the truth about the circumstances that shaped his life—the circumstances that brought Isaac to Haverland in the first place—he must face who he was, who he is . . . and who he wants to be.
Purchase The Free at Amazon
Purchase The Free at IndieBound
View The Free on Goodreads
* * * *
The Hate U Give
by Angie Thomas
Hardcover
Balzer + Bray
Released 2/28/2017
Sixteen-year-old Starr lives in two worlds: the poor neighbourhood where she was born and raised and her posh high school in the suburbs. The uneasy balance between them is shattered when Starr is the only witness to the fatal shooting of her unarmed best friend, Khalil, by a police officer. Now, what Starr says could destroy her community, and get her killed.
Inspired by the Black Lives Matter movement, this is a powerful and gripping YA novel about one girl's struggle for justice.
Purchase The Hate U Give at Amazon
Purchase The Hate U Give at IndieBound
View The Hate U Give on Goodreads
* * * *
The Ship Beyond Time
by Heidi Heilig
Hardcover
Greenwillow Books
Released 2/28/2017
The breathtaking sequel to the acclaimed The Girl from Everywhere. Nix has escaped her past, but when the person she loves most is at risk, even the daughter of a time traveler may not be able to outrun her fate—no matter where she goes. Fans of Rae Carson, Alexandra Bracken, and Outlander will fall hard for Heidi Heilig's sweeping fantasy.
Nix has spent her whole life journeying to places both real and imagined aboard her time-traveling father's ship. And now it's finally time for her to take the helm. Her father has given up his obsession to save her mother—and possibly erase Nix's existence—and Nix's future lies bright before her. Until she learns that she is destined to lose the one she loves. But her relationship with Kash—best friend, thief, charmer extraordinaire—is only just beginning. How can she bear to lose him? How can she bear to become as adrift and alone as her father?
Desperate to change her fate, Nix takes her crew to a mythical utopia to meet another Navigator who promises to teach her how to manipulate time. But everything in this utopia is constantly changing, and nothing is what it seems—not even her relationship with Kash. Nix must grapple with whether anyone can escape her destiny, her history, her choices. Heidi Heilig weaves fantasy, history, and romance together to tackle questions of free will, fate, and what it means to love another person.
Purchase The Ship Beyond Time at Amazon
Purchase The Ship Beyond Time at IndieBound
View The Ship Beyond Time on Goodreads
* * * *
Velocity
by Chris Wooding
Hardcover
Scholastic Press
Released 2/28/2017
Buckle up for a fast-paced, high-octane thrill ride!
Cassica and Shiara are best friends. They couldn't be more different, but their differences work to their advantage -- especially when they're drag racing. Cassica is fearless and determined, making her the perfect driver for daring, photo-finish victories. Shiara is intelligent and creative, able to build cars out of scrap and formulate daring strategies from the passenger's seat.
Now they've set their sights on the Widowmaker -- the biggest, most anticipated, and most dangerous race of the year. The winners get a pass to a life of luxury and fame. The losers, more often than not, die in fiery explosions. And even if Cassica and Shiara survive the deadly three-day challenge... their friendship might be roadkill.
This breathless reimagining of extreme sports is perfect for fans of Mad Max: Fury Road and NASCAR.
Purchase Velocity at Amazon
Purchase Velocity at IndieBound
View Velocity on Goodreads
* * * *
Wild Lily
by K.M. Peyton
Hardcover
David Fickling Books
Released 2/28/2017
It's the 1920s -- cars and planes are new.
Lily Gabriel is scruffy and confident and takes no nonsense from anyone. Antony is rich, spoiled, and arrogant, and Lily is completely and utterly -- no nonsense! -- in love with him.
So join Lily as she falls: In love. Out of the sky. And through time.
Life is never what you expect or what you predict. But if you're lucky, you hold onto exactly what you need -- a young and wild heart. Wild Lily is a striking, timeless coming-of-age story that reminds us that the untamed life is always worth living.
Purchase Wild Lily at Amazon
Purchase Wild Lily at IndieBound
View Wild Lily on Goodreads