I've been
super excited
about
covering YALLFest
for AYAP, and this year's festivities did not disappoint. I took a bunch of pictures to help readers feel like they were there, but unfortunately they did not turn out as awesome as the festival itself ... although I will force you to look at them anyway!
After the election, YALLFest was the perfect place to be this past weekend. In addition to the love of reading and stories that are always a part of YALLFest, there was love for each other, from both the authors and audience members.
The opening keynote got off to a subdued start as YALLFest hosts
Brendan Reichs
and
Veronica Roth
addressed the elephant in the room, while assuring the audience – that was diverse in every way – that hate will not win.
Veronica read a number of inspiring quotes, including the one from Toni Morrison that is vital for writers (especially YA writers) right now.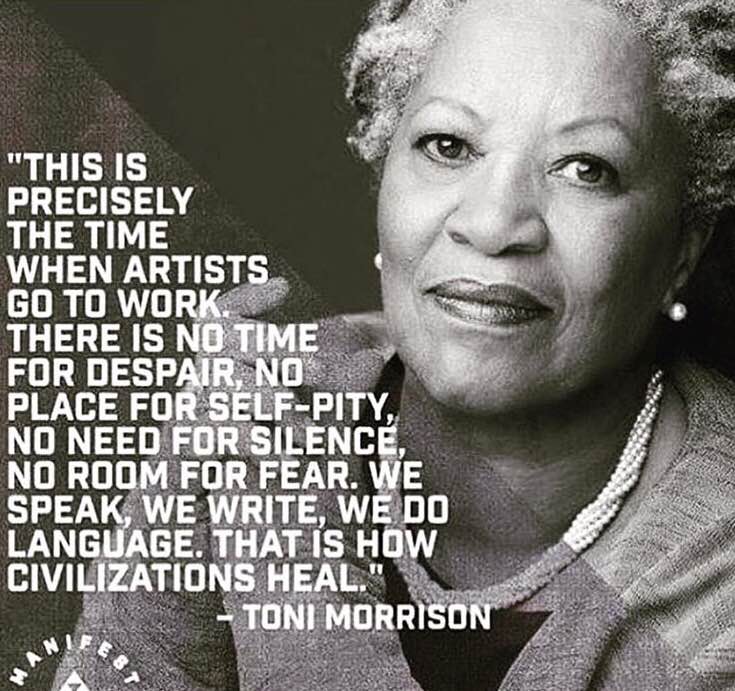 Then they turned it over to the keynote speakers
Victoria Aveyard
and
Sabaa Tahir
. Victoria is a fierce troll-fighter on Twitter and Sabaa is a Muslim woman unfortunately familiar with prejudice being directed at her, so these two power-house ladies had a lively discussion about their experiences with hatred and how writing has the power to change hearts and minds.
After the keynote, the day continued with an impossible-to-choose-from lineup of panels and author signings. Check out the
schedule of awesomeness here
. Lines for the various events clogged sidewalks, and teens rolled suitcases overflowing with books all over Charleston. It was a beautiful sight to behold.
I didn't get to attend any of the smaller panels because I was in the green room doing interviews (first up is
Jonathan Stroud
next Friday!). I was so honored to be there because the authors were planning and plotting away about how to help kids and expand their viewpoints. There were some excellent ideas being shared, and I can't wait to see them in action.
At the end of the day, it was time for the YA Smackdown, where the charming and witty hosts
Danielle Paige
and
Alexander London
introduced the authors to play silly games.
There was a rousing game of Never Have I Ever (played with signs rather than alcohol), where we learned things like:
Jay Asher
always buys and immediately returns a copy of his books when they first come out in order to empower himself by being the first person to return it.
Kami Garcia
can escape from handcuffs and zip ties. And
Ruta Sepetys
has been in prison twice!
Then
Scott Westerfeld
impressed us by singing from Hamilton as Donald Duck, in harmony with himself by using both cheeks. It was bizarre, yet amazing.
Also cool was when
Amie Kaufman
and
Jay Kristoff
choose an audience member to kill off in their next book by playing a game of
Heads or Tails
. So jealous of the winner!!
As a writer, the best parts were when the authors would come out at random moments to read poems or stories they had written as teens. They were hilariously awful and showed that we all have to work hard at our craft to get where we want to be.
The last part of the smackdown was a performance by Tiger Beat, the band made up of YA authors
Libba Bray
,
Daniel Ehrenhaft
,
Natalie Standiford
, and
Barnabas Miller
.
But before Tiger Beat started to rock out, Alex London requested everyone find someone in the audience they didn't know and introduce themselves. I usually hate that kind of 'talk to strangers' stuff, but I met two lovely women and had tears in my eyes while the same connections were going on all around me. It was beautiful.
So a horrible week ended with a fabulous day that buoyed the spirits of the audience. It's not all hate out there, and people are trying to make a difference.
Stop by on Fridays over the next several weeks for interviews with some of the YALLFest authors.
Did you attend YALLFest? Whose signing line would you have stood in the longest? Have you saved your horrible writing from when you were a teen to read when you are famous? Share your thoughts about the interview in the comments!
Happy reading,
Jocelyn