Jus, how long did you work on INFINITY?
Infinity took longer for me to finish because my life kind of turned upside down. About a month after it sold, my mom was diagnosed with stage 4 cancer. The book was slated to come out in 2015, but was pushed back. I think I worked on Infinity for almost a year and a half? Maybe a little longer? It was written, in part, and fully edited during chemo treatments, hospital stays, and radiation appointments. When I finally wrapped it up, my mom (who is currently doing amazing!) and I celebrated with the biggest dish of garlic and cheese bread ever ;)
Was there an AHA! moment along your road to publication where something suddenly sank in and you felt you had the key to writing a novel? What was it?
I think I've had a ton of AHA moments :) As for the key, I'm not sure there is one. Or, if there is, I haven't found it. Every book is a different journey with its own challenges. Some are easy to draft and hard to edit. Some are the opposite. I think if there was one thing I've learned though, it's that you can't work with a blank page. Even if you think its coming out like crap, you just have to put the words on paper. They can be fixed later!

What's your writing ritual like? Do you listen to music? Work at home or at a coffee shop or the library, etc?
I work at home (with 2 large dogs on either side of my desk and a never ending supply of coffee and cheese). I do listen to music, too. I have playlists for every book. Most of the time I have ones for each character, and even some scenes.

What advice would you most like to pass along to other writers?
Don't make excuses and just do it. Life WILL get in the way. At one point or another, you WILL feel like you suck (you don't, BTW) You just have to push past it. Writing is hard. There's a lot of waiting, and a lot of rejection, and sometimes it can feel like you're moving backwards. But it only takes one person--the right person--to fall in love with your book. To fall in love with your words. Trust me, its worth it ;)

What are you working on now?
Right now I'm working on the second book in the Infinity series, as well as a super secret project that I can't wait to share!
ABOUT THE BOOK
Infinity
by Jus Accardo
Paperback
Entangled: Teen
Released 11/1/2016
Jump dimensions. Find the bad guy. Don't fall in love.
Nobody said being the daughter of an army general was easy. But when her dad sends a teenage subordinate to babysit her while he's away? That's taking it a step too far.
Cade, as beautiful as he is deadly, watches Kori with more than just interest. He looks at her like he knows her very soul. And when he saves her from a seemingly random attack, well, that's when things get weird.
Turns out, Kori's dad isn't just an army general—he's the head of a secret government project that has invented a way to travel between parallel dimensions. Dimensions where there are infinite Koris, infinite Cades…and apparently, on every other Earth, they're madly in love.
Falling for a soldier is the last thing on Kori's mind. Especially when she finds herself in a deadly crossfire, and someone from another Earth is hell-bent on revenge…
Purchase Infinity at Amazon
Purchase Infinity at IndieBound
View Infinity on Goodreads
ABOUT THE AUTHOR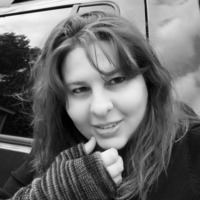 JUS ACCARDO spent her childhood reading and learning to cook. Determined to follow in her grandfather's footsteps as a chef, she applied and was accepted to the Culinary Institute of America. But at the last minute, she realized her true path lay with fiction, not food.
Jus is the bestselling author of the popular Denazen series from Entangled publishing, as well as the Darker Agency series, and the New Adult series, The Eternal Balance. A native New Yorker, she lives in the middle of nowhere with her husband, three dogs, and sometimes guard bear, Oswald.
--
Have you had a chance to read INFINITY yet? Do you put words on paper even if it feels like it's coming out like crap? Do you push past the hard stuff and keep writing? Share your thoughts about the interview in the comments!
Happy reading,
Jocelyn, Shelly, Martina, Anisaa, Sam, Erin, Susan, Michelle, Laura, and Kristin