Happy Reading,
Shelly, Sam, Jocelyn, Martina, Erin, Susan, Michelle, Laura, Anisaa, and Kristin
YA BOOK GIVEAWAYS THIS WEEK
* * * *
Remember Yesterday
by Pintip Dunn
First book in series - FORGET TOMORROW Giveaway

U.S. Only
Entangled: Teen
Released 10/4/2016
The sequel to the sci-fi hit Forget Tomorrow is a twisting, turning roller-coaster ride—the perfect sci-fi futuristic read.
Seventeen-year-old Jessa Stone is the most valuable citizen in Eden City. Her psychic abilities could lead to significant scientific discoveries -- if only she'd let TechRA study her. But after they kidnapped and experimented on her as a child, cooperating with the scientists is the last thing Jessa would do.
But when she discovers the past isn't what she assumed, Jessa must join forces with budding scientist Tanner Callahan to rectify a fatal mistake made ten years ago. She'll do anything to change her past -- even if it means aligning herself with the enemy she swore to defeat.
Author Question: What is your favorite thing about Remember Yesterday?
My favorite thing about REMEMBER YESTERDAY...is the entire second half of the book! I cried during this entire part of writing the book. Not because it was difficult to write, but because it was so emotional for me. These characters really took my heart and wrung it out. This has never happened to me in writing a book before. (And I've written six that will be published and three before that!) I usually cry at least once or twice during the writing of a novel. In fact, I don't feel like I reach the heart of a story unless I do cry. But this time was just waterworks. The characters mean that much to me.
Purchase Remember Yesterday at Amazon
Purchase Remember Yesterday at IndieBound
View Remember Yesterday on Goodreads
* * * *
The Black Key
by Amy Ewing
signed copies of The Jewel and The White Rose Giveaway

U.S. Only
HarperTeen
Released 10/4/2016
For too long, Violet and the people of the outer circles of the Lone City have lived in service to the royalty of the Jewel. But now the secret society known as the Black Key is preparing to seize power.
And while Violet knows she is at the center of this rebellion, she has a more personal stake in it—her sister, Hazel, has been taken by the Duchess of the Lake. Now, after fighting so hard to escape the Jewel, Violet must do everything in her power to return to save not only Hazel, but the future of the Lone City.
Purchase The Black Key at Amazon
Purchase The Black Key at IndieBound
View The Black Key on Goodreads
* * * *
Everyone We've Been
by Sarah Everett
Hardcover Giveaway

U.S. Only
Knopf Books for Young Readers
Released 10/4/2016
For fans of Jandy Nelson and Jenny Han comes a new novel that asks, can you possibly know the person you're becoming if you don't know the person you've been?
Addison Sullivan has been in an accident. In its aftermath, she has memory lapses and starts talking to a boy that no one else can see. It gets so bad that she's worried she's going crazy.
Addie takes drastic measures to fill in the blanks and visits a shadowy medical facility that promises to "help with your memory." But at the clinic, Addie unwittingly discovers it is not her first visit. And when she presses, she finds out that she had certain memories erased. She had a boy erased.
But why? Who was that boy, and what happened that was too devastating to live with? And even if she gets the answers she's looking for, will she ever be able to feel like a whole person again?
Author Question: What is your favorite thing about Everyone We've Been?
Can I say the really pretty cover? No?
Writing the first draft of EVERYONE WE'VE BEEN was one of my favorite writing experiences. Different parts of the story had been percolating in my mind for a while but I never felt ready to write it. Then (in typical fashion) as soon as I had a major day job deadline, the story came pouring out of me. I also think it deals with many different themes (memory, families, love, friendship) that I care deeply about.
Purchase Everyone We've Been at Amazon
Purchase Everyone We've Been at IndieBound
View Everyone We've Been on Goodreads
* * * *
Last Seen Leaving
by Caleb Roehrig
Hardcover Giveaway
Feiwel & Friends
Released 10/4/2016
Flynn's girlfriend has disappeared. How can he uncover her secrets without revealing his own?
Flynn's girlfriend, January, is missing. The cops are asking questions he can't answer, and her friends are telling stories that don't add up. All eyes are on Flynn—as January's boyfriend, he must know something.
But Flynn has a secret of his own. And as he struggles to uncover the truth about January's disappearance, he must also face the truth about himself.
Author Question: What is your favorite thing about Last Seen Leaving?
When I was a teenager, I was very into thrillers; I'd read anything remotely scary or creepy or murdery that I could get my hands on. But although YA novels were happy to explore topics of peer pressure, the evils of underage drinking, and the joys of (chaste!) romance, there was a vast wasteland when it came to topics of sex and sexuality. The real issues I struggled with every day were either ignored, or else treated as shocking and inappropriate when addressed at all. I had my pick of mystery and suspense titles, but if I wanted to read a book with a gay character, that character could only either be a tragic victim of violence or else a stereotyped sidekick there to show the hero's open-mindedness.

With LAST SEEN LEAVING, I set out to write a novel I wish that Teenage Me could have gotten his hands on: a high-stakes thriller, with twists and building tension and a protagonist I could have truly identified with. I wanted to create a story that would satisfy the suspense junkies out there, and also show queer teenagers that they can be heroes—that they are important, and that their stories are worth reading. My favorite thing about LAST SEEN LEAVING is that I believe I've done Teenage Me proud.
Purchase Last Seen Leaving at Amazon
Purchase Last Seen Leaving at IndieBound
View Last Seen Leaving on Goodreads
* * * *
Transcendent
by Katelyn Detweiler
Hardcover Giveaway

U.S. Only
Viking Books for Young Readers
Released 10/4/2016
When terrorists bomb Disney World, seventeen-year-old Iris Spero is as horrified as anyone else. Then a stranger shows up on her stoop in Brooklyn, revealing a secret about the mysterious circumstances surrounding Iris's birth, and throwing her entire identity into question. Everything she thought she knew about her parents, and about herself, is a lie.
Suddenly, the press is confronting Iris with the wild notion that she might be "special." More than just special: she could be the miracle the world now so desperately needs. Families all across the grieving nation are pinning their hopes on Iris like she is some kind of saint or savior. She's no longer sure whom she can trust—except for Zane, a homeless boy who long ago abandoned any kind of hope. She knows she can't possibly be the glorified person everyone wants her to be… but she also can't go back to being safe and anonymous. When nobody knows her but they all want a piece of her, who is Iris Spero now? And how can she—one teenage girl—possibly heal a broken world?
Author Question: What is your favorite thing about Transcendent?
TRANSCENDENT starts in a very (very) dark place. Our protagonist, Iris Spero, is lounging on a bench in Brooklyn overlooking the East River when the news of a terrible tragedy hits: Disney World has been bombed. A place filled with so many innocent children has been destroyed. So many lives taken. This was tough to write, of course. The toughest thing I have ever written. I had to channel some of the feelings I had as a fifteen year old when the Twin Towers fell—the overwhelming sense that nothing and nowhere and no one is safe.

That being said, I don't think that this is (ultimately) a dark book. It's my supreme wish that, as the story goes on, readers find hope and light and the belief that humanity is still very much capable of good. As we're hit day after day with news of increasingly terrible things happening in our world, it's so hard—as a teen, and as an adult—to not lose yourself in this, the darkness and the fear. I hope so much that TRANSCENDENT offers at least a temporary refuge for readers, a fictional outlet for empathy and perspective. Because even if the story may start with so much despair, it ends with love, not hate. Love.
Purchase Transcendent at Amazon
Purchase Transcendent at IndieBound
View Transcendent on Goodreads
* * * *
Brigands M.C.
by Robert Muchamore
Hardcover Giveaway

U.S. Only
Simon Pulse
Released 10/4/2016
A new member of CHERUB gets the chance to avenge the death of his family in the eleventh book of the CHERUB series, which Rick Riordan says has "plenty of action."
CHERUB agents are highly trained, extremely talented—and all under the age of seventeen. For official purposes, these agents do not exist. They are sent out on missions to spy on terrorists, hack into crucial documents, and gather intel on global threats—all without gadgets or weapons. It is an extremely dangerous job, but these agents have one crucial advantage: Adults never suspect that teens are spying on them.
Dante Scott still has nightmares about the death of his family, brutally murdered by a biker gang. Then he is given the chance to become a member of CHERUB, and when he joins James and Lauren on a mission to infiltrate Brigands Motorcycle Club, he's ready to use everything he's learned to get revenge on the people who killed his family.
Purchase Brigands M.C. at Amazon
Purchase Brigands M.C. at IndieBound
View Brigands M.C. on Goodreads
* * * *
The Rift Uprising
by Amy S. Foster
Hardcover Giveaway

U.S. Only
Harper Voyager
Released 10/4/2016
An alternate reality that feels all-too-real, The Rift Uprising is the explosive start to a new trilogy that combines the fast paced action of Suzanne Collins' Hunger Games, the lyrical tone of Laini Taylor's Daughter of Smoke and Bone, and the emotional stakes of Pierce Brown's Red Rising from acclaimed lyricist and storyteller Amy S. Foster.
Normal seventeen-year-old girls go to high school, binge watch TV shows all weekend, and flirt with everyone on the face of the Earth. But Ryn Whitaker is trying to save it.
Ryn is a Citadel. A soldier. A liar. Ryn and her fellow Citadels were specially chosen and trained to guard a
Rift
—one of fourteen unpredictable tears in the fabric of the universe that serve as doorways to alternate Earths. Unbeknownst to her family, Ryn leaves for school each day and then reports for duty as an elite, cybernetically-altered soldier who can run faster, jump farther, and fight better than a Navy SEAL—which comes in handy when she's not sure if axe-wielding Vikings or any number of other scared and often dangerous beings come through the Rift. A fine-tuned weapon, Ryn is a picture-perfect Citadel.
But that's all about to change.
When a young man named Ezra is pulled through the Rift, Ryn finds herself immediately drawn to him, despite her training. What starts as a physical attraction quickly grows deeper, and Ezra's curiosity throws Ryn off balance when he starts questioning the Rifts, the mysterious organization that oversees them, and the Citadels themselves—questions that lead Ryn to wonder if the lies she's been telling her family are just the surface of a much bigger lie told to
her
. As Ryn and Ezra desperately try to get to that truth, they discover that each revelation blurs the line between the villains and the heroes even more.
Author Question: What is your favorite thing about The Rift Uprising?
I think the most exciting thing about writing THE RIFT UPRISING was that I never imagined in all my YA In The Multiverse musings that I would end up in the 'Military Thriller' subgenre. When I was crafting my protagonist, I knew I wanted her to be incredibly tough, on the inside and out. I wanted her to be able to fight from the get go. She had to be a soldier. I'm a mom and a songwriter. I live in Portland. I don't know a lot about the military! As I was editing my first draft I met a soldier on a plane. This soldier, LTC Matt Fandre turned out to be not only an amazing guy (he's a doctor too!) but an excellent resource. I asked a ton of questions, not just about combat, but specifically the emotional toll it takes. I learned that in the moment of crisis, soldiers do their jobs. They don't even think. It becomes like muscle memory. And then, when it's over, they compartmentalize their lives. Sadly, we know, that veterans are often haunted by their experiences and can never truly shake them. We also know that given the right support system they can separate their jobs and their personal life.

I never intended to focus so much on this aspect of Ryn's life, but it was too important an element to just gloss over. The respect and admiration I have for our troops has grown exponentially with each day I live with Ryn on her journey through out this trilogy. In fact, I sent all the Advanced Reader Copies I got from my publisher oversees to the combat hospitals in the Middle East. However else this book is received, I know that at least in this aspect, Ryn as a soldier, I got it right. LTC Fandre read the book and wrote this to me, which is more gratifying and meaningful than any review I could ever get:

"And while you like to say you are the most non-military person, you have a really great grasp of what junior leadership is all about. As Ryn struggles with what leadership is, and specifically how it never "turns off", through her emotions and reactions you develop very well what most of us have struggled with. The balance between responsibility and selfless service while trying to figure out who we are internally. Additionally, just like parenting, it never stops.

The other remarkable thing about the book, like most art, it's a book about war that really is nothing about war itself. It's much more about liberty, responsibility, virtue and values, and coming of age."
Purchase The Rift Uprising at Amazon
Purchase The Rift Uprising at IndieBound
View The Rift Uprising on Goodreads
* * * *
Way Down Dark
by J.P. Smythe
Hardcover Giveaway (5 Copies)

U.S. Only
Quercus
Released 10/4/2016
Seventeen-year-old Chan's ancestors left a dying Earth hundreds of years ago, in search of a new home. Generations later, they are still searching . . .
Every day aboard the interstellar transport ship Australia is a kind of hell, where no one is safe, no one can hide. Indeed, the only life Chan's ever known is one of endless violence. A life of survival. Fiercely independent and entirely self-sufficient, she has learned to keep her head down as much as possible, careful not to draw attention to herself amidst the mayhem. For the Australia is a ship of death, filled with murderous gangs and twisted cults, vying for supremacy in a closed environment with limited resources and no hope.
And then one day Chan makes an extraordinary discovery--there may be a way to return the Australia to Earth. But doing so will only bring her to the attention of the fanatics and murderers who control life aboard the ship, putting her and everyone she loves in terrible danger.
Is it worth endangering her life and the lives of her few friends and loved ones for an uncertain return to a home world that may be uninhabitable? Especially since to do so she must descend into the deep dark in the bowels of the ship, which is piled high with the bodies and the secrets of the dead . . .
Purchase Way Down Dark at Amazon
Purchase Way Down Dark at IndieBound
View Way Down Dark on Goodreads
* * * *
We Know It Was You
by Maggie Thrash
Hardcover Giveaway
Simon Pulse
Released 10/4/2016
Twin Peaks meets Pretty Little Liars in acclaimed author Maggie Thrash's new Strange Truth series.
It's better to know the truth. At least sometimes.
Halfway through Friday night's football game, beautiful cheerleader Brittany Montague—dressed as the giant Winship Wildcat mascot—hurls herself off a bridge into Atlanta's surging Chattahoochee River.
Just like that, she's gone.
Eight days later, Benny Flax and Virginia Leeds will be the only ones who know why.
Purchase We Know It Was You at Amazon
Purchase We Know It Was You at IndieBound
View We Know It Was You on Goodreads
* * * *
When the Moon was Ours
by Anna-Marie McLemore
Hardcover Giveaway

U.S. Only
A Thomas Dunne Book for St. Martin's Griffin
Released 10/4/2016
When the Moon Was Ours follows two characters through a story that has multicultural elements and magical realism, but also has central LGBT themes—a transgender boy, the best friend he's falling in love with, and both of them deciding how they want to define themselves.
To everyone who knows them, best friends Miel and Sam are as strange as they are inseparable. Roses grow out of Miel's wrist, and rumors say that she spilled out of a water tower when she was five. Sam is known for the moons he paints and hangs in the trees, and for how little anyone knows about his life before he and his mother moved to town.
But as odd as everyone considers Miel and Sam, even they stay away from the Bonner girls, four beautiful sisters rumored to be witches. Now they want the roses that grow from Miel's skin, convinced that their scent can make anyone fall in love. And they're willing to use every secret Miel has fought to protect to make sure she gives them up.
Purchase When the Moon was Ours at Amazon
Purchase When the Moon was Ours at IndieBound
View When the Moon was Ours on Goodreads
YA BOOK GIVEAWAYS LAST WEEK: WINNERS
Swarm by Scott Westerfeld:
Anne C.
MORE YOUNG ADULT FICTION IN STORES NEXT WEEK WITH AUTHOR INTERVIEWS
* * * *
Spindle
by Shonna Slayton
Paperback
Entangled: Teen
Released 10/4/2016
Set during the Industrial Revolution, Sleeping Beauty's happily ever after isn't the end of the story...
Briar Rose knows her life will never be a fairy tale. She's raising her siblings on her own, her wages at the spinning mill have been cut, and the boy she thought she had a future with has eyes for someone else. Most days it feels like her best friend, Henry Prince, is the only one in her corner…though with his endless flirty jokes, how can she ever take him seriously?
When a mysterious peddler offers her a "magic" spindle that could make her more money, sneaking it into the mill seems worth the risk. But then one by one, her fellow spinner girls come down with the mysterious sleeping sickness—and Briar's not immune.
If Briar wants to save the girls—and herself—she'll have to start believing in fairy tales … and in the power of a prince's kiss.
Author Question: What is your favorite thing about Spindle?
SPINDLE was such a fascinating book to research. I loved learning about the mill girls during the 1800s. Their life in the boardinghouse reminded me of living in a college dorm: irritations with roommates, sharing secrets, and the bonds that grow from experiencing life together.

In the early days of the mills, girls moved into cities from the farms. Used to hard work, they finally got paid for it! They were so proud, and many went on to put themselves through higher education. In town they had access to libraries and lectures and improvement societies. They wrote poetry and political pieces. They published their own magazines to tell their stories. Then the mills started to change. Conditions deteriorated. More was expected of them. Wages were cut.

Eventually, the farm girls started to go back to the farms, or left for other, better jobs, leaving room for immigrant labor to move in. They staged "turn outs" to protest, and worked toward lowering the work day from twelve hour days to ten hours.

Enter Briar Rose into this time in history. It was so fun to write.
Purchase Spindle at Amazon
Purchase Spindle at IndieBound
View Spindle on Goodreads
MORE YOUNG ADULT NOVELS NEW IN STORES NEXT WEEK
* * * *
Aerie
by Maria Dahvana Headley
Hardcover
HarperCollins
Released 10/4/2016
Where is home when you were born in the stars?
Aza Ray is back on earth. Her boyfriend Jason is overjoyed. Her family is healed. She's living a normal life, or as normal as it can be if you've spent the past year dying, waking up on a sky ship, and discovering that your song can change the world.
As in, not normal. Part of Aza still yearns for the clouds, no matter how much she loves the people on the ground.
When Jason's paranoia over Aza's safety causes him to make a terrible mistake, Aza finds herself a fugitive in Magonia, tasked with opposing her radical, bloodthirsty, recently-escaped mother, Zal Quel, and her singing partner Dai. She must travel to the edge of the world in search of a legendary weapon, The Flock, in a journey through fire and identity that will transform her forever.
In this stunning sequel to the critically acclaimed Magonia, one girl must make an impossible choice between two families, two homes—and two versions of herself.
Purchase Aerie at Amazon
Purchase Aerie at IndieBound
View Aerie on Goodreads
* * * *
Alight
by Scott Sigler
Paperback
Del Rey; Reprint edition
Released 10/4/2016
In Alive, Scott Sigler introduced readers to an unforgettable young heroine and a mysterious new world reminiscent of those of The Hunger Games, Divergent, and Red Rising. Now he expands his singular vision in the next thrilling novel of this powerful sci-fi adventure series.
M. Savage or Em, as she is called, has made a bewildering and ominous discovery. She and the other young people she was chosen to lead awoke in strange coffins with no memory of their names or their pasts. They faced an empty, unknown place of twisting tunnels and human bones. With only one another to depend on, they searched for answers and found the truth about their terrifying fate. Confronted by a monstrous enemy, they vowed never to surrender and, by any means, to survive.
The planet Omeyocan may be the sanctuary Em and her comrades seek. But the planet for which they were created turns out not to be a pristine, virgin world. Vestiges of a lost civilization testify to a horrifying past that may yet repeat itself. And when a new enemy creeps from the jungle shadows, Em and her young refugees learn there's nowhere left to run. They face a simple choice: fight or die.
In the midst of this desperate struggle, their unity is compromised from within and a dangerous zealot devoted to a bloodthirsty god moves to usurp Em's command, threatening to lead them all down a path to violent doom.
Purchase Alight at Amazon
Purchase Alight at IndieBound
View Alight on Goodreads
* * * *
Ashes
by Laurie Halse Anderson
Hardcover
Atheneum/Caitlyn Dlouhy Books
Released 10/4/2016
Return to the American Revolution in this blistering conclusion to the trilogy that began with the bestselling National Book Award Finalist Chains and continued with Forge, which The New York Times called "a return not only to the colonial era but to historical accuracy."
Return to the American Revolution in this blistering conclusion to the trilogy that began with the bestselling National Book Award Finalist Chains and continued with Forge, which The New York Times called "a return not only to the colonial era but to historical accuracy."
As the Revolutionary War rages on, Isabel and Curzon have narrowly escaped Valley Forge—but their relief is short-lived. Before long they are reported as runaways, and the awful Bellingham is determined to track them down. With purpose and faith, Isabel and Curzon march on, fiercely determined to find Isabel's little sister Ruth, who is enslaved in a Southern state—where bounty hunters are thick as flies.
Heroism and heartbreak pave their path, but Isabel and Curzon won't stop until they reach Ruth, and then freedom, in this grand finale to the acclaimed Seeds of America trilogy from Laurie Halse Anderson.
Purchase Ashes at Amazon
Purchase Ashes at IndieBound
View Ashes on Goodreads
* * * *
Goldenhand
by Garth Nix
Hardcover
HarperCollins
Released 10/4/2016
Lirael knows the blood that runs in her veins and her true powers. She also knows that Chlorr of the Mask has been conspiring with the clans of the steppe, from a message she's received from her long-dead mother, Arielle.
But no one else believes that nomads can be a real threat. Accompanied by Nicholas Sayre and a young mountain nomad, Lirael goes on a dangerous journey across the steppe and into the mountains to see for herself. There Lirael discovers the future Arielle saw long ago that is now coming to pass: Chlorr has gathered the clans to attack the unsuspecting Old Kingdom.
The only way Lirael and her companions can stop the attack is to find Chlorr's original, better human self—Clariel. Only, Clariel has been asleep for centuries beyond the Great Rift. Lirael must reach her—and help her go beyond the Ninth Gate to die the final Death—before it is too late.
Purchase Goldenhand at Amazon
Purchase Goldenhand at IndieBound
View Goldenhand on Goodreads
* * * *
Holding Up the Universe
by Jennifer Niven
Hardcover
Knopf Books for Young Readers
Released 10/4/2016
Everyone thinks they know Libby Strout, the girl once dubbed "America's Fattest Teen." But no one's taken the time to look past her weight to get to know who she really is. Following her mom's death, she's been picking up the pieces in the privacy of her home, dealing with her heartbroken father and her own grief. Now, Libby's ready: for high school, for new friends, for love, and for EVERY POSSIBILITY LIFE HAS TO OFFER.
Everyone thinks they know Jack Masselin, too. Yes, he's got swagger, but he's also mastered the impossible art of giving people what they want, of fitting in. What no one knows is that Jack has a newly acquired secret: he can't recognize faces. Even his own brothers are strangers to him. He's the guy who can re-engineer and rebuild anything in new and bad-ass ways, but he can't understand what's going on with the inner workings of his brain. So he tells himself to play it cool: Be charming. Be hilarious. Don't get too close to anyone.
Until he meets Libby. When the two get tangled up in a cruel high school game—which lands them in group counseling and community service—Libby and Jack are both pissed, and then surprised. Because the more time they spend together, the less alone they feel. . . . Because sometimes when you meet someone, it changes the world, theirs and yours.
Jennifer Niven delivers another poignant, exhilarating love story about finding that person who sees you for who you are—and seeing them right back.
Purchase Holding Up the Universe at Amazon
Purchase Holding Up the Universe at IndieBound
View Holding Up the Universe on Goodreads
* * * *
Nemesis
by Anna Banks
Hardcover
Feiwel & Friends
Released 10/4/2016
Princess Sepora of Serubel is the last Forger in all the five kingdoms. The spectorium she creates provides energy for all, but now her father has found a way to weaponize it, and his intentions to incite war force her to flee from his grasp. She escapes across enemy lines into the kingdom of Theoria, but her plans to hide are thwarted when she is captured and placed in the young king's servitude.
Tarik has just taken over rulership of Theoria, and must now face a new plague sweeping through his kingdom and killing his citizens. The last thing he needs is a troublesome servant vying for his attention. But mistress Sepora will not be ignored. When the two finally meet face-to-face, they form an unlikely bond that complicates life in ways neither of them could have imagined.
Sepora's gift could save Tarik's kingdom from the Quiet Plague. But should she trust her growing feelings for her nemesis, or should she hide her gifts at all costs?
Purchase Nemesis at Amazon
Purchase Nemesis at IndieBound
View Nemesis on Goodreads
* * * *
Our Chemical Hearts
by Krystal Sutherland
Hardcover
G.P. Putnam's Sons Books for Young Readers
Released 10/4/2016
John Green meets Rainbow Rowell in this irresistible story of first love, broken hearts, and the golden seams that put them back together again.
Henry Page has never been in love. He fancies himself a hopeless romantic, but the slo-mo, heart palpitating, can't-eat-can't-sleep kind of love that he's been hoping for just hasn't been in the cards for him—at least not yet. Instead, he's been happy to focus on his grades, on getting into a semi-decent college, and finally becoming editor of his school newspaper. Then Grace Town walks into his first period class on the third Tuesday of senior year and he knows everything's about to change.
Grace isn't who Henry pictured as his dream girl—she walks with a cane, wears oversized boys' clothes, and rarely seems to shower. But when Grace and Henry are both chosen to edit the school paper, he quickly finds himself falling for her. It's obvious there's something broken about Grace, but it seems to make her even more beautiful to Henry, and he wants nothing more than to help her put the pieces back together again. And yet, this isn't your average story of boy meets girl. Krystal Sutherland's brilliant debut is equal parts wit and heartbreak, a potent reminder of the bittersweet bliss that is first love.
Purchase Our Chemical Hearts at Amazon
Purchase Our Chemical Hearts at IndieBound
View Our Chemical Hearts on Goodreads
* * * *
Replica
by Lauren Oliver
Hardcover
HarperCollins
Released 10/4/2016
Gemma has been in and out of hospitals since she was born. 'A sickly child', her lonely life to date has revolved around her home, school and one best friend, Alice. But when she discovers her father's connection to the top secret Haven research facility, currently hitting the headlines and under siege by religious fanatics, Gemma decides to leave the sanctuary she's always known to find the institute and determine what is going on there and why her father's name seems inextricably linked to it.
Amidst the frenzy outside the institute's walls, Lyra - or number 24 as she is known as at Haven - and a fellow experimental subject known only as 72, manage to escape. Encountering a world they never knew existed outside the walls of their secluded upbringing, they meet Gemma and, as they try to understand Haven's purpose together, they uncover some earth-shattering secrets that will change the lives of both girls forever...
Purchase Replica at Amazon
Purchase Replica at IndieBound
View Replica on Goodreads
* * * *
Something in Between
by Melissa de la Cruz
Hardcover
Harlequin Teen
Released 10/4/2016
Jasmine de los Santos has always done what's expected of her. Pretty and popular, she's studied hard, made her Filipino immigrant parents proud and is ready to reap the rewards in the form of a full college scholarship.
And then everything shatters. A national scholar award invitation compels her parents to reveal the truth: their visas expired years ago. Her entire family is illegal. That means no scholarships, maybe no college at all and the very real threat of deportation.
For the first time, Jasmine rebels, trying all those teen things she never had time for in the past. Even as she's trying to make sense of her new world, it's turned upside down by Royce Blakely, the charming son of a high-ranking congressman. Jasmine no longer has any idea where—or if—she fits into the American Dream. All she knows is that she's not giving up. Because when the rules you lived by no longer apply, the only thing to do is make up your own.
Purchase Something in Between at Amazon
Purchase Something in Between at IndieBound
View Something in Between on Goodreads
* * * *
Spare and Found Parts
by Sarah Maria Griffin
Hardcover
Greenwillow Books
Released 10/4/2016
Nell Crane has always been an outsider. In a city devastated by an epidemic, where survivors are all missing parts—an arm, a leg, an eye—her father is the famed scientist who created the biomechanical limbs everyone now uses. But Nell is the only one whose mechanical piece is on the inside: her heart. Since the childhood operation, she has ticked. Like a clock, like a bomb. As her community rebuilds, everyone is expected to contribute to the society's good . . . but how can Nell live up to her father's revolutionary idea when she has none of her own?
Then she finds a mannequin hand while salvaging on the beach—the first boy's hand she's ever held—and inspiration strikes. Can Nell build her own companion in a world that fears advanced technology? The deeper she sinks into this plan, the more she learns about her city—and her father, who is hiding secret experiments of his own.
Purchase Spare and Found Parts at Amazon
Purchase Spare and Found Parts at IndieBound
View Spare and Found Parts on Goodreads
* * * *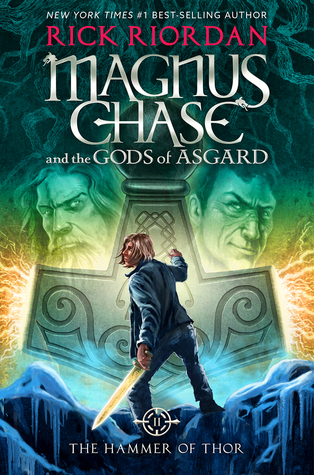 The Hammer of Thor
by Rick Riordan
Hardcover
Disney-Hyperion
Released 10/4/2016
Thor's hammer is missing again. The thunder god has a disturbing habit of misplacing his weapon--the mightiest force in the Nine Worlds. But this time the hammer isn't just lost, it has fallen into enemy hands. If Magnus Chase and his friends can't retrieve the hammer quickly, the mortal worlds will be defenseless against an onslaught of giants. Ragnarok will begin. The Nine Worlds will burn. Unfortunately, the only person who can broker a deal for the hammer's return is the gods' worst enemy, Loki--and the price he wants is very high.
Purchase The Hammer of Thor at Amazon
Purchase The Hammer of Thor at IndieBound
View The Hammer of Thor on Goodreads
* * * *
The Lovely Reckless
by Kami Garcia
Hardcover
Imprint
Released 10/4/2016
Seventeen-year-old Frankie Devereux would do anything to forget the past. Haunted by the memory of her boyfriend's death, she lives her life by one dangerous rule: Nothing matters. At least, that's what Frankie tells herself after a reckless mistake forces her to leave her privileged life in the Heights to move in with her dad—an undercover cop. She transfers to a public high school in the Downs, where fistfights don't faze anyone and illegal street racing is more popular than football.
Marco Leone is the fastest street racer in the Downs. Tough, sexy, and hypnotic, he makes it impossible for Frankie to ignore him—and how he makes her feel. But the risks Marco takes for his family could have devastating consequences for them both. When Frankie discovers his secret, she has to make a choice. Will she let the pain of the past determine her future? Or will she risk what little she has left to follow her heart?
Purchase The Lovely Reckless at Amazon
Purchase The Lovely Reckless at IndieBound
View The Lovely Reckless on Goodreads
* * * *
This Adventure Ends
by Emma Mills
Hardcover
Henry Holt and Co.
Released 10/4/2016
Sloane isn't expecting to fall in with a group of friends when she moves from New York to Florida—especially not a group of friends so intense, so in love, so all-consuming. Yet that's exactly what happens.
Sloane becomes closest to Vera, a social-media star who lights up any room, and Gabe, Vera's twin brother and the most serious person Sloane's ever met. When a beloved painting by the twins' late mother goes missing, Sloane takes on the responsibility of tracking it down, a journey that takes her across state lines—and ever deeper into the twins' lives.
Filled with intense and important friendships, a wonderful warts-and-all family, shiveringly good romantic developments, and sharp, witty dialogue, this story is about finding the people you never knew you needed.
Purchase This Adventure Ends at Amazon
Purchase This Adventure Ends at IndieBound
View This Adventure Ends on Goodreads