M.P., was there an AHA! moment along your road to publication where something suddenly sank in and you felt you had the key to writing a novel? What was it?
For me, the AHA! moment always comes before any writing takes place. The AHA! moment is the idea, however simple, that will drive the novel from beginning to end. It is the spark, the adrenalized sensation when you know you have latched onto something powerful. In the case of FROST, it was a single image: that of a girl dragging her dying pet through a city in order to save it. That's all I started with and that got me through all 350+ pages. The beginning of the book always flies. It moves fast as you're still soaring with your burgeoning ideas — there is so much possibility, so much excitement! The beginning is a pleasure to write and you are certain you are typing gold. The middle, however, is a nightmare. The sky has darkened and you're about to be caught in a vicious storm, one that will take countless lives. The storm comes for us all and many a good writer has fallen victim. The key is to hunker down, to cling to the strong foundation you have built — always go back to that AHA! moment that brought you there — and wait out the storm. And as it passes overhead, you begin to see the light again. The end of the book is nearing, and the words aren't so heavy in your mind anymore; they flow with ease. The excitement and optimism and energy you felt at the beginning of the process returns. Writing a novel is a journey; it should mirror any adventure story. And you are the hero.
What's your writing ritual like? Do you listen to music? Work at home or at a coffee shop or the library, etc?
It's strange, as a stay-at-home father, each of my books required a different schedule — a writer must always adapt. JUNIPER BERRY was pre-children, and so I had the entire day at my desk with music blasting, no stresses or distractions (Children or no, I could never write in public — it's tough enough just writing with someone in the next room; I always feel like people can hear my thoughts, intrude upon my words — for me, keeping ideas locked in my head isn't even private enough; I have to be isolated). For THE DYERVILLE TALES, baby #1 was born and #2 was on the way, and so I could now only write during nap time (1 1/2 - 3 hours) and that meant no music and a severe, anxiety-ridden time crunch (sometimes the words don't want to come and you read a book or watch TV and wait for inspiration, but I no longer had such a luxury; I had to force myself to write then and there or I lost my chance). For FROST, nap times were just about over and I had to squeeze writing in wherever I could — between playtimes, reading, the park, etc. I had to pause to tend to lunch and snack times, breaking up fights, potty training, educating and on and on. I am yet to hit my stride. It's coming, though. My first daughter will be beginning 1st grade soon and my younger daughter is three. Two more years? Who knows, I might be able to do some Stephen King-type production by then.
What did this book teach you about writing or about yourself?
After completing any book, I always wonder if I will be able to write another, as if everything previous was produced solely by luck. I insult myself with words like 'hack' and 'amateur,' and I wonder if anyone will ever possibly wish to read another single word I write for as long as I live. Doubt doesn't just creep in, it seeps through every pore and expands wide beneath the skin so that it can't be drained or removed. Beginning FROST, I wasn't even sure I was capable of writing anything other than a middle grade novel. I had to work, and work hard, pushing through that nightmare wall that rises up in the middle of all works of literature. Yet, because of the immense struggle, a certain confidence is gained with each book, and FROST encouraged me to one day try another YA book, or maybe an adult novel or some work of nonfiction — it has taught me to always grow, to always push myself into new territory. That is until I set out to do so and, once again, I hear the cold rush of doubt whistling through the stale air, seeking its terrified and all too familiar host.
ABOUT THE BOOK
Frost
by M.P. Kozlowsky
Hardcover
Scholastic Press
Released 10/11/2016
Cinder meets The Walking Dead in a chilling futuristic fairy tale that will reboot everything you thought about family, love, and what it means to be human.
Sixteen-year-old Frost understands why she's spent her entire life in an abandoned apartment building. The ruined streets below are hunting grounds for rogue robots and Eaters.
She understands why she's never met a human besides her father. She even understands why he forbids her to look for medicine for her dying pet. But the thing is, it's not her real father giving the orders ...
It's his memories.
Before he died, Frost's father uploaded his consciousness into their robot servant. But the technology malfunctioned, and now her father fades in and out. So when Frost learns that there might be medicine on the other side of the ravaged city, she embarks on a dangerous journey to save the only living creature she loves.
With only a robot as a companion, Frost must face terrors of all sorts, from outrunning the vicious Eaters . . . to talking to the first boy she's ever set eyes on. But can a girl who's only seen the world through books and dusty windows survive on her own?
Purchase Frost at Amazon
Purchase Frost at IndieBound
View Frost on Goodreads
ABOUT THE AUTHOR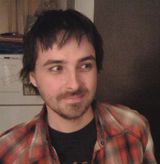 M.P. Kozlowsky was a high school English teacher before becoming a writer. He is the author of The Dyerville Tales and Juniper Berry, and lives in New York with his wife and two daughters.
--
Have you had a chance to read FROST yet? Does writing a novel mirror an adventure story for you? Does doubt sometimes seep through your pores? Share your thoughts about the interview in the comments!
Happy reading,
Jocelyn, Shelly, Martina, Anisaa, Sam, Erin, Susan, Michelle, Laura, and Kristin