Battlesaurus
series, and we're thrilled to have Brian Falkner here to chat about it.
Brian, what was your inspiration for writing BATTLESAURUS: CLASH OF EMPIRES?
I guess the inspiration really was the inspiration for the first book in the series. A crazy idea that occurred to me one day about changing history, just a little bit. If dinosaurs had not been wiped out by a meteor, what would life be like in our world. Of course scientists will say that dinosaurs couldn't survive in the modern world anyway, but why spoil the fun!

What scene was really hard for you to write and why, and is that the one of which you are most proud? Or is there another scene you particularly love?
There is a tragic love affair in the book between two deeply damaged people. The culmination of that relationship was very hard for me to write. It had to be honest and heart-felt, and to wrap up all the tendrils of that relationship.

What book or books would most resonate with readers who love your book--or visa versa?
The Hunger Games, although vastly different in style, concept and setting, would probably appeal to a reader who loves Battlesaurus.
How long did you work on BATTLESAURUS: CLASH OF EMPIRES?
For about a year and a half.

What did this book teach you about writing or about yourself?
How hard it is to write a sequel, taking characters we already know and revealing new aspects of their characters, tying up all the loose ends, and still telling a very strong story in its own right.

What do you hope readers will take away from BATTLESAURUS: CLASH OF EMPIRES?
It is an entertainment. There is no moral, nothing to learn. It is a thrilling, suspenseful rollercoaster ride.

How long or hard was your road to publication? How many books did you write before this one, and how many never got published?
This is my fourteenth novel. I have two unpublished novels since I have been writing professionally.
Was there an AHA! moment along your road to publication where something suddenly sank in and you felt you had the key to writing a novel? What was it?
Many of them while writing the first book in the series. While researching the time period I was astonished to find so many true facts that fitted perfectly with the world of the novels.
One of the most important was the invention of the battery, and the relationship of the inventor to Napoleon Bonaparte who is a key figure in the novels.
What's your writing ritual like? Do you listen to music? Work at home or at a coffee shop or the library, etc?
I work mainly at home, but also on trains, planes and cafes.
I listen to music that is appropriate to the emotion of the scene I am writing, a common author technique called 'Setting the Tone.'
What advice would you most like to pass along to other writers?
It's not an easy road, but it's worth it. Never ever give up.
What are you working on now?
A series of workbooks for young writers teaching them valuable writing skills.
The course is called 'Write like an Author.'
www.writelikeanauthor.com
ABOUT THE BOOK
Battlesaurus: Clash of Empires
by Brian Falkner
Hardcover
Farrar, Straus and Giroux
Released 7/12/2016
In this roaring alt-history adventure, dinosaurs from a forbidden world have been turned into unstoppable weapons by one of the most ferocious military leaders of all time: Napoléon Bonaparte. In the wake of his crushing victory at Waterloo, Napoléon unleashes his vicious French general Marc Thibault and his brigade of giant battlesaurs to strike terror across Europe. England stands alone, but an invasion is looming. Its only hope is a secret attack led by Willem, a magician's son, deep inside enemy territory, to the very heart of Napoléon's terrifying new army. In a stunning sequel to Battlesaurus: Rampage at Waterloo, deception and betrayal threaten the mission from its outset, but the courage and perseverance of Willem the "saur killer" and his compatriots lead to a clash of titanic proportions.
Purchase Battlesaurus: Clash of Empires at Amazon
Purchase Battlesaurus: Clash of Empires at IndieBound
View Battlesaurus: Clash of Empires on Goodreads
ABOUT THE AUTHOR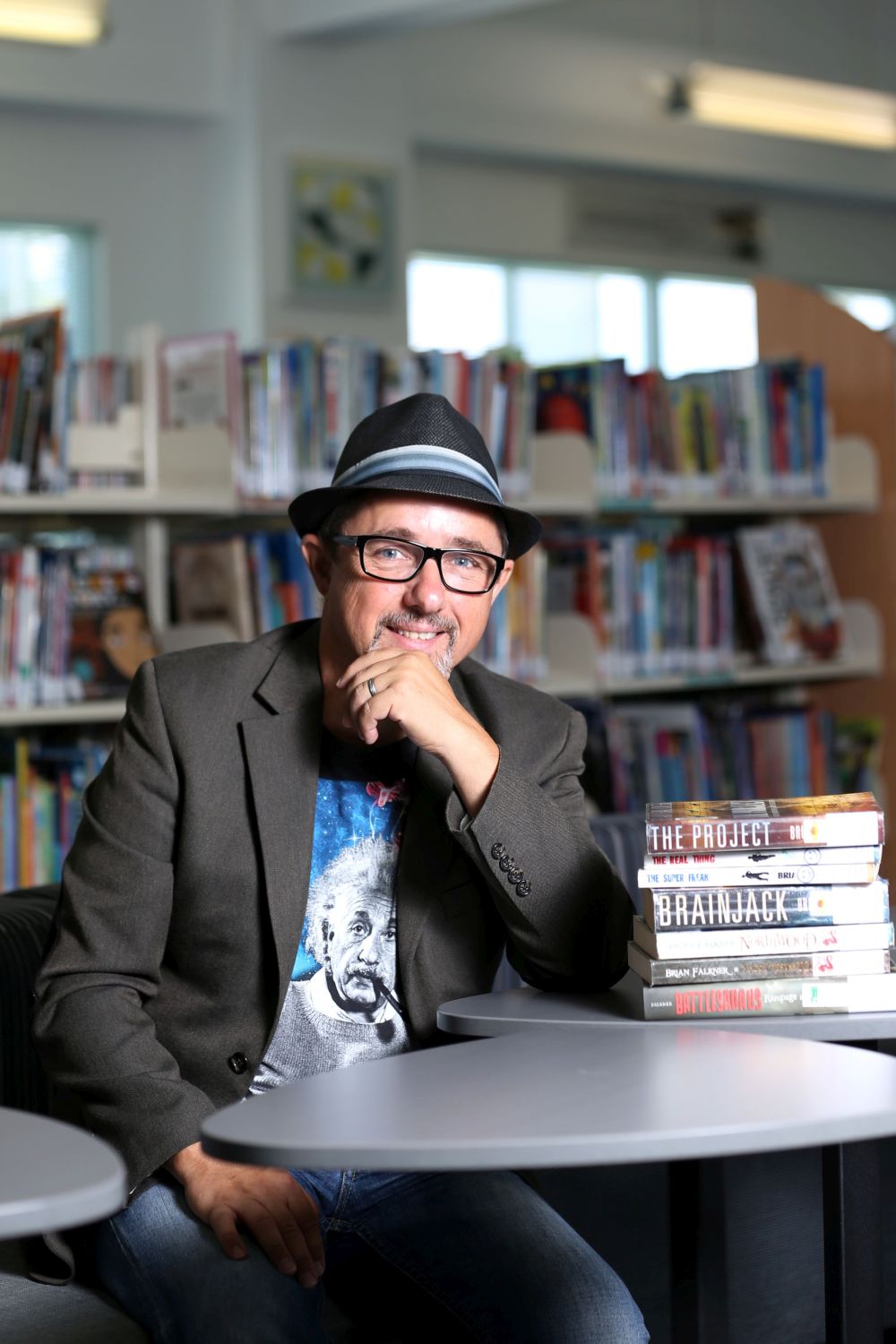 In 2006 Brian was scuba diving off a small island near the coast of Phuket when his dive buddy frantically pointed at a small underwater rock formation that Brian was just passing. Brian turned to see a huge moray eel with a head the size of a football staring at him.
Brian started to back away slowly, but instead of attacking, the eel turned and wound its way into a crevice. That incident is not yet in one of Brian's books, but one day it might well be. A lot of Brian's real life adventures end up in his books, (in fictional disguise of course!) Whether it is an attack by a vicious swarm of wasps, being bullied at school, or skimming the surface of the ocean in a tiny seaplane, Brian loves to use real incidents as the basis for the stories in his books.
A recent face-to-face encounter with a deadly king cobra, a ride on an elephant with a mind of its own, and a long distance flight with a flatulent fellow passenger, are all lodged away somewhere waiting for the right moment to emerge in a story.
Even at school Brian knew that he wanted to be a writer. It took him thirty years to realise that dream with his first junior novel published in 2003.
He studied computers at university (college) but dropped out to pursue his love of writing. He trained as a journalist, and then worked as a reporter and an advertising copywriter, a radio announcer and an Internet developer before finally becoming an author.
Brian lives on the sunny Gold Coast in Queensland, Australia.
--


Have you had a chance to read BATTLESAURUS: CLASH OF EMPIRES yet? While researching do you find true facts that fit perfectly into your novel? Do you listen to music to set the tone? Share your thoughts about the interview in the comments!
Happy reading,
Jocelyn, Shelly, Martina, Anisaa, Sam, Erin, Susan, Michelle, Laura, and Kristin