Happy Reading,
Shelly, Lindsey, Martina, Jocelyn, Erin, Susan, Sam, Sarah, Sandra, Kristin, and Anisaa
YA BOOK GIVEAWAYS THIS WEEK
* * * *
Fiona
by Meredith Moore
One annotated hardcover plus five swag packs
U.S/CAN Only
Razorbill
Released 4/5/2016
Fiona, an independent loner with wild red hair, leaves her fractured home in Texas for a brand-new life in the Scottish Highlands to be the au pair for Poppy Mackenzie, the young daughter of her mother's recently deceased childhood friends. Fee, as she's called, is thrilled to be free of her less-than-ideal home life. But there's another motive driving her eagerness to flee to the Highlands: the desire to reconnect with her mother, who succumbed to suicide after a long battle with schizophrenia when Fiona was only twelve, leaving her to live with distant relatives of her absentee father.
Fee doesn't have much time to settle into her new home—a castle maintained by the Mackenzie family fortune—before a series of strange events starts to make her question her sanity. As the attacks on her mental health become more and more intense, Fee finds herself both the pawn and the target in a ruthless, greed-driven plot with roots that go all the way back to her mother. Alone and friendless in a foreign country and half-convinced she's losing her mind—just like her mother—Fee must rely on her wits and her street smarts to save not only herself but also the lives of her newfound Scottish family.
Meredith Moore's smart, classic-meets-cool storytelling style delivers fast-paced twists and gobs of drama with raw emotion and literary flair.
Author Question: What is your favorite thing about Fiona?
There are so many things I love about FIONA: the setting of the Scottish Highlands (which I researched by traveling over there and traipsing around the country for a couple of weeks by myself), the romance (Fiona and Charlie scenes were so ridiculously fun to write), the haunting atmosphere (Grey Ladies and bean nighes and fog and secrets swirling in the air). But my favorite thing is the strength of my protagonist. Fiona, or Fee, as she prefers to be called, has lost everything: her mother committed suicide when she was twelve, she never knew her father, and she lives with an aunt who doesn't want her out in a dusty west Texas town that she hates. But despite all this, she's open and self-reliant and optimistic. So when she travels to the Scottish Highlands and finds the people she will soon consider part of her family, she does her best not to close herself off. She does her best to build her own family.

I lost my mother to cancer while I was writing this book. I had moved home to Houston to help take care of her, and being with her in her final year made me realize how much family means to me. How vitally important it is to surround yourself with people you love and believe in. How, as Fee puts it, "I want people around me who are part of my blood and part of my heart. I want to be part of a unit that looks toward the future together." Fee, with her strength and optimism, taught me a lot about myself as I was writing her, and I will never stop being grateful for her.
Purchase Fiona at Amazon
Purchase Fiona at IndieBound
View Fiona on Goodreads
* * * *
Charlotte Cuts It Out
by Kelly Barson
Signed Hardcover Giveaway

U.S. Only
Viking Books for Young Readers
Released 4/5/2016
Lydia and I were in eighth grade when we came up with our Grand Plan to go to cosmetology school and get jobs to build our clientele while we earned business degrees. Then we'd open our own salon . . .
Now Charlotte and Lydia are juniors, in a Cosmetology Arts program where they'll get on-the-job training and college credits at the same time. The Grand Plan is right on schedule. Which means it's time for Step Two: Win the Winter Style Showcase, where Cos Arts and Fashion Design teams team up to dazzle the judges with their skills. Charlotte is sure that she and Lydia have it locked up—so sure, in fact, that she makes a life-changing bet with her mother, who wants her to give up cos for college.
And that's when things start going off the rails.
As the clock ticks down to the night of the Showcase, Charlotte has her hands full. Design divas. Models who refuse to be styled. Unexpectedly stiff competition. And then, worst of all, Lydia—her BFF and Partner in Cos—turns out to have a slightly different Grand Plan ...
Like 45 Pounds (More or Less), K.A. Barson's Charlotte Cuts it Out is a funny, relatable story set in the heart of the Midwest, just right for girls who have big dreams of their own.
Author Question: What is your favorite thing about Charlotte Cuts It Out?
There are two main things I love about CHARLOTTE. First, I love that it shows that all careers where people can be passionate about what they do are worthwhile. CHARLOTTE CUTS IT OUT takes place in a trade high school, and even though Charlotte can afford college, she chooses another path--and this is okay.

The other thing I like about this book is how Charlotte is the hero of her own story, but she's only viewing the world from her own skewed point of view. She has some tough lessons to learn, which forces some self-reflection, and ultimately some changes.
Purchase Charlotte Cuts It Out at Amazon
Purchase Charlotte Cuts It Out at IndieBound
View Charlotte Cuts It Out on Goodreads
* * * *
Dreamers Often Lie
by Jacqueline West
Signed Hardcover Giveaway
U.S/CAN Only
Dial Books
Released 4/5/2016
Black Swan meets Romeo and Juliet in this slippery, romantic YA by New York Times bestselling author Jacqueline West - for fans of Holly Black's White Cat, Justine Larbalestier's Liar, and Francesca Zappia's Made You Up.
Jaye wakes up from a skiing accident with a fractured skull, a blinding headache, and her grip on reality sliding into delusion. Determined to get back to her starring role in the school production of A Midsummer Night's Dream, Jaye lies to her sister, her mom, her doctors. She's fine, she says. She's fine. If anyone knew the truth - that hallucinations of Shakespeare and his characters have followed her from her hospital bed to the high school halls - it would all be over. She's almost managing to pull off the act when Romeo shows up in her anatomy class. And it turns out that he's 100% real. Suddenly Jaye has to choose between lying to everyone else and lying to herself.
Troubled by the magnetic new kid, a long-lost friend turned recent love interest, and the darkest parts of her family's past, Jaye's life tangles with Shakespeare's most famous plays until she can't tell where truth ends and pretending begins. Soon, secret meetings and dizzying first kisses give way to more dangerous things. How much is real, how much is in Jaye's head, and how much does it matter as she flies toward a fate over which she seems to have no control?
Author Question: What is your favorite thing about Dreamers Often Lie?
This book has many things that make me really happy—I love the world of live theater, I love getting to play with Shakespeare's characters (it's like having a giant set of magical action figures), I love the cover, I love the title we settled on at last—but my very favorite thing about DREAMERS OFTEN LIE is the way that it let me step fully inside someone else's mind.

This is the first thing I've written in a long time that uses the first-person perspective. POV is especially important in this case, because my protagonist's point-of-view is a pretty skewed one. At the beginning of the book, Jaye has just sustained a serious head injury, and afterward, visions of Shakespeare and his characters start appearing in her everyday life. The injury may even have affected her memories, although Jaye herself strongly resists that idea; it would call not only her sanity into question, but her feelings about her family—particularly her relationship with her father, which has left some deep and unaddressed injuries of another kind.

Getting to step fully inside Jaye's skin was a little bit like getting to play a character onstage. I was a high school drama kid myself, and I've always loved the way that acting allows you to step entirely inside of a story, to become a living part of it—or as Jaye puts it, "I don't have to just be me. I get to be a whole bunch of weird, complicated things." Readers and writers get to experience that same thrill. We can eavesdrop in other peoples' minds, feel their feelings, explore their worlds, live their lives for a little while. It's empathy and adventure at the same time. It's a pretty amazing thing.
Purchase Dreamers Often Lie at Amazon
Purchase Dreamers Often Lie at IndieBound
View Dreamers Often Lie on Goodreads
* * * *
Girl in the Blue Coat
by Monica Hesse
Hardcover Giveaway

U.S. Only
Little, Brown Books for Young Readers
Released 4/5/2016
An unforgettable story of bravery, grief, and love in impossible times
The missing girl is Jewish. I need you to find her before the Nazis do.
Amsterdam, 1943. Hanneke spends her days procuring and delivering sought-after black market goods to paying customers, her nights hiding the true nature of her work from her concerned parents, and every waking moment mourning her boyfriend, who was killed on the Dutch front lines when the Germans invaded. She likes to think of her illegal work as a small act of rebellion.
On a routine delivery, a client asks Hanneke for help. Expecting to hear that Mrs. Janssen wants meat or kerosene, Hanneke is shocked by the older woman's frantic plea to find a person--a Jewish teenager Mrs. Janssen had been hiding, who has vanished without a trace from a secret room. Hanneke initially wants nothing to do with such dangerous work, but is ultimately drawn into a web of mysteries and stunning revelations that lead her into the heart of the resistance, open her eyes to the horrors of the Nazi war machine, and compel her to take desperate action.
Meticulously researched, intricately plotted, and beautifully written, Girl in the Blue Coat is an extraordinary, gripping novel from a bright new voice in historical fiction.
Author Question: What is your favorite thing about Girl in the Blue Coat?
I love my main character, Hanneke. She's a black market smuggler, so she's smart and brave, but she's also incredibly broken--damaged, after the death of her boyfriend in the German invasion a little while before the book starts. Writing about her felt like trying to approach a wounded animal. I wanted to be gentle and careful with her, but also realize that her own pain and fear could cause her to lash out at any moment. Hanneke's character also let me explore some of my favorite things: what love feels like, what it means to lose it, how long it lasts, and how we forgive ourselves at the end of the day. Oh, and also, to research the book, I got to spend a year living in the world of the Dutch resistance and collecting a hundred amazing stories of rescues and missions. What could possibly be better?
Purchase Girl in the Blue Coat at Amazon
Purchase Girl in the Blue Coat at IndieBound
View Girl in the Blue Coat on Goodreads
* * * *
My Kind of Crazy
by Robin Reul
Paperback Giveaway

U.S. Only
Sourcebooks Fire
Released 4/5/2016
Despite the best of intentions, seventeen-year old, wisecracking Hank Kirby can't quite seem to catch a break. It's not that he means to screw things up all the time, it just happens. A lot. Case in point: his attempt to ask out the girl he likes literally goes up in flames when he spells "Prom" in sparklers on her lawn…and nearly burns down her house.
As if that wasn't bad enough, Peyton Breedlove, a brooding loner and budding pyromaniac, witnesses the whole thing. Much to Hank's dismay, Peyton takes an interest in him—and his "work." The two are thrust into an unusual friendship, but their boundaries are tested when Hank learns that Peyton is hiding some dark secrets, secrets that may change everything he thought he knew about Peyton.
Author Question: What is your favorite thing about My Kind of Crazy?
My favorite thing about MY KIND OF CRAZY is definitely the quirky characters. I had such a great time writing them. I wanted them all to be relatable and real, but to also be interesting enough that the reader wanted to take a journey with and care about each and every one of them, right down to the peripheral characters like Hank's boss or Nick's family. I loved the challenge of making each of them three-dimensional with their own attributes and ways of walking in the world that were funny and endearing when pitted against the life circumstances I'd thrown each of them in. As fun as it was to write the main characters, I think my favorite character of all to write was Monica, Hank's father's girlfriend. She is the epitome of a character taken to the extremes who adds so much unexpected heart to the story.

My writing is very dialogue driven, and it's where I really enjoy watching my characters come to life. I come from a film background, so as I write, I see the scene unfolding in my head cinematically. I definitely channeled my inner John Hughes and hopefully that kind of honesty comes through on the page.
Purchase My Kind of Crazy at Amazon
Purchase My Kind of Crazy at IndieBound
View My Kind of Crazy on Goodreads
* * * *
Nightstruck
by Jenna Black
Hardcover Giveaway

U.S. Only
Tor Teen
Released 4/5/2016
The start of a spooky yet romantic dark paranormal horror series from Glimmerglass author Jenna Black
The night is the enemy, and the city of Philadelphia is its deadliest weapon.
Becket is an ordinary teenage girl, wrestling with the upheaval of her parents' divorce. Her biggest problems to date have been choosing which colleges to apply to, living up to her parents' ambitious expectations of her, and fighting her secret crush on her best friend's boyfriend. That all changes the night she tries to save an innocent life and everything goes horribly wrong.
Becket has been tricked into opening a door between worlds. As dark magic trickles into Philadelphia, strange creatures roam the streets and inanimate objects come to life, all of them bloodthirsty and terrifying. The city returns to normal when the sun rises each morning. The moment the sun sets, most citizens shut themselves in their houses and stay there no matter what they hear.
The magic is openly hostile to most mortals, but there are some it seems to covet, trying to lure them out into the night. While Becket struggles to protect her friends and family from predatory creatures of the night, she is constantly tempted to shrug off her responsibilities and join them.
Author Question: What is your favorite thing about Nightstruck?
There are a lot of things about NIGHTSTRUCK I really love. I especially loved writing the scary scenes, because I'd never done anything quite like that before. However, my favorite thing about the book might be Bob, Becket's dog. I am a total dog lover, and Bob became a much more significant character than I was originally intending. He's a German Shepherd with guard dog training, so to Becket's father, he's a working dog. But to Becket, he's much more of a pet and a companion. He's also got Becket wrapped around his little finger (so to speak), and all he has to do is bat his doggy eyelashes and she bows to his will. (That part is totally based on my own dog, Perry, who with one look of his sad beagle eyes can convince me to give him a treat or let him up on my lap or scratch behind his ears for hours on end.)
Purchase Nightstruck at Amazon
Purchase Nightstruck at IndieBound
View Nightstruck on Goodreads
* * * *
Boys of Summer
by Jessica Brody
Hardcover Giveaway

U.S. Only
Simon Pulse
Released 4/5/2016
Best friends since they were kids, Grayson, Mike, and Ian were hoping for another epic summer on "The Locks", filled with clam bakes, bonfires, and late-night swims in the ocean.
But that was before Ian's dad never returned home from his last deployment. Before Mike had to take on more responsibility in order to help provide for his family. Before Grayson's accident left him with an injured throwing arm and an uncertain future.
It's clear this summer on the island is shaping up to be very different from those Grayson, Mike, and Ian have come to rely on. And when the sacred code of dating a friend's sister or ex is broken, it will push their friendship to the absolute limit, testing their loyalties in a way that could either break them—or save them.
Purchase Boys of Summer at Amazon
Purchase Boys of Summer at IndieBound
View Boys of Summer on Goodreads
* * * *
Essential Maps for the Lost
by Deb Caletti
Hardcover Giveaway

U.S. Only
Simon Pulse
Released 4/5/2016
From beloved author and National Book Award finalist Deb Caletti comes a fresh and luminous novel about the grief that can tear us apart and the people who can make us whole again.
When Madison makes a startling discovery--the body of a dead woman floating in the middle of a lake--the summer after her senior year becomes more complicated than she ever expected.
Madison (Mads to everyone who knows her) is staying with her aunt and uncle in Seattle after graduating from high school. Being away from her needy, unstable mother who's been pressuring her to take over the family business is such a relief. Now all Mads has to worry about is taking classes, swimming laps, and fighting off the sadness that threatens to overtake her.
That is, until the traumatic moment Mads collides with a body in the middle of the lake. After swimming the body back to shore, Mads becomes obsessed with uncovering the identity of the woman and what drove her to leap off of the Aurora Bridge. Determined to discover more, Mads parks outside the woman's home and sees the woman's son: the sweet and tormented Billy Youngwolf Floyd.
Through a series of not-so-happenstance meetings, Mads and Billy realize that desperate mothers and rescue missions are not the only thing that bonds them. Billy carries a map in his pocket--the one of the museum from The Mixed-Up Files of Mrs. Basil E. Frankweiler--and it&'s his dream to visit the museum one day. And though book-loving Mads is expected to return home to her already-decided future, her dream is to run away to a life of her choosing.
As the unlikely pair fall hard for each other and as the summer draws to a close, Billy and Mads must decide whose story to follow: their family's or their own
Purchase Essential Maps for the Lost at Amazon
Purchase Essential Maps for the Lost at IndieBound
View Essential Maps for the Lost on Goodreads
YA BOOK GIVEAWAYS LAST WEEK: WINNERS
We had no giveaways last week but don't forget to keep scrolling to enter this week's giveaway!
MORE YOUNG ADULT FICTION IN STORES NEXT WEEK WITH AUTHOR INTERVIEWS
* * * *
Arena
by Holly Jennings
Hardcover
Ace
Released 4/5/2016
A fast-paced and gripping near-future science fiction debut about the gritty world of competitive gaming...
Every week, Kali Ling fights to the death on national TV.
She's died hundreds of times. And it never gets easier...
The RAGE tournaments—the Virtual Gaming League's elite competition where the best gamers in the world compete in a no-holds-barred fight to the digital death. Every bloody kill is broadcast to millions. Every player is a modern gladiator—leading a life of ultimate fame, responsible only for entertaining the masses.
And though their weapons and armor are digital, the pain is real.
Chosen to be the first female captain in RAGE tournament history, Kali Ling is at the top of the world—until one of her teammates overdoses. Now, she must confront the truth about the tournament. Because it is much more than a game—and even in the real world, not everything is as it seems.
The VGL hides dark secrets. And the only way to change the rules is to fight from the inside...
Author Question: What is your favorite thing about Arena?
There are so many things I love about Arena, from the futuristic video games, to the raw, gritty tone of the story, to the idea of gamers as celebrities. But, if I have to pick just one thing, I'll have to go with the main character Kali Ling. She started out as a challenge to myself: create a strong protagonist who's deeply flawed yet still likable. What came out the other side was a snarky, witty heroine who can kick just as much ass with her words as she can with her fists. But as she faces obstacle after obstacle, pushed to do things she doesn't believe in or agree with, she comes to learn where her real strengths lie.

Watching this character change through the course of the story was almost magical, like it wasn't even by my hand. That's something I love writing about this age group. Your late teens or early twenties is usually the time where your decisions start to have a serious impact on your life, and even the lives of others, and if you make mistakes or the wrong choices sometimes, that doesn't make you a bad person. It just makes you human. To me, that's Kali. She makes mistakes, but she owns up to them, strives to make them right, and becomes stronger because of it.
Purchase Arena at Amazon
Purchase Arena at IndieBound
View Arena on Goodreads
* * * *
The End of FUN
by Sean McGinty
Hardcover
Disney-Hyperion
Released 4/5/2016
FUN®—the latest in augmented reality—is fun but it's also frustrating, glitchy and dangerously addictive . Just when everyone else is getting on, seventeen-year-old Aaron O'Faolain wants off.
But first, he has to complete his Application for Termination, and in order to do that he has to deal with his History—not to mention the present, including his grandfather's suicide and a series of clues that may (or may not) lead to buried treasure. As he attempts to unravel the mystery, Aaron is sidetracked again . . . and again. Shadowed by his virtual "best friend" Homie, Aaron struggles with love, loss, dog bites, werewolf pills, community theater, wild horses, wildfires and the fact (deep breath) that actual reality can sometimes surprise you.
Sean McGinty's strikingly profound and laugh-out-loud funny debut unearths a world that is eerily familiar, yet utterly original. Discover what it means to come to the end of fun.
Author Question: What is your favorite thing about The End of FUN?
I never had any kind of plan or strategy with The End of Fun other than attempting to write the kind of thing I might like to read, which if you want to be specific I guess would mean something somewhat humorous and fast-paced but with a heart at the center of it. Basically I just followed Aaron (the narrator) around as he tried to figure out his situation (and I tried to figure out mine). So the book has this wandering aspect to it and it covers a lot of ground, and I guess I like that.

Along the way I also designed a web app for the story, and in that process Aaron's virtual assistant Homie, was created—I made Homie by pixelating a photo of the desert and sky I had taken, and I put two blinking eyes on it and it looked like this robot face. And I like the face. It just stares at you and blinks, and it comforts me and creeps me out at the same time. You can find it at supermagicfuntrip.com.
Purchase The End of FUN at Amazon
Purchase The End of FUN at IndieBound
View The End of FUN on Goodreads
* * * *
The Haters
by Jesse Andrews
Hardcover
Amulet Books
Released 4/5/2016
From Jesse Andrews, author of the New York Times bestselling Me and Earl and the Dying Girl and screenwriter of the Sundance award–winning motion picture of the same name, comes a groundbreaking young adult novel about music, love, friendship, and freedom as three young musicians follow a quest to escape the law long enough to play the amazing show they hope (but also doubt) they have in them.
Inspired by the years he spent playing bass in a band himself, The Haters is Jesse Andrews's road trip adventure about a trio of jazz-camp escapees who, against every realistic expectation, become a band.
For Wes and his best friend, Corey, jazz camp turns out to be lame. It's pretty much all dudes talking in Jazz Voice. But then they jam with Ash, a charismatic girl with an unusual sound, and the three just click. It's three and a half hours of pure musical magic, and Ash makes a decision: They need to hit the road. Because the road, not summer camp, is where bands get good. Before Wes and Corey know it, they're in Ash's SUV heading south, and The Haters Summer of Hate Tour has begun.
In his second novel, Andrews again brings his brilliant and distinctive voice to YA, in the perfect book for music lovers, fans of The Commitments and High Fidelity, or anyone who has ever loved—and hated—a song or a band. This witty, funny coming-of-age novel is contemporary fiction at its best.
Author Question: What is your favorite thing about The Haters?
Great/unanswerable question. It might be the title. Compared to the title of my last book (ME AND EARL AND THE DYING GIRL), it's way shorter and easier to say out loud without anyone asking you to repeat it three or four times. Also, there's a way in which it preempts any criticism you might have of the book, because it reminds you that if you hate on this book, then YOU are a hater. Not to mention, the embarrassing idea that maybe your hater instincts come from a deep and desperate and unfulfillable need to love something with all of your being. How humiliating and pathetic is that?! The answer is, not at all. It is not at all humiliating or pathetic. We all hate. We all hate because we all need to love and are worried the world won't love us back enough, or in the right way. We hate because we fear and we fear because everything is at stake and everything is at stake because we are so full of love. I also like the parts where the book is formatted like a Wikipedia article.
Purchase The Haters at Amazon
Purchase The Haters at IndieBound
View The Haters on Goodreads
* * * *
The Mirror King
by Jodi Meadows
Hardcover
Katherine Tegen Books
Released 4/5/2016
Wilhelmina has a hundred enemies.
HER FRIENDS HAVE TURNED. After her identity is revealed during the Inundation, Princess Wilhelmina is kept prisoner by the Indigo Kingdom, with the Ospreys lost somewhere in the devastated city. When the Ospreys' leader emerges at the worst possible moment, leaving Wil's biggest ally on his deathbed, she must become Black Knife to set things right.
HER MAGIC IS UNCONTROLLABLE. Wil's power is to animate, not to give true life, but in the wraithland she commanded a cloud of wraith mist to save herself, and later ordered it solid. Now there is a living boy made of wraith—destructive and deadly, and willing to do anything for her.
HER HEART IS TORN. Though she's ready for her crown, declaring herself queen means war. Caught between what she wants and what is right, Wilhelmina realizes the throne might not even matter. Everyone thought the wraith was years off, but already it's destroying Indigo Kingdom villages. If she can't protect both kingdoms, soon there won't be a land to rule.
In this stunning conclusion to THE ORPHAN QUEEN, Jodi Meadows follows Wilhelmina's breathtaking and brave journey from orphaned criminal on the streets to magic-wielding queen.
Author Question: What is your favorite thing about The Mirror King?
Hah, is it awful to say "My favorite thing is that it's finished."? I love THE MIRROR KING, and I'm so, so happy that it's a book. I'm also happy that it's finished, and that it's turned out to be everything that I want it to be.

This book was incredibly difficult me to write. I spent a lot of time wondering why my book hated me and if it was ever going to be written, or if I'd lost all my powers of writing. I had a lot of doubts writing this book, mostly centering around my own ability to do it, but I kept pushing through. And after all that work, I have a book I truly love -- that I'm truly proud of.
Purchase The Mirror King at Amazon
Purchase The Mirror King at IndieBound
View The Mirror King on Goodreads
MORE YOUNG ADULT NOVELS NEW IN STORES NEXT WEEK
* * * *
Booked
by Kwame Alexander
Hardcover
HMH Books for Young Readers
Released 4/5/2016
Like lightning/you strike/fast and free/legs zoom/down field/eyes fixed/on the checkered ball/on the goal/ten yards to go/can't nobody stop you/
can't nobody cop you…
In this follow-up to the Newbery-winning novel THE CROSSOVER, soccer, family, love, and friendship, take center stage as twelve-year-old Nick learns the power of words as he wrestles with problems at home, stands up to a bully, and tries to impress the girl of his dreams. Helping him along are his best friend and sometimes teammate Coby, and The Mac, a rapping librarian who gives Nick inspiring books to read.
This electric and heartfelt novel-in-verse by poet Kwame Alexander bends and breaks as it captures all the thrills and setbacks, action and emotion of a World Cup match!
Purchase Booked at Amazon
Purchase Booked at IndieBound
View Booked on Goodreads
* * * *
Burning
by Danielle Rollins
Hardcover
Bloomsbury USA Childrens
Released 4/5/2016
Orange is the New Black gets a unique YA twist in this creepy story of the darkness that dwells in each of us.
After three years in juvie, Angela Davis is just a few months shy of release, and she'll finally be free from the hole that is Brunesfield Correctional Facility. Then Jessica arrives. Only ten years old and under the highest security possible, this girl has to be dangerous, even if no one knows what she did to land in juvie. As strange things begin happening to Angela and her friends that can only be traced to the new girl's arrival, it becomes clear that Brunesfield is no longer safe. They must find a way to get out, but how can they save themselves when the world has forgotten them?
Readers will be rooting for Angela and her friends to find the truth and save themselves in this spine-tingling story rich with secrets and conspiracies.
Purchase Burning at Amazon
Purchase Burning at IndieBound
View Burning on Goodreads
* * * *
Fifteen Lanes
by S.J. Laidlaw
Hardcover
Tundra Books
Released 4/5/2016
Noor has lived all of her fourteen years in the fifteen lanes of Mumbai's red light district. Born into a brothel, she is destined for the same fate as her mother: a desperate life trapped in the city's sex trade. She must act soon to have any chance of escaping this grim future.
Across the sprawling city, fifteen-year-old Grace enjoys a life of privilege. Her father, the CEO of one of India's largest international banks, has brought his family to Mumbai where they live in unparalleled luxury. But Grace's seemingly perfect life is shattered when she becomes a victim of a cruel online attack.
When their paths intersect, Noor and Grace will be changed forever. Can two girls living in vastly different worlds find a common path?
Award-winning author S.J. Laidlaw masterfully weaves together their stories in a way that resonates across class and culture. Fifteen Lanes boldly explores the ties that bind us to places and people, and shows us that the strongest of bonds can be forged when hope is all but lost.
Purchase Fifteen Lanes at Amazon
Purchase Fifteen Lanes at IndieBound
View Fifteen Lanes on Goodreads
* * * *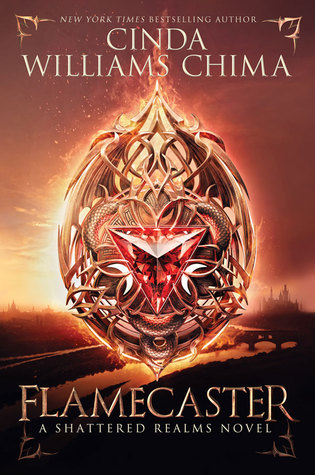 Flamecaster
by Cinda Williams Chima
Hardcover
HarperTeen
Released 4/5/2016
The first in a thrilling new four-book fantasy series from New York Times bestselling author Cinda Williams Chima, set in the same world as her beloved Seven Realms series, a generation later.
Adrian sul'Han, known as Ash, is a trained healer with a powerful gift of magic—and a thirst for revenge. Ash is forced into hiding after a series of murders throws the queendom into chaos. Now Ash is closer than he's ever been to killing the man responsible, the cruel king of Arden. As a healer, can Ash use his powers not to save a life but to take it?
Abandoned at birth, Jenna Bandelow was told that the mysterious magemark on the back of her neck would make her a target. But when the King's Guard launches a relentless search for a girl with a mark like hers, Jenna assumes that it has more to do with her role as a saboteur than any birth-based curse. Though Jenna doesn't know why she's being hunted, she knows that she can't get caught.
Eventually, Ash's and Jenna's paths will collide in Arden. Thrown together by chance and joined by their hatred of the king, they will come to rescue each other in ways they cannot yet imagine.
Set in the world of the acclaimed Seven Realms series a generation later, this is a thrilling story of dark magic, chilling threats, and two unforgettable characters walking a knife-sharp line between life and death.
Purchase Flamecaster at Amazon
Purchase Flamecaster at IndieBound
View Flamecaster on Goodreads
* * * *
Flawed
by Cecelia Ahern
Hardcover
Feiwel & Friends
Released 4/5/2016
The Scarlet Letter meets Divergent in this thoughtful and thrilling novel by bestselling author Cecelia Ahern.
Celestine North lives a perfect life. She's a model daughter and sister, she's well-liked by her classmates and teachers, and she's dating the impossibly charming Art Crevan.
But then Celestine encounters a situation where she makes an instinctive decision. She breaks a rule. And now faces life-changing repercussions.
She could be imprisoned. She could be branded. She could be found FLAWED.
In her breathtaking young adult debut, bestselling author Cecelia Ahern depicts a society where obedience is paramount and rebellion is punished. And where one young woman decides to take a stand that could cost her--everything.
Purchase Flawed at Amazon
Purchase Flawed at IndieBound
View Flawed on Goodreads
* * * *
Forest of Ruin
by Kelley Armstrong
Hardcover
HarperCollins
Released 4/5/2016
From #1 New York Times bestselling author Kelley Armstrong comes the breathtaking conclusion to the Age of Legends trilogy, perfect for fans of Graceling and Game of Thrones.
The empire rests on the edge of a knife, and sisters Ashyn and Moria are the handle and the blade. Desperate to outmaneuver the evil Alvar Kitsune, whose hold on the people grows stronger every day, Emperor Tatsu begs Moria to put aside past grievances and ally with Gavril—at least long enough to make an attempt on Alvar's life. Meanwhile, reunited with her long-lost grandfather, Ashyn discovers that she is the key to a ritual that could reawaken an ancient dragon and turn the tide of the coming battle in their favor.
But with lies and betrayal lurking around every corner, Ashyn and Moria will have to decide once and for all where their allegiances are. And it may not be where their hearts would lead them....
In this breathtaking final book in her epic trilogy the Age of Legends, #1 New York Times bestselling author Kelley Armstrong blends fantasy, action, and romance to give readers the unforgettable ending they've been waiting for.
Purchase Forest of Ruin at Amazon
Purchase Forest of Ruin at IndieBound
View Forest of Ruin on Goodreads
* * * *
Golden
by Melissa de la Cruz
Hardcover
G.P. Putnam's Sons Books for Young Readers
Released 4/5/2016
In this epic conclusion to the trilogy, Nat and Wes go on a journey to find the Rift, save the source of magic and defeat the Drau, the pirates, and the RSA—but at a great sacrifice. Wes is dying, and as he's rotting the Drau will let the rot "cleanse" the source of magic, dooming Wes forever. Nat and Wes discover that the source of the magic lies in the Drakon—the key to the Blue, the protector, the soul of the world. But in order to close the Rift, a great sacrifice is needed. Nat must decide to sacrifice her beloved drakon in order to save the world, and to save Wes. In the words of the sylphs, death is life, and now the worlds can be reborn again.
Purchase Golden at Amazon
Purchase Golden at IndieBound
View Golden on Goodreads
* * * *
Invision
by Sherrilyn Kenyon
Hardcover
St. Martin's Griffin
Released 4/5/2016
One boy . . .
Many demons.
Think there's a lot of pressure on your shoulders? Nick Gautier was born to bring about the end of the world . . . it's not easy being the heir of a demon overlord.
But Nick is determined to thwart his destiny and get into a good college. To be more than his genetics and prophecy foretell. No one is ever going to tell this stubborn Cajun who and what he really is. Or how to live his life.
Not even the Fates of the Universe. But now that he and his team of ancient gods and demons have claimed the Eye of Ananke and he sees the missteps of the future, he has to battle the demons within that are far deadlier and more treacherous than any he's battled before. All the while his arch nemesis is back and determined to reclaim his place as the harbinger for Armageddon. Even if it means killing Nick and barbecuing everyone he loves to do so.
Purchase Invision at Amazon
Purchase Invision at IndieBound
View Invision on Goodreads
* * * *
Lady Renegades
by Rachel Hawkins
Hardcover
G.P. Putnam's Sons Books for Young Readers
Released 4/5/2016
From the New York Times bestselling author of Hex Hall comes the sparkling finale in the beloved Rebel Belle series.
Just as Harper Price starts coming to terms with her role as David Stark's battle-ready Paladin, protector, and girlfriend—her world goes crazy all over again.
Overwhelmed by his Oracle powers, David flees Pine Grove and starts turning teenaged girls into Paladins—and these young ladies seem to think that Harper is the enemy David needs protecting from. Ordinarily, Harper would be able to fight off any Paladin who comes her way, but her powers have been dwindling since David left town, which means her life is on the line yet again.
Now, it's a desperate race for Harper to find and rescue David before she backslides from superhero to your garden-variety type-A belle.
New York Times bestselling author Rachel Hawkins brings the fun once again in the finale of this pitch-perfect romantic paranormal comedy series
Purchase Lady Renegades at Amazon
Purchase Lady Renegades at IndieBound
View Lady Renegades on Goodreads
* * * *
Once Upon a Dream
by Liz Braswell
Hardcover
Disney Press
Released 4/5/2016
What if the sleeping beauty never woke up? Once Upon a Dream marks the second book in a new YA line that reimagines classic Disney stories in surprising new ways.
It should be simple--a dragon defeated, a slumbering maiden, a prince poised to wake her. But when said prince falls asleep as soon as his lips meet the princess's, it is clear that this fairy tale is far from over.
With a desperate fairy's last curse infiltrating her mind, Princess Aurora will have to navigate a dangerous and magical landscape deep in the depths of her dreams. Soon she stumbles upon Phillip, a charming prince eager to join her quest. But with Maleficent's agents following her every move, Aurora struggles to discover who her true allies are, and moreover, who she truly is. Time is running out. Will the sleeping beauty be able to wake herself up?
Purchase Once Upon a Dream at Amazon
Purchase Once Upon a Dream at IndieBound
View Once Upon a Dream on Goodreads
* * * *
Tell Me Three Things
by Julie Buxbaum
Hardcover
Delacorte Press
Released 4/5/2016
Everything about Jessie is wrong. At least, that's what it feels like during her first week of junior year at her new ultra-intimidating prep school in Los Angeles. Just when she's thinking about hightailing it back to Chicago, she gets an email from a person calling themselves Somebody/Nobody (SN for short), offering to help her navigate the wilds of Wood Valley High School. Is it an elaborate hoax? Or can she rely on SN for some much-needed help?
It's been barely two years since her mother's death, and because her father eloped with a woman he met online, Jessie has been forced to move across the country to live with her stepmonster and her pretentious teenage son.
In a leap of faith—or an act of complete desperation—Jessie begins to rely on SN, and SN quickly becomes her lifeline and closest ally. Jessie can't help wanting to meet SN in person. But are some mysteries better left unsolved?
Purchase Tell Me Three Things at Amazon
Purchase Tell Me Three Things at IndieBound
View Tell Me Three Things on Goodreads
* * * *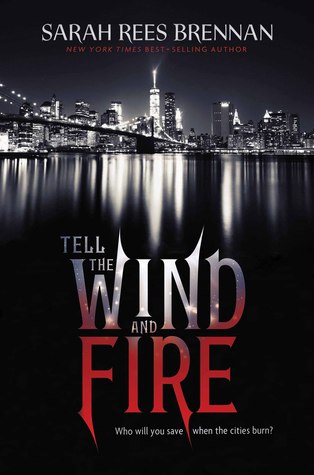 Tell the Wind and Fire
by Sarah Rees Brennan
Hardcover
Clarion Books
Released 4/5/2016
Tell the Wind & Fire is about a young girl called Lucie who lives in a New York very different from the New York we know: the city is torn between two very different kinds of magic, and Lucie's own family was torn apart years ago by that conflict. Lucie wears magic rings and carries a burden of guilt she can't share with anyone.
The light in her life is her sweetheart boyfriend Ethan, but it turns out Ethan has a secret too: a soulless doppelganger created by dark magic, who has to conceal the face identical to Ethan's with a hood fastened by a collar nobody but a Light magician with magical rings can take off… and who introduces himself to both of them by, for reasons nobody can understand, saving Ethan's life…
Purchase Tell the Wind and Fire at Amazon
Purchase Tell the Wind and Fire at IndieBound
View Tell the Wind and Fire on Goodreads
* * * *
The Glittering Court
by Richelle Mead
Hardcover
Razorbill
Released 4/5/2016
Big and sweeping, spanning the refined palaces of Osfrid to the gold dust and untamed forests of Adoria, The Glittering Court tells the story of Adelaide, an Osfridian countess who poses as her servant to escape an arranged marriage and start a new life in Adoria, the New World. But to do that, she must join the Glittering Court.
Both a school and a business venture, the Glittering Court is designed to transform impoverished girls into upper-class ladies capable of arranging powerful and wealthy marriages in the New World. Adelaide naturally excels in her training and even makes a few friends: the fiery former laundress Tamsin and the beautiful Sirminican refugee Mira. She manages to keep her true identity hidden from all but one: the intriguing Cedric Thorn, son of the wealthy proprietor of the Glittering Court.
When Adelaide discovers that Cedric is hiding a dangerous secret of his own, together, they hatch a scheme to make the best of Adelaide's deception. Complications soon arise—first, as they cross the treacherous seas from Osfrid to Adoria, and later, when Adelaide catches the attention of a powerful governor.
But no complication will prove quite as daunting as the potent attraction simmering between Adelaide and Cedric. An attraction that, if acted on, would scandalize the Glittering Court and make them both outcasts in wild, vastly uncharted lands. . . .
Purchase The Glittering Court at Amazon
Purchase The Glittering Court at IndieBound
View The Glittering Court on Goodreads
* * * *
The New Guy (and Other Senior Year Distractions)
by Amy Spalding
Hardcover
Poppy
Released 4/5/2016
A ridiculously cute, formerly-famous new guy dropping into your life? It's practically every girl's dream. But not Jules Mcallister-Morgan's.
I realize that on paper I look like your standard type-A, neurotic overachiever. And maybe I am. But I didn't get to be the editor of my school's long-revered newspaper by just showing up. I have one main goal for my senior year--early acceptance into my first choice Ivy League college--and I will not be deterred by best friends, moms who think I could stand to "live a little," or boys. At least, that was the plan before I knew about Alex Powell.
And before Alex Powell betrayed me.
I know what you're thinking: Calm down, Jules. But you don't understand. This stuff matters. This is my life. And I'm not going down without a fight.
Okay, I sort of did. But it's a sore subject.
I mean, I guess everyone knows about Alex Powell? Two years ago, you couldn't go anywhere without hearing about viral video boy band sensation Chaos 4 All. Two years ago, Alex Powell was famous.
Some people think I'm overreacting. But this. Means. War.
Filled with romance, rivalry, and passive-aggressive dog walking, Amy Spalding delivers a hilariously relatable high school story that's sure to have you falling for The New Guy.
Purchase The New Guy (and Other Senior Year Distractions) at Amazon
Purchase The New Guy (and Other Senior Year Distractions) at IndieBound
View The New Guy (and Other Senior Year Distractions) on Goodreads
* * * *
When We Collided
by Emery Lord
Hardcover
Bloomsbury USA Childrens
Released 4/5/2016
Meet Vivi and Jonah: A girl and a boy whose love has the power to save or destroy them.
Vivi and Jonah couldn't be more different. Vivi craves anything joyful or beautiful that life can offer. Jonah has been burdened by responsibility for his family ever since his father died. As summer begins, Jonah resigns himself to another season of getting by. Then Vivi arrives, and suddenly life seems brighter and better. Jonah is the perfect project for Vivi, and things finally feel right for Jonah. Their love is the answer to everything. But soon Vivi's zest for life falters, as her adventurousness becomes true danger-seeking. Jonah tries to keep her safe, but there's something important Vivi hasn't told him.
Perfect for fans of E. Lockhart and Jandy Nelson, When We Collided is a powerful story of two teens whose love is put to the test by forces beyond their control.
Purchase When We Collided at Amazon
Purchase When We Collided at IndieBound
View When We Collided on Goodreads
a Rafflecopter giveaway