Forbidden
series, and we're delighted to have Kimberley Griffiths Little here to chat about it.
Kimberley, what scene was really hard for you to write and why, and is that the one of which you are most proud? Or is there another scene you particularly love?
Chapter 20 ended up being added after I already had a complete draft of BANISHED. I'd foreshadowed treason with two other characters and hadn't carried it through to its climax. I still needed to write the BIG confrontation. Somebody had to die, but who, and how?
I quickly drafted the chapter in a frenzy since my editor's deadline was looming within days. It stunned me when all the plot pieces came together. The chapter didn't suffer too many revisions either, which is always a bit astonishing.
I particularly love the emotional scene between Jayden and Kadesh at the end of Chapter 20. Kadesh is tearing himself into pieces over the fact that he had to carry out capital punishment on the traitor and the king's son, his unwitting accomplice. It's the first time the burdens and weight of responsibility as heir to the throne comes into full force and it almost does him in emotionally because he had to punish men he'd known his entire life. The tender scene between Kadesh and Jayden made me cry for him. It was also a great opportunity to show a new side to their deepening relationship.
What's your writing ritual like? Do you listen to music? Work at home or at a coffee shop or the library, etc?

I've always worked at home—in dead silence—except for three yelling, wrestling boys in the background. Somehow I manage to tune them out unless someone is bleeding. Then I began drafting Banished and immediately became overwhelmed by so many characters and plot threads.

I kind of freaked out. Stared at my screen for hours. Ate way too many cookies—including cookie dough by the heaping spoonful. My daughter told me about Pandora so I checked it out. The Downton Abbey "station" is surprisingly a good one, a great mix of instrumental from dozens of artists. I adore the Secret Garden, an Irish/Norwegian duo, they are soooo good! and piano solos. I'm a pianist and listening to piano music just *does* something for me.

I found out for the first time in my life that I liked listening to music while I wrote. It took me into the mood of my story. After a few weeks struggling to start each new writing session I'd turn on Pandora on my Ipad—and the music turned a switch on in my brain. I was like Pavlov's dog. I found myself writing when the music began. A few weeks later I'd written 80,000 words and finally typed The End. It was a miracle.

Now I flounder around until the music goes on and voila(!) my fingers and brain finally get going. It was the only thing that got me through the drafting of Book 3, too.

What advice would you most like to pass along to other writers?

Finish the book! I know SO many writers who get bogged down in the middle—and honestly, we ALL get bogged down. Too many aspiring writers have files full of half-done manuscripts, first chapters, bits and pieces of great ideas, but no completed manuscript.

True Story: I have a friend who was convinced that she had to get an MFA degree in writing (which she did) in order to learn how to become a better writer and get published—and yet, she has yet to finish a full, complete manuscript so that she can even begin querying agents and editor.

Sadly, she is remarkably talented and every time she attends a writer's conferences her first pages are read by an editor who loves it and wants to see the book when it was done. But she's never submitted the book because she hasn't finished it.

Striving for perfection or not disciplining yourself to stay in the chair and get through to the end can be your doom. Twenty years after I first met this friend, she has yet to finish her YA novel. My heart bleeds for her.

It doesn't take enormous talent to write a book, it takes a bigger dose of determination and perseverance. Yes, it's hard. Every single book I write is hard in its own way, but it's possible. There are writers across the country, sitting in their solitary rooms, pounding away at their keyboards (and sometimes pounding their heads), and finishing. When you have a complete manuscript you have a chance at publication, it's that simple.

The other half of this advice is that after you finish the first manuscript, begin your next book within months or at least a year. The writer who keeps writing new stories (as opposed to revising the same one ad nauseam) will automatically become a better writer. I promise you that is true. I wish someone had told me this twenty years ago.
ABOUT THE BOOK
Banished
by Kimberley Griffiths Little
Hardcover
HarperCollins
Released 2/2/2016
She thought she'd lost everything . . .
After spending months traveling the harsh, unforgiving Mesopotamian desert, Jayden reunites with a broken, injured Kadesh. Although everyone was convinced the violent and unpredictable Horeb, Jayden's betrothed, killed the handsome prince, Jayden knew in her heart that her love was alive and safe. But their reunion is short-lived, as they learn Horeb is on their trail and determined to take back the girl he has claimed. Soon, the two star-crossed lovers are on the run toward Sariba, Kadesh's homeland, where, as heir to the Kingdom, he plans to make Jayden his princess.
But the trek to Sariba is fraught with heartache and danger. After narrowly escaping being stoned to death for a crime she didn't commit, and learning that her sister has disappeared, Jayden's only solace is her love for Kadesh. But even he is keeping secrets from her . . . secrets that will change everything. This gorgeous and enchanting sequel to Forbidden, is full of love, danger, and heated passion that will leave readers breathless.
Purchase Banished at Amazon
Purchase Banished at IndieBound
View Banished on Goodreads
ABOUT THE AUTHOR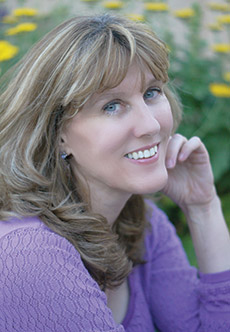 Kimberley Griffiths Little was born in San Francisco, but now lives in New Mexico with her husband and three sons in a solar adobe home on the banks of the Rio Grande. Her award-winning writing has been praised as "fast-paced and dramatic," with "characters painted in memorable detail" and "beautifully realized settings."
Kimberley adores anything old and musty with a secret story to tell and makes way too many cookies while writing.
She's stayed in the haunted tower room at Borthwick Castle in Scotland; held baby gators in the bayous/swamps of Louisiana, sailed the Seine in Paris; ridden a camel in Petra, Jordan; shopped the Grand Bazaar in Istanbul; and spent the night in an old Communist hotel in Bulgaria.
Kimberley's Awards include: Southwest Book Award, Whitney Award for Best Youth Novel, Bank Street College Best Books of 2011 & 2014, Crystal Kite Finalist, and New Mexico Book Award Finalist.
---
Have you had a chance to read BANISHED yet? Does music help you write or does it distract you? Do you continue to write new stories to become a better writer? Share your thoughts about the interview in the comments!
Happy reading,
Jocelyn, Shelly, Martina, Erin, Susan, Sam, Lindsey, Sarah, Sandra, Kristin, and Anisaa