Laurie, what was your inspiration for writing FIRSTS?
To be honest, Mercedes and the hook for FIRSTS just kind of adhered to my brain one day and pressed against it until I started writing the story. As I wrote, I realized exactly what I wanted to say, and I was inspired by every single teenage girl who has ever been judged or shamed or called names for having sex or acting a certain way or wearing an article of clothing someone else may not like. Those girls deserve better, and I wanted to write a story that would make them feel like they're worthy and not alone.
What scene was really hard for you to write and why, and is that the one of which you are most proud? Or is there another scene you particularly love?
That's such a great question! There's a confrontation between Mercedes and another character partway through the book and without giving too much away, I'll say that it was really difficult to write. Mercedes struggles to find her voice and stand up for herself because the conflict reminds her of something that happened in her past, and as a writer, I could feel everything she was feeling—hurt, scared, haunted, vulnerable, panicked.
My favorite scene comes closer to the end and it's just as emotional, but in a much different way. I don't want to say much more, but there may be a reference to a certain comfort food that I love!
What book or books would most resonate with readers who love your book--or visa versa?
I think FIRSTS would appeal to readers who like edgy YA contemporary. Some of my favorite YA books in this vein are THE TRUTH ABOUT ALICE by Jennifer Mathieu, TEASE by Amanda Maciel, SEX & VIOLENCE by Carrie Mesrobian, anything by Courtney Summers and Amy Reed, and USES FOR BOYS by Erica Lorraine Scheidt.
How long did you work on FIRSTS?
The first (haha) draft of FIRSTS took me three weeks to finish. The words came fast and furious. Of course, after that came revisions—I revised for Pitch Wars, revised with my agent, and revised with my editor. There's a saying that writing happens in rewriting, and I think that holds weight. First drafts are for spilling out everything, for not holding back, and all the drafts after are to make it look pretty and give it structure. (That said, I have a special love for drafting. I guess I just like creating the mess.)
What did this book teach you about writing or about yourself?
FIRSTS was my first (the puns never end!) attempt at pantsing, so it taught me that by following my instincts, everything will unfold the way it's supposed to. FIRSTS showed me to have faith in my words and characters and that there are no wrong directions, just different paths the story can take. When I wrote FIRSTS, I banished self-doubt to the back of my mind, told my inner editor to take a hike, and had the best writing experience of my life.
What do you hope readers will take away from FIRSTS?
I hope FIRSTS helps readers realize that people are rarely who they seem on the surface. It's easy to pass judgment on people when you don't know them, when you only know them by reputation and what other people are saying. But we rarely know what's going on beneath the face people show the world, so what gives us the right to make assumptions?
How long or hard was your road to publication? How many books did you write before this one, and how many never got published?
My road to publication definitely didn't happen overnight. I wrote two books before FIRSTS, both New Adult contemporaries. I don't regret either of those books. They both taught me a lot—about making time to write, taking chances with language, and going directions that weren't in my original plans. I queried my first New Adult manuscript from December 2012 for almost a full year, and while I received several requests, they ultimately ended in rejection and I made the decision to shelf the manuscript and start something totally new (FIRSTS!). I started querying FIRSTS in February 2014 and received my offer of representation from my agent, Kathleen Rushall, at the end of March.
Was there an AHA! moment along your road to publication where something suddenly sank in and you felt you had the key to writing a novel? What was it?
I'm still looking for that key! Ha. If there's one thing I've learned, it's that for me, each novel follows a different process. Some I can pants the entire way through, some require a bit of plotting, some stories come easier, some take days of deep thought. I stopped comparing one project to another because it's true, comparison really is the thief of joy!
What's your writing ritual like? Do you listen to music? Work at home or at a coffee shop or the library, etc?
I try to write for an hour or two at home before I go to work at my day job, either in my office or on the couch with my impossibly spoiled Chihuahua on my lap, always with lots of strong black coffee. I also write on my lunch hour and occasionally in the evening after work. Sometimes I listen to music, but other times the lyrics end up distracting me. During FIRSTS, my "theme" song was "Lover I Don't Have to Love" by Bright Eyes, which I listened to on repeat. I'm a big fan of movie soundtracks. The American Beauty soundtrack never fails to inspire me.
What advice would you most like to pass along to other writers?
Don't write to trends or write something just because you think it will sell. Write the project you're passionate about, the one you can't stop thinking about, the one that scares you. Your enthusiasm and spirit will come through in your words, and you'll be a happier writer as a result.
What are you working on now?
I'm juggling three different projects at the moment—one at the revision stage, two at the drafting stage. They're all YA contemporary. One has multiple person POV, one is from a boy POV, and one is… Well, it's giving me grief, which usually means it's going to be worth it!
Thanks so much for having me on your site! It's an honor to be here, and I hope readers enjoy FIRSTS!
ABOUT THE BOOK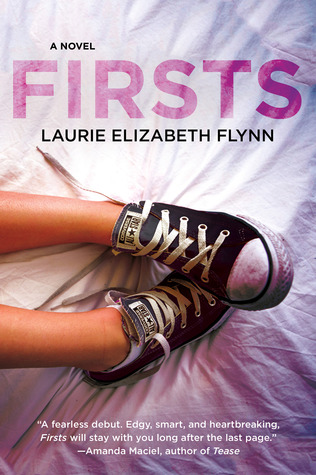 Firsts
by Laurie Elizabeth Flynn
Hardcover
St. Martin's Griffin
Released 1/5/2016
Seventeen-year-old Mercedes Ayres has an open-door policy when it comes to her bedroom, but only if the guy fulfills a specific criteria: he has to be a virgin. Mercedes lets the boys get their awkward, fumbling first times over with, and all she asks in return is that they give their girlfriends the perfect first time- the kind Mercedes never had herself.
Keeping what goes on in her bedroom a secret has been easy- so far. Her absentee mother isn't home nearly enough to know about Mercedes' extracurricular activities, and her uber-religious best friend, Angela, won't even say the word "sex" until she gets married. But Mercedes doesn't bank on Angela's boyfriend finding out about her services and wanting a turn--or on Zach, who likes her for who she is instead of what she can do in bed.
When Mercedes' perfect system falls apart, she has to find a way to salvage her reputation and figure out where her heart really belongs in the process. Funny, smart, and true-to-life, FIRSTS is a one-of-a-kind young adult novel about growing up.
Purchase Firsts at Amazon
Purchase Firsts at IndieBound
View Firsts on Goodreads
ABOUT THE AUTHOR
Laurie Elizabeth Flynn writes contemporary fiction for young adults. Her debut, FIRSTS, will be published by Thomas Dunne Books/St Martin's Press in 2016.
Laurie went to school for Journalism, where the most important thing she learned was that she would rather write made-up stories than report the news. She also worked as a model, a job that took her overseas to Tokyo, Athens, and Paris.
Laurie now lives in London, Ontario with her husband Steve, who is very understanding when she would rather spend time with the people in her head. Laurie can mostly be found writing happily at her desk, with the world's most spoiled Chihuahua on her lap. Laurie drinks way too much coffee, snorts when she laughs, and times herself when she does crossword puzzles.
Laurie is represented by the amazing Kathleen Rushall of the Marsal Lyon Literary Agency.
---
Have you had a chance to read FIRSTS yet? Do you tell your inner editor to take a hike when writing first drafts? Are you writing the project that scares you?
Happy reading,
Jocelyn, Shelly, Martina, Erin, Lisa, Susan, Sam, Lindsey, Sandra, Kristin, and Anisaa