Happy Reading!
Lindsey, Martina, Sam, Jocelyn, Erin, Lisa, Shelly, Susan, Elizabeth, Kristin, Sandra and Anisaa
YA BOOK GIVEAWAYS THIS WEEK
The Revolution of Ivy
by Amy Engel
Signed Paperback Giveaway

U.S. Only
Entangled: Teen
Released 11/3/2015
Ivy Westfall is beyond the fence and she is alone. Abandoned by her family and separated from Bishop Lattimer, Ivy must find a way to survive on her own in a land filled with countless dangers, both human and natural. She has traded a more civilized type of cruelty--forced marriages and murder plots--for the bare-knuckled brutality required to survive outside Westfall's borders.
But there is hope beyond the fence, as well. And when Bishop reappears in Ivy's life, she must decide if returning to Westfall to take a final stand for what she believes is right is worth losing everything she's fought for.
Author Question: What is your favorite thing about The Revolution of Ivy?
Can I cheat and tell you my two favorite things? I love Ivy's character growth over the course of the series and what happens in REVOLUTION plays a big part in that. At the beginning of the first book, she's scared, naive, and easily manipulated. But underneath that, there's a power to Ivy that she is only beginning to discover by the end of the book. In REVOLUTION, she is forced to really tap into those reserves of strength and willfulness and I loved watching her grow into an independent, resourceful, but still loving and compassionate, young woman.

My second favorite thing is the relationship between Ivy and Bishop. They continue to bring out the best in each other and push each other in positive ways. Writing their love story was so poignant and such fun. Those two make my heart happy.
Purchase The Revolution of Ivy at Amazon
Purchase The Revolution of Ivy at IndieBound
View The Revolution of Ivy on Goodreads
* * * *
Hollowgirl
by Sean Williams
Hardcover Giveaway

U.S. Only
Balzer + Bray
Released 11/3/2015
Clair's world has been destroyed – again. The only remaining hope of survival is for her and Q to enter the Yard, a simulation as detailed – and as real – as the home they have lost. But in the Yard there are two Clair Hills. The other Clair is headstrong, impulsive, suspicious – just like Clair herself used to be, and their very existence is causing cracks.
As Clair searches for a solution, a surprising new ally emerges from the ashes. Together they fight their way through the digital and political minefield in the hope of saving Jesse, her friends and the whole of humanity.
Author Question: What is your favorite thing about Hollowgirl?
One of the frustrating things for me as the author and for some readers is that in the first two books of the series we never got to meet the real Libby. What I mean by this is that the main character Clair's best friend had already used the meme called "Improvement" and was thus for the entire series another person entirely.

In HOLLOWGIRL, finally, I get to show everyone that Libby is awesome and BFF-worthy in her own right. She's not perfect, but neither is Clair, and together they are unbeatable.

The other thing we get to see is how much Clair has changed over the course of the series. She's gone from a quiet, steady high school student to the girl who destroyed the world by accident, twice. When she meets herself as she was at the beginning of the series (it's complicated) it's immediately obvious that they're different people. And yet the same person.

On one hand that's cool: they know each other better than anyone else. On the other hand, the "new" Clair wants the same thing the "old" Clair wants, and gets to make the same mistakes all over again. . . .
Purchase Hollowgirl at Amazon
Purchase Hollowgirl at IndieBound
View Hollowgirl on Goodreads
YA BOOK GIVEAWAYS LAST WEEK: WINNERS
Fathomless by Anne M. Pillsworth
- Alisha S.
Frosted Kisses by Heather Hepler
- Danielle H., Susan S., Elise O.
Persuasion by Martina Boone
- Elizabeth D.
The Winter Place by Alexander Yates
- Elisa H.
These Shallow Graves by Jennifer Donnelly
- Magdalena O.
Underneath Everything by Marcy Beller Paul
- Rosie G.
MORE YOUNG ADULT FICTION IN STORES NEXT WEEK WITH AUTHOR INTERVIEWS
How to Be Brave
by E. Katherine Kottaras
Hardcover
St. Martin's Griffin
Released 11/3/2015
An emotional contemporary YA novel about love, loss, and having the courage to chase the life you truly want.
Reeling from her mother's death, Georgia has a choice: become lost in her own pain, or enjoy life right now, while she still can. She decides to start really living for the first time and makes a list of fifteen ways to be brave - all the things she's wanted to do but never had the courage to try. As she begins doing the things she's always been afraid to do - including pursuing her secret crush, she discovers that life doesn't always go according to plan. Sometimes friendships fall apart and love breaks your heart. But once in a while, the right person shows up just when you need them most - and you learn that you're stronger and braver than you ever imagined.
Author Question: What is your favorite thing about How to Be Brave?
People often ask is Georgia is me – and while those who know me will certainly recognize particular qualities and even details from who I am and who I was when I was in high school – I have to say that my favorite thing about HOW TO BE BRAVE is how bold Georgia is in a way I never was when I was her age. I love writing because it allows me to slip into a character's skin and experience new things. Sometimes that means I actually have to go do them in order to write a scene. Sometimes I'm able to use my imagination. Either way, I loved writing Georgia. She's sometimes spunky and sometimes scared, but she's honest and real, and she's on a mission to live her life in a meaningful way. She's a character who came from my heart.
Purchase How to Be Brave at Amazon
Purchase How to Be Brave at IndieBound
View How to Be Brave on Goodreads
* * * *
NEED
by Joelle Charbonneau
Hardcover
HMH Books for Young Readers
Released 11/3/2015
"No one gets something for nothing. We all should know better."
Teenagers at Wisconsin's Nottawa High School are drawn deeper into a social networking site that promises to grant their every need . . . regardless of the consequences. Soon the site turns sinister, with simple pranks escalating to malicious crimes. The body count rises. In this chilling YA thriller, the author of the best-selling Testing trilogy examines not only the dark side of social media, but the dark side of human nature.
Author Question: What is your favorite thing about NEED?
I think one of my favorite things about writing NEED was playing with the difference between the words want and need. In our society, we use those words interchangeably and they aren't the same. The website defines NEED as something that is required for someone to live. A WANT is something that is desired. Our main character, Kaylee, asked for a kidney for her brother. That's a NEED because it is something he has to have in order to survive. Concert tickets or a new phone might feel life and death at the time of the desire, but they most certainly are not. In the world of NEED asking for something you want as opposed to need comes with a price. Using the difference between those two words to create the story's online social media network was an interesting challenge and opened up all sorts of questions for me to think about. Hopefully, readers will find those questions and the story they provoked interesting as well!
Purchase NEED at Amazon
Purchase NEED at IndieBound
View NEED on Goodreads
* * * *
Ten Thousand Skies Above You
by Claudia Gray
Hardcover
HarperTeen
Released 11/3/2015
Ever since she used the Firebird, her parents' invention, to cross into alternate dimensions, Marguerite has caught the attention of enemies who will do anything to force her into helping them dominate the multiverse—even hurting the people she loves. She resists until her boyfriend, Paul, is attacked and his consciousness scattered across multiple dimensions.
Marguerite has no choice but to search for each splinter of Paul's soul. The hunt sends her racing through a war-torn San Francisco, the criminal underworld of New York City, and a glittering Paris where another Marguerite hides a shocking secret. Each world brings Marguerite one step closer to rescuing Paul. But with each trial she faces, she begins to question the destiny she thought they shared.
The second book in the Firebird trilogy, Ten Thousand Skies Above You features Claudia Gray's lush, romantic language and smart, exciting action, and will have readers clamoring for the next book.
Author Question: What is your favorite thing about Ten Thousand Skies Above You?
My favorite thing about writing TEN THOUSAND SKIES ABOVE YOU was realizing that this world was even bigger than I'd imagined. I knew, when I was writing the first Firebird book, that the potential and possibilities for traveling to alternate dimensions were huge. So many potential realities popped into my mind, and I wanted to play with them all. (In some ways, I still regret that this is only a trilogy. I think I could've written these people's stories forever.)

But only when I seriously dug into writing TTSAY did I begin to see that I'd only scratched the surface. The puzzles could be more intricate, the problems more deadly, the moral questions more immediate. Marguerite and Paul could learn so much more about themselves and each other than I'd ever imagined. The Firebird trilogy is my third book series, so I can tell you--it's rare to feel like a middle book gives you the chance to slam your foot down on the gas pedal and throw things into a higher gear. TEN THOUSAND SKIES did that for me, which was a gift.
Purchase Ten Thousand Skies Above You at Amazon
Purchase Ten Thousand Skies Above You at IndieBound
View Ten Thousand Skies Above You on Goodreads
* * * *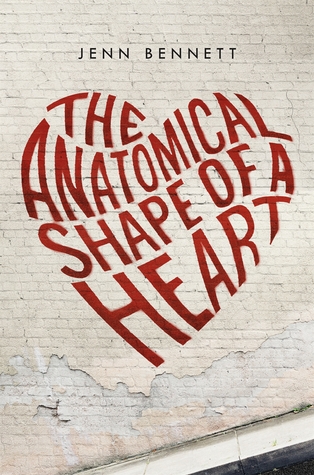 The Anatomical Shape of a Heart
by Jenn Bennett
Hardcover
Feiwel & Friends
Released 11/3/2015
Artist Beatrix Adams knows exactly how she's spending the summer before her senior year. Determined to follow in Leonardo da Vinci's footsteps, she's ready to tackle the one thing that will give her an advantage in a museum-sponsored scholarship contest: drawing actual cadavers. But when she tries to sneak her way into the hospital's Willed Body program and misses the last metro train home, she meets a boy who turns her summer plans upside down.
Jack is charming, wildly attractive . . . and possibly one of San Francisco's most notorious graffiti artists. On midnight buses and city rooftops, Beatrix begins to see who Jack really is—and tries to uncover what he's hiding that leaves him so wounded. But will these secrets come back to haunt him? Or will the skeletons in Beatrix's own family's closet tear them apart?
Author Question: What is your favorite thing about The Anatomical Shape of a Heart?
This is my eighth published book, but it's the first time I've written for teens and the first time I've written about artists. So in a way, it's my most personal book. My background is in art. In college, I pursued two degrees in Fine Arts, both undergraduate and an MFA in painting. Interestingly enough, I ended up putting art aside and worked in the book business for several years (I was a book buyer for a major corporate chain), and then later started writing. Now here I am, full circle, writing about art. Life is strange—in the best way possible!
Purchase The Anatomical Shape of a Heart at Amazon
Purchase The Anatomical Shape of a Heart at IndieBound
View The Anatomical Shape of a Heart on Goodreads
* * * *
The Girl with the Wrong Name
by Barnabas Miller
Hardcover
Soho Teen
Released 11/3/2015
Seventeen-year-old Theo Lane has been hiding half of her face from the public ever since "The Night In Question," a night that left her with a long, disfiguring scar, an unquiet mind, and no memory of what happened. An aspiring documentary maker, she uses her camera to keep the world at a safe distance, shooting hours of secret footage with a hidden button cam on her jacket collar. But when Andy Reese, a forlorn and mysterious "Lost Boy," wanders into her frame, he becomes the unknowing star of her latest project. Her unhealthy obsession with him tears her from that sheltered life behind the camera, pulling her into a perilous, mind-bending journey through Andy's world. But is it really Andy's world she's investigating? Or is it her own?
Author Question: What is your favorite thing about The Girl with the Wrong Name?
At this particular moment, my favorite thing is talking about it with someone else! With the exception of my editor and a few early readers, this book has spent a lot of time rambling around in my head. Finally discussing it with readers is a genuine pleasure.

More generally speaking, I think one of my favorite things about this book is the "schedule of revelations," i.e., when and how the readers receive new pieces of information that force them to reconsider not only what they thought they knew about the characters and plot, but even what kind of book they're actually reading. That tacit game between author and reader is one of my favorite aspects of mystery stories. I like the way this book toys with your expectations.
Purchase The Girl with the Wrong Name at Amazon
Purchase The Girl with the Wrong Name at IndieBound
View The Girl with the Wrong Name on Goodreads
MORE YOUNG ADULT NOVELS NEW IN STORES NEXT WEEK
All In
by Jennifer Lynn Barnes
Hardcover
Disney-Hyperion
Released 11/3/2015
Three casinos. Three bodies. Three days.
After a string of brutal murders in Las Vegas, Cassie Hobbes and the Naturals are called in to investigate. But even with the team's unique profiling talents, these murders seem baffling: unlike many serial killers, this one uses different methods every time. All of the victims were killed in public, yet the killer does not show up on any tape. And each victim has a string of numbers tattooed on their wrist. Hidden in the numbers is a code—and the closer the Naturals come to unraveling the mystery, the more perilous the case becomes.
Meanwhile, Cassie is dealing with an equally dangerous and much more painful mystery. For the first time in years, there's been a break in her mother's case. As personal issues and tensions between the team mount, Cassie and the Naturals will be faced with impossible odds—and impossible choices.
Purchase All In at Amazon
Purchase All In at IndieBound
View All In on Goodreads
* * * *
Captive
by A. J. Grainger
Hardcover
Simon & Schuster Books for Young Readers
Released 11/3/2015
When a teen is held hostage, her efforts to escape uncover a conspiracy that forces her to question everything in this psychological thriller with a twist of forbidden romance.
They told her not to worry—
because the man who shot her father was in custody.
They told her that she was safe—
because security had been increased.
All it took was one opportunity, one breach,
and then she was theirs. Kidnapped, confined, alone.
They told her she could go home when their demands were met.
That it wouldn't take long, because she was the prime minister's daughter.
But it has been days, and still no help has come.
She wonders when they will tire of this game and kill her.
She cannot wait around for that to happen; she will escape. She has to.
Purchase Captive at Amazon
Purchase Captive at IndieBound
View Captive on Goodreads
* * * *
Fearless
by Marianne Curley
Paperback
Bloomsbury USA Childrens
Released 11/3/2015
Perfect for fans of Becca Fitzpatrick, Lauren Kate, and many more. Ebony and Nathaneal were in love before they were even born. Torn apart and kept in different worlds, will they finally reunite in this exquisite conclusion to Hidden and Broken?
Ebony was kept hidden on Earth for sixteen years, unaware that she was an angel. Unaware that her true soulmate, Nathaneal, was searching for her. Now ready to claim her rightful place with him, in a cruel twist of fate Ebony is captured and imprisoned in a version of hell.
Knowing that Nathaneal will come for her, Ebony is determined to fight against the evil that holds her prisoner. As long as she has Nathaneal's love, Ebony has nothing to fear. Can Nathaneal break through the gates of hell? Will these long-lost lovers finally reunite and fulfil their destiny?
Purchase Fearless at Amazon
Purchase Fearless at IndieBound
View Fearless on Goodreads
* * * *
Hotel Ruby
by Suzanne Young
Hardcover
Simon Pulse
Released 11/3/2015
Stay Tonight. Stay Forever.
When Audrey Casella arrives for an unplanned stay at the grand Hotel Ruby, she's grateful for the detour. Just months after their mother's death, Audrey and her brother, Daniel, are on their way to live with their grandmother, dumped on the doorstep of a DNA-matched stranger because their father is drowning in his grief.
Audrey and her family only plan to stay the night, but life in the Ruby can be intoxicating, extending their stay as it provides endless distractions—including handsome guest Elias Lange, who sends Audrey's pulse racing. However, the hotel proves to be as strange as it is beautiful. Nightly fancy affairs in the ballroom are invitation only, and Audrey seems to be the one guest who doesn't have an invite. Instead, she joins the hotel staff on the rooftop, catching whispers about the hotel's dark past.
The more Audrey learns about the new people she's met, the more her curiosity grows. She's torn in different directions—the pull of her past with its overwhelming loss, the promise of a future that holds little joy, and an in-between life in a place that is so much more than it seems…
Welcome to the Ruby.
Purchase Hotel Ruby at Amazon
Purchase Hotel Ruby at IndieBound
View Hotel Ruby on Goodreads
* * * *
Manners & Mutiny
by Gail Carriger
Hardcover
Little, Brown Books for Young Readers
Released 11/3/2015
If one must flirt...flirt with danger.
Lessons in the art of espionage aboard Mademoiselle Geraldine's floating dirigible have become tedious without Sophronia's sweet sootie Soap nearby. She would much rather be using her skills to thwart the dastardly Picklemen, yet her concerns about their wicked intentions are ignored, and now she's not sure whom to trust. What does the brusque werewolf dewan know? On whose side is the ever-stylish vampire Lord Akeldama? Only one thing is certain: a large-scale plot is under way, and when it comes to fruition, Sophronia must be ready to save her friends, her school, and all of London from disaster--in decidedly dramatic fashion, of course.
What will become of our proper young heroine when she puts her years of training to the test? Find out in this highly anticipated and thrilling conclusion to the New York Times bestselling Finishing School series!
Purchase Manners & Mutiny at Amazon
Purchase Manners & Mutiny at IndieBound
View Manners & Mutiny on Goodreads
* * * *
The Conjurer's Riddle
by Andrea Cremer & David Levithan
Hardcover
Philomel Books
Released 11/3/2015
The Revolution is beginning–and Charlotte may be on the wrong side.
In this sequel to The Inventor's Secret, Charlotte and her companions escape the British Empire, but they haven't left danger behind. In fact, if they go against the revolutionaries, they face even greater peril.
Charlotte leads her group of exiles west, plunging into a wild world of shady merchants and surly rivermen on the way to New Orleans. But as Charlotte learns more about the revolution she has championed, she wonders if she's on the right side after all. Charlotte and her friends get to know the mystical New Orleans bayou and deep into the shadowy tunnels below the city–the den of criminals, assassins and pirates–Charlotte must decide if the revolution's goals justify their means, or if some things, like the lives of her friends, are too sacred to sacrifice.
This alternate-history adventure series asks the questions: What would have happened if America had lost the Revolutionary War? And what would people be willing to do to finally taste freedom?
Purchase The Conjurer's Riddle at Amazon
Purchase The Conjurer's Riddle at IndieBound
View The Conjurer's Riddle on Goodreads
* * * *
The Lies About Truth
by Courtney C. Stevens
Hardcover
HarperTeen
Released 11/3/2015
In the same vein as Jandy Nelson and Gayle Forman comes a novel from the gifted author of Faking Normal, Courtney C. Stevens, about hope and courage and the struggle to overcome the pain of loss.
Sadie Kingston is living in the aftermath. A year after surviving a car accident that killed her friend Trent and left her body and face scarred, she can't move forward. The only person who seems to understand her is Trent's brother, Max.
As Sadie begins to fall for Max, she's unsure if she is truly healed enough to be with him. But Max looks at her scars and doesn't shy away. And Max knows about the list she writes in the sand at the beach every night, the list of things that Sadie knows she must accomplish before she can move on from the accident. And while he can help her with number six (kiss someone without flinching), she knows she's on her own with number three (forgive Gina and Gray) and the rest of the seemingly impossible tasks that must be made possible before she can live in the now again.
Purchase The Lies About Truth at Amazon
Purchase The Lies About Truth at IndieBound
View The Lies About Truth on Goodreads
* * * *
The Sister Pact
by Stacie Ramey
Paperback
Sourcebooks Fire
Released 11/3/2015
A suicide pact was supposed to keep them together, but a broken promise tore them apart.
Allie is devastated when her older sister commits suicide--and not just because she misses her. Allie feels betrayed. The two made a pact that they'd always be together, in life, and in death, but Leah broke her promise and Allie needs to know why.
Her parents hover. Her friends try to support her. And Nick, sweet Nick, keeps calling and flirting. Their sympathy only intensifies her grief.
But the more she clings to Leah, the more secretes surface. Allie's not sure which is more distressing: discovering the truth behind her sister's death or facing her new reality without her.
Purchase The Sister Pact at Amazon
Purchase The Sister Pact at IndieBound
View The Sister Pact on Goodreads
* * * *
Traffick
by Ellen Hopkins
Hardcover
Margaret K. McElderry Books
Released 11/3/2015
Five teens victimized by sex trafficking try to find their way to a new life in this riveting companion to the New York Times bestselling Tricks from Ellen Hopkins, author of Crank.
In her bestselling novel, Tricks, Ellen Hopkins introduced us to five memorable characters tackling these enormous questions: Eden, the preacher's daughter who turns tricks in Vegas and is helped into a child prostitution rescue; Seth, the gay farm boy disowned by his father who finds himself without money or resources other than his own body; Whitney, the privileged kid coaxed into the life by a pimp and whose dreams are ruined in a heroin haze; Ginger, who runs away from home with her girlfriend and is arrested for soliciting an undercover cop; and Cody, whose gambling habit forces him into the life, but who is shot and left for dead.
And now, in Traffick, these five are faced with the toughest question of all: Is there a way out? How these five teenagers face the aftermath of their decisions and experiences is the soul of this story that exposes the dark, ferocious underbelly of the child trafficking trade. Heartwrenching and hopeful, Traffick takes us on five separate but intertwined journeys through the painful challenges of recovery, rehabilitation, and renewal to forgiveness and love. All the way home.
Purchase Traffick at Amazon
Purchase Traffick at IndieBound
View Traffick on Goodreads
a Rafflecopter giveaway