Happy Reading!
Lindsey, Martina, Sam, Jocelyn, Erin, Lisa, Shelly, Susan, Elizabeth, Kristin, Sandra and Anisaa
YA BOOK GIVEAWAYS THIS WEEK
All We Left Behind
by Ingrid Sundberg
Hardcover Giveaway

U.S. Only
Simon Pulse
Released 12/1/2015
For fans of Simone Elkeles and Courtney Summers, this haunting debut novel is about two teenagers battling their inner demons as they fall in love for the first time.
When Marion Taylor, the shy bookworm, meets sexy soccer captain Kurt Medford at a party, what seems like a sure thing quickly turns into a total mess. One moment they're alone in the middle of a lake, igniting sparks of electricity. The next, they're on dry land, pretending they've never met. But rather than the end, that night is the beginning of something real, terrifying, and completely unforgettable for them both.
As Marion and Kurt struggle to build a relationship from the fractured pieces of their pasts, every kiss they share uncovers memories both would rather keep buried. Marion desperately wants to trust Kurt and share the one secret she's never told anyone—but some truths aren't meant to be spoken out loud. Kurt is also still haunted by his mother's death, by the people he hurt, and by the mistakes he can never take back.
Explosive together and hollow apart, Marion and Kurt seem totally wrong for each other—but could they turn out to be more right than they ever thought possible?
Author Question: What is your favorite thing about All We Left Behind?
I love my characters: Marion and Kurt are very close to my heart. I really care about these two teenagers like they're my friends. I'm moved by the honest, vulnerable, and brave secrets these two characters have to share with each other. Their romance is difficult and real, and it gives me hope that we all can learn to live with the broken pieces of ourselves.
Purchase All We Left Behind at Amazon
Purchase All We Left Behind at IndieBound
View All We Left Behind on Goodreads
* * * *
Not If I See You First
by Eric Lindstrom
Hardcover Giveaway

International
Poppy
Released 12/1/2015
THE RULES:
Don't deceive me. Ever. Especially using my blindness. Especially in public.
Don't help me unless I ask. Otherwise you're just getting in my way or bothering me.
Don't be weird. Seriously, other than having my eyes closed all the time, I'm just like you only smarter.
Parker Grant doesn't need 20/20 vision to see right through you. That's why she created the Rules: Don't treat her any differently just because she's blind, and never take advantage. There will be no second chances. Just ask Scott Kilpatrick, the boy who broke her heart.
When Scott suddenly reappears in her life after being gone for years, Parker knows there's only one way to react--shun him so hard it hurts. She has enough on her mind already, like trying out for the track team (that's right, her eyes don't work but her legs still do), doling out tough-love advice to her painfully naive classmates, and giving herself gold stars for every day she hasn't cried since her dad's death three months ago. But avoiding her past quickly proves impossible, and the more Parker learns about what really happened--both with Scott, and her dad--the more she starts to question if things are always as they seem. Maybe, just maybe, some Rules are meant to be broken.
Author Question: What is your favorite thing about Not If I See You First?
There are things I enjoyed about the process of writing NOT IF I SEE YOU FIRST, and I love Parker Grant, her friends, her family, and so much about their story, it's hard to isolate parts. But thinking about the finished book on the shelf? This might sound a bit academic, but something I really like comes from critical readers. I love how most readers I've heard from enjoyed the book and responded positively to Parker and all her strengths and weaknesses, but I'm also happy that of the readers who didn't love the book, their complaints are mostly about how they didn't like Parker herself. This is what I hoped for – there's no one in the world who is liked by everybody, and I knew from page one that the personality I gave Parker to endear her to some would alienate others. Now that I'm here, I'm very happy that most critical reviewers talk about how Parker is someone they don't like as a person, not that the book is poorly written. It's pretty much the best outcome I hoped for.
Purchase Not If I See You First at Amazon
Purchase Not If I See You First at IndieBound
View Not If I See You First on Goodreads
* * * *
Virtually in Love
by A. Destiny and Catherine Hapka
Paperback Giveaway

U.S. Only
Simon Pulse
Released 12/1/2015
First crush, first love, first kiss—Chloe must choose between her virtual almost-boyfriend and her best guy friend in this addition to the sweet and clean Flirt series.
Chloe has the best almost-boyfriend ever. Trevor is smart, talented, witty, and good-looking. Basically, he's the perfect guy for her—except for one tiny detail. He lives hundreds of miles away. Chloe met Trevor at music camp when they were kids and was so excited when they reconnected in an online music forum a few months ago. And they've been flirting non-stop ever since.
Chloe's boy-crazy best friend Vanessa thinks it's the most romantic thing she's ever heard, though her other best friend, Kazuo, isn't so sure. Turns out Kaz actually has a crush on her! Chloe can't imagine her life without him, but she's never thought of him that way. Still, Kaz talks Chloe into giving him a chance and going to the big school dance together. Chloe is almost ready to agree when she gets the most amazing news—Trevor is coming for a visit!
But when Trevor shows up, things don't go quite as well as Chloe was expecting, and by the time she realizes her old camp buddy has changed—and that he might not be Mr. Perfect (for her) after all—Kaz has already asked Vanessa to the dance. Did Chloe just miss her chance at true love?
Author Question: What is your favorite thing about Virtually in Love?
My favorite thing is probably that the story is about band/music-geek kids, since I was one of those myself at that age. Love stories are the most fun to write (and read, IMO) if the characters have things other than romance going on in their lives, and these characters definitely do! I also love a heroine who isn't afraid to make a fool of herself – for love or otherwise. So Chloe was a fun one to write from that perspective as well.
Purchase Virtually in Love at Amazon
Purchase Virtually in Love at IndieBound
View Virtually in Love on Goodreads
YA BOOK GIVEAWAYS LAST WEEK: WINNERS
Rules for 50/50 Chances by Kate McGovern
- C. Fowler
MORE YOUNG ADULT FICTION IN STORES NEXT WEEK WITH AUTHOR INTERVIEWS
Nexis
by A.L. Davroe
Paperback
Entangled: Teen
Released 12/1/2015
In the domed city of Evanescence, appearance is everything. A Natural Born amongst genetically-altered Aristocrats, all Ella ever wanted was to be like everyone else. Augmented, sparkling, and perfect. Then…the crash. Devastated by her father's death and struggling with her new physical limitations, Ella is terrified to learn she is not just alone, but little more than a prisoner.
Her only escape is to lose herself in Nexis, the hugely popular virtual reality game her father created. In Nexis she meets Guster, a senior player who guides Ella through the strange and compelling new world she now inhabits. He offers Ella guidance, friendship…and something more. Something that allows her to forget about the "real" world, and makes her feel whole again.
But Nexis isn't quite the game everyone thinks it is.
And it's been waiting for Ella.
Author Question: What is your favorite thing about Nexis?
That's an incredibly hard question to answer! I think every author loves nearly all the aspects of their own books. For me, I can tell you that I'm very excited to be bringing a book that has some very exciting science to the YA bookshelf. I've read a lot of YA books that are set in the future and people are still manually pushing buttons. Hel-lo! It's 2015; people can turn the faucet off with their iPhone from five states away with a voice command. Yet, in books, we have everyday people living in space but vehicles still have to be driven. As a reader, that drives me insane. If a book is set one hundred years from now, I want it to look like a hundred years from now.

I did my best to research the cutting edge of technology and what was being projected for the next hundred years -- then I made a society out of it. I don't go super in-depth explaining things – that would be boring for readers who read to get out of school – but, it's there and it's mentioned in passing like it's no big thing to my main characters.

In NEXIS, yes, androids exist. Yes, all the food is chemically created. Yes, doors recognize you (or rather, the chip inside of you) and open as soon as you think about going through them. Yes, chairs hover and pods drive you where ever you need to go. Yes, everyone is genetically perfect from birth. Yes, the nanites injected into your body can change your eye-color at will and your hair will move on its own like there's a breeze blowing through it. And of course, your house makes your bed for you.

Now that's the future! And I'm happy to bring it to you in NEXIS.
Purchase Nexis at Amazon
Purchase Nexis at IndieBound
View Nexis on Goodreads
* * * *
The Devil's Engine: Hellraisers
by Alexander Gordon Smith
Hardcover
Farrar, Straus and Giroux
Released 12/1/2015
From the author of the Escape from Furnace series, an explosive new horror trilogy about an ordinary American kid caught up in an invisible war against the very worst enemy imaginable.
There is a machine from the darkest parts of history, concealed in an impossible location, that can make any wish come true, and the only price you have to pay is your soul. Known as the Devil's Engine, this device powers a brutal war between good and evil that will decide the fate of every living thing on Earth. When a 16-year-old asthmatic kid named Marlow Green unwittingly rescues an ass-kicking secret soldier from a demonic attack in the middle of his Staten Island neighborhood, he finds himself following her into a centuries-old conflict between a group of mysterious protectors and the legions of the Devil himself. Faced with superpowers, monsters, machine guns, and a lot worse, Marlow knows it's going to be a breathless ride—and not just because he's lost his inhaler along the way.
Author Question: What is your favorite thing about The Devil's Engine: Hellraisers?
I'm not sure if I want them to take anything away, but I want them to walk away feeling like they've just run a marathon while being chased by demons. I want readers to finish this book with their pulse racing, with their chest wheezing, with their head spinning. This is an action horror book, it's exciting, and it's terrifying, and it's fun. I want people to feel like they've just been through something awesome!

As for taking away a message, I don't really write books like that. There's rarely a simple message in life, so why should there be one in fiction? I try to make my characters as real as possible, which means they aren't always heroic, or selfless, or kind. They don't always do the right thing, and they have to live with the consequences of that. Life is beautifully complicated, morally topsy turvy, and fiction should be to. Maybe that's my message!
Purchase The Devil's Engine: Hellraisers at Amazon
Purchase The Devil's Engine: Hellraisers at IndieBound
View The Devil's Engine: Hellraisers on Goodreads
MORE YOUNG ADULT NOVELS NEW IN STORES NEXT WEEK
* * * *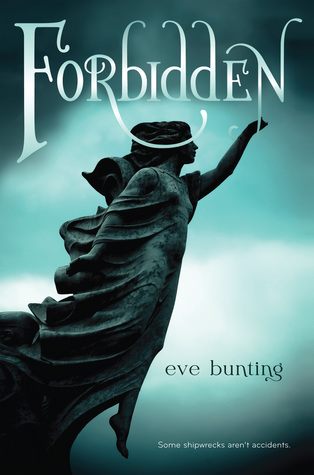 Forbidden
by Eve Bunting
Hardcover
Clarion Books
Released 12/1/2015
In early-nineteenth century Scotland, sixteen-year-old Josie, an orphan, is sent to live with an aunt and uncle on the rocky, stormy northwest coast. Everything and everyone in her new surroundings, including her relatives, is sinister, threatening, and mysterious. She's told that Eli, the young man she's attracted to, is forbidden to her, but not why. Spirited, curious, and determined, Josie sets out to learn the village's secrets and discovers evil, fueled by heartless greed, as well as a ghostly presence eager for revenge. An author's note gives the historical inspiration for this story
Purchase Forbidden at Amazon
Purchase Forbidden at IndieBound
View Forbidden on Goodreads
* * * *
Hawthorn
by Carol Goodman
Hardcover
Viking Books for Young Readers
Released 12/1/2015
A world on the brink of war.
All Avaline Hall wants is to enjoy her senior year at Blythewood Academy, the boarding school where she's been trained to defend humankind from forces of dark magic. But when Ava is shown a glimpse into the future in the enchanted Blythe Wood, she discovers that the evil Judicus van Drood is rallying nations into a war that seems destined to destroy both the human and faerie worlds. Only Ava and her allies have a chance at stopping van Drood, but how many must die in the process? And how can Ava and the boy she loves be together when everything around them is falling apart?
Purchase Hawthorn at Amazon
Purchase Hawthorn at IndieBound
View Hawthorn on Goodreads
* * * *
Tarnished
by Kate Jarvik Birch
Hardcover
Entangled: Teen
Released 12/1/2015
Ella may have escaped to Canada, but she's hardly free. Stuck in refugee housing for liberated pets, she's just as trapped as she was at the congressman's house—only now she has to live without Penn. But she's determined to get out. And to make matters worse, there are rumors circulating that pets like Ella are turning up dead all over the U.S., not to mention that she might be to blame.
When her old acquaintance, Missy, shows up in Canada, the two of them set off together, thrusting them back into the dangerous life they just left behind. Now, they must navigate the seedy world of the black markets to uncover the dark secrets that the Kennels have been hiding, and rescue the boy she loves.
But even after she's reunited with Penn, Ella still faces the near impossible task of overturning the legislation that has imprisoned her. If she's not successful, she—and her fellow pets—might all end up dead.
Purchase Tarnished at Amazon
Purchase Tarnished at IndieBound
View Tarnished on Goodreads
* * * *
Their Fractured Light
by Amie Kaufman and Meagan Spooner
Hardcover
Disney-Hyperion
Released 12/1/2015
A year ago, Flynn Cormac and Jubilee Chase made the now infamous Avon Broadcast, calling on the galaxy to witness for their planet, and protect them from destruction. Some say Flynn's a madman, others whisper about conspiracies. Nobody knows the truth. A year before that, Tarver Merendsen and Lilac LaRoux were rescued from a terrible shipwreck—now, they live a public life in front of the cameras, and a secret life away from the world's gaze.
Now, in the center of the universe on the planet of Corinth, all four are about to collide with two new players, who will bring the fight against LaRoux Industries to a head. Gideon Marchant is an eighteen-year-old computer hacker—a whiz kid and an urban warrior. He'll climb, abseil and worm his way past the best security measures to pull off onsite hacks that others don't dare touch.
Sofia Quinn has a killer smile, and by the time you're done noticing it, she's got you offering up your wallet, your car, and anything else she desires. She holds LaRoux Industries responsible for the mysterious death of her father and is out for revenge at any cost.
When a LaRoux Industries security breach interrupts Gideon and Sofia's separate attempts to infiltrate their headquarters, they're forced to work together to escape. Each of them has their own reason for wanting to take down LaRoux Industries, and neither trusts the other. But working together might be the best chance they have to expose the secrets LRI is so desperate to hide.
Purchase Their Fractured Light at Amazon
Purchase Their Fractured Light at IndieBound
View Their Fractured Light on Goodreads
a Rafflecopter giveaway